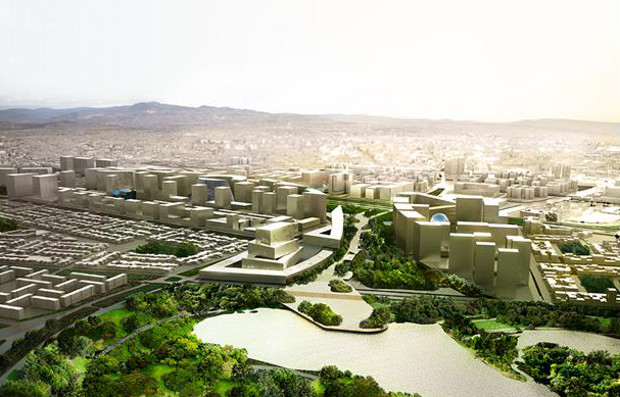 OMA to build Colombia's Brasilia
Koolhaas' practice will build largest institutional masterplan in Latin America since Niemeyer's Brasilia
Traditionalists may wince when an architect describes their plans for a purpose-built neighbourhood as a "lively node". Though many love Oscar Niemeyer's capital, Brasilia, planned and built during the high noon of modernism, others say the city is a little awkward to get around, and lacks the vernacular, human scale of less carefully planned conurbations. So, what should we make of the award-winning architectural practice, OMA's plans for a 275-hectare development in Colombia's capital, Bogota?
This week the firm announced that it had won the competition to develop Bogotá Centro Administrativo Nacional (CAN), a 680-acre multi-purpose project in the city's centre. Working with the local firm Gómez + Castro, OMA will develop a site along the Calle 26 road, which runs through the heart of the city, dividing it into three districts - governmental, office and educational – interconnected with cultural spaces and parks.
Shohei Shigematsu, director of OMA New York and the partner in charge of the bid, says, "our proposal enables CAN to be a lively node, providing a continuous public domain that curves through the site to connect the park, the university and Calle 26. With a single gesture, the arc achieves a clear urban identity while accommodating programmatic diversity."
The local jury concurred, adding "the suggested mix of uses promotes continuous activity and encourages the creation of distinct districts. The curve towards Calle 26 provides a clear urban face to the project, making it institutionally and commercially more attractive."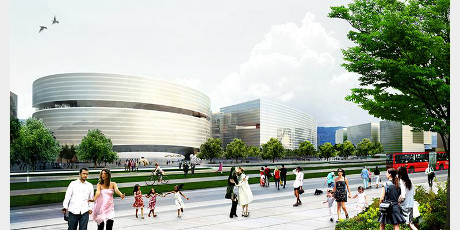 We agree. OMA, which was founded by the Pritzker-Prize laureate Rem Koolhaas in 1975, is a highly ambitious practice, suited to such a complex, and venerable challenge. While the the project might be the largest of its kind in Latin America since Brasilia, it is by no means the first time a world-class architect has redrawn Bogota. Le Corbusier re-planned the city 1947 – 1950; OMA is a worthy successor.
To read more about this story, go here. For greater insight into Brasilia consider our great Niemeyer memoir, The Curves of Time, and for an understanding of Le Corbusier's work, take a look at our books on the designer and architect.