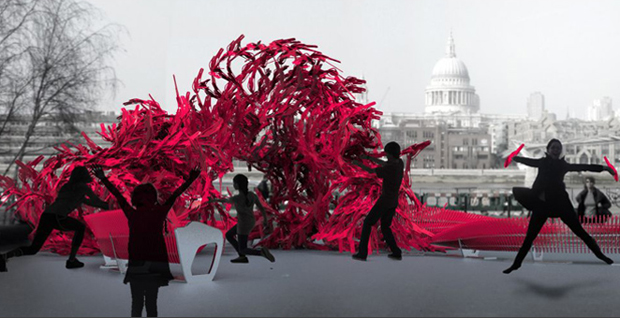 Phaidon's eye on the architecture world - 25.07.12
This week we look at low-rises in Beijing, Brazil's lantern house, and Yo! Sushi's new real-estate venture
Not so far pavilions Design excellence - or something like it - is coming to central London as part of the Cultural Olympiad courtesy of lecturers at the UCL Bartlett School of Architecture. Their five pavilions, including gazeboes for growing algae in, a house formed from national flags, and Bloom (pictured), a pavilion that can be changed and rebuilt by members of the public, will begin to appear around the city from tomorrow. Look out for the gazebo in Euston Square Gardens, an urban garden of recyclable cells at Trafalgar Square, a house of flags in Parliament Square, story-telling trees in South Kensington, and a pavilion-scale tea machine at Victoria Park.
China eschews skyscrapers International firm Atkins has got the thumbs up for a surprisingly low-rise development in Beijing. The architects' aim was to create a streetscape akin to London's Soho, for this is the new National Advertising Industry Park, to be built near the Central Business District. As such, it's aimed at creative agencies, and comprises more than 30 buildings - many of them just a few storeys tall - sitting on the banks of the Tonghui River.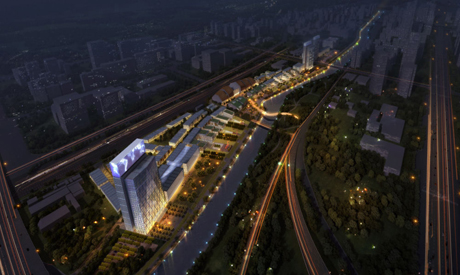 Fresh talent for the arts David Kohn Architects, which won the 2009 Young Architect of the Year, is about as close to the arts and architecture sector as it's possible to get. Projects include a rooftop pavilion for the Architecture Foundation, a community arts centre in East London, and a restaurant for the Royal Academy of Arts. Now it's added another arts-related project to its portfolio with the conversion of a disused sweet factory in Hackney Wick, east London into an arts centre called the White Building.
Canada honours eco design The Canada Council for the Arts has awarded Paul Raff Studio with the prestigious Ronald J. Thom Award for Early Design Achievement. The $10,000 prize is in recognition of the Toronto-based firm's imaginative use of low-cost, locally sourced materials used in its buildings over the last decade. Raff himself is no stranger to gongs; in 2001, he picked the Ontario Association of Architects' Allied Arts Award for lifetime achievement - its youngest ever recipient.
From sushi to sitting rooms Simon Woodroffe, the high-profile founder of YO!Sushi and YOTEL, is turning his hand to housing. In September he launches YO! Home, low-cost housing in new-build apartment blocks and office block conversions in cities around the world. These will be transformer spaces, the idea being that each YO! Home can manifest itself into a number of different rooms through sliding walls and the touch of a button.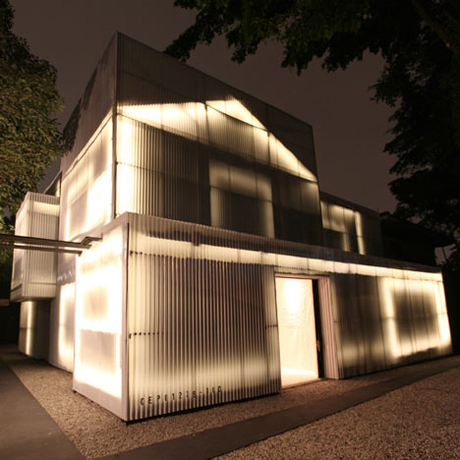 São Paulo's light fantastic A clever use of plastic panels and LED lighting has transformed an old house in São Paulo into an outsized lantern. Brazilian firm 20.87 pulled off the illuminating feat by constructing a wooden frame around the building and screwing translucent corrugated panels on. And it's not only the house's look that has changed, its use has too. It's now a gallery space for neighbouring design store MiCasa.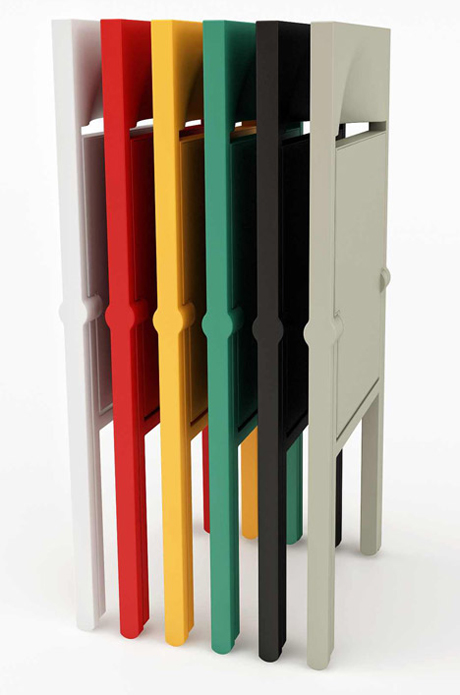 Chipperfield, but not as we know it The world can never have enough chairs, particularly if they combine form and function as well as the Piana Alessichair. Designed by David Chipperfield for Alessi, it's a simple folding chair in polypropylene and glass fibre. Brilliantly, the Piana Alessichair - priced £197 - folds completely flat so that it can be stacked horizontally. It comes in six pleasing colours.
AHMM to reinvent television Plans are afoot to redeveloped BBC Television Centre in west London as a 'creative hub'. The BBC has sold the site's leasehold, and Allford Hall Monaghan Morris's scheme includes residential, office and leisure space, with the broadcaster's commercial arm, BBC Worldwide, as an anchor tenant. All should be in place by 2015.
And finally. . . are architects undemocratic? Wouter Vanstiphout is an architecture historian and Professor of Design and Politics at the Technical University of Delft. And he thinks architects are losing the plot when it comes to their democratic duties. His main beef is that "Architecture veers wildly between subservience to corporate power and neo-anarchist bottom-up experiments with participation" adding "Are architects not into democracy? Civilian interference in the design process isn't exactly welcomed by the profession. . ."