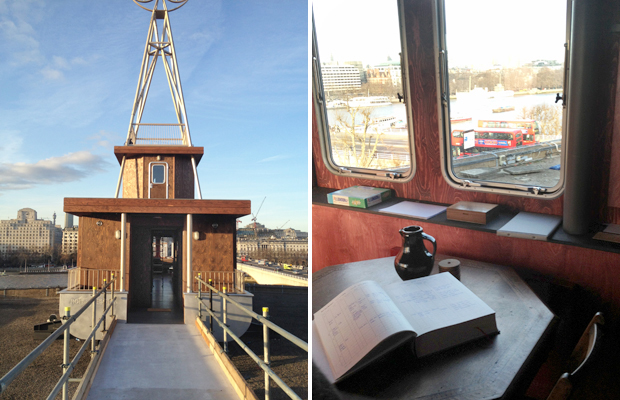 First look inside A Room For London
Phaidon enters the artwork that's already the hottest ticket in the UK this year
Perched precariously on top of the Queen Elizabeth Hall in London, as if washed up there by some immense tidal wave the Thames Barrier failed to halt, A Room For London is the latest installment of philosopher Alain de Botton's_ Living Architecture_ programme, an attempt, among other things, to make interestingly designed architecture a tourist destination. In collaboration with Artangel, artist Fiona Banner, Kohn Architects and the Southbank, guests will stay for one night, checking in at 3pm and out again the following morning at 11, throughout 2012. Tickets are already sold out until June and the second batch goes on sale on January 19. As well as serving as a temporary hotel and art installation, the room will host a number of art events and creative happenings through the year.
Phaidon visited yesterday and found it to be one of those high-concept-meets-simple-pleasure experiences that leaves the visitor grinning from ear to ear. Travelling up to the roof of the building in a specially created outdoor lift, the visitor disembarks onto a wooden 'gangplank' which leads to the boat (called Roi des Belges, in honour of the riverboat Joseph Conrad took up the Congo River in 1890 which became the inspiration for Marlow's journey to find the myserious Kurtz in Heart Of Darkness).
Once inside, the buffeting of the wind and the noise from nearby Westminster bridge is left behind and the concept of the space as a place of silence, contemplation and creativity begins to make sense. To the left of the entry hall is a toilet and basic kitchen complete with hidden microwave and fridge; to the right a cupboard room hosting a simple washbasin.
On from the kitchen is the main living space with two single beds on rails which, as guests might hope, can be easily rolled together. A pull down metal 'loft' ladder provides access to the reading room above, complete with office chair and desk. There is a ship's log and books on London and the Congo lay all around. Parallel maps of the Thames and the Congo grace the walls. The steel mast atop features a wind turbine to provide power to the ship.
At the end of each month, selected creatives will stream music from the boat, write 2012 word long essays on London or perform other works. Each creation will take either London or the Congo as its starting point. Performed for the first time, Orson Welles' _Heart of Darkness _screenplay will form part of Artangel's programme in a special presentation by Fiona Banner. Written and completed in 1939, it was to be Welles' first film. He intended to play both narrator Charles Marlow and protagonist Kurtz, but the film was never made. The entire screenplay will be performed live to camera by a single actor aboard A Room for London, as a live webcast and projection into the Southbank Centre below, on Saturday March 31.
Launching A London Address, a series of monthly writings and recordings from the boat, is distinguished Colombian author Juan Gabriel Vásquez, best known for his novels The Informers and The Secret History of Costaguana, both of which refer to Conrad. Jeanette Winterson will stay in February to record her London Address. Eminent Swedish writer and cultural historian Sven Lindqvist climbs onboard at the end of March, celebrating his 80th birthday while in the Room. His work includes The History of Bombing, Desert Divers and Exterminate all the Brutes, influenced by _Heart of Darkness _and Conrad's journeys in Africa.
Other writers due to take up residency later in the year are Michael Ondaatje (June) and Caryl Phillips (April), All will produce writings to be podcast on _A Room For London_'s website. Sounds from a Room, a series of live music webcasts, is launched on January 28 by Chicago- based multi-instrumentalist and lyricist Andrew Bird.
On Sunday February 26 Heiner Goebbels, the German composer, will produce a musical response to Conrad's Up-River Book, a journal written in 1890, almost 10 years before _Heart of Darkness _was published. Laurie Anderson, American visual artist and musician, webcasts from the Room on Sunday 25 March.
Other musicians later in the year include the Malian duo Amadou & Mariam (May), celebrated cellist Natalie Clein (August) and Imogen Heap (June), who will be writing and performing a new song while in the Room.
Other special guests include the artist Jeremy Deller (March) and David Byrne, who will be resident in mid-February to produce a new soundwork for podcast. More writers and musicians from spring- time onwards will be announced at the beginning of April. Visit A Room For London for more information including details about booking on January 19.