Catherine Opie and Architecture
The fine art photographer engages with landmark architecture and simple domestic buildings to reveal hard truths about how we live
Catherine Opie is not an architectural photographer, at least, not in the conventional sense. You won't see many of her pictures in the pages of glossy interiors magazines; she doesn't team up with big name Pritzker laureates; and her photographs tend not to glamourise pristine dream homes.
Nevertheless, as the writer, curator and executive director of the Helen Frankenthaler Foundation, Elizabeth A. T. Smith, puts it in our new book on Opie, "architecture has given her ample fodder for the treatment of personal and more broadly social and political considerations for more than three decades."
This new title is the long-awaited, first survey of the work of one of America's foremost contemporary fine art photographers, and presents a compelling visual narrative of Opie's work since the early 1980s, pairing images across these bodies of work to form a full picture of her artistic vision. With more than 300 beautiful illustrations, and made in close collaboration with Opie, the book marks a turning point in the consideration of this artist's work to date.
Many of those pictures feature architecture, though not in a way that you might imagine. "Opie has also focused deeply in her work on places in which identity is revealed through architectural form or urbanistic convention," writes Smith, "facades of private homes, mini-malls, and freeways in and around Los Angeles, sites of historic memory in St. Louis, skyway bridge structures in Minneapolis, and examples of night lighting on Chicago's buildings and in its urban spaces, among others."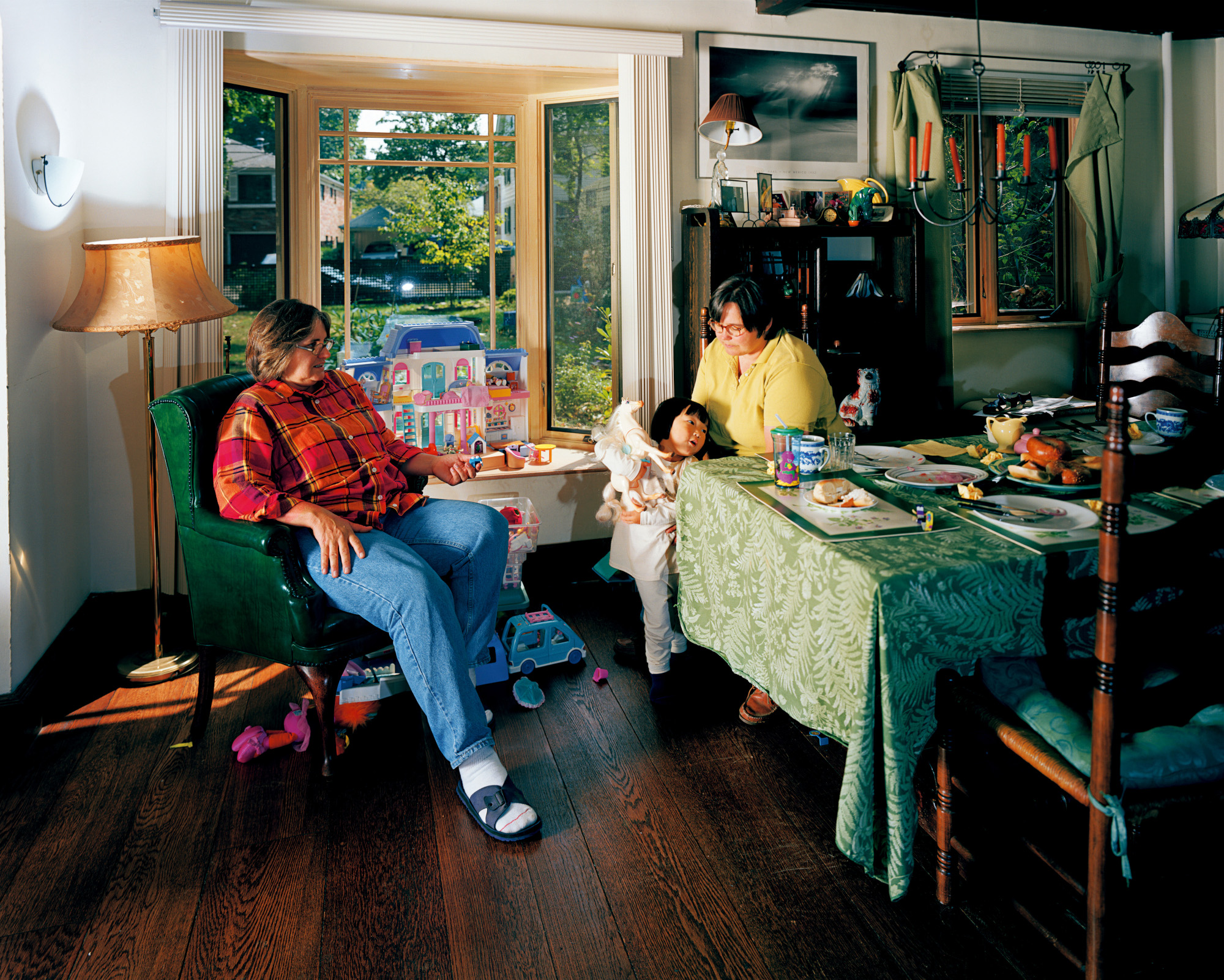 The most ordinary of home environments feature in her series Domestic. Shot at the end of the 1990s, this series features lesbian families and couples in their own houses, and seems to lightly reference the quotidian setting of less-conventional relationships. "While the queer identities of the figures and their familial relations are the primary subjects of the images in Domestic, the architecture and interior spaces of their homes play an equally important, although subtle, role," writes Smtih. "Reflecting the subjects' conscious or unconscious desires to construct and 'frame' their own domestic environments as homes that are in no way exceptional, these largely unremarkable architectural spaces underscore her point that their inhabitants are typically American."
A more pointed comment on architecture came a few years later, with The Modernist, Opie's first work to utilise the medium of film in a significant way and the first to include the use of narrative structure.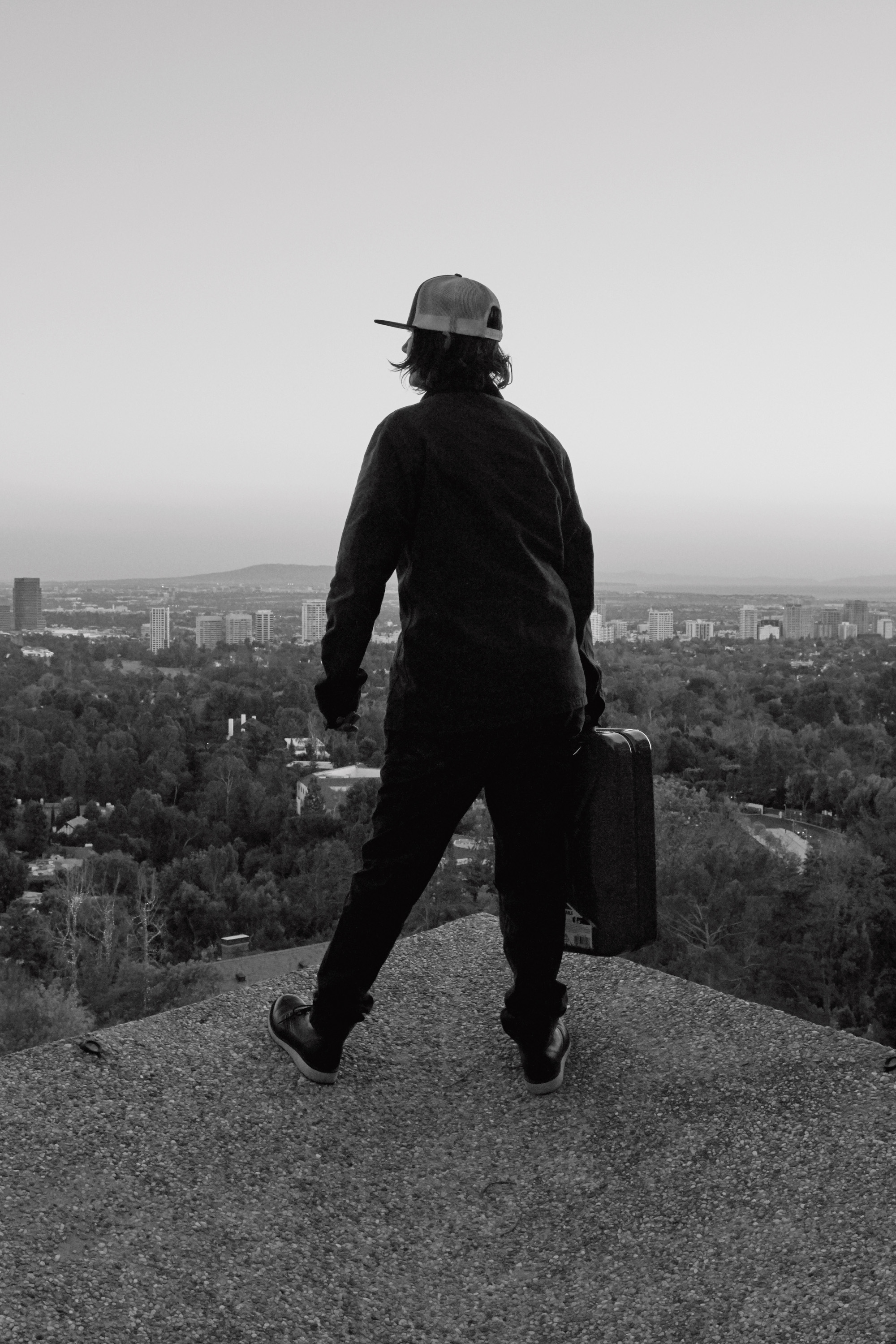 Shot in 2016 and 2017, "the film centers on a struggling artist in Los Angeles who is obsessed with its landmark mid-century modern architecture and driven to madness by its unattainability," writes Smith. "It stars Stosh Fila, a.k.a. Pig Pen, Opie's longtime friend who has appeared in earlier photographs, shown engrossed in studying and clipping plans, photographs, newspaper headlines, and product advertisements of mid-century modern houses.
"Pig Pen creates from them an elaborate collage that includes pictures and news reports of fires throughout Southern California," Smith goes on. "A sense of inexplicable urgency arises from the character's activity; as the narrative progresses, we see that their obsession with Los Angeles's iconic modernism leads to methodical destruction of the houses through arson.
"La Jetée, a 1962 film by Chris Marker with which Opie set The Modernist in conversation, used still photography to convey a story of time travel, longing, and fear of nuclear apocalypse. Adopting a similar formal approach, Opie composed her twenty-two-minute film from more than eight hundred black-and-white still images, offering multiple angles and vantage points. With this method, she created a lyrical cinematic effect that reinforces the main character's obsession and mirrors their psychological state of longing, desire, and frustration."
We can all look at those beautiful, mid-century buildings and share in that longing, it's a bit hard to know what to make of Opie's Freeways, a series of photographs monumental transport infrastructure, that the artist shot in the mid 1990s, partly to broaden her practice, but also to reflect on her daily commute.

"Inspired by her regular drives on five different freeways to and from a job at the University of California, Irvine, Opie decided to document the ubiquitous infrastructure of the extensive freeway system in and around Los Angeles," writes Smith. "In her images, the freeways appear as if they were archaeological remnants of an ancient, disappeared civilization. With them, she consciously paid homage to artistic precedents, conjuring nineteenth-century photographer Maxime Du Camp's photographs of ancient Egyptian ruins, characterized by a similar stillness and grandeur."
The ancient-looking, near-alien monoliths in these shots stand apart in Opie's work, but they also key into her central concerns. "Opie continues to bear witness to the interconnectedness of people, places, and politics in the world we inhabit, in ways that are always close to home," Smith concludes.
To see all the images mentioned as well as a great more besides order a copy of our new Catherine Opie book here.