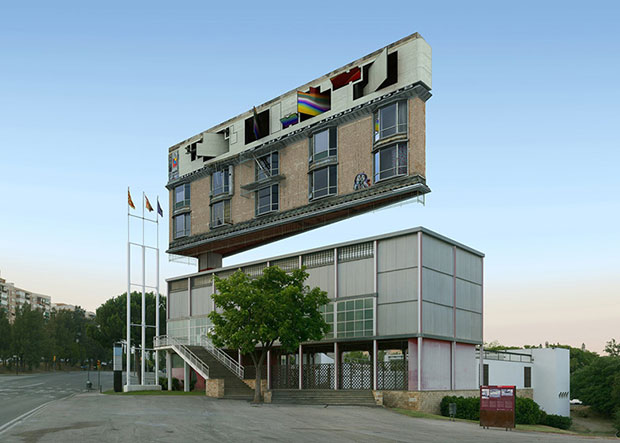 What's Victor Enrich done to the Spanish Pavilion?
Spanish photographer mashes up the building that showed Picasso's Guernica with NY's Storefront Gallery
Yesterday we heard from Deyan Sudjic how the Spanish Pavilion at the Paris Expo of 1937 was a major influence on Ettore Sottsass and his use of colour, not for the design itself but for the display of Picasso's new painting, Guernica inside. Now news reaches us of a photographer who is also inspired by the pavilion - albeit in a very different way.
Victor Enrich has fused together two buildings – the Paris Expo Spanish Pavilion of 1937 and the Storefront for Art & Architecture in New York – using digital photo manipulation. As well as the Sottsass connection, it reminds us a little of some of the work in our recent book Shooting Space.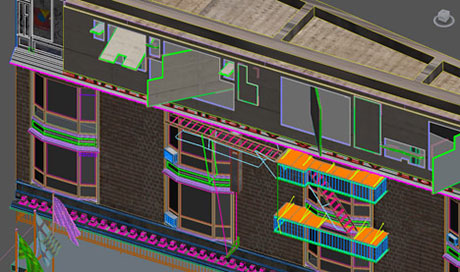 Fine art photographer Enrich was chosen as one of 30 artists and architects by Storefront to create new work for its annual art and drawing show. Enrich came up with idea of turning the New York gallery into a new unit of measure. And he based it on the proportions of the 1937 Spanish Pavilion.
"The pavilion was chosen because the front facades of both the pavilion and the lower Manhattan building where the gallery Storefront is located share the same dimensions, in length and in height," he says. "The set of coincidences not only affect the overall shape but also include the height of the corresponding floors as well as the rhythm of the cornice."
Enrich used digital modelling to combine the two buildings – creating a hybrid connected by a single column. The pavilion remains unchanged, but the Storefront Gallery is reorganised, moving its ground-level on top.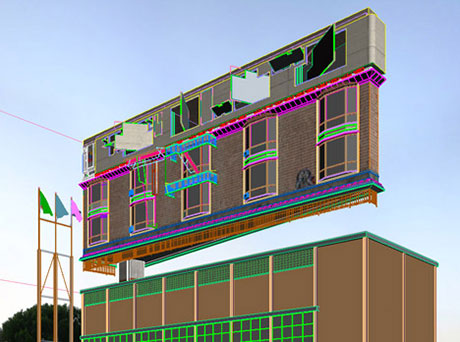 "The virtual world depicted in the piece shows buildings that are not being measured in the metric system or in US customary units anymore," the photographer says. "Instead, the gallery is given a new role: a measuring system whose main unit is the storefront." One storefront apparently equates to 30.5 metres, or 100 feet, according to the design.
The show, Measure, opens at Storefront on 14 August 2015. Other artists and architects include: Urban-Think Tank, Selldorf Architects, Steven Holl, Bernard Khoury and Grimshaw Architects. You can see more of Victor Enrich's unusual architecture photography at his site, here. And don't forget to check out Shooting Space and our other great architectural titles before you leave.