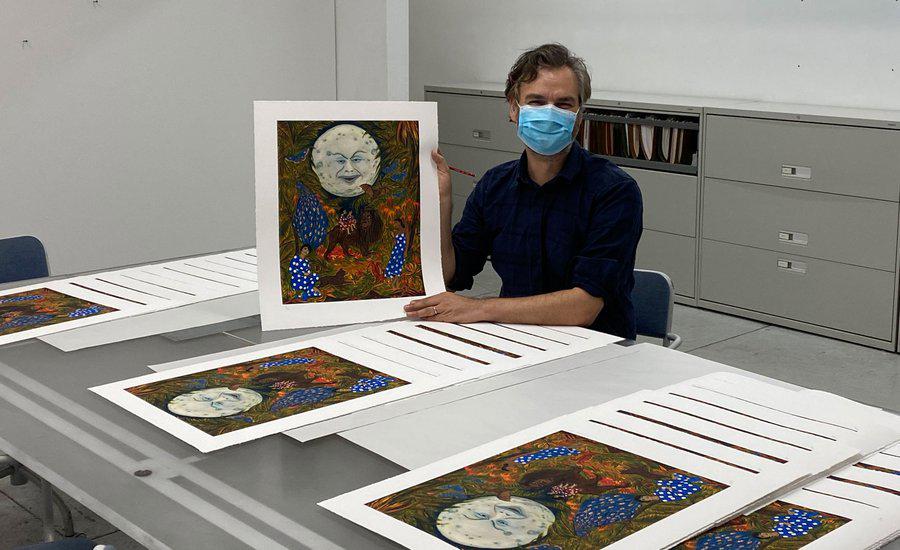 Marcel Dzama on Goya, Ghosts and his Artspace edition The illumination of the sisters of paradise
The Canadian artist discusses his early life, his experiences during the pandemic, and how they both fed into this beautiful new work
Drawing equally from folk vernacular as from art-historical and contemporary influences, Canadian artist Marcel Dzama's work visualizes a universe of childhood fantasies and otherworldly fairy tales. In his intricately inked dioramas, phantasmagorical goat-headed characters, tree people, and deliciously strange-looking masquerades emerge from the paper on a surreal dance into pop culture, music videos, films, staged-productions, and magazine and album covers.
Dzama cites Inuit art, notably the work of Nancy Pukingrnak Aupaluktuq, along with cartoon superhero and bandit designs, and work by William Blake and Francisco de Goya among his early influences, as well as growing up amid the fauna of Winnipeg, Canada where he was born in 1974.
Since 1998, he has been represented by David Zwirner where he has developed a uniquely recognizable visual language that investigates the blurred relationship between the real and the subconscious.
His work is held in museum collections worldwide, including the Corcoran Gallery of Art, Washington, DC; Dallas Museum of Art; Musée d'art contemporain de Montréal; The Museum of Contemporary Art, Los Angeles; The Museum of Modern Art, New York; National Gallery of Canada, Ottawa; Solomon R. Guggenheim Museum, New York; Tate Gallery, London; and the Vancouver Art Gallery.
Now Artspace and Phaidon are pleased to announce the launch of The illumination of the sisters of paradise, 2020, a special limited-edition print by Dzama in support of RxART and their mission to help children heal through the extraordinary power of visual art. Each print from the edition of 30 is signed, numbered and printed on Hahnemühle German Etching 310 gsm paper.
"We love Marcel's work and are very excited to be working with him on an upcoming project for the pediatric clinic at St. Michael's Hospital in Toronto," says Diane Brown, RxART Founder and Executive Director. "We are honored that he has agreed to create a print with Phaidon and Artspace to benefit RxART s projects. The print features a large moon, which has figured in much of his recent work, including his series of imagery from his trips to Morocco and Mexico."
Dzama created The illumination of the sisters of paradise, 2020 to conjure the vibrant cultures and landscapes of faraway lands while in quarantine. The print "was my way of traveling while being at home every day. I was trying to recreate some sort of Garden of Eden or Paradise Lost," he says in this new interview. below.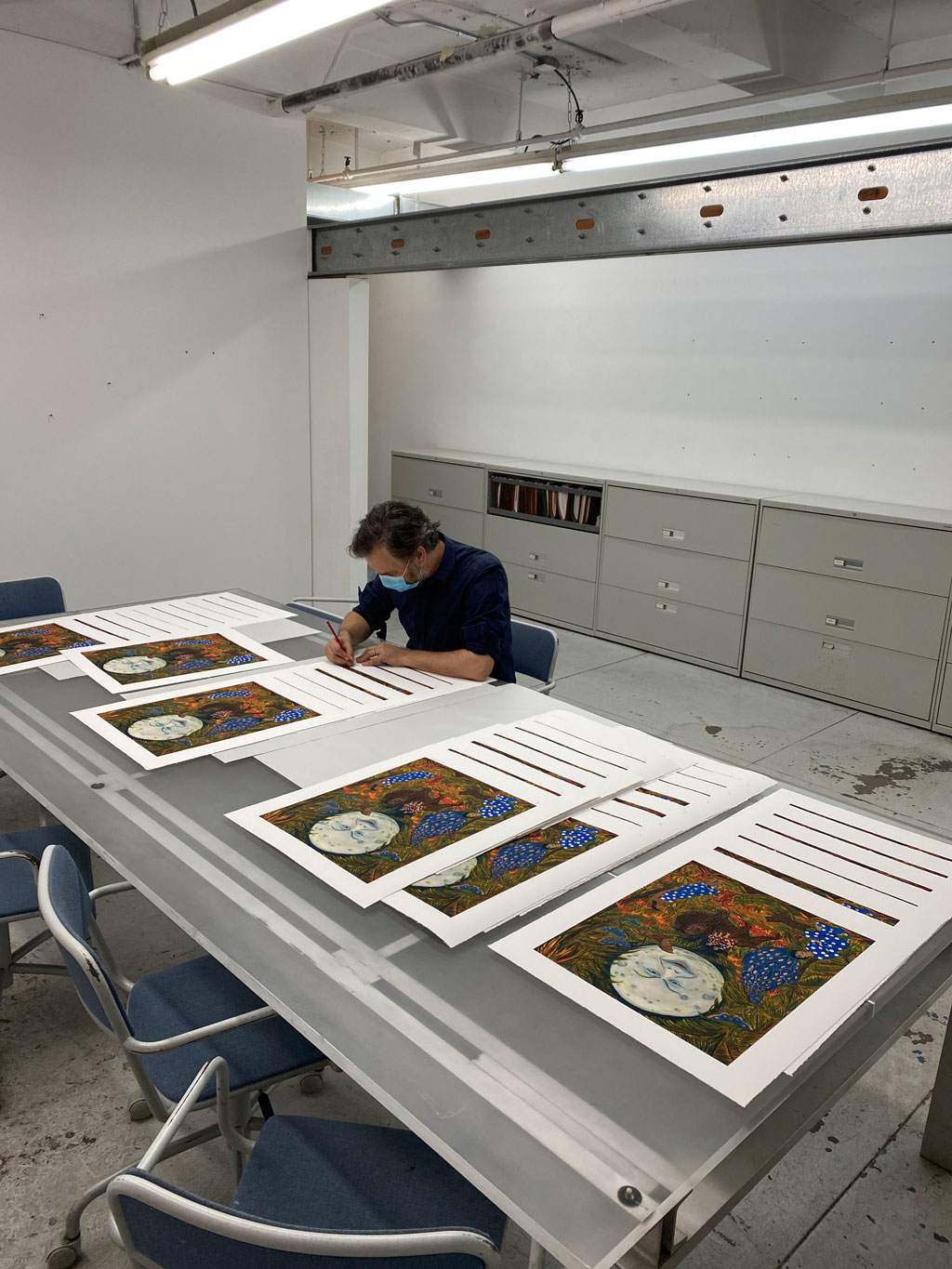 Can you tell us a little more about how this edition came about? I am working on a project with RxART with Diane Brown designing a hospital room for sick and recovering children. She saw the show I was doing for David Zwirner called Pink Moon and wanted to do something similar in a print to raise money for RxART–I was happy to do it.
Obviously RxART serves an incredible purpose. Do you have a personal experience or a moment when art helped you through something big in your life? Art has helped me through so many hard times. I grew up poor working-class and a latchkey kid so my inexpensive hobby was drawing – luckily, I was obsessed with it. I would be drawing from the minute I came home from school until I went to sleep. Also, I grew up in Winnipeg and the winters there are very harsh so you can really only do indoor activities. Art was definitely my escape from those cold winters.
As a teenager, my family suffered a house fire and I lost most of my possessions - including my pet rabbit – thankfully no one else was killed. The insurance company put us at an inn by the airport, called the Airliner Inn, where I did drawings on the hotel stationary of house fires, people in the hotel, and ghost rabbits. Drawing got me through this very low point in my life.
Do you feel that prints like these offer a closer connection between artist and wider audience? Yes, definitely. Prints are just much more affordable and they look just as good. Some of my favorite artworks are prints, like Goya's Disasters of War and William Blake's Illuminations. I have always been excited to work on one.
Can you tell us about the image itself and how you came to give it this title? I started drawing this print while in quarantine when I was missing traveling very much. It was also around the time when the earth is closest to the moon, making it a very large full moon called the pink moon. I did a show with the same title, which was also about travel. The print and this show were my way of traveling while being at home every day during quarantine. I was trying to re-create some sort of Garden of Eden or Paradise Lost. For the title of the print I altered the Leonard Cohen song 'The Sisters of Mercy', a song I played on repeat while working on the print.
It's a particularly dense image, packed with many of your signature elements – the animals: bats, butterflies, lions, where does this love for the natural world come from? I think it comes from being from Canada. I was always close to nature. I lived with my grandparents on a small farm in Saskatchewan and was around farm animals, but also a lot of wild animals – bears, moose, deer, coyotes, bats, turkey-vultures, skunks, porcupines and many others.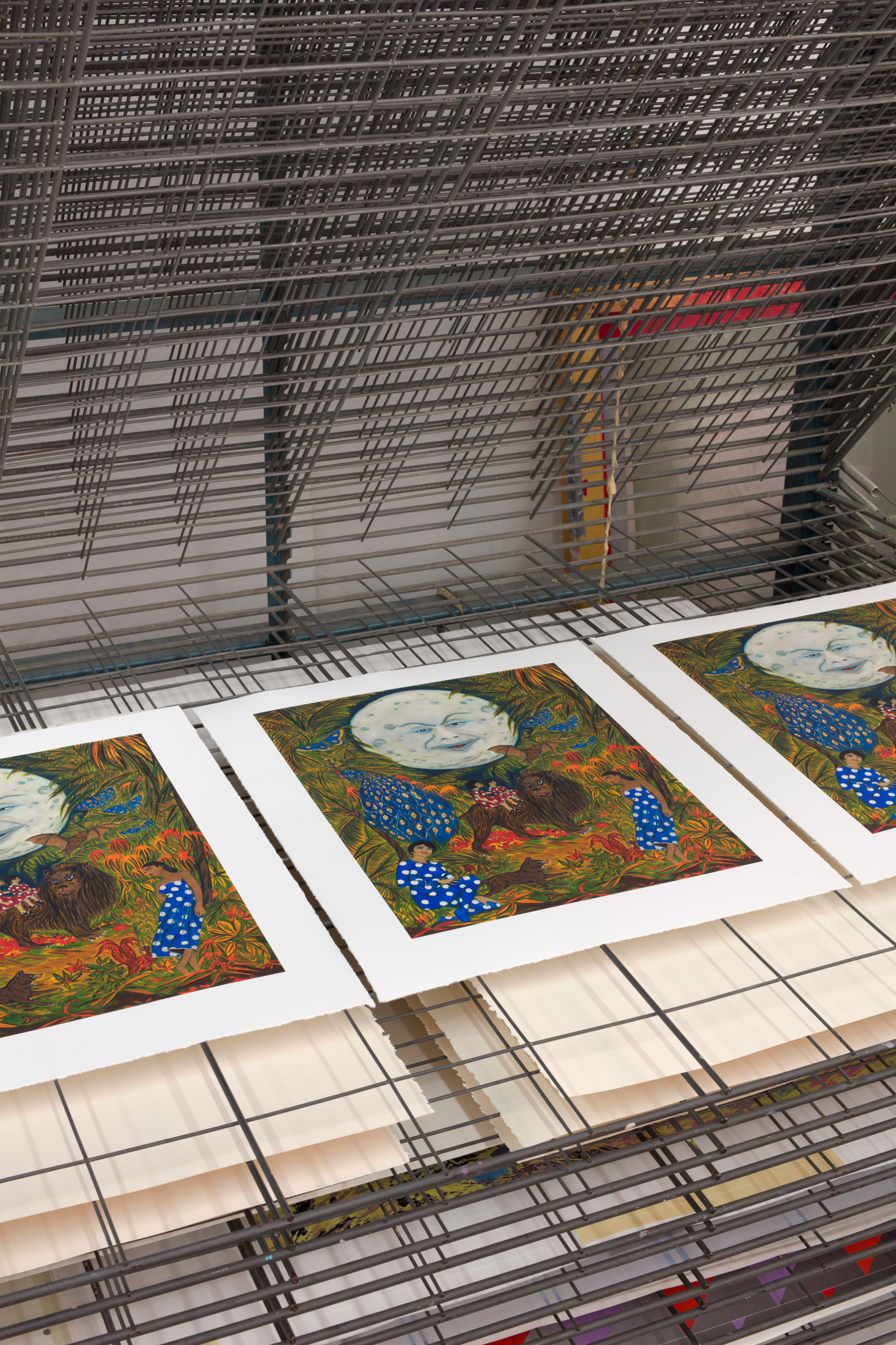 You're probably best known for your ink drawings but obviously you've worked in a lot of different media including film and stage. Does your practice go in phases, do you investigate something until you feel there is nothing more to find or do you go wherever the moment takes you? I find myself mainly doing drawings but after six or so months of only drawing it gets lonely. I like to change to film so I can collaborate with friends because it's nearly impossible to make a film on your own. It's a good excuse to get together with friends, but since the pandemic drawing has been there for me. I've made a few short films on my phone with my son as the main actor. This has been fun, but I've mainly been drawing in a smaller more intimate size since I haven't been going to the studio. I have a small desk at home that I enjoy drawing at.
How has the current moment treated you and how has it impacted your approach to work? Are you working on smaller scale things, does it give you more time to dream? Yes, I haven't been going to the studio at all so I've been doing smaller more intimate drawings that take place in some sort of lost paradise. I listen to the news while I'm drawing so a lot of drawings have become very political just so I'm able to sleep at night.
Did you at any point draw parallels or feel a kinship between this moment of maybe working smaller and the time when you were forced to work small in the Airliner Inn following the house fire? Yes, in some ways it very much does. There is that sense of uncertainty and loss. But it has been nice to spend so much time with my son, he does Zoom-school and afterwards we draw together or make science projects.
Has there been such a thing as a typical day during lockdown? On a typical weekday I wake up early and make breakfast for my wife and son. My wife keeps an eye on him while he does online school, I'll nap and then make lunch for us all. After this, I clean up, answer work emails or fix up the house. After my son finishes school, we'll often do a fun project together. Either my wife or I will make dinner. They'll then start reading or watch a movie and I begin working. I usually take a break to read to my son before he goes to sleep and then I'll work some more, usually until 4 or 5 in the morning. The weekends are always different, not as typical.
How is the chess coming along - do you play with your son yet? Not bad, but his interest has waned a little bit because he only likes to win. So, the games are never that challenging.
Your paintings are often very dreamlike, what have your own dreams been like lately? I start painting at night and work until the early morning so most of my work has one foot in reality the other in the subconscious. Unfortunately, since the start of the pandemic, my dreams have been rather anxious and usually don't end well.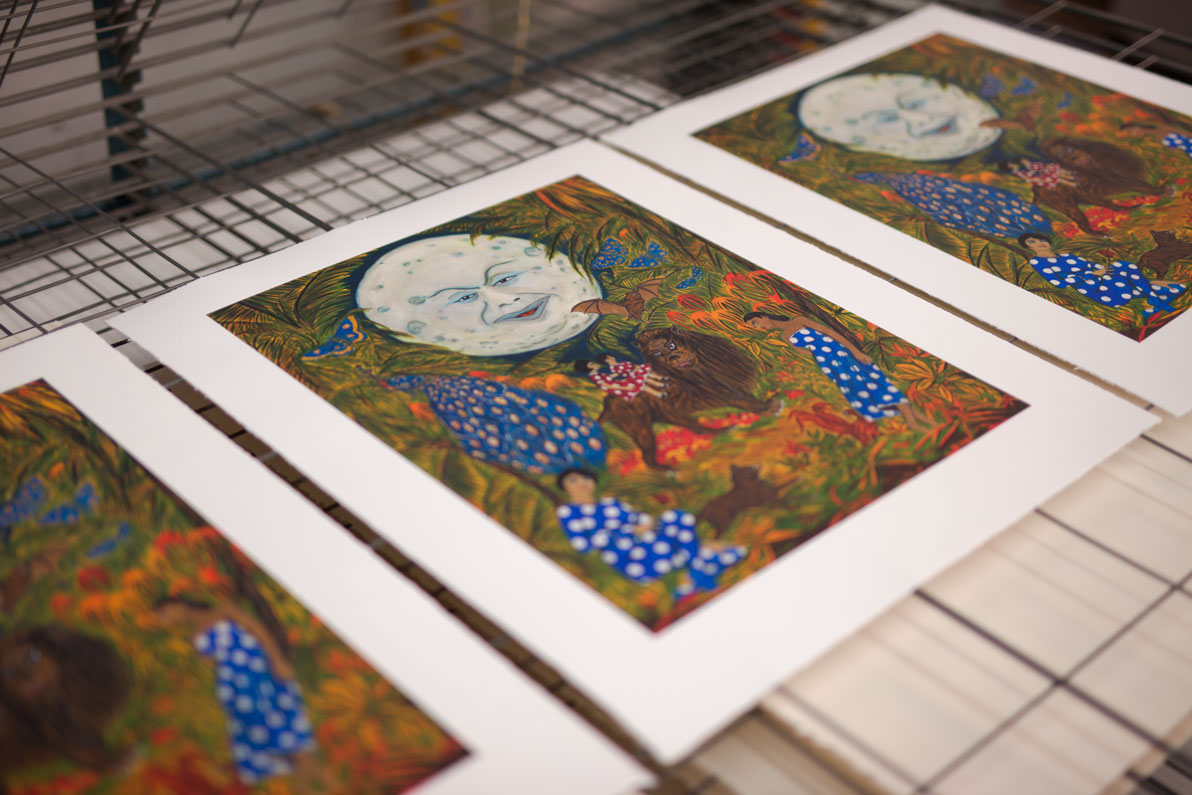 What kinds of atmosphere do you like when you work? Music, silence, audio books, podcasts? I usually listen to music when I'm drawing. When I'm painting I'll listen to the radio, audiobooks, or podcasts. I like to have something on when I'm working– it feels more comfortable. I like to multitask so I enjoy listening to audiobooks while I paint–I feel like I'm killing two birds with one stone. I learn a lot and sometimes get titles for drawings or themes to work off of.
What do you do when you have painter's block? I've never had painter's block. I feel like I have so many ideas that I'm sad I won't be able to get to do them all. I have a lot of notebooks with ideas for projects that I know I'll never end up doing. I guess if it ever does happen, I'll have them as a back up.
You've spoken of your visits to Morocco and Mexico as powerful inspirations, how do they continue to inspire – how regularly do you need to be inspired to create and does it take bigger inspirations as you go through life (both personal and artistic) to move you into the act of creation? Yes, Morocco and Mexico have been a real inspiration on these travel drawings I started doing while in quarantine. They are the places I have in my mind when I'm traveling in quarantine. Morocco really influenced my use of bright color.
Travel has always dramatically influenced my art. My move from Winnipeg, Canada to New York was very drastic – my drawings became much more claustrophobic and almost like ballet performances. Then, half a year in Mexico and I started making ceramic dioramas and costume-heavy films. And now, Morocco has given me a greater sense of color. I don't need to be inspired by huge events, sometimes it can just be a book I read or an artwork I've seen, a dream or even collaboration with another artist.
Have you wondered why so many musicians are drawn to your work (Dzama has collaborated with Beck, Arcade Fire and Kim Gordon, among others) What do they say to you about it? I'm not sure. In my teens and 20's I was in a lot of bands. Maybe they can see that musical influence in my work? My work is very economical, it's just a pencil, paper, and some watercolors–anyone can do it. I think a lot of the musicians that are attracted to my work also very DIY. It could be that my work tells a story that you cannot read–it's more of a feeling, you feel the story just like music. I've mainly been told that they like the sense of humor and surrealism of it all.
George Condo said before a recent show of work how the figures that had traditionally been his 'cast list' were slowly receding into the canvases, retreating to the shadows. Do you have a similar kind of experience with your characters? Do they come in and out of the frame or re-manifest themselves with different characteristics? Yes, I have recurring characters that have come and gone many times like the bear and bats in the tree. People have been there from the start, though disappeared for a few years and then returned only to disappear again. The femme fatale has always been there, and in the new travel drawings my son has appeared a lot. My wife and my son are my only models these days so I guess they'll be in all the new drawings. Sometimes I'll have characters that have come to life in a ballet or in a film that I've worked on and then I'll draw them quite a bit more after that because of the excitement of seeing them come to life.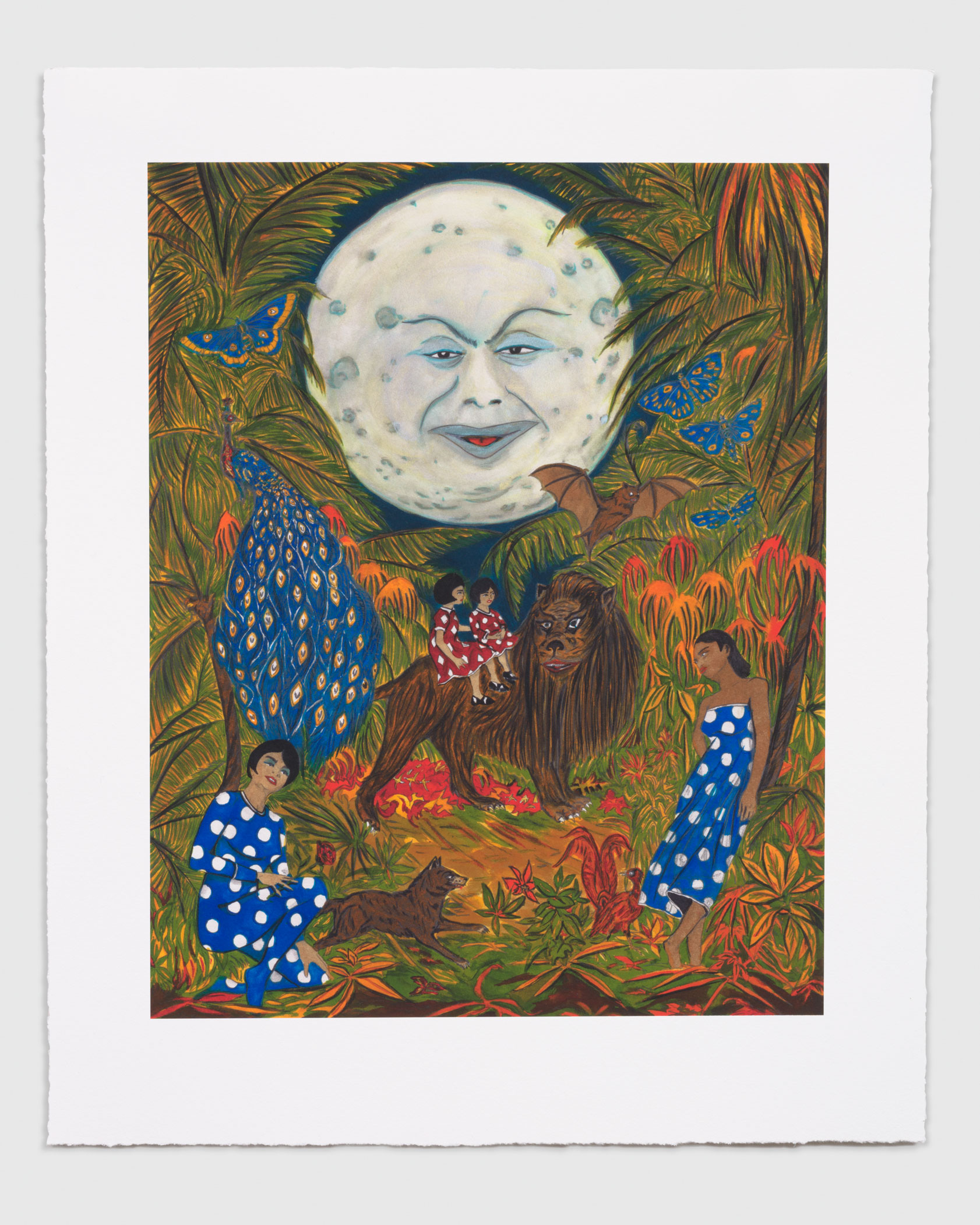 Do you imagine them as real people? If so, how do you imagine their lives? A few of them feel just like living people, but some are stand-ins for real people like my wife, my son, or my father. Most of them are just representations of an emotion or share a theme that's playing out in that particular group of work. I sometimes see it as a kind of alternative universe. and I'm just picking up signals from its wavelength.
Where do you feel you are at this point in your life as an artist? What have you achieved and what's the thing that is still bugging you? I'm definitely mid-career. I've made a living as an artist for half of my life now. I had my first solo show at age 23. I didn't know it at the time, but I was quite young. I always knew I'd be an artist but didn't know I would be able to support myself with art.
Working with the New York City Ballet has been more than I could've imagined. It has been quite an achievement collaborating with some of my favorite artists like Maurice Sendak and Raymond Pettibon, working on films with Spike Jonze and even doing costumes for Bob Dylan. I would still like to write and design a ballet or an opera. I also wouldn't mind trying to master oil-painting. I've never bothered to attempt it in a real way. It always seemed too toxic and expensive for me.
H__ow do your Dadaist influences find a way out in the era of Trump? We're thinking of the way The Dadaists ridiculed the powers that be. Is this something that you may investigate?__ I've always been influenced by the Dadaists, by their use of humor in art. Now I can connect with them through their disgust of World War One and my disgust of this administration and all of its hypocrisies, racism, and full on criminal activity.
What's the one thing art school taught you that you still use to this day? Enjoy what you are making, people can feel it in the work.
Could you tell us about two or three are the artists you currently rate or like? What do you see in their work? There are three young artists that I have been following and enjoying. Liz Nielsen is a photographer that uses photo-paper and exposure to make her work without a camera. Her colors and sense of design give the work a beautiful feeling of happiness. Rhys Ziemba is a painter who makes small oil paintings. Usually they are set up as still-lives and have a beautiful intimacy and soft focus to them. Young Sun Han is an amazing artist who uses gender and activism in his collage work, photography, performances. It speaks very much of this time.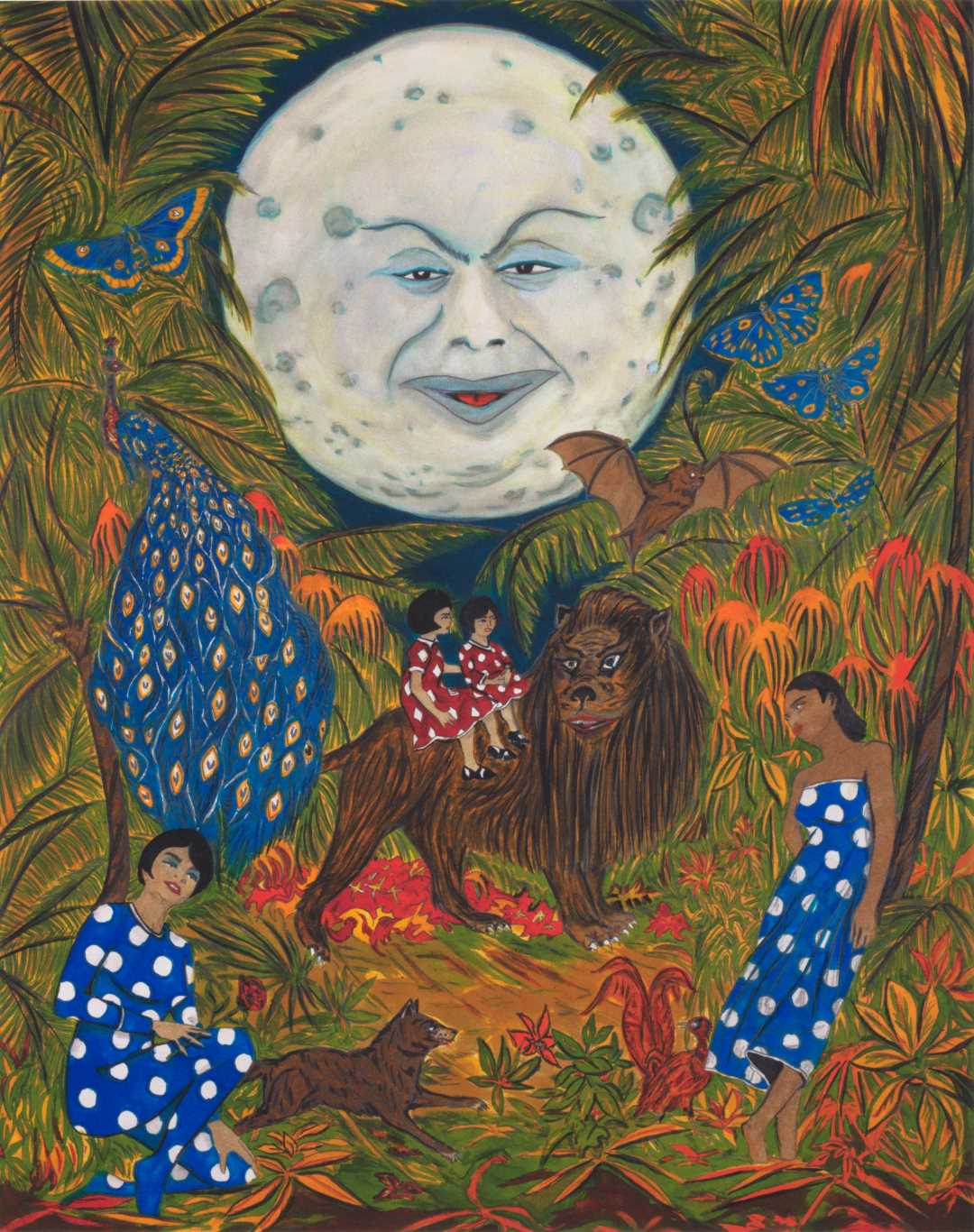 To buy this beautiful new print, go to Artspace. To find out more about RxART, the non-profit organization helping kids through the hospital experience, that will benefit from the sales of Dzama's new Artspace limited edition print, go here.