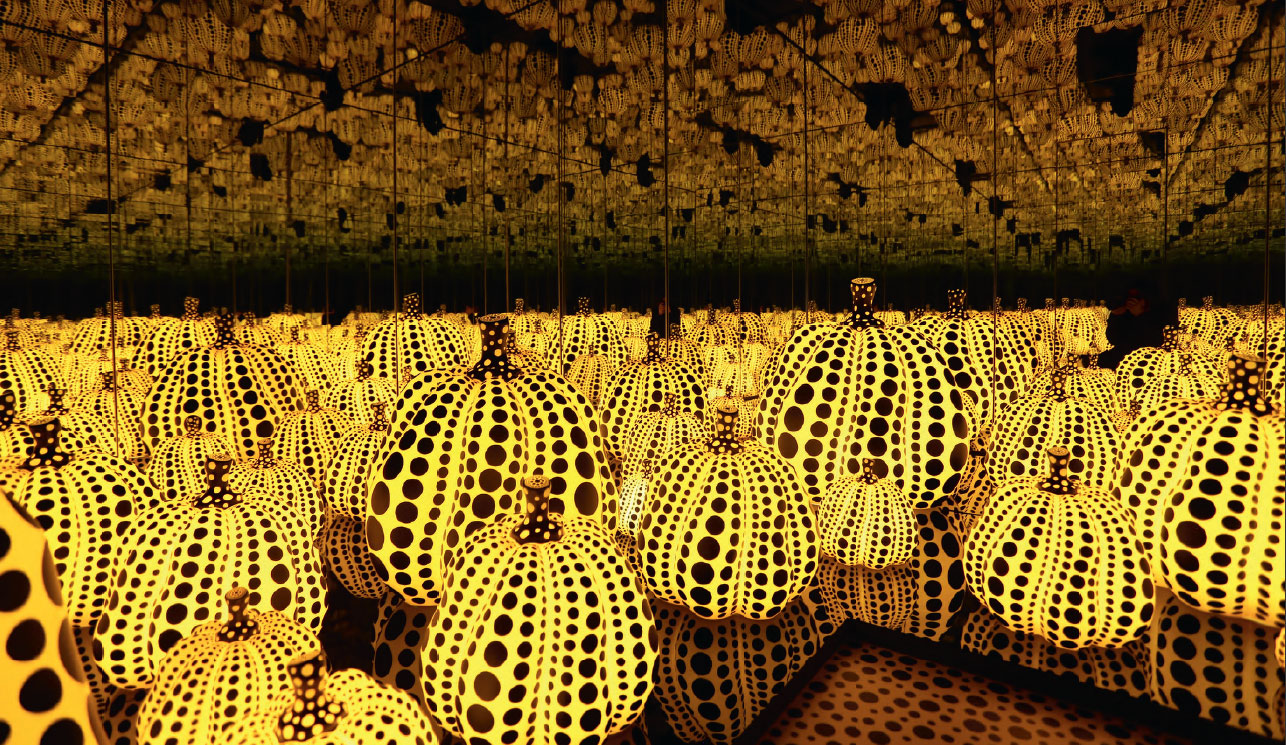 Why does Yayoi Kusama love pumpkins?
As the artist celebrates her 89th birthday, we look at the ways she has represented her favourite vegetable
The pumpkin is to Yayoi Kusama what the Campbell's Soup can is to Warhol: an everyday comestible elevated to the status of fine art, via a singular artist's skills and vision. She has created pumpkin sculptures and paintings, pumpkin infinity rooms, pumpkin charm bracelets and pumpkin polka-dot print shoes.
However, Kusama's very first pumpkin artwork, created when the 89-year-old (who celebrates her birthday today) was still in her teens, was a much less ambitious artistic undertaking.
"The pumpkin first appeared in Kusama's work in 1946 when she exhibited Kabocha (Pumpkin) in a travelling exposition in Nagano and Matsumoto, Japan," explains the curator and critic Catherine Taft in our newly updated Kusama monograph. "The work was accepted as a fine example of Nihonga, the new, nationalistic style of traditional Japanese painting, which developed around the turn of the nineteenth century."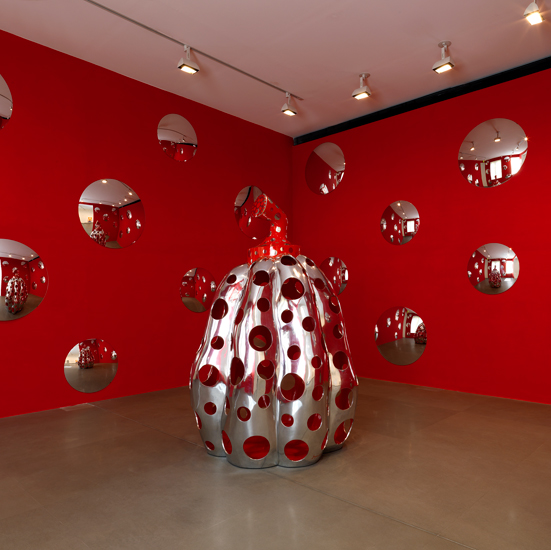 Kusama may have sloughed off that simple, pictorial style when she moved to New York, yet her pumpkins stayed with her, reemerging in the late 1970s, "with a nearly anthropomorphic presence."
"In the 1980s she began incorporating pumpkins into her dot-motif paintings, drawings and prints," writes Taft, "as well as into her environmental installation Mirror Room (Pumpkin) that she created in 1991 for an exhibition at the Fuji Television Gallery and the Hara Museum in Tokyo and subsequently exhibited in the Japanese Pavilion at the 1993 Venice Biennale, for which she even handed out little takeaway pumpkins to visitors."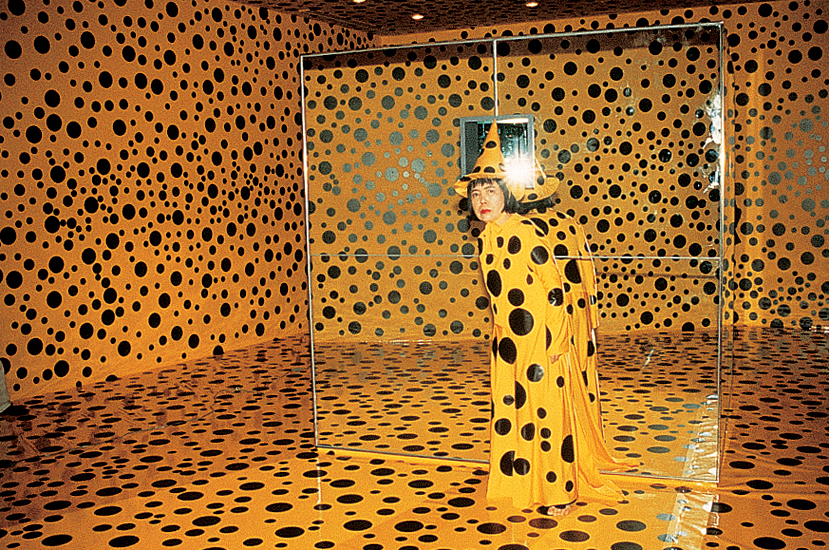 "In 1994, Kusama installed a massive pumpkin sculpture in yellow with a black dotted pattern on Naoshima Island in Japan's Seto Inland Sea region. The work – which was the first of many notable examples of public art and architecture on the islands – sits at the end of a pier at Benesse Art Site, hovering over the water in harmony with the natural landscape.
"This was the first of the many open-air sculptures that Kusama would increasingly display throughout the 2000s at international sites including the Kirishima Open Air Museum in Kagoshima Prefecture, Japan; Matsudai Station in Tōkamachi, Niigata, Japan; the Lille Europe Train Station in Lille, France; Beverly Gardens Park in Beverly Hills, California; and in Pyeonghwa Park in Seoul, Korea, to name only a few."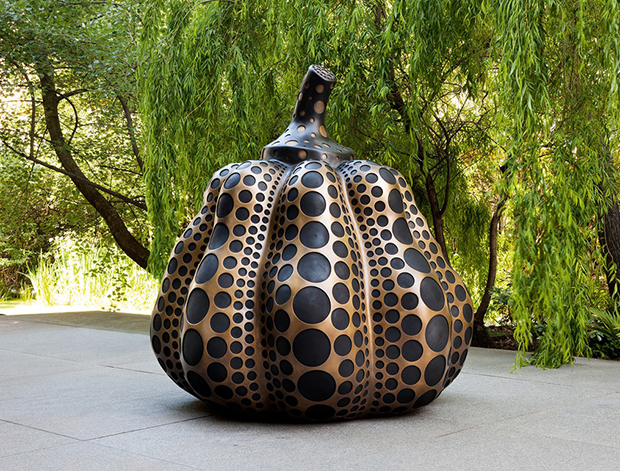 "The pumpkins have reappeared in the past few years, cast larger than life in bronze, mosaic and stainless steel, with apertures cut out of their surfaces to create dot-pattern plays with light and shadow. With its jolly, peaceful presence, the pumpkin is a figurative, almost bodily, form."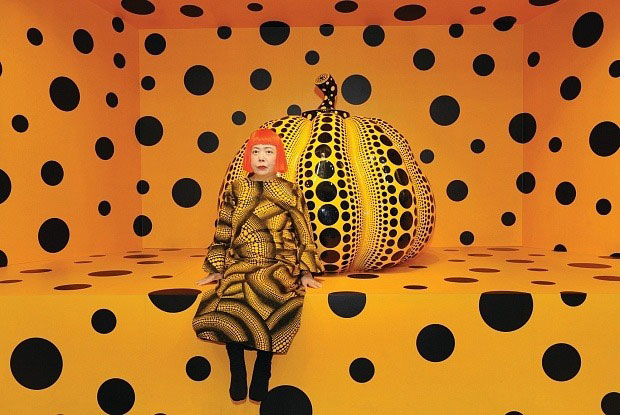 While we can all revel in that joyful, peaceful presence, it's hard to settle on a concrete reason for repeated use of pumpkins in Kusama's art. Perhaps we should leave the last word to her.
"I love pumpkins," the artist explained in a 2015 interview, "because of their humorous form, warm feeling, and a human-like quality and form. My desire to create works of pumpkins still continues. I have enthusiasm as if I were still a child."
Let's hope, as she celebrates her 89th birthday, that this enthusiasm remains undiminished. For a better understanding of Kusama's work order a copy of our Yayoi Kusama book here.