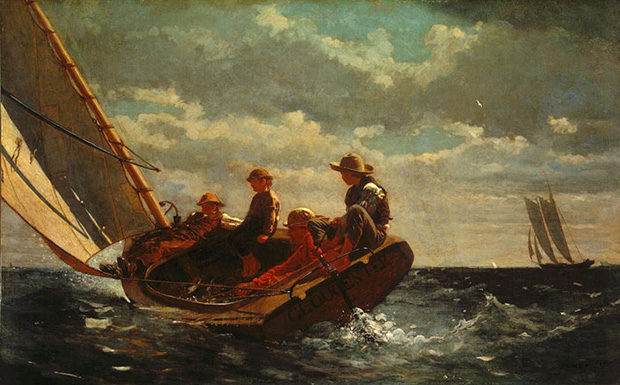 A Movement in a Moment: American Realism
Here's how Winslow Homer took a French tradition and applied it to the folk of America
Realism, as an artistic movement, began in France during the early 19th century, when artists such as Gustave Courbet found beauty, poignancy and novelty not in fancy and noble subjects, but in simpler 'realer' subjects - often the lives of the poor. To begin with, these scenes of road menders and poor country folk shocked and surprised art lovers. Yet, in time, this movement that set out to remake pictorial art in time became a victim of its own success. Decades later,when the rich industrialists of North America came to collect art in the later 19th century, they preferred the French Realists' - seeing their work as the proper subject for an oil painting - to the detriment of local artists.
"Art buyers in cities from Philadelphia to Boston favoured the work of European artists," writes Randall C Griffin in our Winslow Homer monograph, An American Vision, "and they also preferred Old World subjects, which were thought to be more picturesque and thus superior to native ones."
"As one critic angrily noted," Griffin goes on, "'although American collectors say give us American subjects, they prefer second-rate Venetian watercolours and white-capped Brittany peasants.'"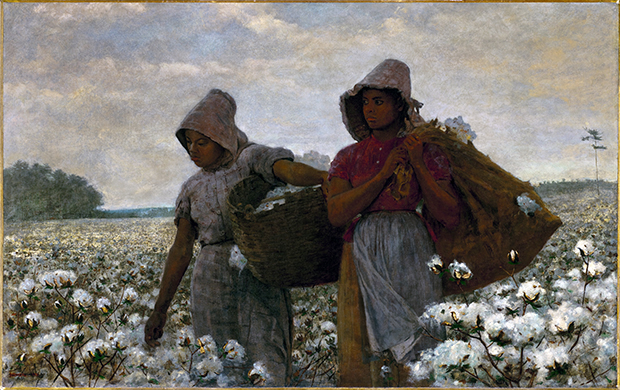 Winslow Homer, born today, 24 February, in 1836, in Boston Massachusetts, was a tenacious young painter of American subjects. He began his career as a commercial illustrator, providing images for magazines and booklets of sheet music. Yet he had higher ambitions, and in 1867, after covering the American Civil War for Harper's magazine, he travelled to France for a year to take in the European styles first hand.
Upon his return to the US, Homer applied French Realist techniques to US subjects, developing a style of painting known as American Realism. Although authentically American, Homer's pictures were not to everyone's taste. The civil war may have primed the US public's appetite for scenes of homely, innocent American life, and some critics derided Homer's very popular paintings as cloyingly sentimental. The US novelist Henry James described them as "barbarously simple."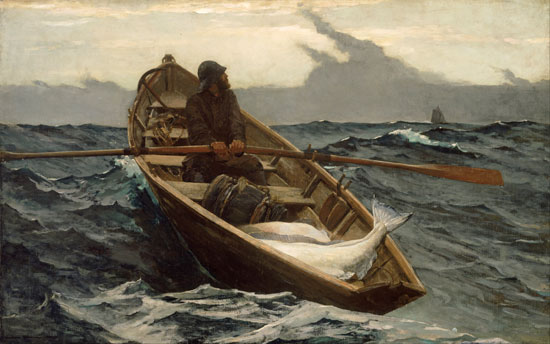 Nevertheless, Homer persisted, developing a bright, highly rarefied colour palette, a striking accurate style in both oils and watercolours, and a sharp eye for everyday scenes, particularly among the seascapes and seafaring folk of the north-east American coast. In 1881, he travelled to Britain, to depict the working folk of Tyneside, before returning to his native North America.
Presently, younger US artists, such as George Bellows and Edward Hopper, began to depict similar subjects. These younger painters looked in the growing industrial cities, rather than the country, for their subjects. Yet Professor William C. Agee, in his book Modern Art in America, traces later US realist developments, such as the Ashcan school a distinctly gritty, US style of urban realism, which took its name from a 1915 drawing by George Bellows Disappointments of the Ash Can back to "a long and deep-rooted American tradition of Realism that had extended from John Singleton Copley to John F. Peto and William Harnett, and through Thomas Eakins and Winslow Homer."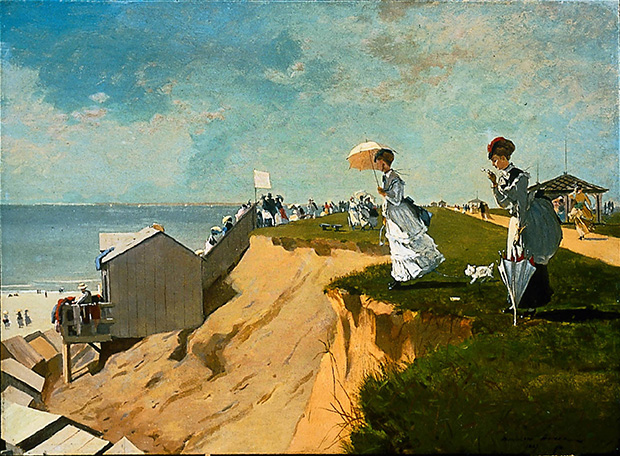 Homer's realist influence can also be seen in later landscape artists, such as Andrew Wyeth, as well as one of America's most popular commercial illustrators of the 20th century, Norman Rockwell. Indeed, the great art critic Robert Hughes argued, Homer's American Realism has become part of American visual culture; "one detects the vestiges of Homer's watercolors in every outdoor-magazine cover that has a dead whitetail deer draped over a log."
Having sought to introduce a European style into US art, Homer coined a visual trope as American as Huckleberry Finn.
To see more of his paintings and to learn more about his life, you can pre-order a new edition of our Winslow Homer book here. For more on American art order a copy of Modern Art in America; and for more on art movements throughout the ages get Art in Time.