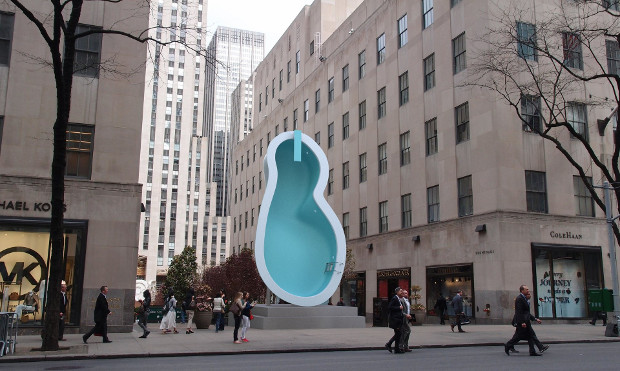 Elmgreen & Dragset turn a pool into Van Gogh's Ear
What does this swimming pool readymade say about the difference between Van Gogh's time and our own?
If there's one action that's more famous than those on Vincent van Gogh's canvases it is, of course, the cutting off of part of his ear in 1888. Over a century later, when the artist's works change hands for millions, this storied act of self-mutilation remains the symbol of the kind of sadness and desperation experienced by a particular type of self-destructive, impoverished and disillusioned artist.
So, what should we make of fellow Northern European artists Michael Elmgreen and Ingar Dragset erecting an outdoor swimming pool in New York's Rockefeller Center, named after the artist's mutilated feature? Van Gogh's Ear, one of the city's Public Art Fund, is the upended shell of a traditional, kidney-shaped pool, and serves as a rather captivating object, neatly highlighting the gap between the 1800s art world and the gallery system we all know today.
The pool, Public Art Fund explains, "is played as if in a high-end retail showroom, the work continues the idea of Marcel Duchamp's readymades, which debuted a century ago and featured ordinary objects elevated to the level of high art by the choice of the artist. In contrast with these works, which were often only slightly modified, Elmgreen & Dragset have carefully designed and crafted each detail of Van Gogh's Ear to mimic a garden swimming pool.

Re-positioned in a pedestrian plaza surrounded by the busy life of tourists, skyscrapers, and businesses, the pool stands out as a surreal object uprooted from its usual environment. The sculptural elements of the pool itself—from the curves created by the different depths and its overall shape, to the protruding diving board—become apparent when it is singularly presented vertically and above ground."
It's not the first time the art duo have used a swimming pool in their work. A work at the 2009 Venice Bienale featured a dead art collector floating, face down. The duo have also expressed an inspirational debt to David Hockney's paintings of pools.
For more on Van Gogh's life and work get this wonderful book; and for more on how an up-ended pool qualifies of as an artwork get Defining Contemporary Art.