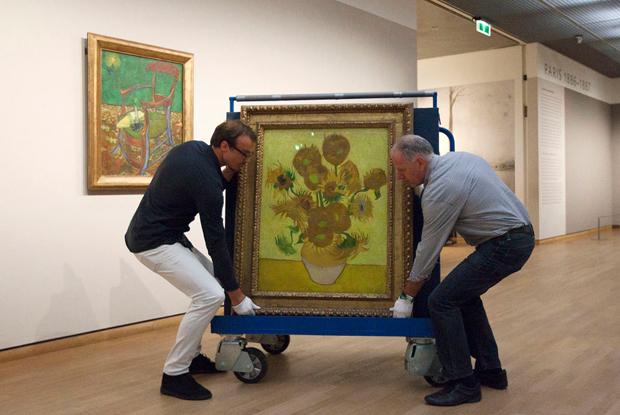 Vincent's Sunflowers on the move
Massive security operation swings into action as van Gogh's masterpieces leave their museum in Amsterdam
A massive security operation went into effect at on Sunday night as the Vincent van Gogh Museum in Amsterdam closed its doors and moved some of the world's most famous paintings to the Hermitage Museum across town. Alarm tags were removed from van Gogh's greatest masterpieces, including "Sunflowers," ''Irises" and "Bedroom" as soon as the museum closed and the paintings quickly removed from the museum's walls.
Curator Leo Jansen described the security measures that were undertaken to safeguard the precious cargo. Apparently after being loaded onto felt-covered trolleys, the paintings were taken to a workshop and wrapped in protective insulation. They were then packed into hard carrying cases called "turtles" resistant to physical shock and temperature changes. The cases were then assigned code numbers rather than the paintings' names (because that would be er, obvious). They were then were then driven across town accompanied by armed police escort.
The route each shipment followed was kept secret until the last moment. Even the date of the move was known only to a select few museum officials and staff. The operation apparently continued like clockwork all through Sunday night and into the early hours of Monday morning. The paintings will be back on show at the Hermitage this Saturday where they'll remain until April next year when the Van Gogh Museum is due to reopen on April 25, 2013. The Vincent van Gogh Museum is Amsterdam's most visited tourist attraction. Van Gogh, of course is one of many legendary artists featured in both the new edition of The Art Book and The Art Museum both in the store now.