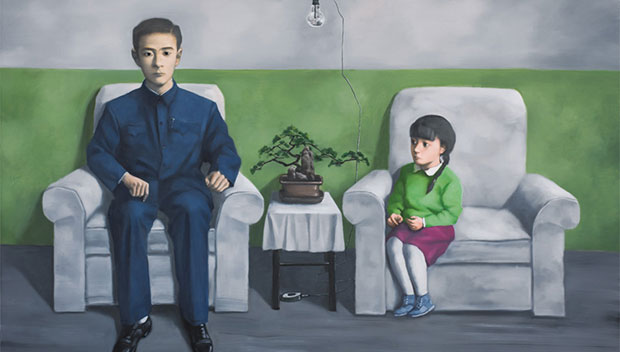 Zhang Xiaogang and the green wall
How the painter turned a ubiquitous element of 70s Chinese life into a powerful series of works
As reguarl reader may already know, the work of the Chinese painter Zhang Xiaogang touches on themes of memory, family and, as Gary G. Xu and Jonathan Fineberg, authors of the new critical study Disquieting Memories put it, the "profound dissonance between the official and the remembered past" experienced by all individuals in China but felt very keenly by Zhang.
Zhang uses recurring motifs to express this idea; seemingly humdrum details which take on an unexpected resonance and intensity in his paintings. In 2008, he began a new group of works which would become known as the "Green Wall" series. These bleak, yet vivid reminiscences were prompted by his realisation that his daughter, now 14, was on the cusp between childhood and adulthood, which was "demolishing each day" her infant memories, as she came to perceive herself anew.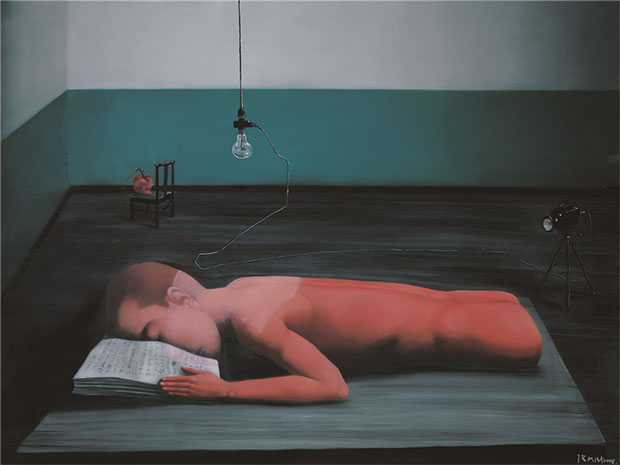 The green wall common to these paintings was a ubiquitous feature of Chinese life in the 1960s and 1970s. It was a feature of both interior domestic decor and public spaces such as schools and government offices, as if to stress the lack of differentiation between private and public life. This sense of personal obligation is stressed in Green Wall: Military Uniform (2008) in which a trenchcoat is strewn across a sofa, while in Green Wall: The Reader, a naked, orange figure, minus lower limbs, is asleep beside a sheaf of notes, his strange colouring suggesting that he is in some state of animation that is neither private or public, but more like a dream space.
The naked lightbulb is a common feature of these paintings, a symbol of his father. However, Zhang's true paternal influence was his mentor Lin Ling, to whom he pays homage in Green Wall No. 1, the man who stepped in when his biological father failed to support him in his artistic ambitions.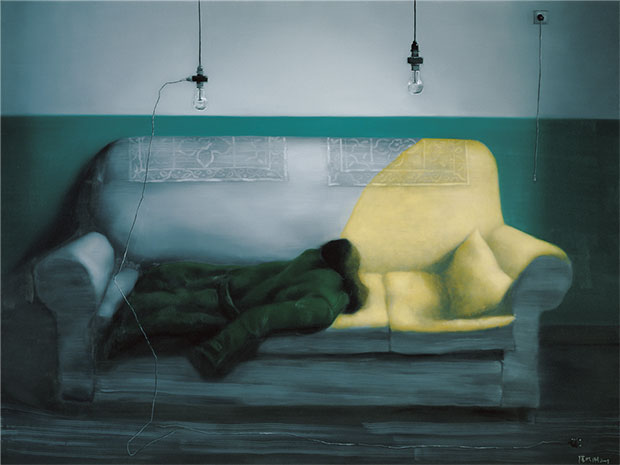 For greater insight into the life and work of this important Chinese contemporary artist check out our great new book Disquieting Memories here. And if you want to get a greater knowledge about the Chinese art scene, past and present, take a look at The Chinese Art Book while you're in the store.