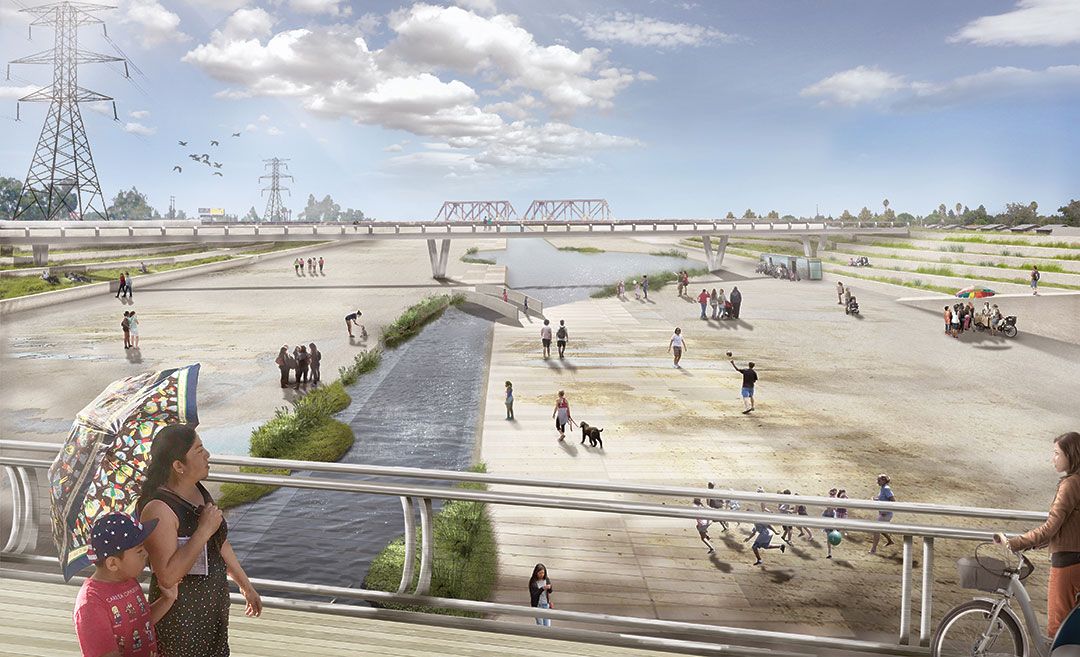 Frank Gehry's green dream for the LA River
Will the architect, who turns 90 today, get to transform his hometown's concrete watercourse?
Frank Gehry has reworked many of architecture's more conventional building practices. In his completed designs, towers embrace, bulge and flake apart, disregarding the demure geometry of modernism.
Yet there's one straight, flat tract of concrete that has, so far, resisted this world-famous architect, who turns 90 today. And it's in his hometown of Los Angeles.
"While visitors to Los Angeles may never notice it, a long river runs through the sprawling city - and, indeed, led to its development," writes Dan Barasch in his new book, Ruin and Redemption in Architecture. "The Los Angeles River covers nearly 51 miles, stretching southeast from the San Fernando Valley to Long Beach. Despite running dry for large parts of the year, and periodically flooding during intense rain, the river was used for centuries as a source of water and food, and served as the primary water source for the Los Angeles Basin until 1913. After suffering a disastrous flood, killing over a hundred people in 1938, the City of Los Angeles enlisted the U.S. Army Corps of Engineers to pave the river entirely with concrete, leaving behind a barren, bleak storm drain.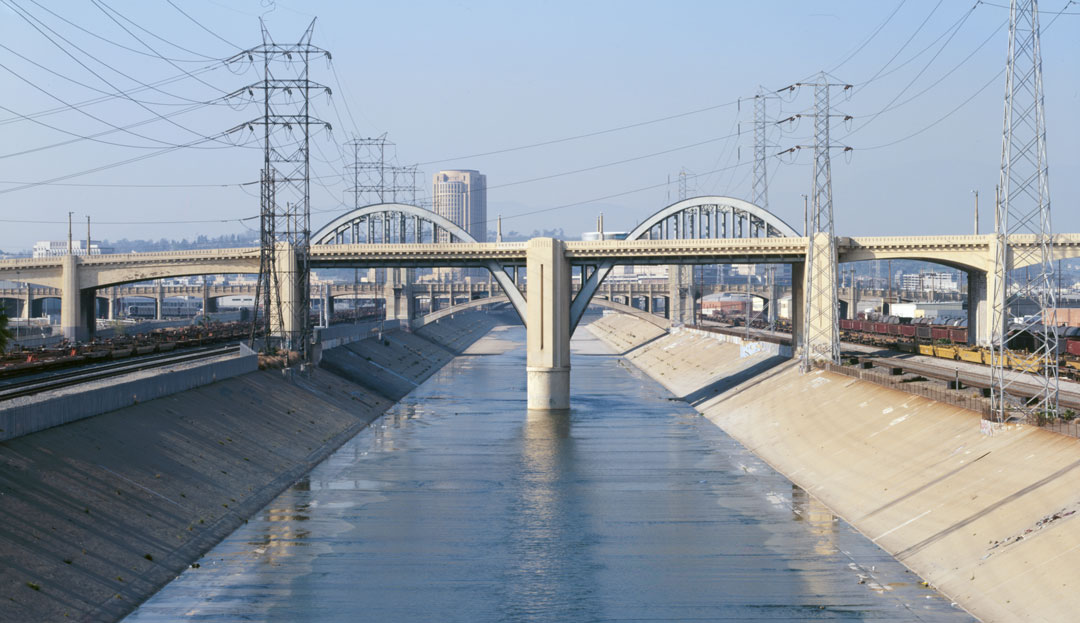 "Toward the end of the twentieth century, various groups focused on ways of reclaiming the waterway for public use—including Friends of the Los Angeles River (FOLAR), founded in 1986. In 2007, the engineering firm Tetra Tech completed a revitalization master plan, which was approved by the LA City Council after more than 200 meetings.
"In 2009, the city established the LA River Revitalization Corporation, which grew into a new organization, River LA. In 2014, the River LA team approached architect Frank Gehry to further develop the master plan. Although not a landscape designer, Gehry was an LA resident interested in the long term viability of the city; he agreed to collaborate in order to reconsider water issues, sustainability, and local resilience. Bringing in landscape practice OLIN and engineering firm Geosyntec, the group developed preliminary plans and 3-D models to reopen the riverbanks to public use, while reimagining and reusing the existing concrete infrastructure.
"In 2016, LA City Council approved "Alternative 20," a plan to transform 11 miles of the river near the city's downtown by removing concrete from its bed, at an estimated cost of over $1 billion. The plan would connect downtown Los Angeles with Griffith Park to the north and introduce new wetlands to manage stormwater runoff and improve the river's ecological well-being, allowing for the recycling of gallons of otherwise wasted water. In 2017, the State of California pledged $100 million and the City of Los Angeles devoted $365 million for construction of bike paths. Notably, fees from local real estate developers along the redevelopment route would help to provide additional funding over time.
"River LA is now focused on creating Greenway 2020, a vision for a continuous 'greenway' and bike paths for the entire length of the river, stitching various neighborhoods to downtown and to each other. As the Gehry-led design team prepare to unveil new visions for the river, it is clear that the ambitious project faces significant challenges: building consensus among dozens of different neighborhoods, securing additional funding, and restoring natural ecosystems after years of neglect. Yet if successful, it may be one of the most ecologically impactful modern examples of transforming infrastructure— an opportunity to invite nature, and public use, back to the Los Angeles River."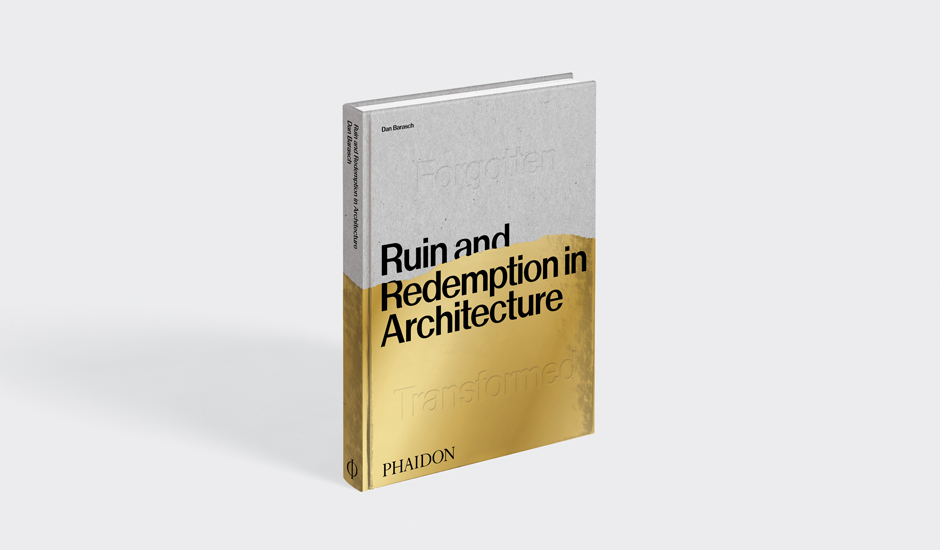 For more on this and many other modern ruins that have been transformed or are facing transformation, order a copy of Ruin and Redemption in Architecture here.