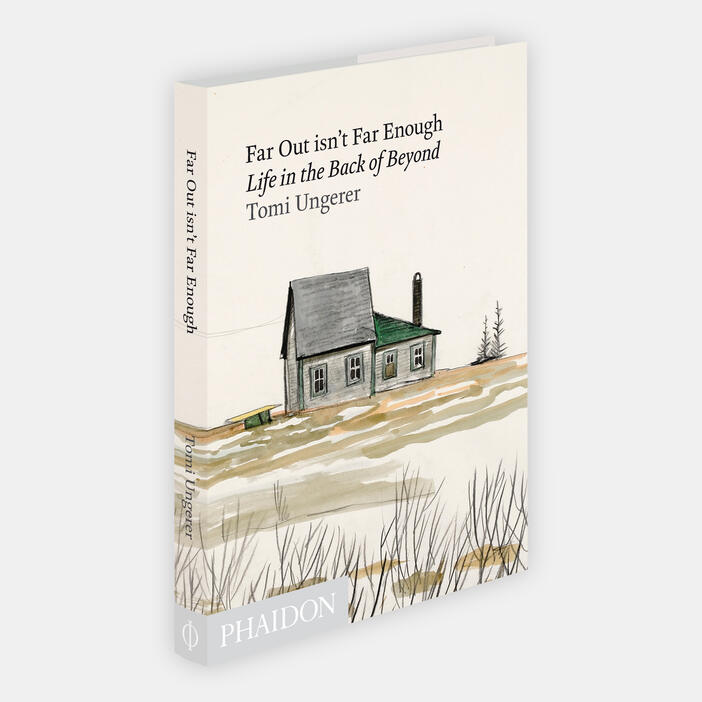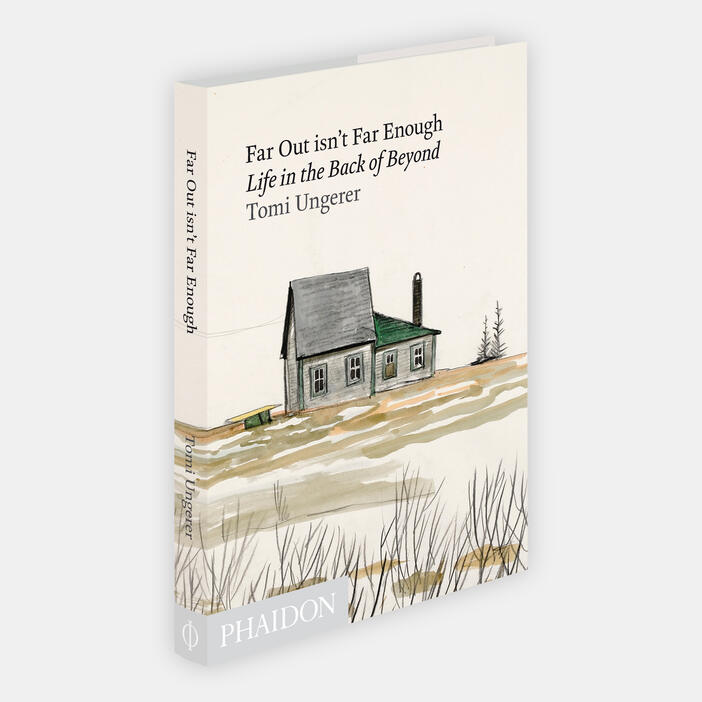 Far Out isn't Far Enough: Life in the Back of Beyond
Price AUD$39.95 Price CAD$35.00 Price €24.95 Price £19.95 Price T29.95 Price USD$29.95
Tiring of the hectic pace of seventies New York, acclaimed graphic designer Tomi Ungerer and his wife Yvonne hit the road in search of a new, simpler life on an isolated peninsula in Nova Scotia, Canada
Specifications:
Format: Hardback
Size: 250 × 180 mm (9 7/8 × 7 1/8 in)
Pages: 168 pp
Illustrations: 155 illustrations
ISBN: 9780714860770
Born in Strasbourg, in the Alsace region of France, in 1931, Tomi Ungerer started drawing as a small boy. Growing up in Nazi-occupied Strasbourg, drawing caricatures was for him a form of resistance. Described on his school-leaving certificate as a 'depraved and rebellious character', he hitch-hiked around Europe, getting as far as Lapland, rather than going to university. Inspired by his heroes Saul Steinberg, James Thurber and Charles Addams, Ungerer landed in New York in 1956, with only $60 dollars in his pocket and a suitcase full of drawings. He quickly found success as an illustrator and caricaturist, becoming a star almost overnight. He published his first book for children, The Mellops Go Flying, in 1957, and went on to publish 80 books over the next ten years, covering all aspects of his work.

Fluent in French, German and English, Ungerer regards himself as Alsatian first and European second, and has described New York City, where he lived and worked for 15 years, as the love of his life. However, his firmly held and clearly expressed beliefs and opinions – against racism, McCarthyism, the Vietnam War, against hypocrisy in any form – made life in the US increasingly difficult, and for a while, his books were banned from any libraries receiving public funding. He left the US in 1971 on a sudden impulse, when he and his second wife Yvonne moved to a farm in Nova Scotia, where they raised sheep, pigs and goats for a number of years, before moving to Ireland to raise their family. Tomi Ungerer now divides his time between his farm in Ireland, near the ocean that he loves, and Strasbourg, the city of his birth, where a museum dedicated to his work opened in late 2007.

Ungerer's work outside the world of children's literature is incredibly varied, ranging from caustic satire to beautifully observed drawings from nature, from movie posters to darkly erotic illustrations (he is not afraid or ashamed of depicting the most extreme fantasies, be they his own or imagined by others). As a graphic artist, he created advertising campaigns for Madison Avenue agencies, publications like The New York Times and the Village Voice, as well as for people like Willy Brandt, who led the Social Democratic Party of Germany for more than 20 years. A pacifist, Ungerer also made memorable, provocative posters for causes he believed in, such as the anti-Vietnam War movement, while his 'Black Power/White Power' poster, a comment on the American Civil Rights Movement, has become iconic.

Tomi Ungerer has said while many people can see only good and evil, he is particularly interested in the no-man's land between the two, as this is the most interesting place, where lessons can be learned. In the 26 books for children due to be published by Phaidon, Ungerer covers themes such as prejudice, poverty and the holocaust, but his fantastic repertoire also includes such charming animals as Adelaide, the flying kangaroo, and Orlando, the courageous vulture. With his books, Ungerer wants to inspire children's curiosity and imagination, but also to let them know that it's OK to have problems, because you can find the courage to fight them – among the many aphorisms and mottoes he coins and collects, his favourite is 'Don't hope, cope!'. When it comes to his own life and work, Ungerer's three key principles are enthusiasm, discipline and pragmatism. He is a firm believer in the importance of a good vocabulary, good manners, and the acquisition of practical skills like cooking, first aid and making knots, of creativity of any kind, because 'you are what you make'.

An internationally renowned artist and a superlative storyteller, Ungerer has received numerous awards for his work, including the Erich Kästner Prize for literature in 2003, the Hans Christian Andersen Award for illustration in 1998, and the Jakob Burckhardt prize of the Goethe-Stiftung, Basel in 1983. In 1992, the American Bibliographic Institute named him one of 500 'World Leaders of Influence', and in the same year, he was awarded the Bundesverdienstkreuz, the Order of Merit of the Federal Republic of Germany, for his contribution to cultural exchange and communication between France and Germany. The Council of Europe in Strasbourg named him an ambassador for children and education in 2000, and in 2002 Jack Lang, then French minister of education, named him an Officier de la Légion d'Honneur.
"A vivid and unflinching impression of rural existence and a testament to a brave attempt at self-sufficiency."—The Independent
"Ungerer depicts and beautifully illustrates this wild, untamed corner of Canada as mad and savage... A narrative so full of riches and quirkiness I was instantly hooked. The tenderness with which he writes about the characters that circled their life, the quality of his anecdotal wit and observations, his love of the absurd, the range of the couple's triumphs and trials and the vivid, poetic descriptions of the Nova Scotian landscape serve to make this an instant classic."—Sublime
"It's the good life, all right - but thankfully all mention of sowing and yields is quickly skipped over in preference for a study of the bonkers locals, the real stars of the show. Sketched affectionately in poetic, no-nonsense prose... A harsh and fascinating life, all told without a trace of judgement, without any forced humour - yet it is often hilarious. A beautiful book, too [...] Ungerer's illustrations vividly complement his words and bring the ducks and dogs to life - not to mention sexy Yvonne, who cavorts through the pages like a Woodstock-era Felicity Kendal. Highly recommended."—Real Travel
"A diary with running commentary, whose prose – so precise in its delineations of landscape, weather, the daily toils of farm-life, the lost souls of the adjacent communities – is perfectly enhanced by the accompanying illustrations."—Books for Keeps