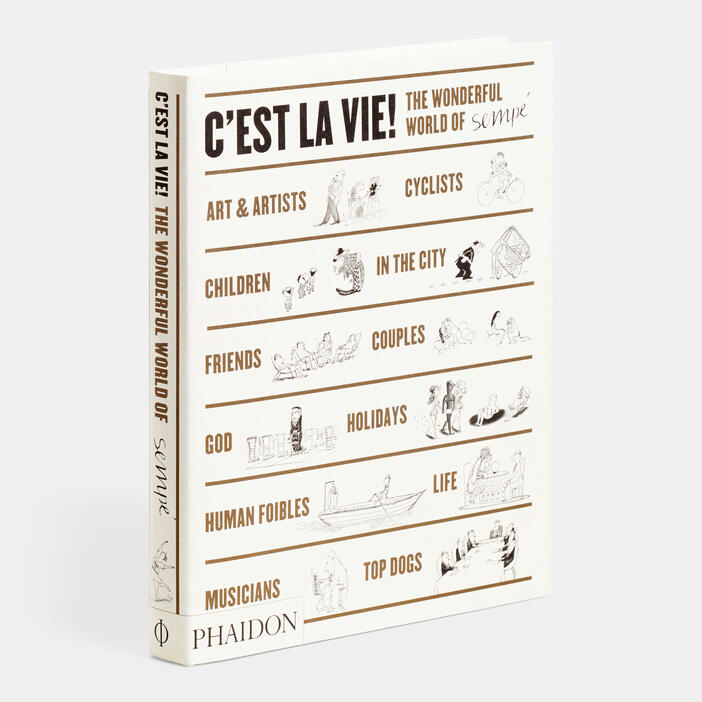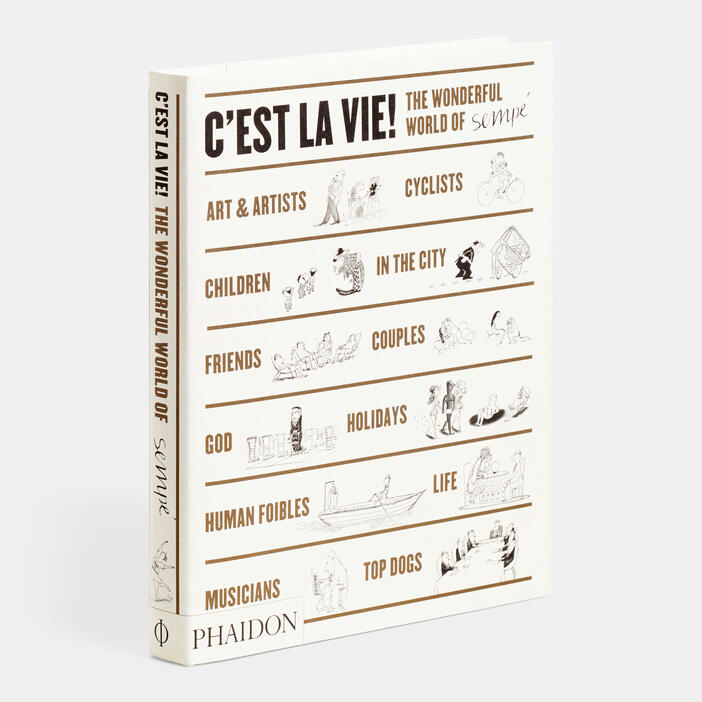 C'est la Vie!: The Wonderful World of Jean-Jacques Sempé
Price AUD$59.95 Price CAD$55.95 Price £29.95 Price T49.95 Price USD$49.95
The most extensive collection of cartoons by one of the world's best-loved illustrators.
Specifications:
Format: Hardback
Size: 270 × 220 mm (10 5/8 × 8 5/8 in)
Pages: 304 pp
Illustrations: 250 illustrations
ISBN: 9780714865973
Jean-Jacques Sempé (b.1932) is one of the world's most successful illustrators and cartoonists. He is the illustrator of the classic children's-book character, Nicholas, and author of a collection of some 30 albums of his cartoons and graphic novels, all published or to be published by Phaidon. His world-renowned illustrations and cartoons are featured on the cover of the
New Yorker
and in
Paris Match.
Anthea Bell was awarded the Independent Foreign Fiction Prize and the Helen and Kurt Wolff Prize (USA) in 2002 for her translation of W G Sebald's Austerlitz. Her many works of translation from French and German (for which she has received several other awards) include the Nicholas books and, with Derek Hockridge, the entire Asterix the Gaul saga by René Goscinny and Albert Uderzo.
"Sempé goes about showing us up with great good nature. … his drawing is consistently delightful."—Anthea Bell, Sunday Telegraph
"Drawings [that] are eloquent in every language."—Quentin Blake, The Week
"[Sempé] is, par excellence, the master of the panoramic cartoon... Captions [...] have been brilliantly translated by Anthea Bell... There are many talented French cartoonists. [...] [Sempé] is the most universal... Sempé cartoons are a kind of illustrative haiku. In such small space he conveys a great amount of meaning... An infinite delight in the complexity and ambivalence – and the humour – of the everyday and the ordinary."—The Independent
"[Sempé] started life as a journeyman cartoonist, drawing single gags. From there he has gradually broadened out and blossomed, acquiring colour and boldness and breadth, until it is hard to call him anything but an artist... You can't really lose with Sempé."—The Spectator