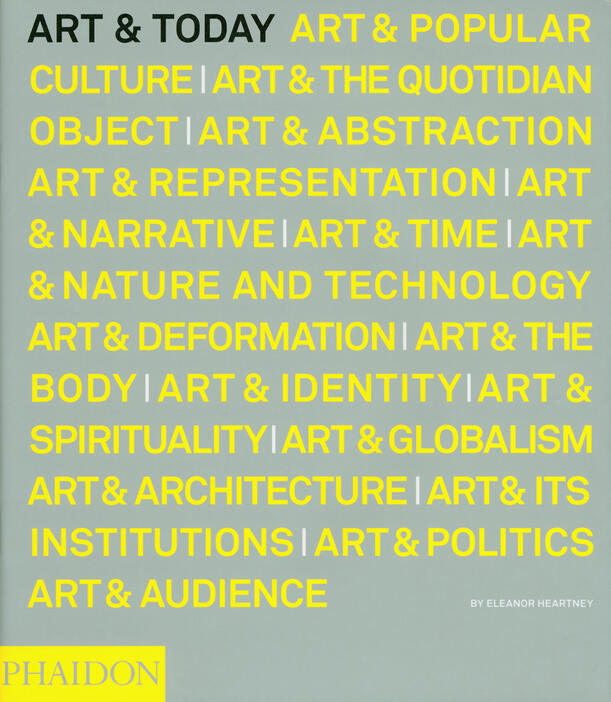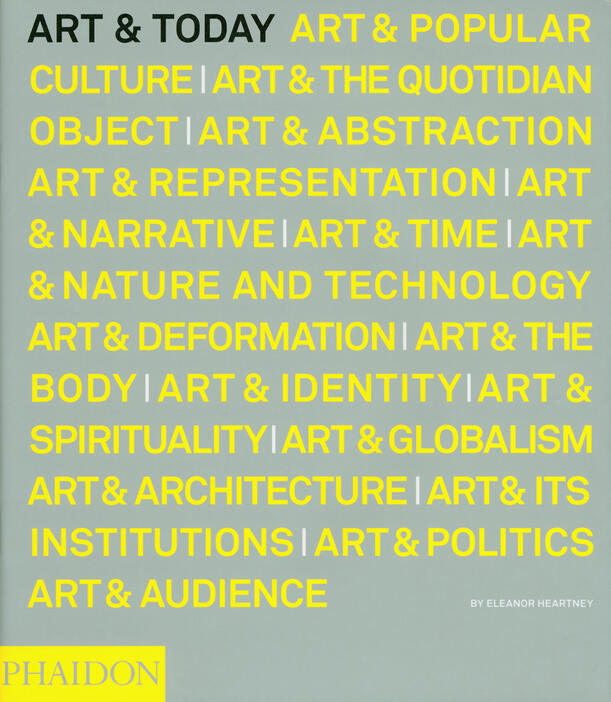 Art & Today
Targeting the same audience as Phaidon's highly successful and long-selling
Art Today
by Edward Lucie-Smith,
Art & Today
surveys contemporary art from 1980 to today, discussing over 450 of the most important artists of the last 25 years. Each of the 16 chapters in
Art & Today
tackles a major theme of contemporary art. This emphasis on broad, thematic relationships defies the narrow, now-tired classifications of  medium, period, genre, or geographic region so often regurgitated in contemporary art surveys of this ilk. Instead,
Art & Today
posits fresh, thought-provoking juxtapositions of artists from different regions, periods and mediums. For instance, in the chapter "Art and the Body," one might find performance discussed alongside figurative painting, sculpture and photography alongside video, and North American artists alongside Asian artists. Internationally renowned art critic and scholar, Eleanor Heartney is respected for her clear language and pragmatic approach to contemporary art. Her straightforward, engaging descriptions and explanations will appeal to both experts and newcomers alike. 
Specifications:
Format: Paperback
Size: 290 × 250 mm (11 3/8 × 9 7/8 in)
Pages: 440 pp
Illustrations: 460 illustrations
ISBN: 9780714866000
Eleanor Heartney has been a contributing editor to Art in America and Artpress for over 10 years, reviewing the most significant international art shows, biennials and documentas around the world. Her recent publications include Postmodernism and Critical Condition: American Culture at the Crossroads - Collected Essays of Eleanor Heartney.
"Coffee tables everywhere are crying out for Phaidon latest tome, Art & Today. It's exactly what you want: a comprehensive overview of art from the Eighties onwards... Arresting images [...] and great prose."—GQ
"A welcome overview of today's confused art world... A valuable reference book... Well-illustrated."—Wall Street Journa
"The overarching point of Art & Today is to show how the certainties of modernism [...] gave way to the anarchy of post-modern, contemporary art... The book attempts to impose some welcome order and logic on the ensuing chaos (and 400 artists): no easy task when the history is happening around you. Heartney, however, proves up to the challenge: she has an accessible prose style, a profound grasp of art history, and a publishing company willing to include 560 illustrations."—Art World
"The history of contemporary art, writes Heartney (Postmodernism), a contributing editor to Art in America, offers a tapestry of stories in an innovative, intellectually vigorous and superbly illustrated survey... Heartney's focus is sharp and selective, and her approach complexly postmodern: the ever-proliferating universe of Matthew Ritchie's installations are discussed in the context of Roland Barthes, Cindy Sherman's photographs as Bakhtinian carnival... This exceptional survey will have wide appeal... in a work that's both perceptive and energetic."—Publishers Weekly