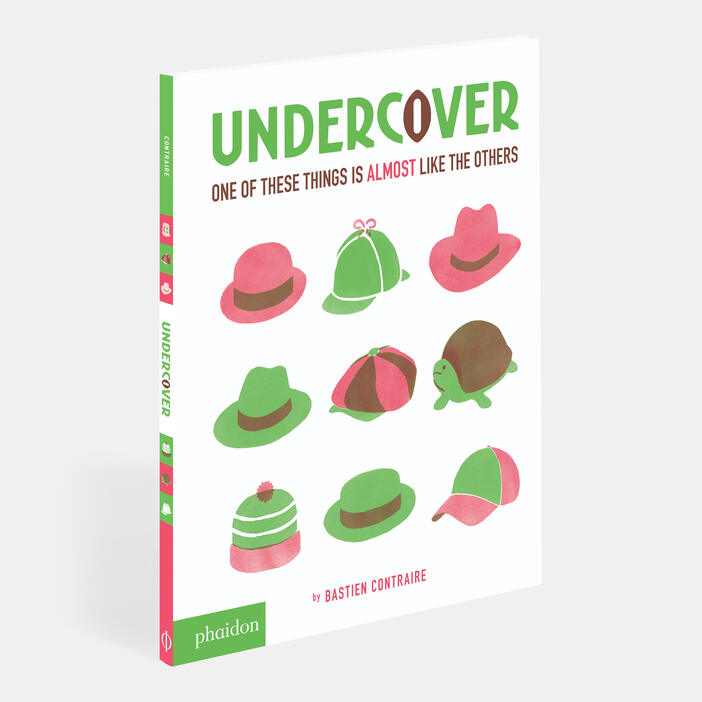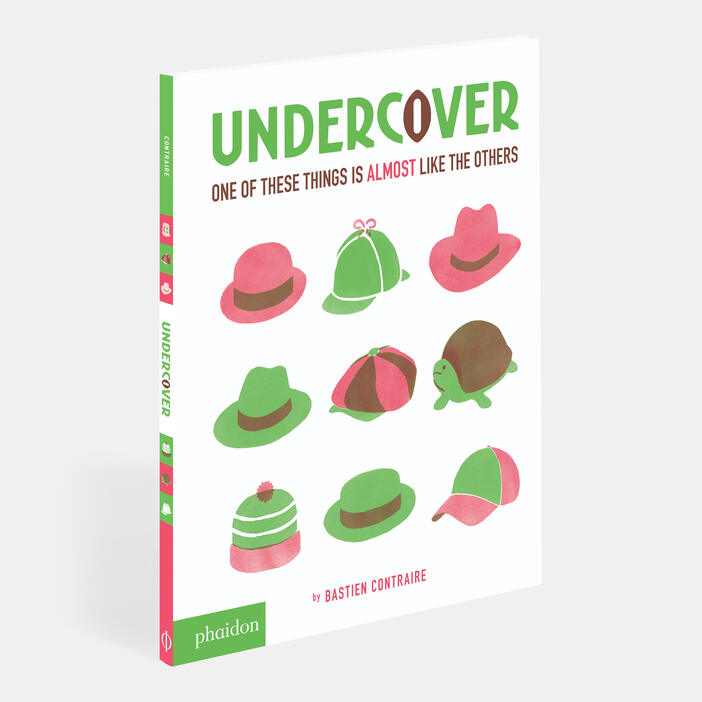 Undercover: One of These Things is Almost Like The Others
Price AUD$29.95 Price CAD$24.95 Price £12.95 Price T18.95 Price USD$18.95
A clever and surprising approach to categorization and the art of disguise
Readers will look for the odd one out on each spread of this stylish, 64-page picture book, packed with familiar objects, stunningly depicted in duotone. This play on the analogy of shapes makes the objects look deceitfully similar and the task surprisingly tricky! With a range of humorous visual jokes through association (an egg among birds) as well as clever shape comparisons (a plane among insects), this wordless book offers much to be discussed, and the joy of visual deciphering and categorization is sure to continue beyond its pages.
Ages 3-6
Specifications:
Format: Hardback
Size: 300 × 235 mm (11 7/8 × 9 1/4 in)
Pages: 64 pp
Illustrations: 64 illustrations
ISBN: 9780714872506
Bastien Contraire is the co-founder of Papier Gaché, an independent publisher of fanzines and art books that promote contemporary drawing and comics. His work in design encouraged him to explore numerous hands-on art techniques, leading him to discover the stencil-print technique he uses for this book. Contraire lives in Paris. This is his first children's book.
As featured in Atlanta Parent, The Wall Street Journal, on Book Nerd Mommy, and Celebrate Picture Books
"Undercover abounds in thought-provoking juxtapositions that add intrigue to the simple fun of seeking and finding."—The Wall Street Journal
"A picture-book invitation to look carefully and observe."—Kirkus
"A sleekly designed and cleverly imagined book... Subtle humor combines with impeccable design as Contraire invites readers to consider perception, classification, and form."—Publishers Weekly
"Clever... The striking stencil artwork instantly catches the eye."—Teach Early Years
"There's huge fun to be had in this graphic odd-one-out book."—HuffingtonPost
"Thick luxurious paper and a hardback format give this Phaidon picture book its publisher's signature quality in production. Stencil printed in green and pink, this is a bright game of 'spot the odd one out' for little readers with an eye for style. The sneaky elements are clever and could provoke interesting conversations, too. A book to share."—Book Trust
"I can just see kids spending ages poring over these pages, searching for the odd-one-out-and what fun it would be to read this book in a group setting-and see who can spot it first. Beautiful, clever, fun. A scrumptious visual hunt on stylised steroids."—Kids' Book Review
"Delightful... Young children will giggle when they spot the item that does not belong..."—Atlanta Parent
"Here's a gorgeous picture book that combines fun with flair, and offers children the opportunity to find the odd one out. The limited palette of magenta, lime and brown and the stunning stencil print design will appeal to parents, but kids will laugh uproariously over a turtle hiding amongst hats or an umbrella hoping to pass itself off as an ice-cream."—The Book Chook
"The stylishly presented three colour format with a clutch of things continues on each page, prodding the reader to identify the shapes as well as point out the oddity. Not only will they get used to questioning what is on each page but they will identify the similar objects shown and be able to recognise why one is different."—Read Plus
"Gorgeous."—Los Angeles Times
"I absolutely adore this book."—School Library Journal/Fuse 8 blog
"[A] stylish picture-book puzzler."—The Wall Street Journal
"A book for 3-6 year olds (although adults and older children will take pleasure in its pages too) this wordless book will strengthen visual and categorisation skills and introduce them to the art of disguise."—KidsStyleFile
"A most original and aesthetically pleasing picture book... Children will love the humour lighting up many of the spreads... As well as being hugely entertaining, the book helps children see how objects are categorised and encourages them to ignore colour and focus on the shape of objects to identify the odd one out. The book is large and robust enough to survive well in a nursery or Reception classroom. It will lead to a lot of lively discussion and some children might like to create their own 'odd one out' page to share with others."—The School Librarian