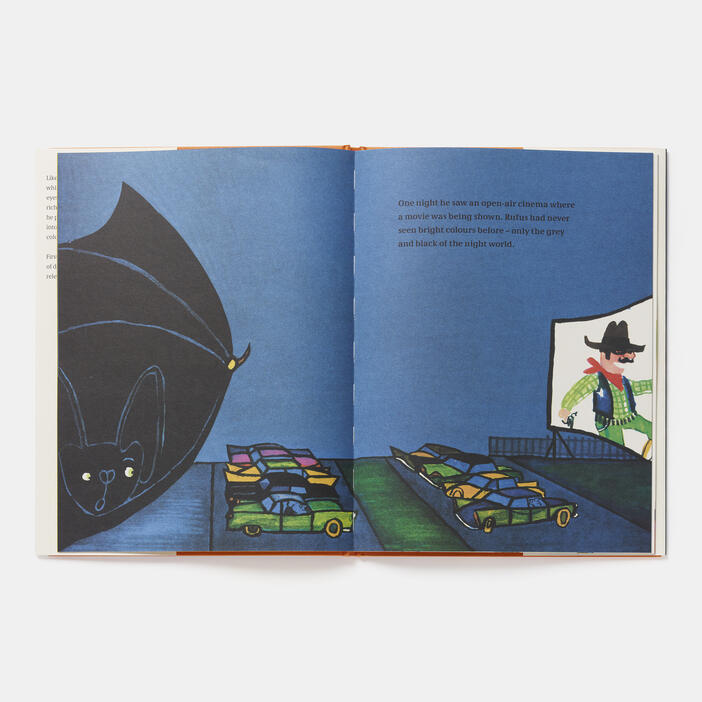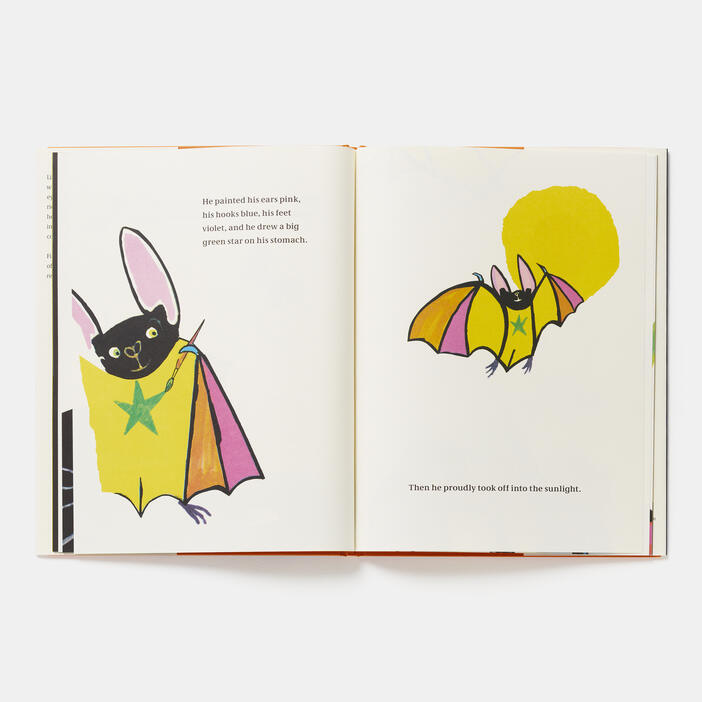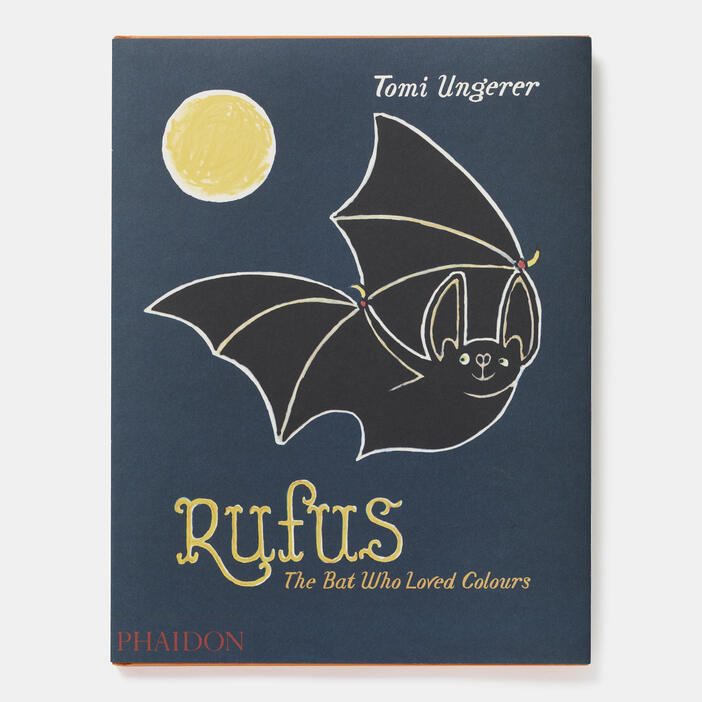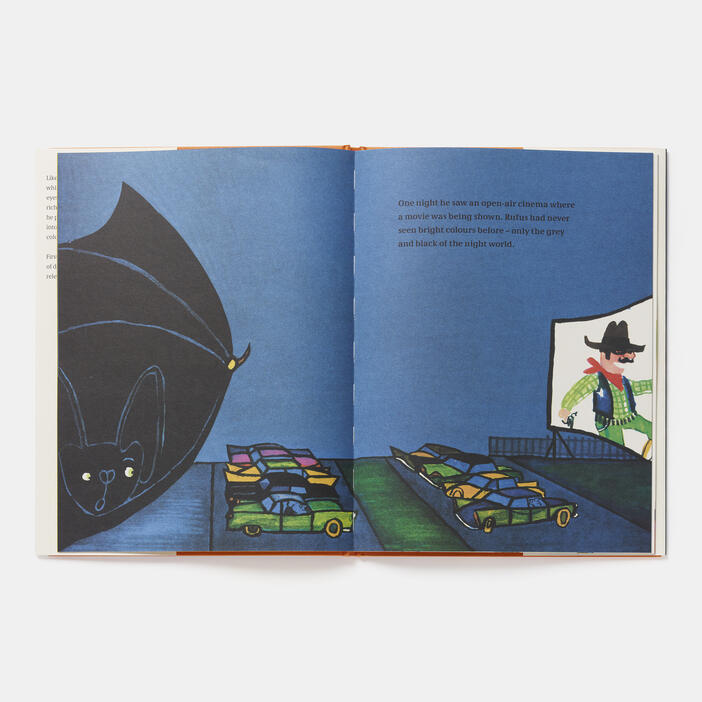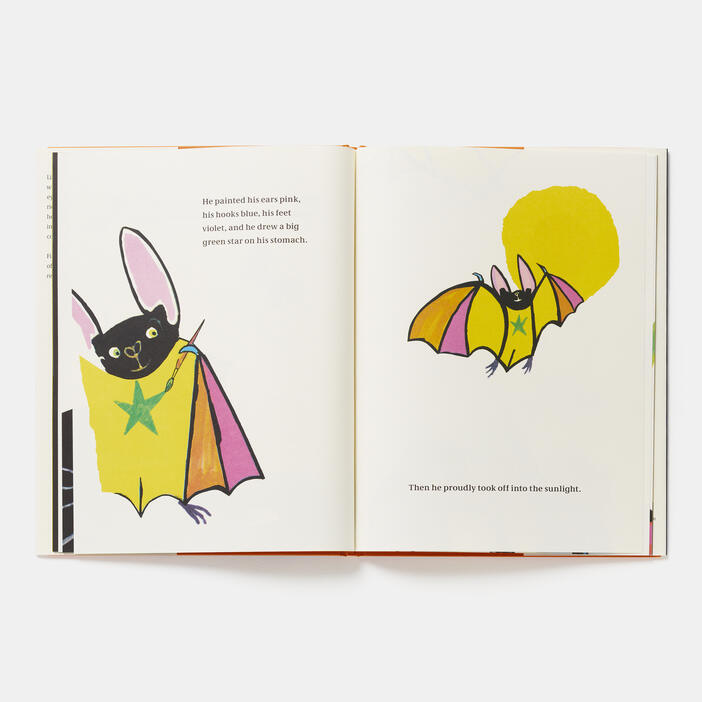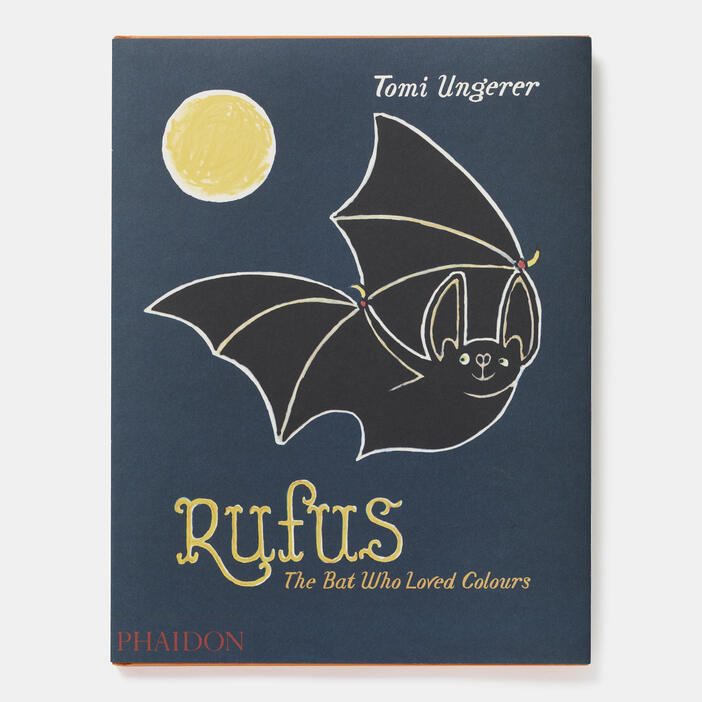 Rufus: The Bat Who Loved Colours
Price AUD$22.95 Price £10.95
Tomi Ungerer's classic tale about a bat who learns to embrace his differences through friendship.
Like all bats, Rufus sees life in black and white, until he chances upon an outdoor movie theatre and is awakened to the dazzling world of colours for the first time. Inspired and excited, Rufus paints his own wings and ventures out into the day, only to discover that his unusual appearance attracts unwelcome attention. Though he is initially rejected for his difference, Rufus soon learns to accept himself for who he is, thanks to a new friend.
First published in 1961, this classic story of difference and acceptance is as relevant today.
Beautifully written and illustrated by the internationally acclaimed author and illustrator, Tomi Ungerer, winner of the prestigious Hans Christian Anderson Award for children's literature.
Ages 3-6
Specifications:
Format: Hardback
Size: 296 × 222 mm (11 5/8 × 8 3/4 in)
Pages: 32 pp
Illustrations: 32 illustrations
ISBN: 9780714869728
Born in Strasbourg in 1931, Tomi Ungerer landed in New York in 1956 with $60 in his pocket and with a suitcase full of drawings. Overnight he became a star as a caricaturist, illustrator and children's book author and published more than eighty books in ten years. In 1998, Tomi Ungerer was awarded the Hans Christian Andersen Award for illustration and has become an internationally renowned artist. He now divides his time between Ireland and Strasbourg, France, where the Musée Tomi Ungerer, a museum devoted exclusively to his work, opened in 2007.
Other Tomi Ungerer books published by Phaidon include The Three Robbers (2009), Moon Man (2009), Adelaide (2011) and Fog Island (2013)
"Delightful... With their old–fashioned charm, timeless storytelling, and irresistible humor, the books are destined to win over new generation of readers." —School Library Journal, on Tomi Ungerer
"If you look at the work of Tomi Ungerer, it's passionate, it's personal, it's marvellous and it's cuckoo, and it's that kind of variety that's always made for good children's literature." —Maurice Sendak, The New York Times, on Tomi Ungerer
"The kind of inventive story that will have kids asking for repeated readings." —Karen MacPherson, Scripps Howard News Service on Tomi Ungerer
"Rufus: The Bat Who Loved Colors (just reissued by Phaidon) has been flapping around winning hearts since it was first published in 1961." —Shelf Awareness
"Another brilliant reprint of a Tomi Ungerer classic." —UrbanFamily
"Sweet, briefly dramatic and sad, and ultimately as wonderful as it was the first time... Some stories never get old." —Publishers Weekly Online
"Rufus is a great example of what we should all strive for ourselves and help every child feel, a sense of empowering self-acceptance."—The Reading Ninja
"This classic story of difference and acceptance is still relevant today."— Carousel

"Strong, simple and effective illustrations and book layout support a story made for discussion."—Portland Book Review