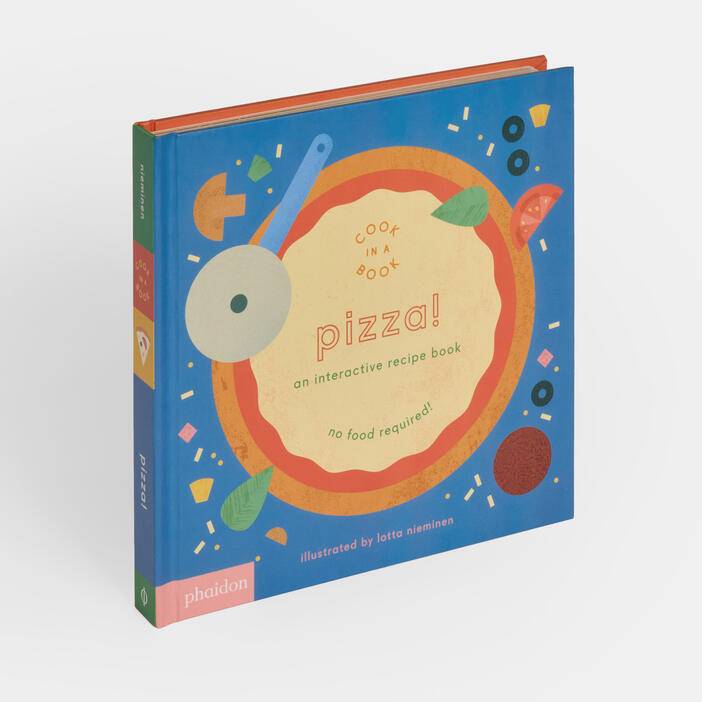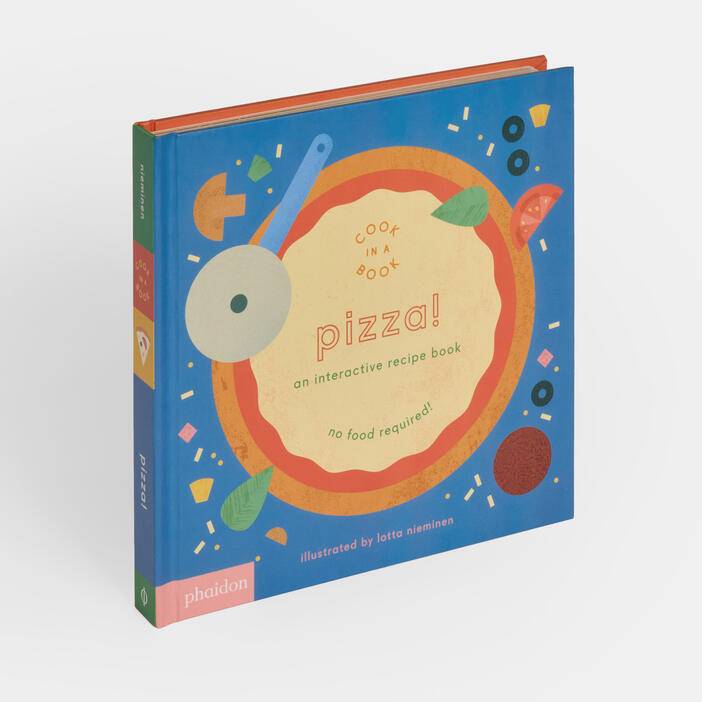 Pizza!: An Interactive Recipe Book
Price AUD$24.95 | Phaidon 100 Price CAD$25.95 | Phaidon 100 Price €16.95 | Phaidon 100 Price £12.95 | Phaidon 100 Price T19.95 | Phaidon 100 Price USD$19.95 | Phaidon 100 Price | Phaidon 100
Cook pizza from scratch in this fully interactive recipe book that allows readers mix the ingredients, knead the dough, spread the sauce, and more!
STEP ONE: Stir the yeast and sugar into the warm water, and set aside until bubbly.
STEP TWO: Combine the flour and salt in a large mixing bowl.
STEP THREE: Add the oil and yeast mixture into the large bowl and mix until the ingredients turn into a large clump of dough!
Simple yet accurate recipe text takes readers through the steps of cooking pizza, from dough to toppings, while the interactive novelty features invite them to participate in the process! One hundred percent adult-free, knife-free, oven-free, and mess-free, cooking pizza has never been so independent! Perfect for kids who love to help in the kitchen, or any child who prefers to 'do it myself'. This is the second title in a series of interactive recipe books.
Ages 2-4
Specifications:
Format: Board Book
Size: 203 × 203 mm (8 × 8 in)
Pages: 16 pp
Illustrations: 0 illustrations
ISBN: 9780714874098
Lotta Nieminen is an illustrator, graphic designer, and art director from Helsinki, Finland, now running her own New York-based studio. In 2014, she was nominated for Forbes magazine's annual 30 Under 30 list. In 2010, she received the Art Directors Club Young Guns award. Her client list includes Google, New York Times, and Vanity Fair, among many others.
"Will help your toddler develop an early love of cooking... The perfect way to introduce cooking."—Mother & Baby
"Nieminen dishes up ingredients and instructions for another tasty treat... Toddlers will be left with an appetite for seconds. And thirds..."—Kirkus Reviews
"A perfect introduction to the kitchen." —Absolutely Mama
"A recipe book with a difference!... The clear language and fun interactive features on thick sturdy pages are combined with the stylish vividly coloured illustrations by acclaimed Finnish artist Lotta Nieminem. An original, novel and innovative interactive recipe book."—Outside in World
"As the follow-up to the popular Pancakes, Pizza should encourage preschoolers and parents to cook together. Kids may even learn to take interest in cooking and helping in the kitchen. Pizza is incredibly sturdy and innovative and fun for hours."—Lee Littlewood, Kid's Home Library
"[A] a great pick for a library collection. It's pizza! What's not to love?"—Betsy Bird, School Library Journal, "2017 Board Books Worth Noting"
"Pizza is incredibly sturdy and innovative and fun for hours."—Creators Syndicate
"[M]y toddler's favorite books in the world! Each one is a sturdy board book that contains a real recipe for the food featured. The real fun is that through lifting flaps, turning wheels and other interactive features you get to simulate the cooking. Perfect for little foodies."—Book Nerd Mommy
"Perfect for tiny chefs who want to help in the kitchen."—Pregnancy & Newborn
"The board book that might just help teach your kids to cook... I can't guarantee that your little Julia Child or Emeril will be ready to make a five-course family dinner after exploring this book, but it might just help plant the seeds of kitchen confidence that will stay with them into adulthood." —Cool Mom Eats
"Before you set foot in the kitchen with your little one, why not have a practice run..." —Gurgle
"Entertaining and useful, parents of future foodies will want the entire series."—School Library Journal Online
"Start them young... This brilliant interactive book lets little ones create a paper pizza... Addictive (for adults too!)." —Delicious
"Lotta Nieminen ingeniously merges the children's cookbook with a board book format in Pizza! An Interactive Recipe Book... Even adults may find it hard to wait their turn.... Here's hoping Nieminen, whose Cook in a Book series includes Pancakes! and Tacos!, stays hungry." —Shelf Awareness
"It's like letting a toddler cook, but without the mess."—The Strategist/New York Magazine Online
"Probably one of our most favorite interactive series of all time. It's a great one to pair with kids' first cooking experiences, with opportunities to talk about the sequencing of a recipe and the rich language associated with food."—Avery and Augustine
"We adore these fun interactive board books (plus they make great gifts)... My kids LOVE these books."—Some the Wiser Blog
"This interactive, illustrated book teaches toddlers how to make pizza, from forming the dough to cutting a slice of their picture-perfect pie."—Allrecipes