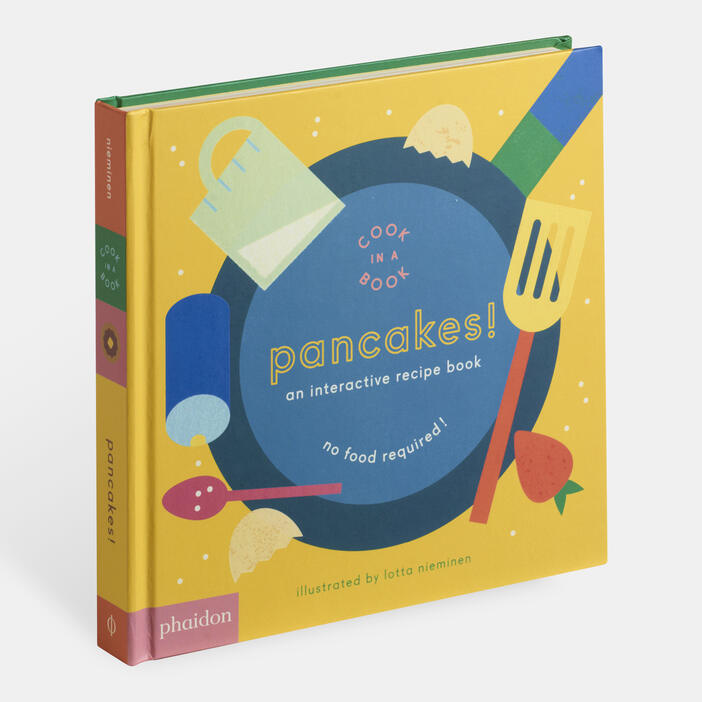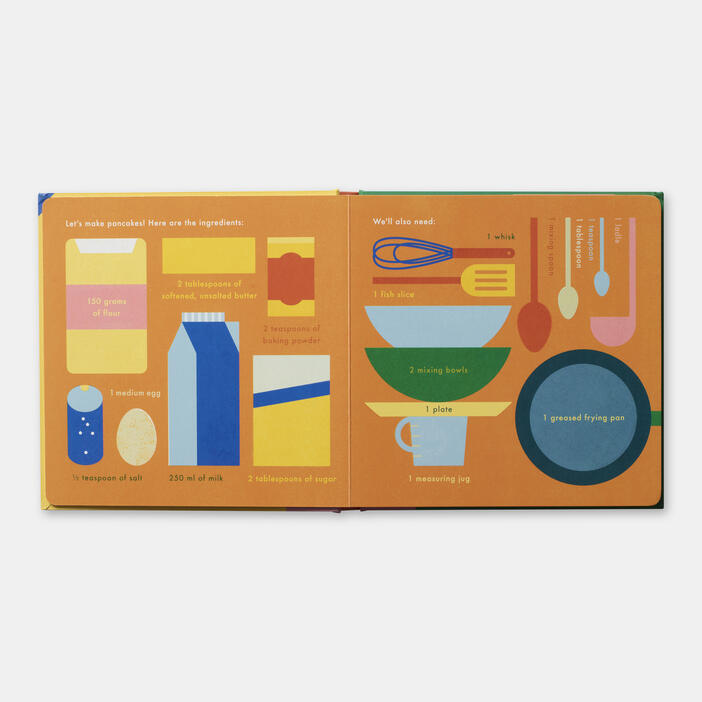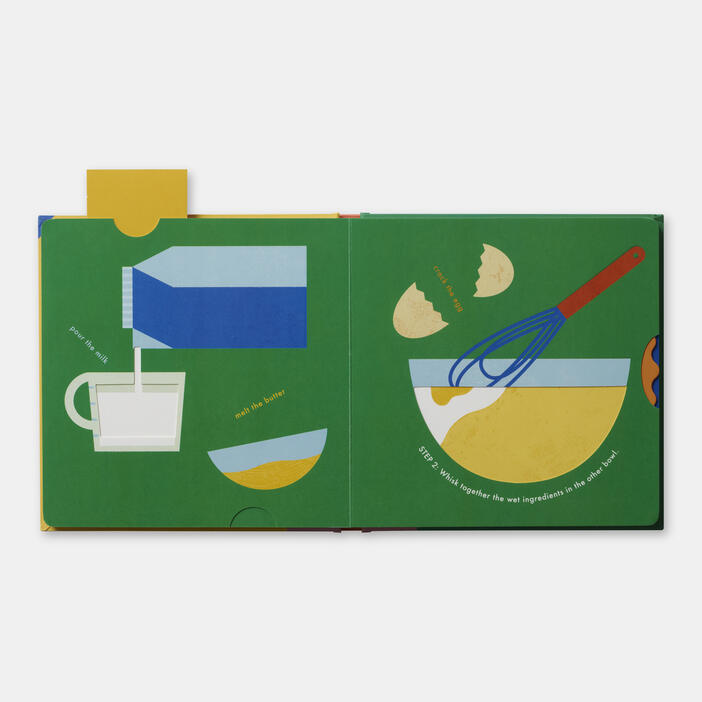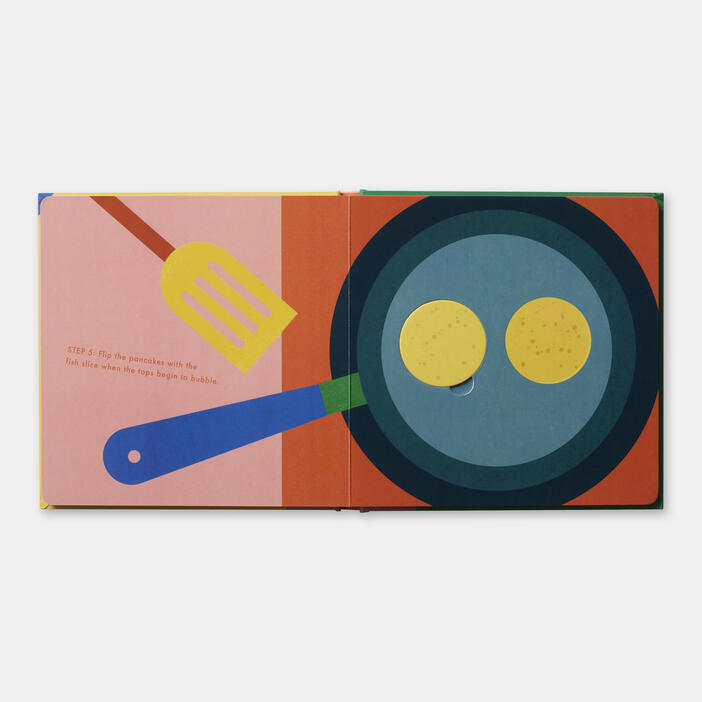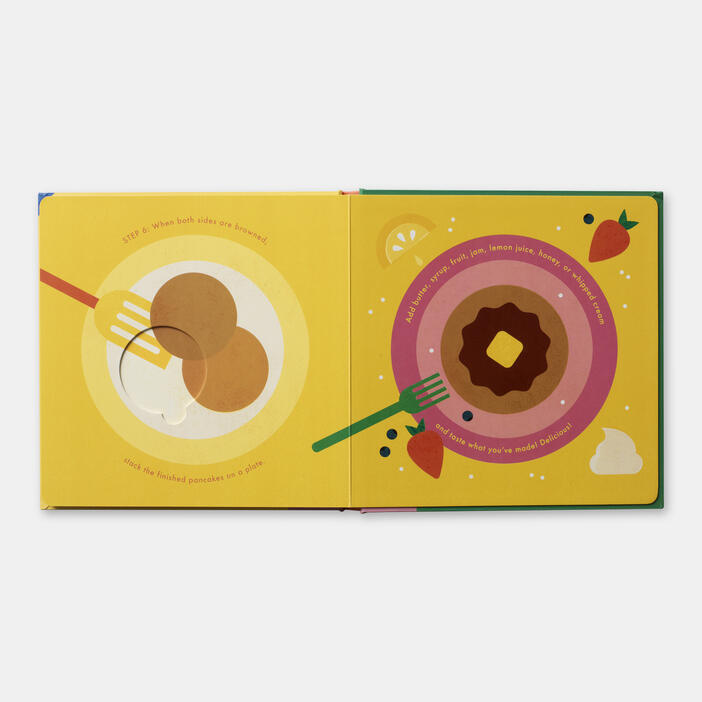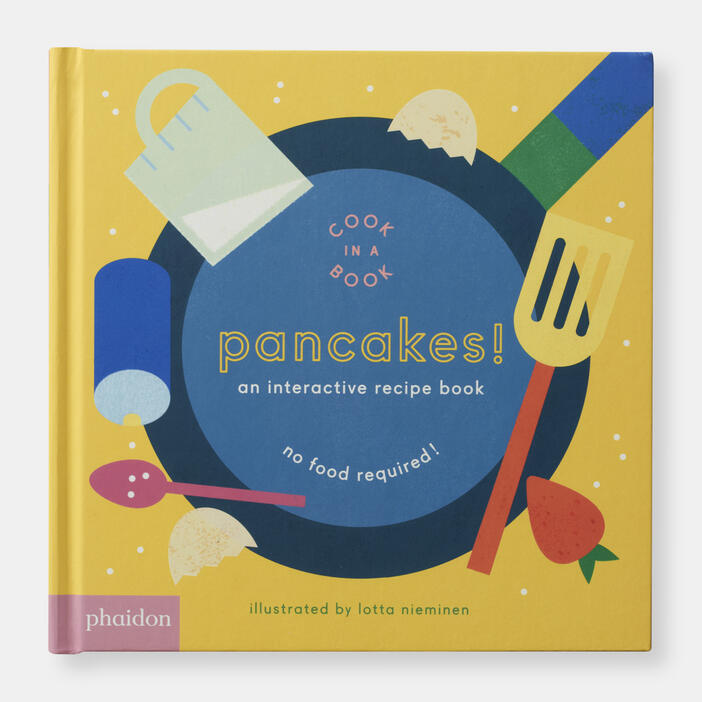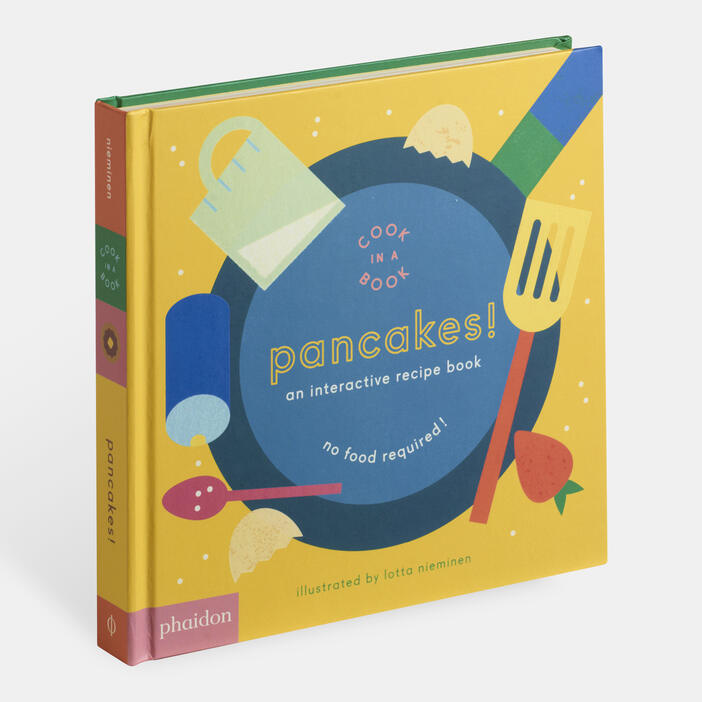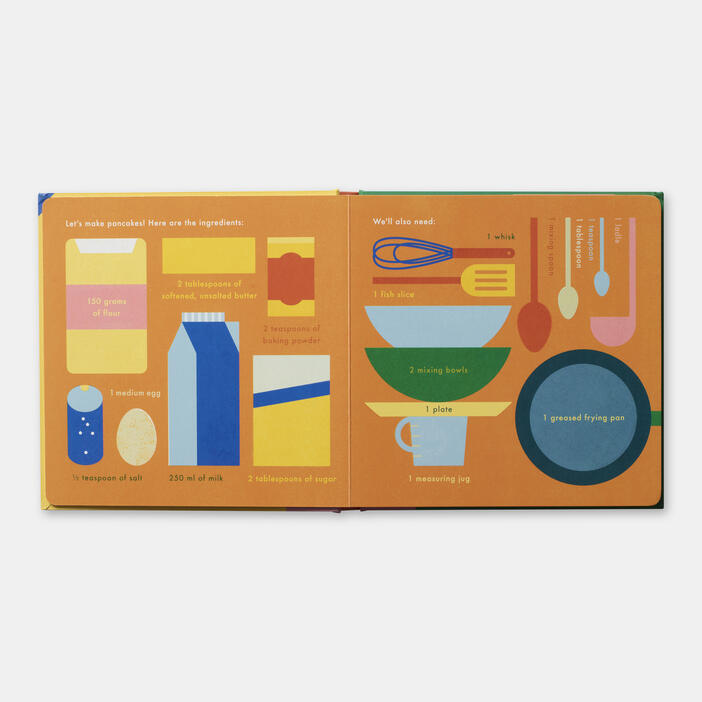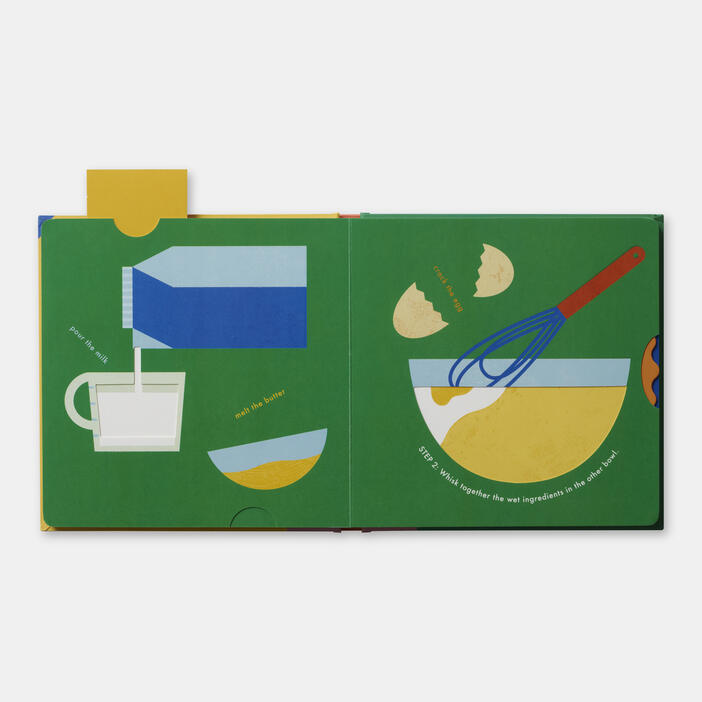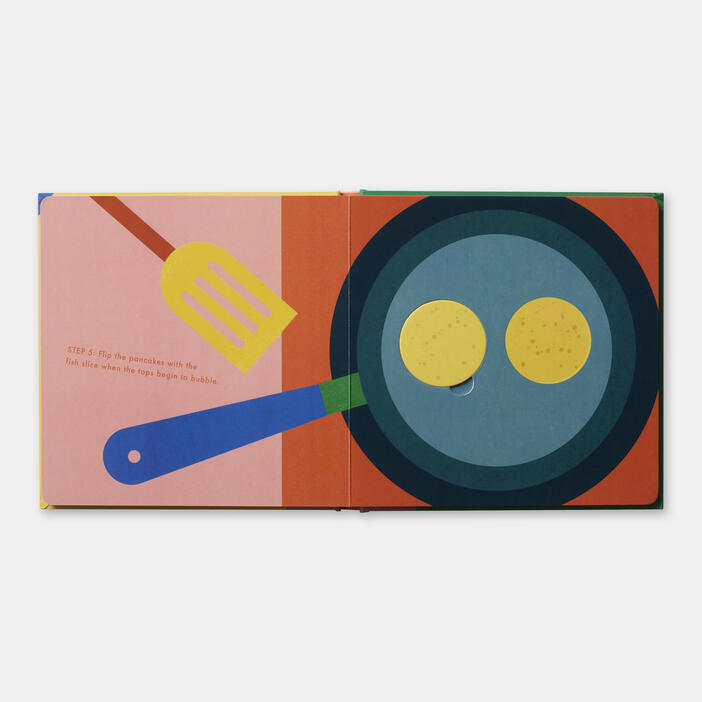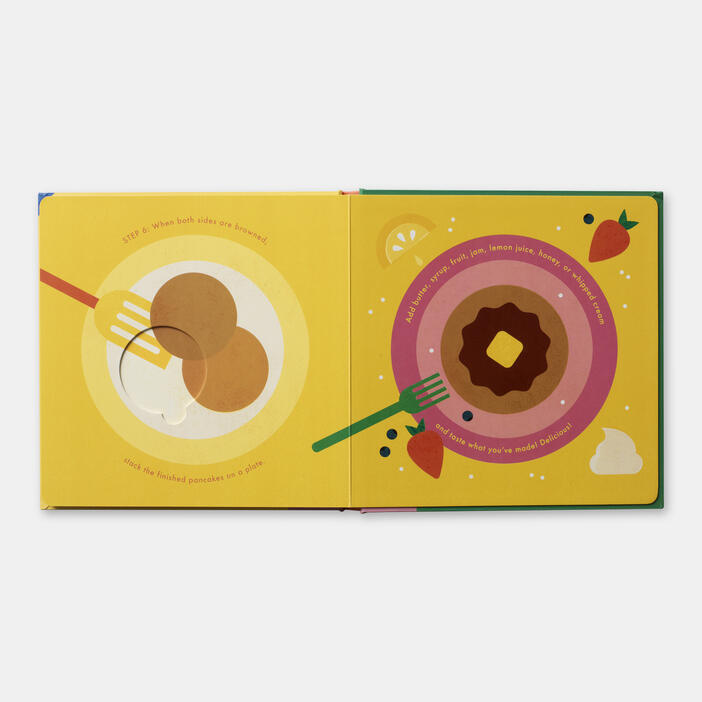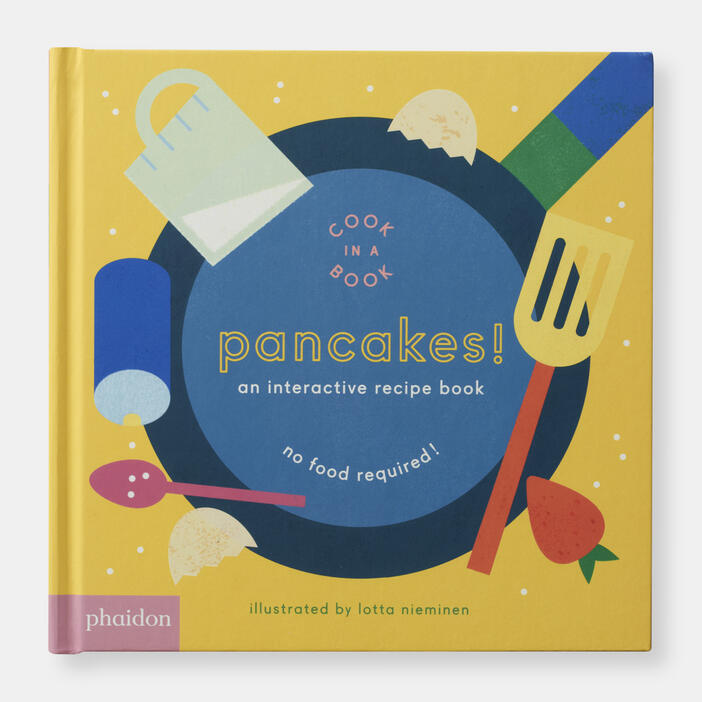 Pancakes!: An Interactive Recipe Book
Price AUD$29.95 | Phaidon 100 Price CAD$25.95 | Phaidon 100 Price £12.95 | Phaidon 100 Price T19.95 | Phaidon 100 Price USD$19.95 | Phaidon 100 Price €19.95 | Phaidon 100
Cook pancakes from scratch inside this interactive recipe book – readers whisk the eggs, flip the pancakes, and more!
Step one: mix together the flour, sugar, salt, and baking powder.
Step two: whisk the eggs, milk, and butter.
Step three: stir the wet ingredients into the dry ingredients to make the batter.
Simple, straightforward recipe text brings readers through each step of cooking pancakes, while the interactive novelty features, such as pull-tabs, wheels, and a punch-out piece, invite them to participate in the process. Cooking pancakes has never been so satisfying nor so clean! Perfect for young chefs-to-be, or any kid who prefers to 'do it myself'. This is the first title in a series of interactive recipe books.
Ages 2-4
Specifications:
Format: Board Book
Size: 203 × 203 mm (8 × 8 in)
Pages: 16 pp
Illustrations: 16 illustrations
ISBN: 9780714872834
Lotta Nieminen is an illustrator, graphic designer, and art director from Helsinki, Finland, now running her own New York-based studio. In 2014, she was nominated for Forbes magazine's annual 30 Under 30 list. In 2010, she received the Art Directors Club Young Guns award in the Art & Style category. This is her first novelty book for young children.
'Stylish ... With its simple graphic illustrations that resemble paintings by Frank Stella ... The book itself is a perfect square (think Josef Albers), fun and colorful. The most satisfying part is when you get to pop the little cardboard pancake out of the page, turn it, and press it into the next page to complete the illustration of a short stack of pancakes." – New York Times Book Review
'This cleverly designed first book in the Cook in a Book series lets children help make pancakes, but there's no need to break out the aprons: all the cooking is accomplished by pulling tabs ... Turning wheels ... And flipping cardboard pancakes." – Publishers Weekly, Starred Rewiew
'Learn while having fun ... Inspiring ... This is not your average children's cook book. The bright colours are appealing and whilst children will need a bit of help at the cooking stage, everything else is up to them." – Smallish
'Recommended for any picture book/board book collection, this interactive and delightful adventure for the youngest chefs promotes parent/child interaction and cooperation and opens the door to an enriching conversation.' – School Library Journal
'Clever, charming, beautifully interactive and beautifully illustrated and designed, this is not only a treasure for little ones-it's also a fine addition to any divine-picture-book-addict's stash (the stash of this middle-aged woman included).' – Kids' Book Review
'With help from sliders and spinners even the youngest sous-chefs can pretend to mix ingredients, pour batter, and dish up a yummy pancake... Real food may not be 'required,' but only the most unfeeling caregiver would fail to provide it after such an appetizing teaser.' – Kirkus Reviews
'The illustrations are simple and clean, which fit this book PERFECTLY!' – Let's Talk Picture Books
'[A] fabulous board book.' – Book Nerd Mommy
' Pancakes! is a wonderful introduction to cooking and can add a whole new dimension to imaginative play ... It's fun, interactive and makes a great gift." – Where The Books Are
'A safe and mess-free introduction to cooking!' – Right Start
'Sometimes a novelty book comes along that transcends the "kid" category and provides fun and "Ooooh!' moments for readers of all ages. Pancakes! An Interactive Recipe Book offers just this kind of delicious excitement ... Wonderfully conceived in its bold vibrant images and simple recitation of a pancake recipe... The brilliant interactive elements invite kids and adults alike to play with this book over and over.' – Celebrate Picture Books
'Lotta Nieminen's interactive board book delights with sturdy tabs, wheels and flaps, an enjoyable change for the technology-obsessed toddlers of today.' – ReadPlus
"Cooking pancakes has never been so satisfying or so clean - although by following the recipe and method." – KidStyleFile
'Here's a novelty book that encourages kids to interact with it ... All via cunningly designed tabs nad clever book construction ... If you'd like the opportunity to introduce your kids to top-notch art and graphic design from around the world, do take a look at Phaidon.' – The Book Chook
'Flippin' tasty ... Learn to make pancakes with this interactive recipe book... [It] has novelty paper-engineered features that allow little hands to 'cook' by pulling tabs, turning wheels and popping pancakes straight out of the page.' – Little London
'This interactive and delightful adventure for the youngest chefs promotes parent/child interaction and cooperation and opens the door to an enriching conversation.' – School Library Journal
'[M]y toddler's favorite books in the world! Each one is a sturdy board book that contains a real recipe for the food featured. The real fun is that through lifting flaps, turning wheels and other interactive features you get to simulate the cooking. Perfect for little foodies.' – Book Nerd Mommy
'We're all over this fantastic book for our Picture Book of the Week this week. Let's cook in a book! Strange though it may seem to not only find that this book is such a colossal fave with a busy 9 year old (despite being aimed at a far younger age) but also to find that this book requires no food, but will still have you chopping, mixing and making, it's only once you dive in that things become a lot clearer ... Again, Lotta has perfected the art of bridging the gap between books and toys with a truly interactive experience for busy little hands ... What a truly brilliant idea, and a worthy book of the week!' – Read it Daddy