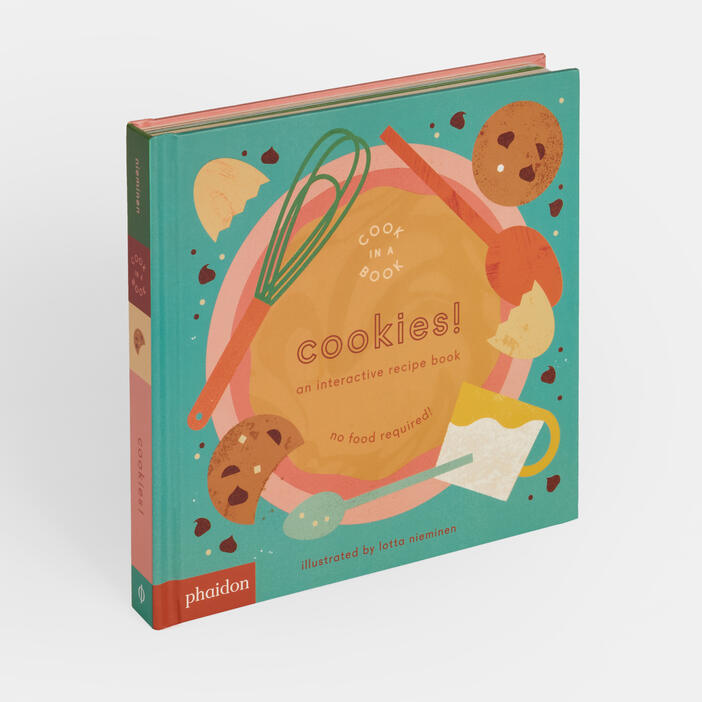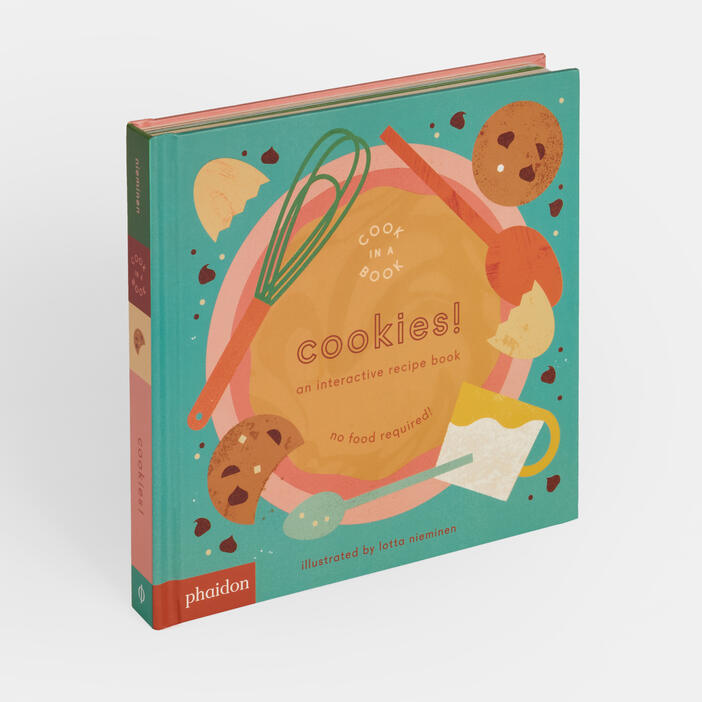 Cookies!: An Interactive Recipe Book
Price CAD$29.95 | Phaidon 100 Price £16.95 | Phaidon 100 Price €19.95 | Phaidon 100 Price USD$19.95 | Phaidon 100 Price T19.95 | Phaidon 100
Bake cookies from scratch inside this interactive recipe book - sift the flour, whisk the sugar, crack the egg, pour the chocolate chips, and more!
Simple yet factual recipe text takes readers through the steps of baking cookies, from combining the dry ingredients to pulling fresh cookies out of the oven, while the interactive features invite them to participate in the process. Move the sifter from side to side to separate the flour, turn the wheel to mix the batter, pull the tab to crack the egg, slide the oven tray out, and more! One hundred percent adult-free, danger-free, and mess-free - baking cookies has never been so independent! The fourth book in Nieminen's bestselling COOK IN A BOOK series.
Ages 2-4
Specifications:
Format: Board Book
Size: 203 × 203 mm (8 × 8 in)
Pages: 16 pp
Illustrations: 16 illustrations
ISBN: 9780714877730
Lotta Nieminen is an illustrator, graphic designer, and art director from Helsinki, Finland, now running her own NYC-based studio. She has been nominated for Forbes magazine's 30 Under 30 list, and has received the Art Directors Club Young Guns Award. Her extensive client list includes Google, The New York Times, and Vanity Fair.
'Future little chefs will love [this book].' – New York Times
'The Julia Child of the Cookie Monster set sallies into the kitchen afresh... [The] recipe is ... perfectly liable to produce the intended result: "Delicious!" Say the words: "Warm... Chocolate chip... Cookie." Oh, heaven.' – Kirkus Reviews
'The satisfying tactile experience mimics the real process of baking cookies – which readers are likely to crave after reading.' – Publishers Weekly
'We would enjoy tacos any day of the year – which is why we love Phaidon's super cute Cook in a Book series. These interactive board books feature fun sliders and tabs to teach children how to make some delicious dishes, whether it's spreading the sauce on a pizza or whisking eggs for pancakes.' – Bookstrust

'What a brilliant series this is! A ton of engagement and interaction in a very cleverly designed little book that will show your kids just how easy it is to make a tasty treat.' – ReadItDaddy
'This sturdy board book is ideal for little hands and should withstand plenty of kitchen experiments too.' – Little London
'One of those books that defy categories ... Once children have mastered the ingredients and activities how about a supervised session with the real thing?' – Happy Families
'These books don't keep kids out of the kitchen; they lead them there, increasing their appetite for proper cooking.' – Waitrose Weekend