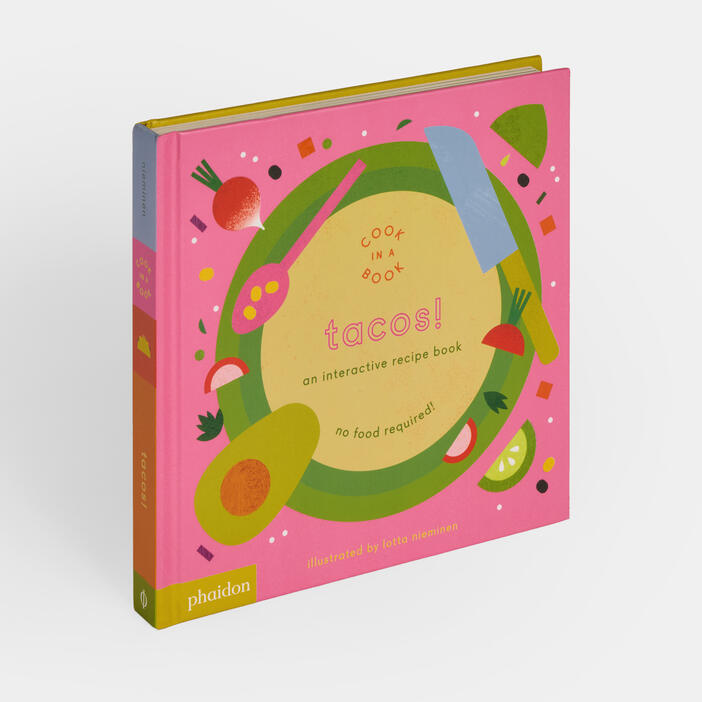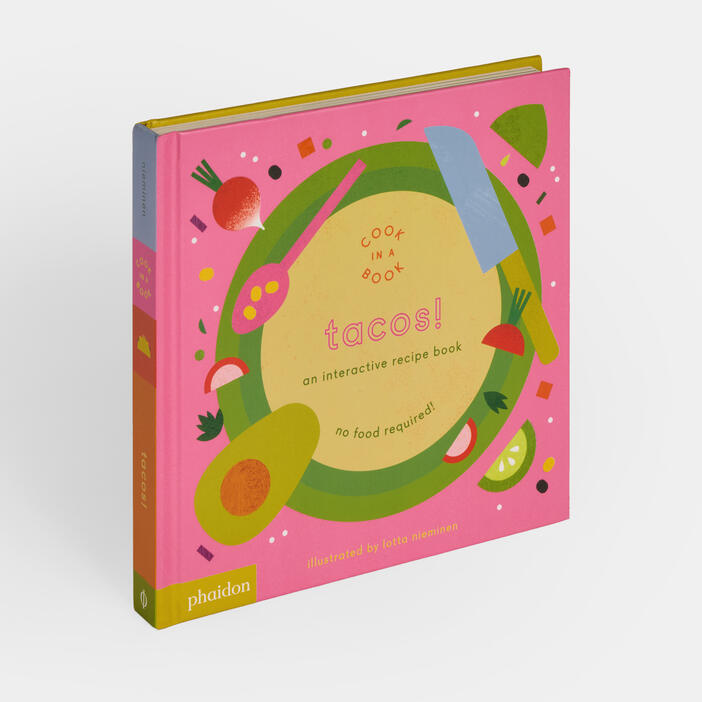 Tacos!: An Interactive Recipe Book
Price AUD$24.95 Price CAD$25.95 Price £12.95 Price T19.95 Price USD$19.95 Price €16.95
Cook tacos from scratch inside this innovative interactive recipe book – fun packed and mess free!
Specifications:
Format: Board Book
Size: 203 × 203 mm (8 × 8 in)
Pages: 16 pp
Illustrations: 0 illustrations
ISBN: 9780714875057
Lotta Nieminen is an illustrator, graphic designer, and art director from Helsinki, Finland, now running her own New York-based studio. In 2014, she was nominated for Forbes magazine's annual 30 Under 30 list. In 2010, she received the Art Directors Club Young Guns award. Her client list includes Google, The New York Times, and Vanity Fair, among many others.
"A clever interactive read that's sure to inspire the next generation of chefs." - The Independent
"Before you set foot in the kitchen with your little one, why not have a practice run..." —Gurgle
"Yummy eats for toque-wearing toddlers to dish up."—Kirkus
"Even babies can delight in the world of cooking through this interactive book that's all about making tacos. Tabs and flaps encourage little hands to explore cutting up the chicken, pouring oil in the skillet, and then chopping and slicing veggies, too!"—KinderCare
"In terms of interactivity, it's Pat the Bunny x 10... I am in love with these books. They are the EZ-Bake oven of board books. And best of all, there's no mess."—Mrs. Little blog
"[A] fun (and yummy) series."—Publishers Weekly ShelfTalker blog
"Following a real recipe, it provides hands-on, step-by-step instructions for "cooking" tacos. Pull a tab to cook the chicken and another to slice the vegetables – there's even a (safe) pop out cardboard knife for chopping."—Dundee Courier
"File this one under the category of 'why hasn't someone thought of this before?'... This is genius." —Dinner: A Love Story
"We absolutely love these interactive recipe books by Phaidon. In the past we have tried out their Pancakes! and also their Pizza! versions and Tacos! is up there with being just as fun... A really great read for younger kids you can also use the book to create your own tacos for dinner afterwards." —Global Mouse.com
"The book that's a cook! Imagine a cookbook that not only includes recipes, but invites you to be interactive with them too." —Right Start Magazine
"Kids who love to cook, in a play kitchen or a real kitchen, will devour this." —Atlanta Parent
"Let your little one make a meal without the mess with the ingenious interactive Cook in a Book series... All is vibrantly illustrated by Lotta Nieminen, and you can choose from Tacos!, Pancakes! and Pizza! (or why not all of them?)." —Gurgle
"It's visually compelling, simplified but... accurate."—Fatherly
"A great cooking primer that requires no flames... I love the fact that the book is billed as 'interactive'. We are so accustomed to that that term being technological it comes as bit of a shock to discover this means with tabs and flaps."—Families Hampshire North
"It's like letting a toddler cook, but without the mess."—The Strategist/New York Magazine Online
"...This colorful book is a winner because of its focus on the flavors and creativity involved in tacos."—My Domaine
"An interactive recipe board book and I love and adore it... Part of the Cook in a Book interactive recipe series which also includes Pancakes!, Pizza!, and Cookies!."—Book Riot
"An interactive series of books to get your little chefs "cooking" while you read aloud about how to make tacos, pancakes, pizza and cookies."—Northern Virginia Magazine
"We adore these fun interactive board books (plus they make great gifts)... My kids LOVE these books."—Some the Wiser Blog
"Whether they're helping to make actual or pretend tacos, 4- and 5-year-olds will love flipping the flaps on each page of this interactive cookbook."—New York Magazine Online/The Strategist