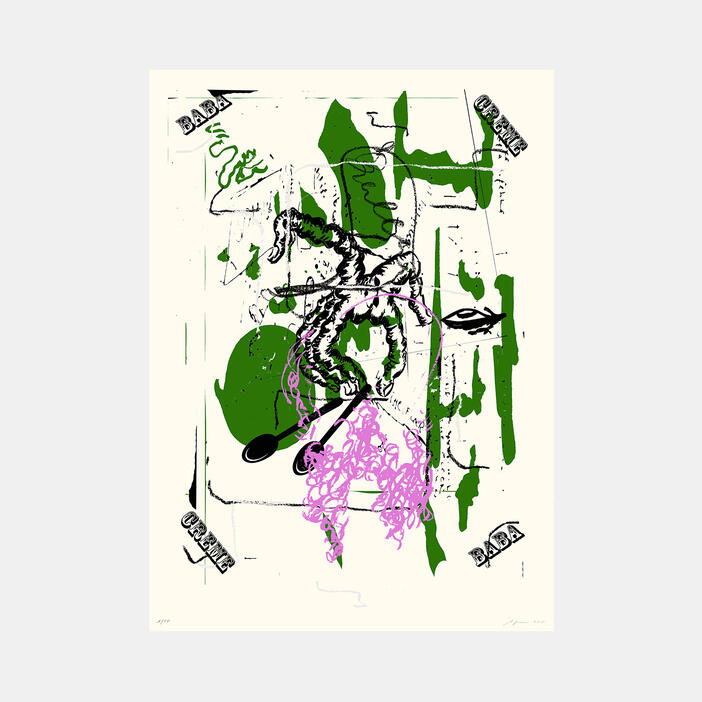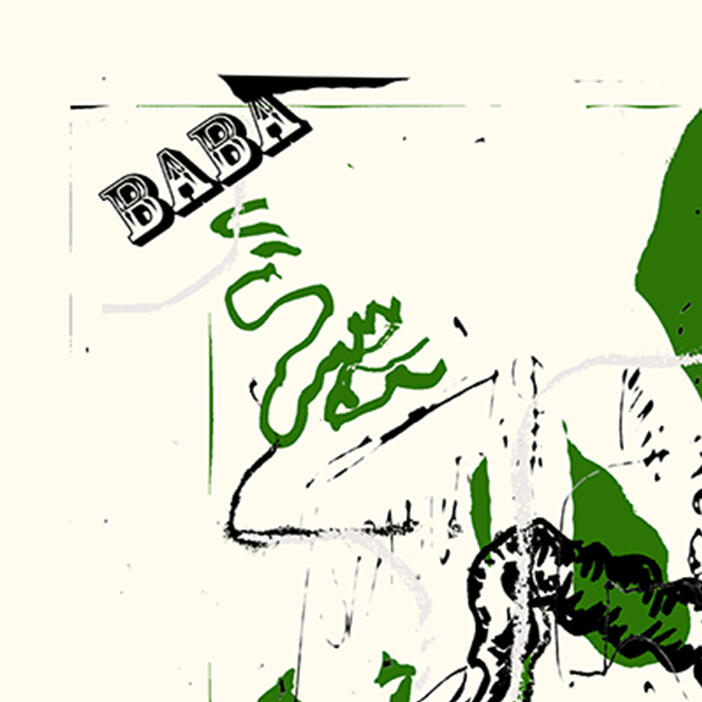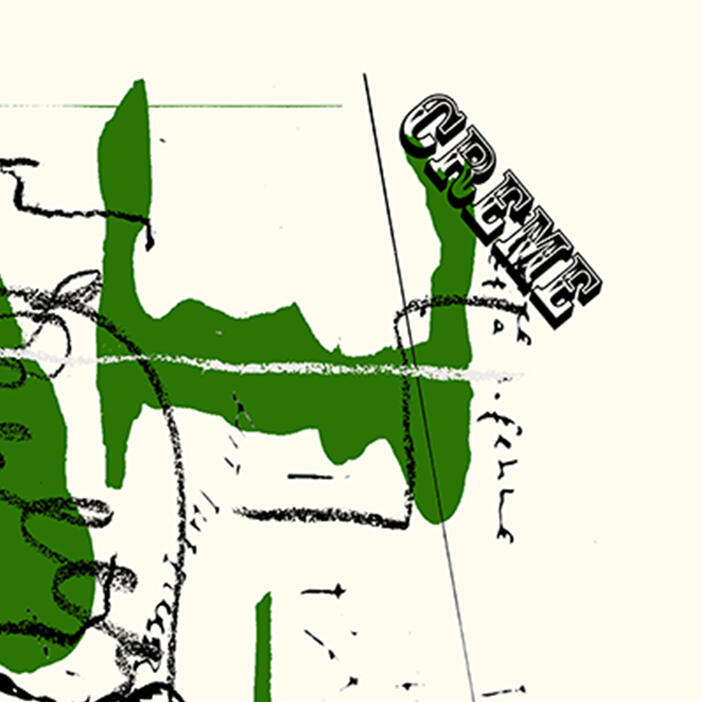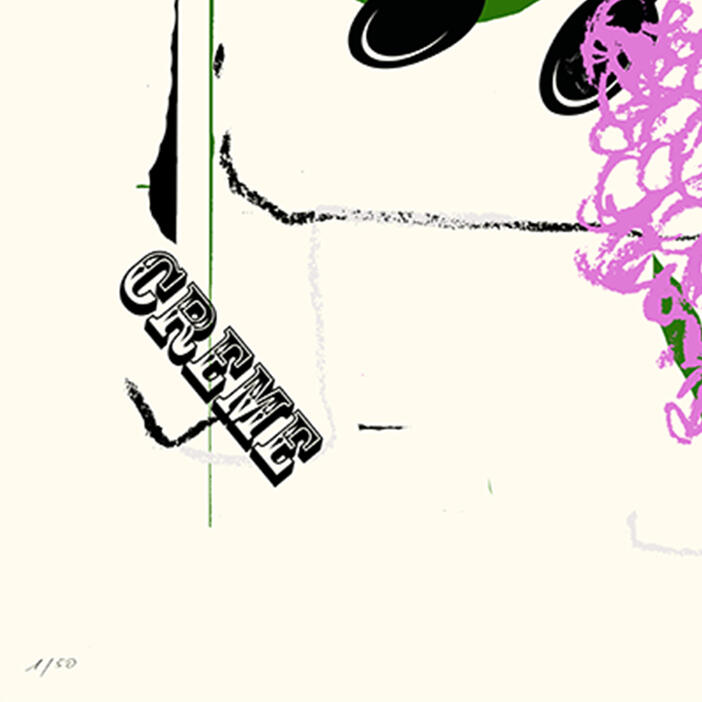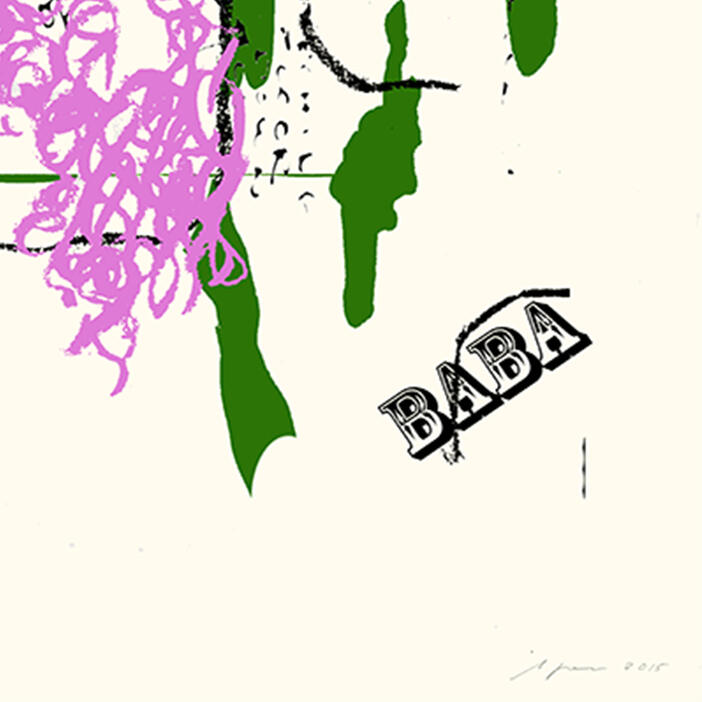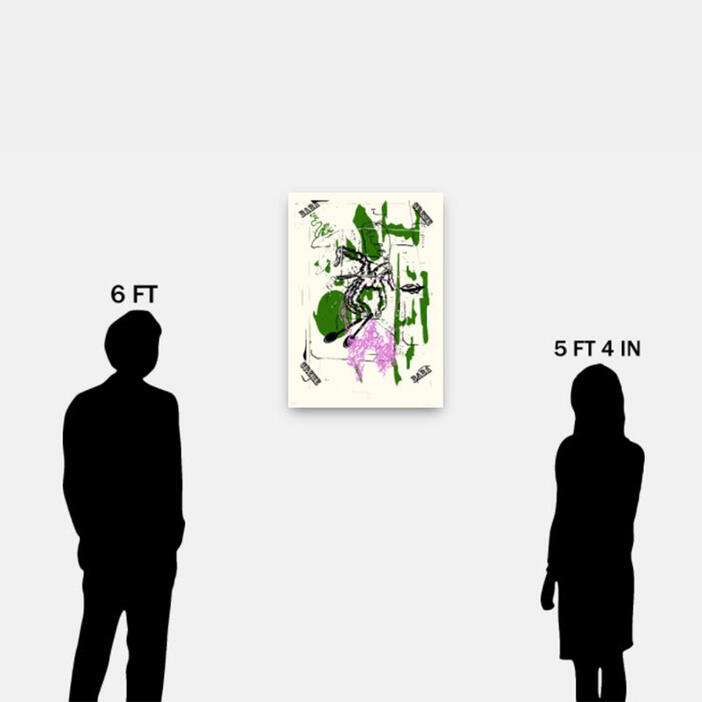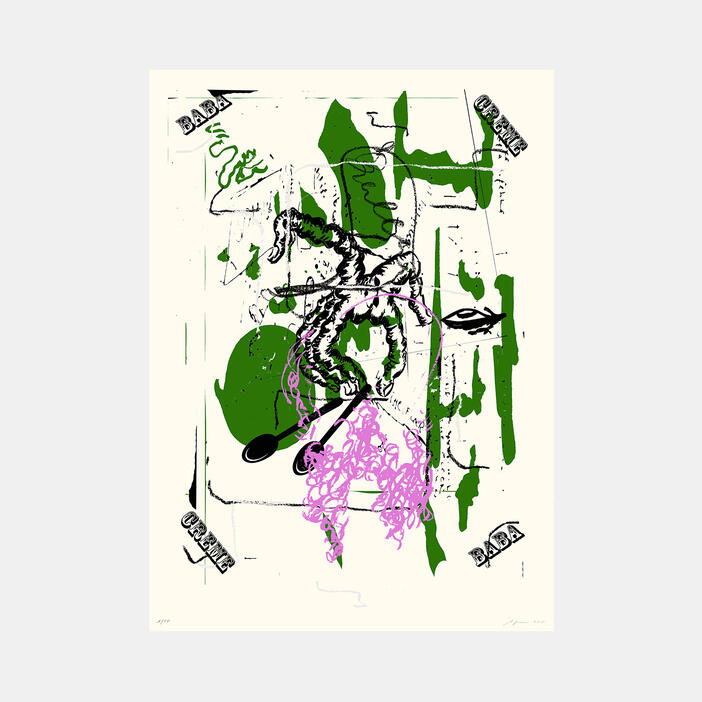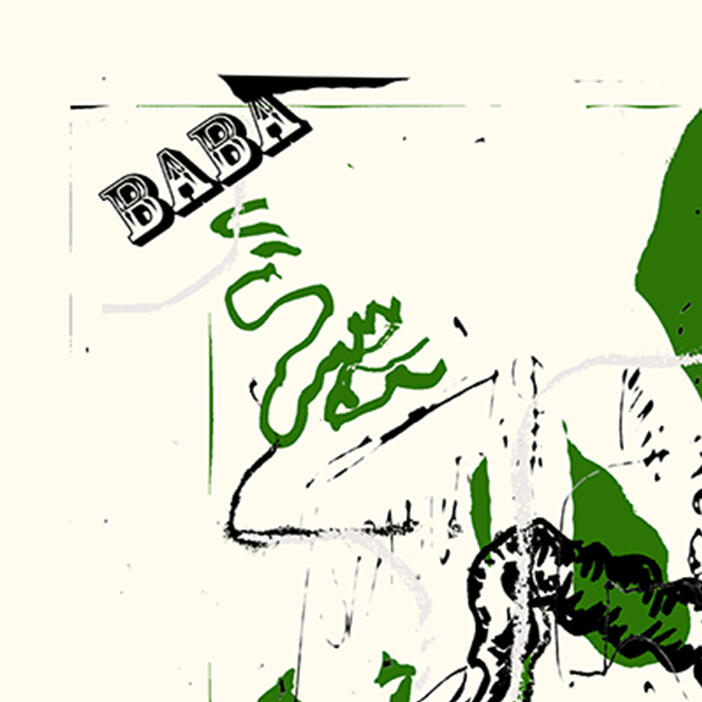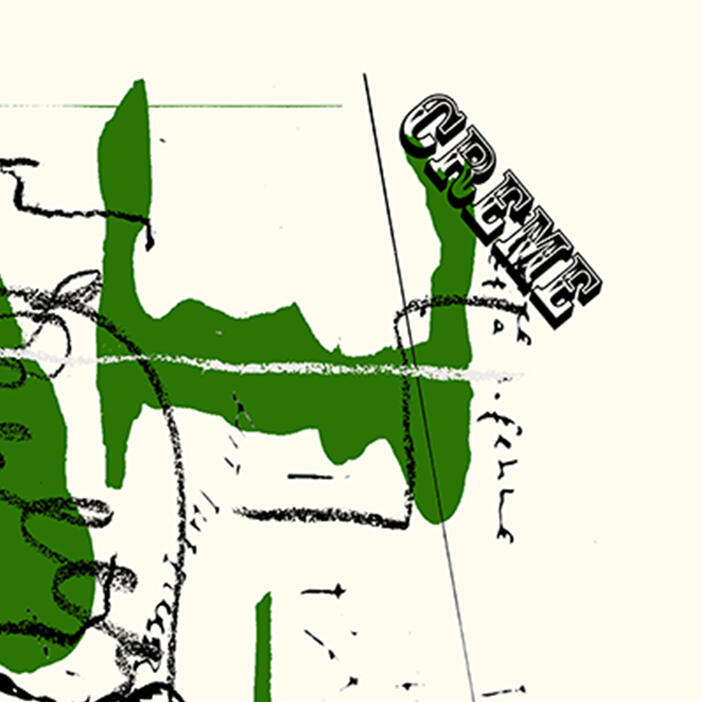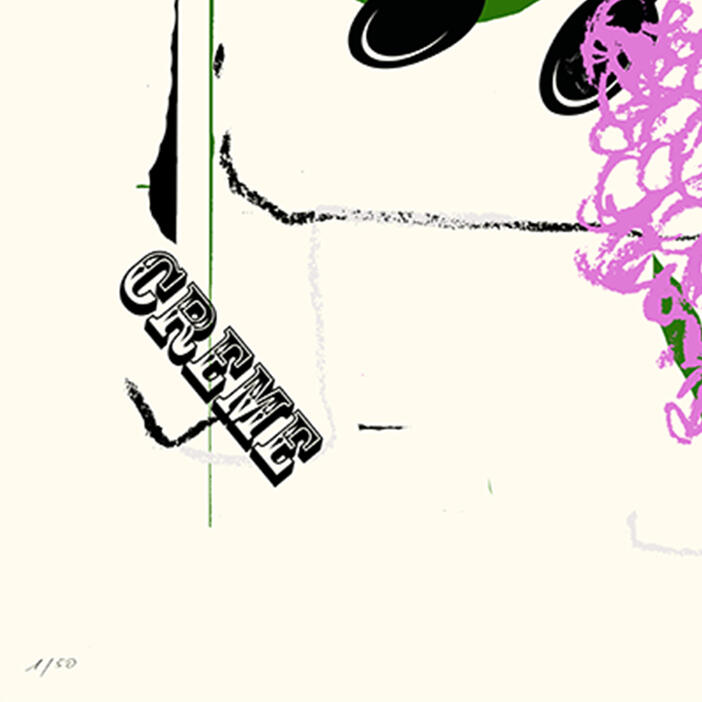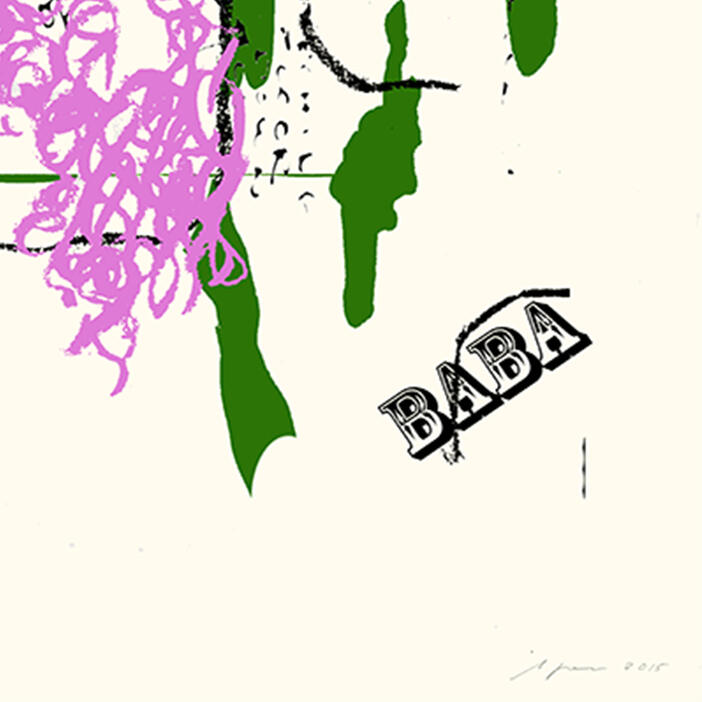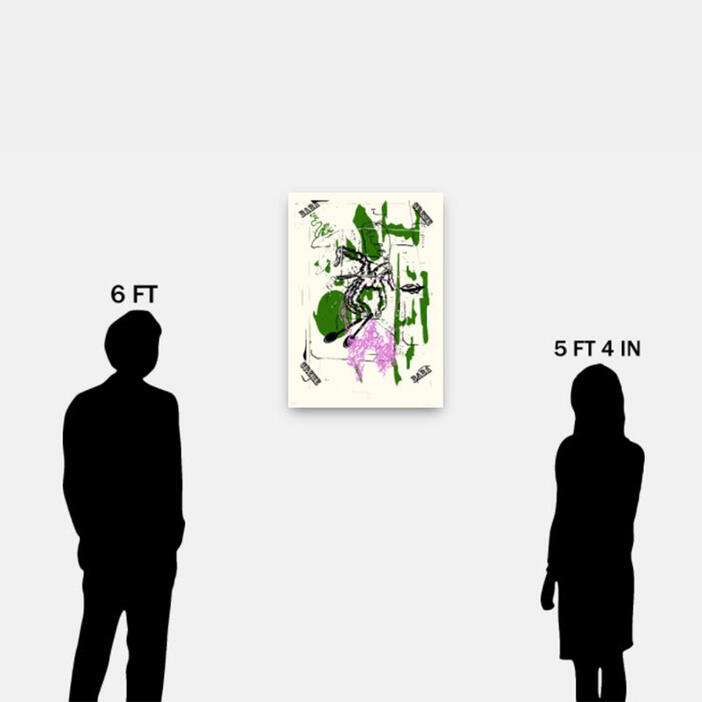 Michael Bauer: Baba Creme (2015)
Price AUD$950.00 | Limited Edition Price CAD$900.00 | Limited Edition Price £525.00 | Limited Edition Price T700.00 | Limited Edition Price USD$700.00 | Limited Edition
Print: Full bleed six-color silkscreen printed on Letra Ecru 300 gsm
Size: 864 x 622 mm (34.00 x 24.50 in)
Edition of 50 with 5 APs and 2PPs
This work is signed and numbered by the artist on recto
The imagery for this edition is derived in part from what Michael Bauer calls his \"telephone drawings\"—quick, loose sketches made while talking on the phone or otherwise distracted. Bauer saves these doodles, no matter how rough or silly, and uses them as raw materials to be copied, scanned, altered, and combined. Bauer often works in series, making groups of paintings that metaphorically \"talk back\" to one another while simultaneously standing on their own as individual works. As he says, \"Every painting that I do relies on the last twenty I did.\" In a neat literalization of his process, this print includes the words \"baba\" and \"creme,\" recurring terms Bauer uses as verbal readymades for their phonetic qualities and mutable meanings.
The amorphic, animalistic forms of German painter Michael Bauer are built upon color washes, meandering lines, and bulbous protrusions. Utilizing a variety of rendering techniques and materials, including pointillism, text and high-chroma colors, Bauer transforms his free-form compositions into dynamic and ornamented abstractions. He borrows from the colorful tradition of Modernist composition, juxtaposing collaged cutouts with a bevy of 20th century painting methodologies—including Cubist, Pop, and Surrealist techniques—to make the swirling paintings he's become known for. Says Bauer of his process, "I will say, especially in paintings, there is always a figurative sense behind it. I look at figures and I look at inventions of figures. But then of course once you paint, it jumps back and forth between something that could be a landscape but is also certain color arrangements. So you're constantly changing back in the way you look at it and in the way you work. It goes both ways."
Michael Bauer has had several museum exhibitions in Europe, including Villa Merkel in Esslingen am Neckar, Germany, Kunsthaus Baselland, Basel, Stadtische Galerie, Delmenhorst, Germany and Bonner Kunstverein, Bonn, Germany. Other exhibitions include Alison Jacques Gallery, London, Lisa Cooley, New York, Peter Kilchmann, Zurich, Norma Mangione Gallery, Turin, Jack Hanley Gallery, San Francisco and HOTEL, London.