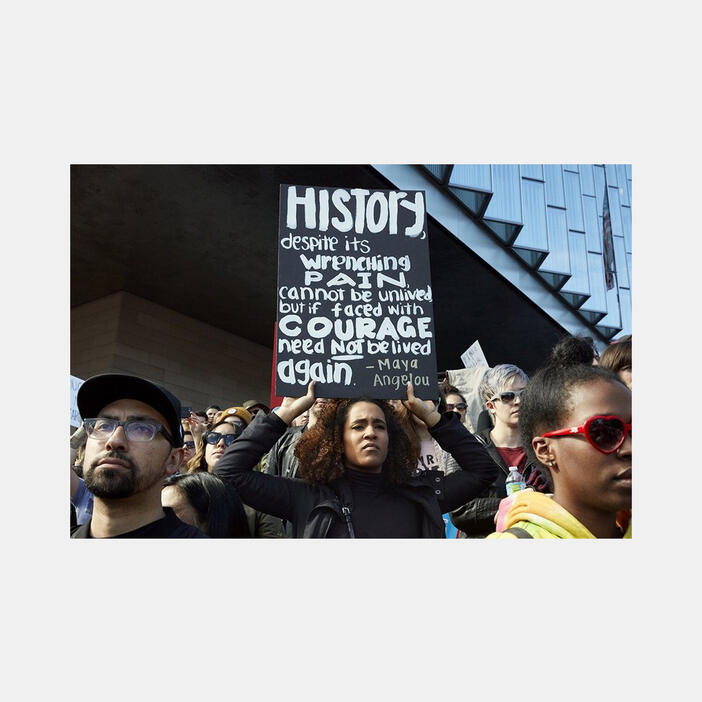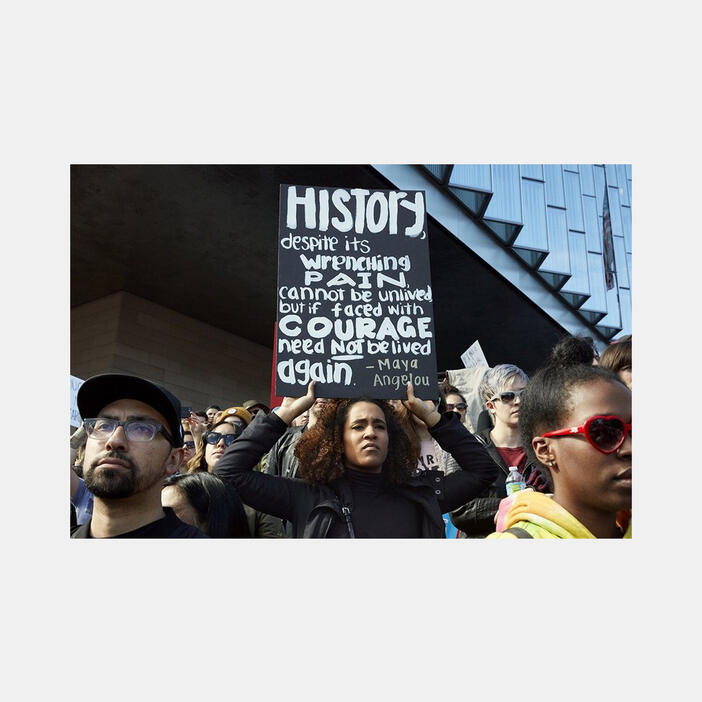 Catherine Opie: Herstory, Women's march (2017)
Price AUD$2100.00 | Limited Edition Price CAD$2000.00 | Limited Edition Price £1150.00 | Limited Edition Price €1400.00 | Limited Edition Price USD$1500.00 | Limited Edition Price T1500.00 | Limited Edition
Print: Full color digital archival print on photo lustre 260
Size: 508 x 610 mm (20 x 24 in)
Edition of 100
This work will come with a signed and numbered archival label adhered to the back of the print
Produced with the support of Kering, a global luxury group committed to the empowerment of women, this charitable limited-edition print is part of a portfolio celebrating Phaidon's Great Women Artists, the most extensive illustrated book on women artists ever published. The book tells the stories of over 400 artists spanning 500 years and reveals a parallel yet equally engaging history of art for an age that champions a great diversity of voices. The Great Women Artists print portfolio offers collectors the opportunity to acquire affordable works by some of the most celebrated and sought-after women artists of our time, while contributing to a worthy cause. Proceeds will benefit Promundo, a leading organization in advancing gender equality, and preventing violence against women through the education of young boys. Acquire this print on its own, or collect the entire suite, which includes editions by six artists featured in the book—Cecily Brown, Lubaina Himid, Bharti Kher, Catherine Opie, Jenny Saville, and Dana Schutz—who have worked closely with Artspace, Phaidon, and Kering to contribute works exclusively for the Great Women Artists portfolio.
Catherine Opie was born in Sandusky, Ohio, in 1961. At an early age, she discovered the work of photographer Lewis Hine, who documented the plight of child laborers at the turn of the 20th century. Inspired by Hine's images, she requested a camera for her ninth birthday and was given a Kodak Instamatic by her parents. She immediately began photographing her family and neighborhood, exhibiting a fascination with community that continues to this day. She received a BFA from the San Francisco Art Institute in 1985 and an MFA from the California Institute of the Arts, Valencia, in 1988.
Opie is known for her powerfully dynamic photography that examines the ideals and norms surrounding the culturally constructed American dream and American identity. She first gained recognition in the 1990s for her series of studio portraits titled Being and Having, in which she photographed gay, lesbian, and transgender individuals drawn from her circle of friends and artists. Opie has traveled extensively across the country exploring the diversity of America's communities and landscapes, documenting quintessential American subjects—high school football players and the 2008 presidential inauguration—while also continuing to display America's subcultures through formal portraits. Using dramatic staging, Opie presents cross-dressers, same-sex couples, and tattooed, scarred, and pierced bodies in intimate photographs that evoke traditional Renaissance portraiture—images of power and respect. In her portraits and landscapes, Opie establishes a level of ambiguity—of identity and place—by exaggerating masculine or feminine characteristics, or by exaggerating the distance of the shot, cropping, or blurring her landscapes.
Opie has had solo shows at the Museum of Contemporary Art Los Angeles (1997); Saint Louis Art Museum (2000); The Photographers' Gallery, London (2000); Walker Art Center, Minneapolis (2002); Aldrich Contemporary Art Museum, Ridgefield, Connecticut (2006); Museum of Contemporary Art, Chicago (2006); Solomon R. Guggenheim Museum, New York (2008); Los Angeles County Museum of Art (2010 and 2016); Portland Art Museum (2010–11); Institute of Contemporary Art, Boston (2011); Wexner Center for the Arts, Ohio State University, Columbus (2015); and Hammer Museum, Los Angeles, CA (2016), among other venues. Her work has appeared in the Whitney Biennial (1995 and 2004), the Melbourne International Biennial (1999), and SITE Santa Fe Biennial (2006). She has taught at Yale University and at the University of California, Los Angeles. She lives and works in Los Angeles.