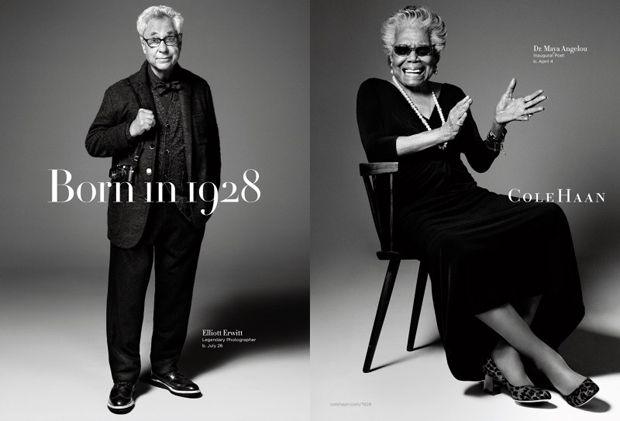 Elliott Erwitt, male model
The photographer steps in front of the camera alongside fellow octogenarians to mark Cole Haan's 85th birthday
While the great Magnum photographer Elliott Erwitt might be better known for his documentary work, he is no stranger to fashion photography. In 2010, then aged 82, Erwitt shot the Autumn/Winter campaign for Tod's shoes.
However, he is something of an ingénue when it comes to modelling. Now, at the tender age of 85 he alongside fellow octogenarians author Maya Angelou, astronaut Jim Lovell (commander of the ill-fated Apollo 13 space mission) and model and journalist China Machado, has posed for shoe brand Cole Haan's latest campaign.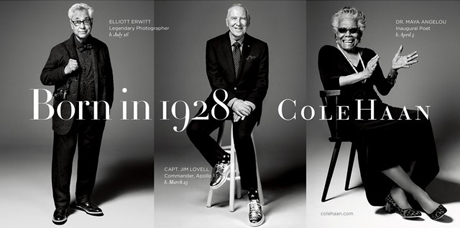 All three share the company's year of birth of 1928, and so were shot for the its "Made In 1928" campaign by the British fashion photographer Daniel Jackson in New York a few weeks ago.
"They are all vibrant examples of how timelessness and true style are borne out of confidence - and that never expires," Cole Haan vice president of marketing Erin Riley told Women's Wear Daily.
The label, founded in Chicago, is best known for its up-market footwear, and each of the models was given customised shoes for the shoot. To find out more, go to the Cole Haan site tomorrow to watch the accompanying video campaign. To view Erwitt's own photography, consider our selection of books, including Snaps, DogDogs, as well as our limited-edition prints.