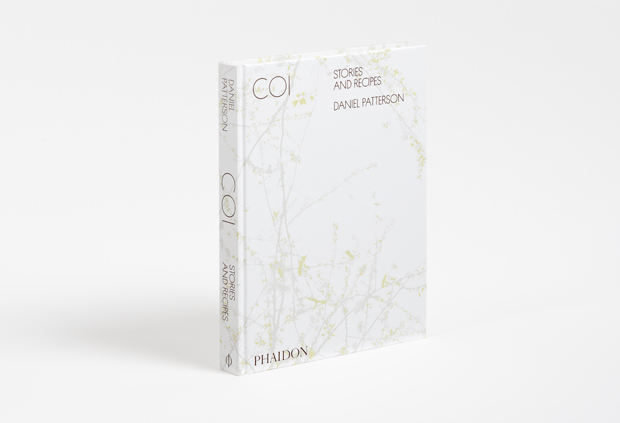 Introducing Coi Stories and Recipes
How one very literate San Francisco chef called Daniel Patterson has created an entirely new type of cookery book
Coi
Stories and Recipes
Coi Stories and Recipes tells the story of the restaurant, its dishes and Daniel Patterson's philosophy. Beginning with a look at California - how Patterson arrived there and its influence on Coi - the book takes the reader into the Coi kitchen, and through an 11 course Coi tasting menu. It does so by way of a series of short essays, each comprising an engaging text and narrative recipe, which reveal the story and inspiration behind the restaurant's creative dishes. The stories behind a further 50 selected dishes are also narrated, and are accompanied by conversational recipes. The book includes 150 specially commissioned photographs showing the finished dishes as well as atmospheric images of the restaurant, the California landscape, and portraits of Coi's staff and suppliers.
THE CREATION OF THE BOOK
Phaidon's Senior Production Controller, Laurence Poos, explains how she helped turn this deeply personal, geographically specific work into a beautiful, hard-backed book.
"One of the main challenges with Coi was the photography. Maren Caruso's pictures are stunning, and our main aim was to make them look as good as possible. We wanted to print on uncoated paper, which is a little difficult to work with, as it absorbs ink more easily than coated stock and so detail sometimes gets lost. We worked really hard with our repro houses to get as much out of the photography as possible, and we also carried out several trials with our printer. After all, the images themselves are so varied. You have the bare food shots with a white background, the plate shots, which are pretty dark, and the landscape and documentary images, which vary a great deal of contrast and variation. Thankfully Maren supplied some good match prints, so we could judge how well the images were being reproduced. You've really got to think of working with a printer as a joint effort, and collaborate with them to get as good a job done as possible. I think the book is great, and I'm especially pleased with the cover. This is a simple, sparse shot of a tree, with the blossom highlighted with a subtle, glossy yellow. This clean and minimalist look we think reflects the look and feel of the restaurant. It was hard to get this bold, yet subtle effect, but I'm really pleased with it. Everyone did a very good job."
WHO IS DANIEL PATTERSON?
Daniel Patterson is the head chef and co-founder of the two-Michelin-star San Francisco Coi restaurant. Using local produce and applying exacting techniques, Patterson and his team have pioneered a new type of Californian cuisine, that speaks of place, memory and emotion, to international acclaim. Patterson was born in Lynn, Massachusetts, and credits childhood trips to France for his nascent love of good food. He took his first restaurant job at the age of 14, as a dishwasher. Despite studying for literature at Duke University, Patterson dropped out of higher education to pursue culinary ambitions. He settled in the Bay Area in 1989, founded his first restaurant in 1994, aged 25. He has gone onto win many awards for his cookery, including Food & Wine Magazine's Best New Chef award in 1997, the James Beard Foundation's award for Best New Restaurant in 2001.
Couple Coi with the books below for a library of modern culinary masters
SOME DANIEL PATTERSON LINKS