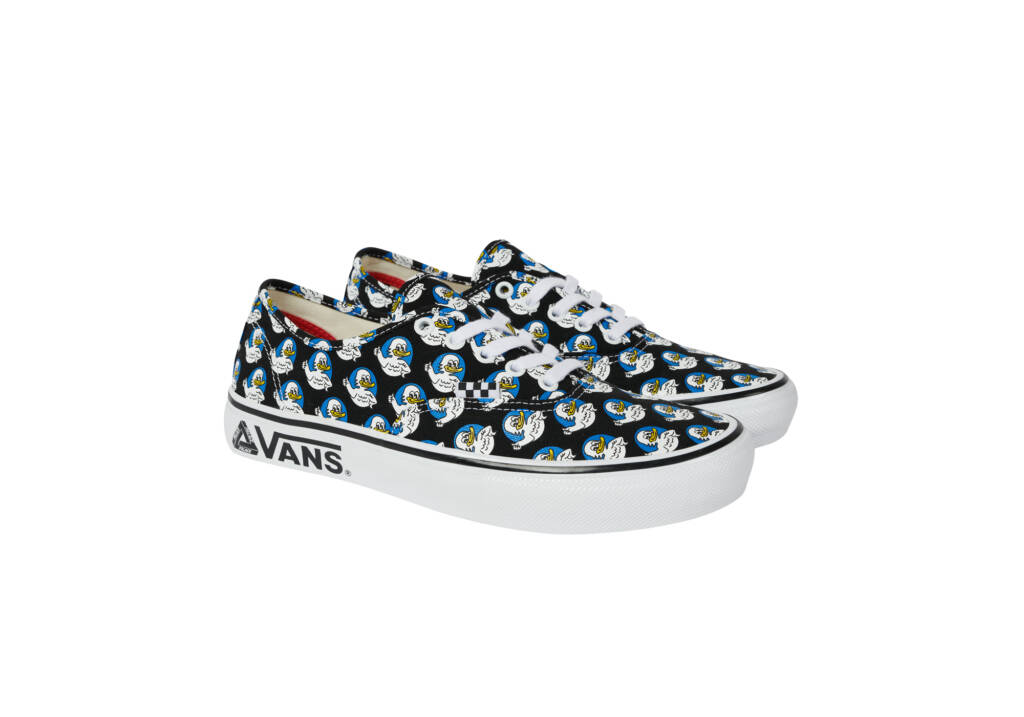 The shared heritage between Palace and Vans
The British skate brand was polite about its collaboration with its Californian counterpart, but customarily snarky outside of that tie-up, as our new book shows...
Vans and Palace are both closely associated with skateboarding, though their route to the heart of that board sport differs quite a bit. Vans was founded in California in 1966 by the Van Doren brothers, a couple of footwear entrepreneurs with little awareness of the burgeoning skateboarding scene – cheerleaders, rather than skaters, were among their more prominent customers in the early days. However, skaters did go on to favour Vans, in part thanks to the shoes' tough rubber soles, and by the late 1970s, the shoes were closely associated with skating.
Palace began a little closer to the skate park, figuratively speaking. Its founder, Lev Tanju, worked in skate shops for years prior to establishing the label in 2009. He took the title of his new business from the nickname of his incredibly unpleasant apartment, which Tanju shared with fellow skaters in south London, during his 'gap decade' after college.
Beginning with simple logo t-shirts, Palace has gone on to collaborate with a wide range of other companies less commonly seen on the half pipe, including Ralph Lauren, Moschino, and Stella Artois among others, while Tanju has won over online shoppers with his snarky product descriptions, which he writes and posts beside the garments offered for sale in Palace's online shop.
These rarely give prospective buyers industry standard instructions as to whether a product is to be washed at 40 degrees or if it's dry clean only, but instead offer insights into Tanju's own likes and gripes and off the wall musings.
Now, more than 3000 of these texts have been brought together in Palace Product Descriptions. Organised into 22 distinct categories, including, Etiquette, Philanthropy, Romance and Travel, the descriptions are interspersed with shots of highly coveted Palace products. Chapter openings meanwhile, feature candid, behind-the-scenes images from the Palace archive.
Palace's Vans collaboration, which began in 2021 features in the book. For the two brand's first hook-up, Palace placed a likeness of Jeremy the Duck (Palace's employee of the month, every month") onto some classic Vans shoes. That's why the text beside the Palace Vans skate shoes in black reads:
• 100% • JEREMY • EQUIPMENT
However, Vans have been around for a long, long time, and have been worn by a broad swathe of the population, skaters and non-skaters alike, and, beyond mentions in its own collaboration with Vans, Palace's product descriptions aren't so flattering. Consider this (apparently one-sided) putdown, published next to a listing for a white bucket hat:
• I GET WHAT YOU ARE SAYING • BUT YOU HAVE A SUIT WITH VANS ON • SO UNFORTUNATELY I CANNOT RESPECT YOUR OPINION
Ouch. And then there's this style tip, beside a pair of Palace loafers:
• THIS IS LUXURY • TAKE OFF YOUR • CHEESE-FLAVOUR VANS • BUY SOME NICE SOCKS • WEAR THESE OUT • AND SEE IF • THEN YOU ATTRACT • THE OPPOSITE SEX
Palace Product Descriptions
We suspect they will. To read more of Tanju's tangy texts, and see further Palace products, order a copy of Palace Product Descriptions here.