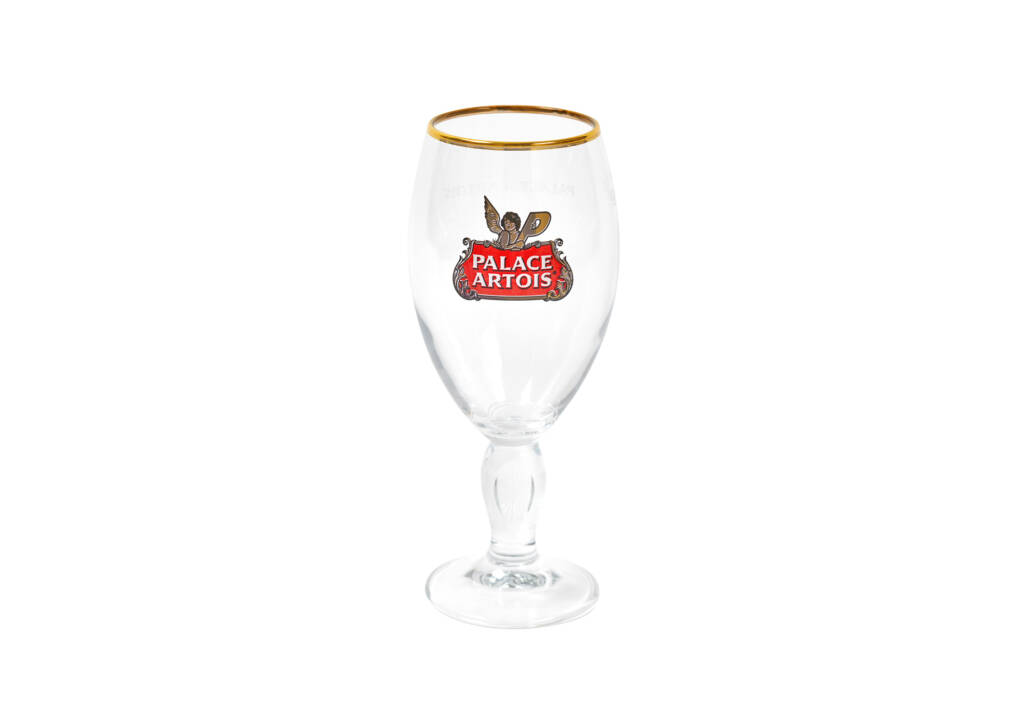 The love between Palace and Stella Artois
The London skate brand showed its admiration for the Belgian beer in not one, but two collaborations
Like many young Londoners, Palace might be in the gutter, but it is looking up at the stars. The skate label was founded in 2009 by Lev Tanju, who gave his new brand the nickname of his rather grotty - but incredibly cheap - apartment, which he shared with fellow skaters in south London, during his 'gap decade' after college.
Starting with small runs of t-shirts, Palace became known for its smart collaborations with brands such as Ralph Lauren, Adidas and Reebok, as well as its snarky product descriptions, which Tanju wrote and posted beside the garments offered for sale in its online shop. These brief bullet points – the best of which have been brought together in our new book Palace Product Descriptions – do not inform followers whether a product is made from lamb's wool or Gore-Tex, but instead offer entertaining insights into Tanju's state of mind.
Palace may be made by skaters, for skaters, but the brand – and its new book – draws from a far wider range of cultural reference points, from the simple design of the Volkswagen Golf GTI, to the particular taste of McDonalds.
Many of Tanju's product descriptions focus on his enduring love of alcohol, whether it's tequila shots, bloody marys, or strong, continental beer. In early 2021, Palace unveiled its collaboration with the Belgian lager producer, Stella Artois; entitled Palace Artois, the collection included jackets, shorts, t-shirts and (among other items) a Palace Stella Artois chalice glass. Beside this last item, Tanju wrote:
• WARNING THIS • ISN'T PINT SIZE • IT'S A BIT SMALLER • PINT ONES COME LATER • WHEN STELLA LET US • OPEN A PUB FOR THEM
That may have sounded like boozy hubris, but later that year Stella did indeed open the doors to Palace-branded pubs in both London and New York, serving (for three days) thirsty followers of the brand pints of Stella in Palace glasses.
Those pubs may have now closed their doors, but Palace's enduring love of Stella endures. Describing a Star-design navy knit jumper (released during the pandemic) Tanju wrote:
• GOT 16 CANS OF BEANS • 5 CASES OF STELLA • A FEW PACKETS OF CRISPS • AND THIS JUMPER ON • AND I'M JUST GONNA • JAM AT HOME • TILL ALL THIS CRAZY VIRUS SHIT • BLOWS OVER
Not a bad plan. Meanwhile, next to a pair of olive-coloured cargo pants, he argued:
• CARGOS ARE GOOD • FOR GETTING • OUT AND ABOUT • WITH 4 CANS • OF STELLA • HAPPILY • AND • SAFELY • ON BOARD
And beside a six-panel blue cap, he wrote:
• 10% • OF ALL PALACE • CAP PROCEEDS • GO TOWARDS • THE STELLA ARTOIS • FOUNDATION
Palace Product Descriptions
That's quite a few rounds. For more pint-sized (and bigger) insights into this great skate label, order a copy of Palace Product Descriptions here.