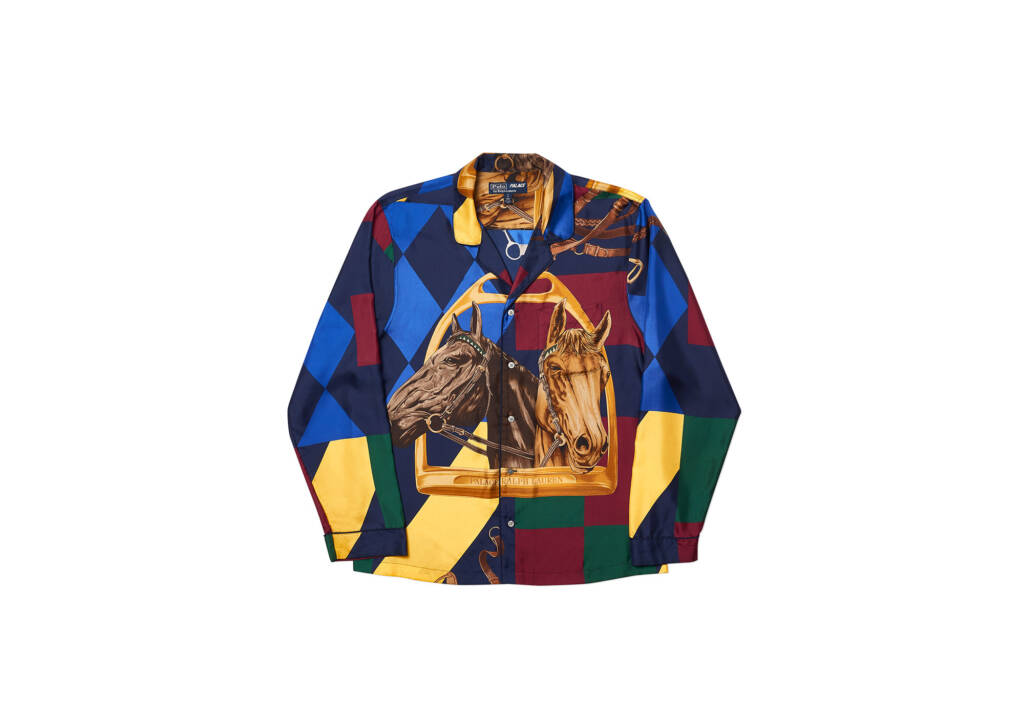 The mutual admiration between Palace & Ralph Lauren
The British skate brand's founder wore their Polo shirts for 30 years, now he shares the love in our new book Palace Product Descriptions
In his product description for the Palace Ralph Lauren embroidered Cord GTI shirt, Lev Tanju, the founder of the the British skate label, wrote:
• WE STARTED FROM DAS BOTTOM • WENT SOUTHBANK • EVERY DAY FOR 10 YEARS • MET RALPH IN HIS OFFICE • MADE SOME YELLOW SHIRTS • NOW WE HERE
This doesn't offer much in the way of technical description, but it is a pretty short history of this peerless British skate brand, founded by Tanju in London back in 2009. The label took its name from Tanju's informal title for the the deeply decrepit, incredibly cheap apartment he shared with fellow skaters in south London during his 'gap decade' after college.
Dubbing themselves the Palace Wayward Boys Choir, Tanju and his friends began by distributing its t-shirts via small boutiques in London, acquired a dedicated following, and, over the following 10 years, gained a reputation for smart collaborations with brands such as Adidas, Calvin Klein and Reebok.
Palace also set itself apart digitally with its product descriptions. These short, bullet-pointed texts, all written by Tanju set beside the garments offered for sale in its online shop, don't tell readers whether a product is 100% cotton or dry-clean only, but instead offer insights into the Palace founder's personal outlook.
Pages from Palace Product Descriptions
Our new book, Palace Product Descriptions, draws together some of the best of these texts, including quite a few used to describe garments in Palace's Ralph Lauren collection. This debuted in 2018, and was the first collaboration undertaken by the Polo label with another brand. It was also a pretty special project for Tanju himself; on meeting Mr Lauren for the first time, Tanju confessed he had been wearing Ralph Lauren polo shirts for the past 30 years. In his product descriptions, Tanju shares a little more of his love for the label. Beside the listing for a Ralph Lauren embroidered pair of corduroy chinos in Mohican brown, he writes:
• FIRST TIME • I EVER SAW RALPH LAUREN • IN PERSON • WAS IN NYC • IN THE POLO MANSION • I WAS BUYING A YELLOW • AND BLACK HEAVY KNIT • THAT I HAD SEEN • ON A MANNEQUIN • RIDING A SNOWMOBILE • WHEN RALPH WALKED PAST • I ASKED MY GIRLFRIEND • IF THAT WAS A HOLOGRAM
To accompany the Palace Ralph Lauren formal velvet slippers, he says
• I JUST WANNA SAY • ICH WORE BLUE VELVET • AND WHEN I PUT THESE • ON MY FEET • FOR THE FIRST TIME • I FLOATED OUT THE WINDOW • AND CAME AROUND • IN A BAR • DOING THE MOONWALK
And next to the pair of embroidered chinos, he says:
• IF YOU DON'T LIKE • THIS GARMENT • YOU ARE PROBABLY • A RONALD WEASLEY • LOOKING ASS • MUTTER FICKER
Palace Product Descriptions
That Harry Potter character may not find much to like in Palace Product Descriptions, but there's plenty in there for those who appreciate contemporary streetwear and sharp wit. Order your copy here.