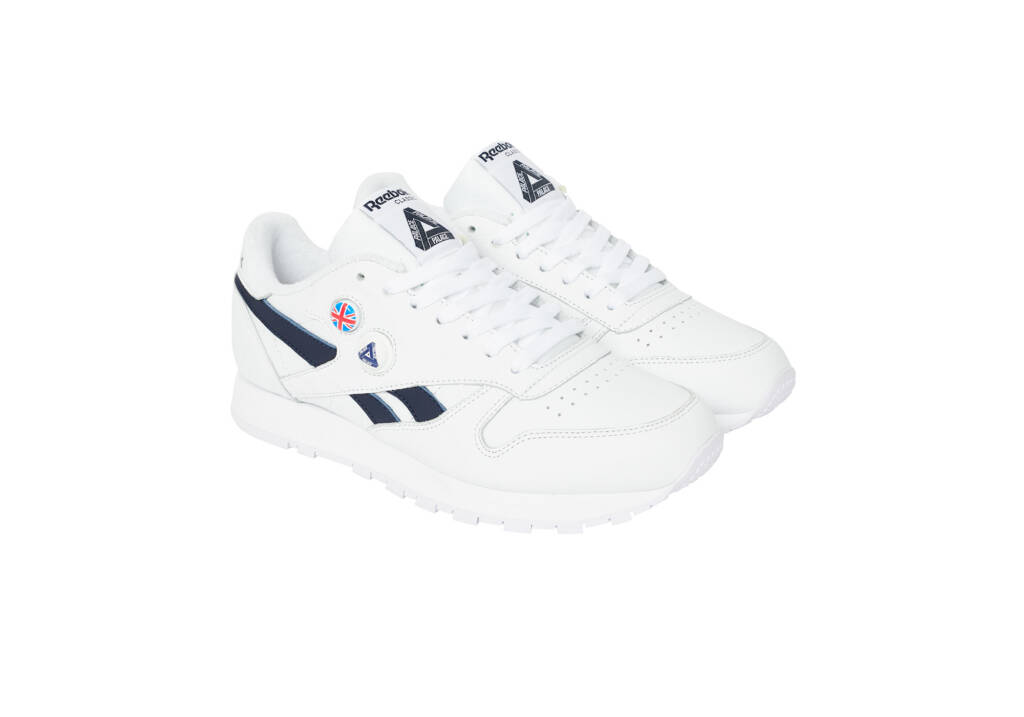 The British link between Palace and Reebok
Lev Tanju, the skate brand founder, shows his love for the north of England trainer brand in Palace Product Descriptions
Both Palace and Reebok are British institutions. The trainer firm might be owned by an American company now, but it can trace its roots back to a family business in Bolton, Lancashire, which first labelled its shoes Reebok (after an Afrikaans word for antelope) in 1958.
Palace isn't quite so old. It was founded by the London skater Lev Tanju in 2009, who christened his brand with the nickname of the unsavoury but incredibly cheap apartment, which Tanju shared with fellow skaters in south London, during his 'gap decade' after college.
Though Palace began primarily appealing to the skateboard community, Tanju and his co-workers have broader interests and catholic tastes. Over the past decade, the skate brand has collaborated with Ralph Lauren, Arc'teryx, Moschino, Umbro and Stella Artois among others, while Tanju has expressed his views on an even wider range of cultural signifiers, from McDonalds to ketamine to supermoons, in Palace's product descriptions.
These snarky product descriptions, which Tanju writes and posts beside the garments offered for sale in its online shop, do not tell prospective buyers whether a product is 96% Cotton and 4% Spandex, but instead offer insights into Tanju's bugbears and enthusiasms.
This season more than 3000 of these texts have been brought together in Palace Product Descriptions. Organised in 22 distinct categories, including Animals, Etiquette, Romance and Travel, the descriptions are interspersed with shots of highly coveted Palace products and chapter openers feature candid, behind-the-scenes images from Palace's archive.
Reebok and Palace first worked together in 2013, and the brand's sneakers clearly occupy a fond place in Tanju's own personal shoe rack.
Beside a pair of black Palace Reebok Pro Workouts he writes:
• IF YOU HAVE NEVER • HAD SOME REEBOKS BEFORE • I SUGGEST YOU TRY THESE ONES • PUT THEM ON • THEN KNOCK ABOUT • WITH ALL YOUR SWOOSHY MATES • GO TO THE CLUB OR THE BAR • AND SEE WHO GETS SEXED • I GUARANTEE IT WILL BE YOU • BECAUSE YOU ARE NOT DRESSED • LIKE THE NEXT NEEK • IN THAT STUPID I'M A TWAT UNIFORM
And if that message didn't quite get through, he reiterates it beside a white pair of the same shoe:
• IF YOU DON'T LIKE • REEBOKS • YOU ARE PROBABLY • ONE OF THEM DILDOS • THAT QUEUES UP TO BUY • DUNKS WITH EMBROIDERY DILDOS • ON THE SIDE
In other listings he does make room for other sports brands. Beside a Surf Co red sweatshirt, Tanju wonders:
• IF THE QUEEN • WENT FOOTLOCKER • DO YOU THINK • SHE WOULD BUY • NIKE • ADIDAS • OR REEBOK
And in other instances, he even questions some of the aesthetic choices made by his employees in their Reebok collaboration. To accompany the listing for a pair of Palace Reebok OG Workout shoes in ripple red he says:
• 100% • I'M TRYING • TO FIGURE OUT • WHY WE DIDN'T MAKE • SOME MELLOW COLOURS • OF THESE TRAINERS • THAT'S HOW ZOOTED • OUR OFFICE IS
Palace Product Descriptions
To read more of these short-form cultural insights, order a copy of Palace Product Descriptions here.