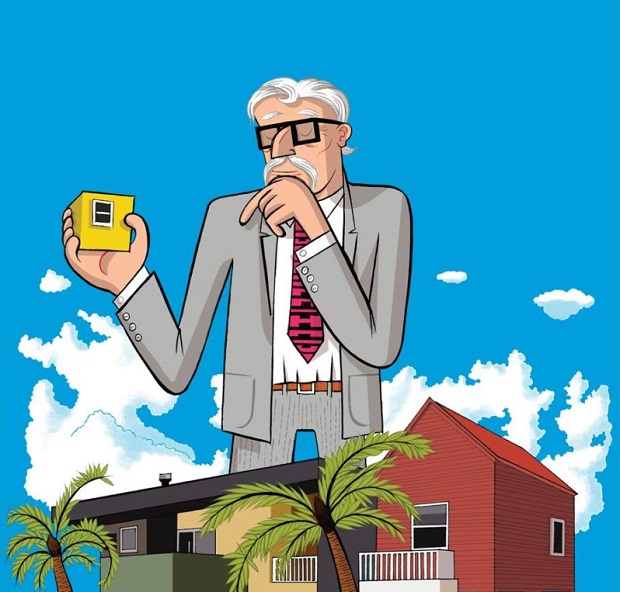 Ettore Sottsass immortalised in new cartoon
Italian designer and Memphis founder gets animated series courtesy of contemporary furniture company Kartell
We thought we had the late, great Italian designer Ettore Sottsass's life covered. We certainly detailed a huge amount of his career in our acclaimed monograph, from his encounters with the Beats in San Francisco, through to his founding of the Memphis design movement back in his native Italy. Written by Design Museum Director Deyan Sudjic, our latest title, Ettore Sottsass and the Poetry of Things, goes into his life, work and philosophy in even greater depth.
Yet, judging by these new videos,, we seem to have missed a few bits out. Like the time he was abducted by aliens, and was inspired to create his Colonna vase. Or the occasion he went big-game hunting, and managed to run into some improbably colourful megafauna.
The animations are the work of the Italian cartoonist, Massimo Giacon, who first realised his own version of the 20th century designer's biography in 2015, in his Italian-language graphic novel Ettore. Giacon admits that his version of Sottsass is only "a bit biographical", though the colourful take is certainly in keeping with Ettore's work.
These new clips have been commissioned to promote the Milanese design firm Kartell's own Sottsass range, which saw a number of unreleased Sottsass designs go into production last year.
The pieces of course are thoroughly authentic, while these clips are wonderfully entertaining, beautifully conceived, and somewhat outlandish - a bit like Ettore's own great work. You can watch them both above, and more verifiable episodes from the great man's life take a look at our two Sottsass books, here.