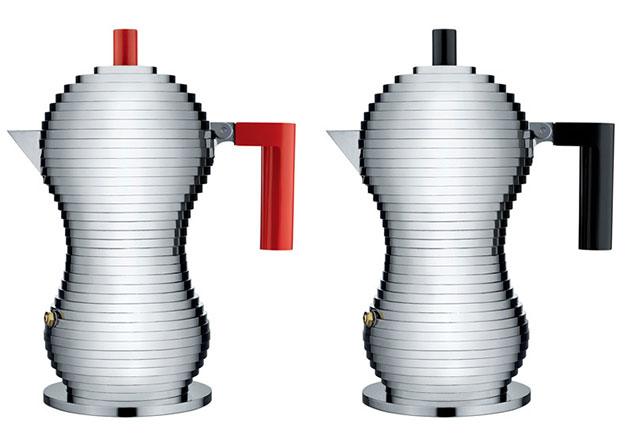 Alessi invites Memphis co-founder for coffee
Sottsass student Michele de Lucchi designs Pulcina, which means 'chick' in Italian, hence the beak-like spout
One of the founder members of the influential Memphis design group has reimagined the classic coffee maker for Italian brand Alessi. Michele de Lucchi, who worked closely with Ettore Sottsass, has come up with a curvy aluminium pot with a small triangular spout and a rectangular handle.
It's called Pulcina, which means 'chick' in Italian – hence that beak-like spout. The Italian manufacturer of classic post-modern kitchen items says that Pulcina is the fruits of a 15-year project to produce "moka for the new millennium". Alessi teamed up with Illycaffè "to enhance the functionality" of the standard espresso maker, "seeking to develop a shape that would exalt the 'organoleptic' properties of coffee", says Alessi.
De Lucchi – who had already designed a playful bamboo tray for Alessi – says of this new addition: "It's plump, bulbous and has a stepped silhouette," comprising shiny horizontal rings. Its shape is intended to improve on the taste of the contents and on the pot's functionality. "The experts at Illy's research and development laboratory identified some important changes to be made to the espresso maker that would reduce, and nearly eliminate, the so-called Stromboli-volcano effect," says Alberto Alessi. The coffee stops filtering automatically, meaning boiling coffee is less likely to spit through the spout.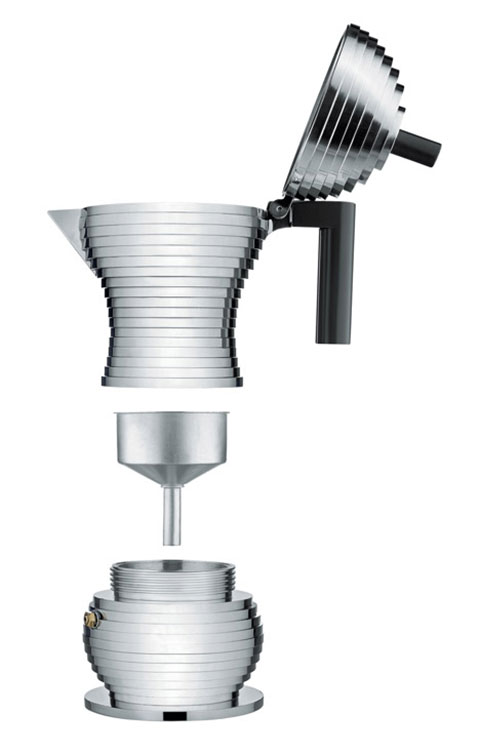 De Lucchi studied architecture under Ettore Sottsass at university in Florence. In the years of radical and experimental architecture, he was a major player in such movements as Cavart, Alchymia, and Memphis with Sottsass and his wife Barbara Radice, designed lamps and furnishing items for a number of renowned Italian and European companies and was in charge of Design at Olivetti from 1988 to 2002. Memphis, as you know, was the Milan-based collective of young furniture and product designers promoted a post-modernist style which dominated the 1980s until the group disbanded in 1988.
We can't help thinking that Pulcina has a good chance of acquiring the cult status of some of Alessi's other pieces, including Michael Graves' conical kettle and Philippe Starck's Juicy Salif lemon squeezer, which has its 25th anniversary this year. You can learn more about the Memphis group in the pages of our Sottsass monograph and through the great forthcoming biography of his life, Ettore Sottsass and the Poetry of Things written by Design Museum London director, Deyan Sudjic.