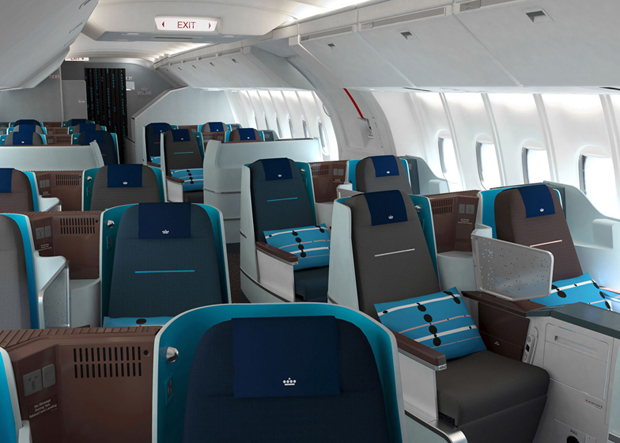 Hella Jongerius redesigns KLM Business Class
New interior puts sustainability first with Milky Way-inspired carpet woven from recycled stewards' uniforms
Phaidon artist Hella Jongerius launched KLM's revamped World Business Class cabin for their Boeing 747-700 fleet at Amsterdam's Schiphol airport this morning. The Jongeriuslab-designed cabin has recycled fabrics at its heart with a carpet created from the recycled uniforms of flight attendants. The colour scheme of blue, brown and purple - taken from KLM's existing corporate look - was apparently hit upon by taking fabric samples on flights to observe how the colours would react in different lighting conditions. The carpet is inspired by an image of the Milky Way.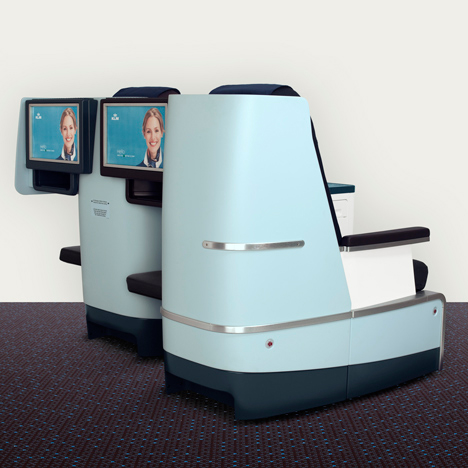 Jongeriuslab says: "Flying is magical. But at the same time, air travel stands for discomfort – the exhaustion, the endless waits, the anonymous crowds, the long stretches without privacy, the lack of telephone or internet access, the severe restrictions on movement, the processed air you breathe. The primary objective of Jongerius's design is therefore to offer passengers the greatest possible comfort, so that they can use their airborne interlude however they prefer: to work or to dream, unplugged from everyday life."
The designers employed an innovative double-faced weaving technique, combining mass-produced parts with craftsmanlike details, to reduce what they call the 'visual noise' of the cabin interior to a minimum, and creating ingenious variations on the KLM colour palette.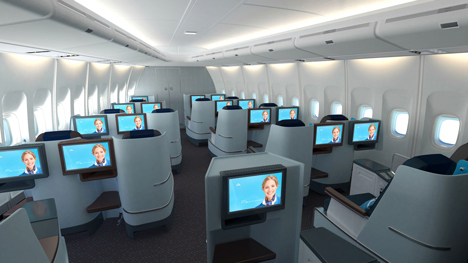 "This brought aesthetic excellence and a warm ambiance to the hi-tech world of the aviation industry, creating an atmosphere and experience that suits the needs of today's cosmopolitan world travellers," the design team says. When a carpet has to be repaired, sustainability is foremost, they add. "The pattern – a scene of the Milky Way with blue uniform dots in the role of stars – will always match up," they promise (though it's probably wise to be careful about spilling that Bloody Mary in the first place). Browse our extensive online Hella Jongerius content and take a look at her beautiful books in the store.