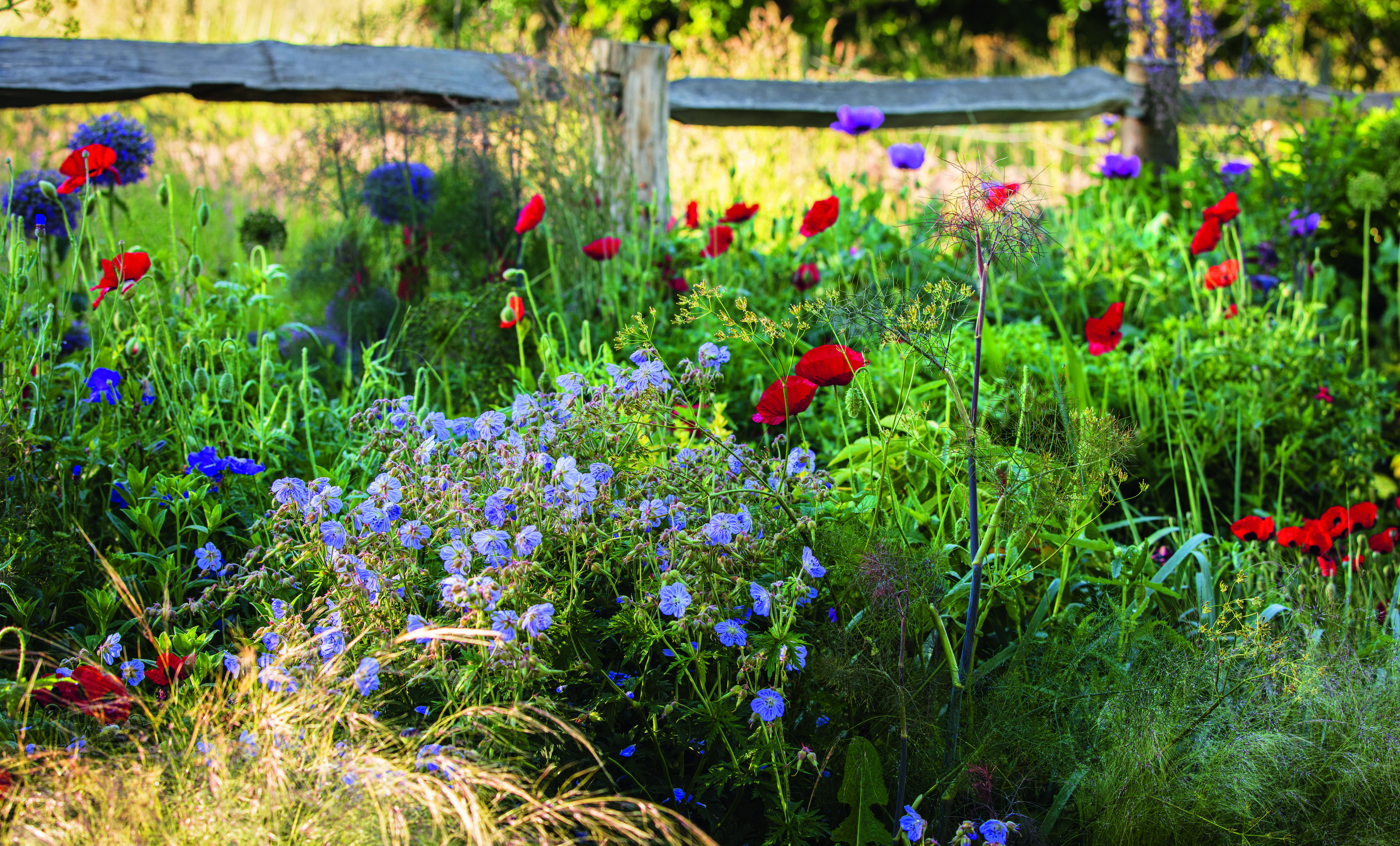 Summer Reads: This is what high summer should look like in your flower beds, according to one of the world's best garden writers
Anna Pavord says it's 'beachwear season' in your backyard. Here's how you can get the look
When the garden and author Anna Pavord looks out on her summer garden, she doesn't see a still scene, but instead a riot of activity. "A garden in high summer should be awash with flowers and scent, for it is the peak of the gardening year," writes Pavord in The Seasonal Gardener: Creative Planting Combinations. "With an uncertain spring and frost-prone autumn, we have to depend on hardy perennials that can withstand sudden plunges in temperature. In summer, we can spread sheets of annual flowers in the garden to grow, flower and set seed within the one breathless season. We can bring succulents and other tender plants out from the greenhouse to take their place in the summer parade. We can plant out temporary exotics among tougher and more permanent plants, where they sit, slightly sniffy, like film stars working in locations much less glamorous than they are themselves. These temporary plantings shift a garden into a different, more colourful gear. It is the garden's equivalent of beachwear."
And, just as every good A-lister needs a good nutritionist, stylist and director before frolicking on to set in a bikini, so a vigorous, beautiful summer garden needs careful, skilled attendance by someone such as Pavord. One of Britain's foremost horticultural journalists, she wrote her gardening column to the Independent newspaper for thirty years and today, though she is in her eighties, she still contributes for the Sunday Times and is an associate editor for Gardens Illustrated magazine. A recipient of the Royal Horticultural Society's Gold Veitch medal in 2001, Pavord also continues her own garden, beside her eighteenth-century rectory in West Dorset.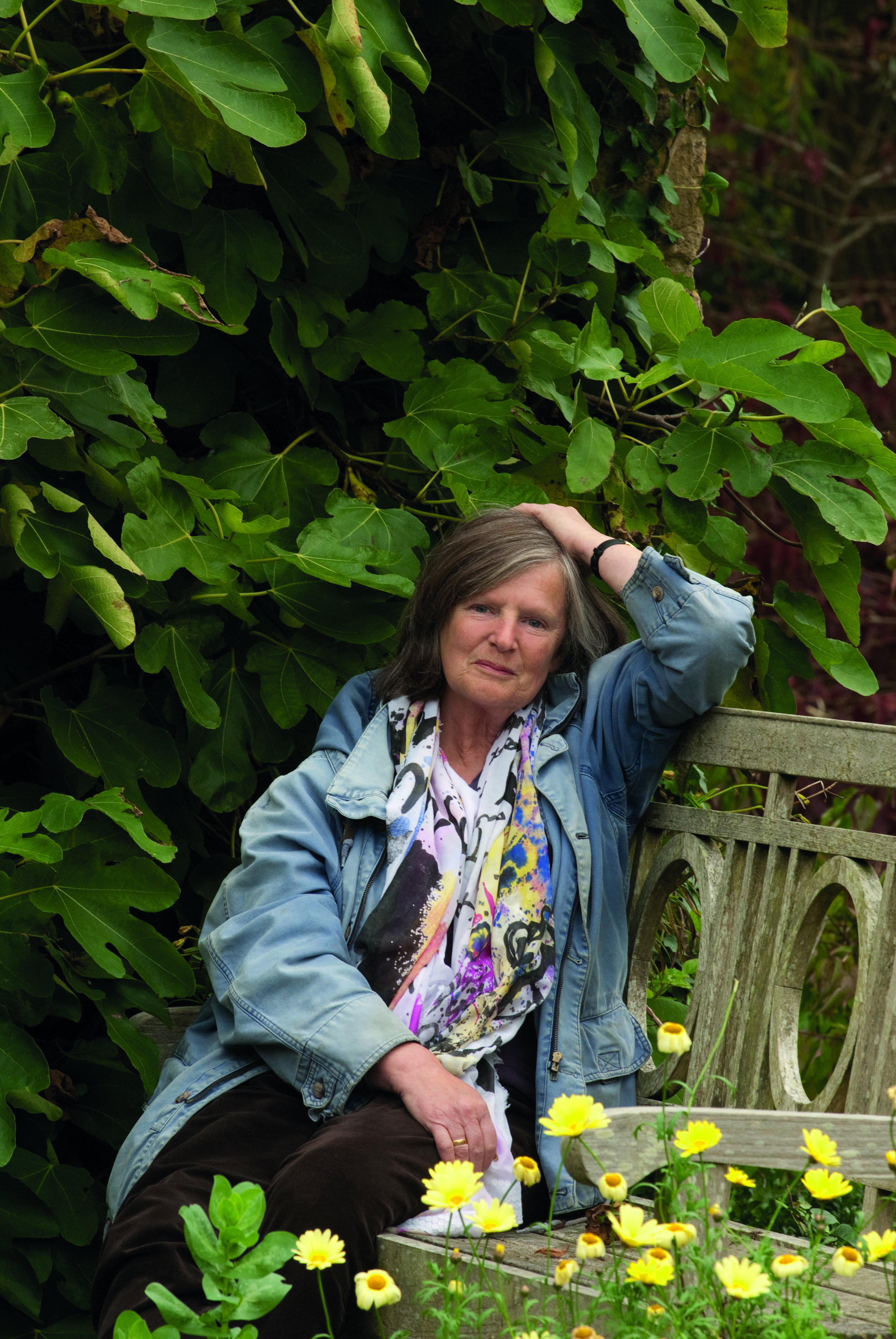 Anna Pavord
In her chapter on High Summer she runs through just a few of the rules that turn a half-decent set of beds into a true horticultural treasure. Consider for example foliage, or all those green fronds and leaves around the summer flowers. "Flowers need foliage," she asserts. "The dictum ought to be scratched into the concrete of every patio, emblazoned on every garden gate, carved on the handle of every garden spade. An obsession with colour has been the distinguishing characteristic of many gardeners who were brought up to revere (famous English country garden) Sissinghurst, with its single-colour borders, above all other gardens and to believe that the only true path to the gardener's Nirvana lay through a series of agonised choices about the exact nature of the flowers we put in our patches.
"'Darling! Salmon! How brave!' exclaim the all-white-flower garden brigade as they sharpen their pruning knives for a horticultural mercy killing," she goes on. "You might as well fall on your garden fork there and then try and explain that the point of the rodgersia they are looking at is not the buff-pink flower but the whorls of bronze leaves underneath it. This obsession with colour and with particular modish flowers has got in the way of a vital tenet of good gardening: leaves are vastly more important in creating satisfying and enduring planting schemes than flowers. A garden that is all flowers is like a cake that is all icing. And in town gardens, set in the midst of concrete, tarmac, noise, dust and general mayhem, you desperately need cool, still oases of green to set off occasional bursts of colour.
High Summer. Seeming almost to engulf this stone-flagged path at Gravetye Manor in Sussex, UK, a glorious jostle of plants includes tall verbascum, the larkspur 'Sublime Azure Blue' and the feathery, tactile fronds of Stipa tenuissima.
"When you swoop on a plant in flower at the garden centre, ask yourself, 'What will this look like without its flowers? Will it develop an interesting shape? What are its leaves like?'" she cautions. "If you judge a plant by these criteria, flowers become a bonus, rather than the sole raison d'être."
When choosing those flowers, remember, colour choices can be difficult. "Views on colour are one of the most instantly articulated expressions of taste," she writes. "We register colour and have views on it more quickly and more certainly than on any other aspect of our surroundings. But the thing about gardens is that they shift all the time. For a short spell, a poppy border may well be an all-red border, but when the poppies are finished, the border can shift into a completely different gear, perhaps majoring in tall tobacco plants in cool lime-green and white."
Single-colour beds are a tempting option for those who find colour coordination difficult, but the author cautions against this. "The dead chalk white of a plant such as sweet rocket is hideous next to the much creamier white of a rose such as 'Nevada'."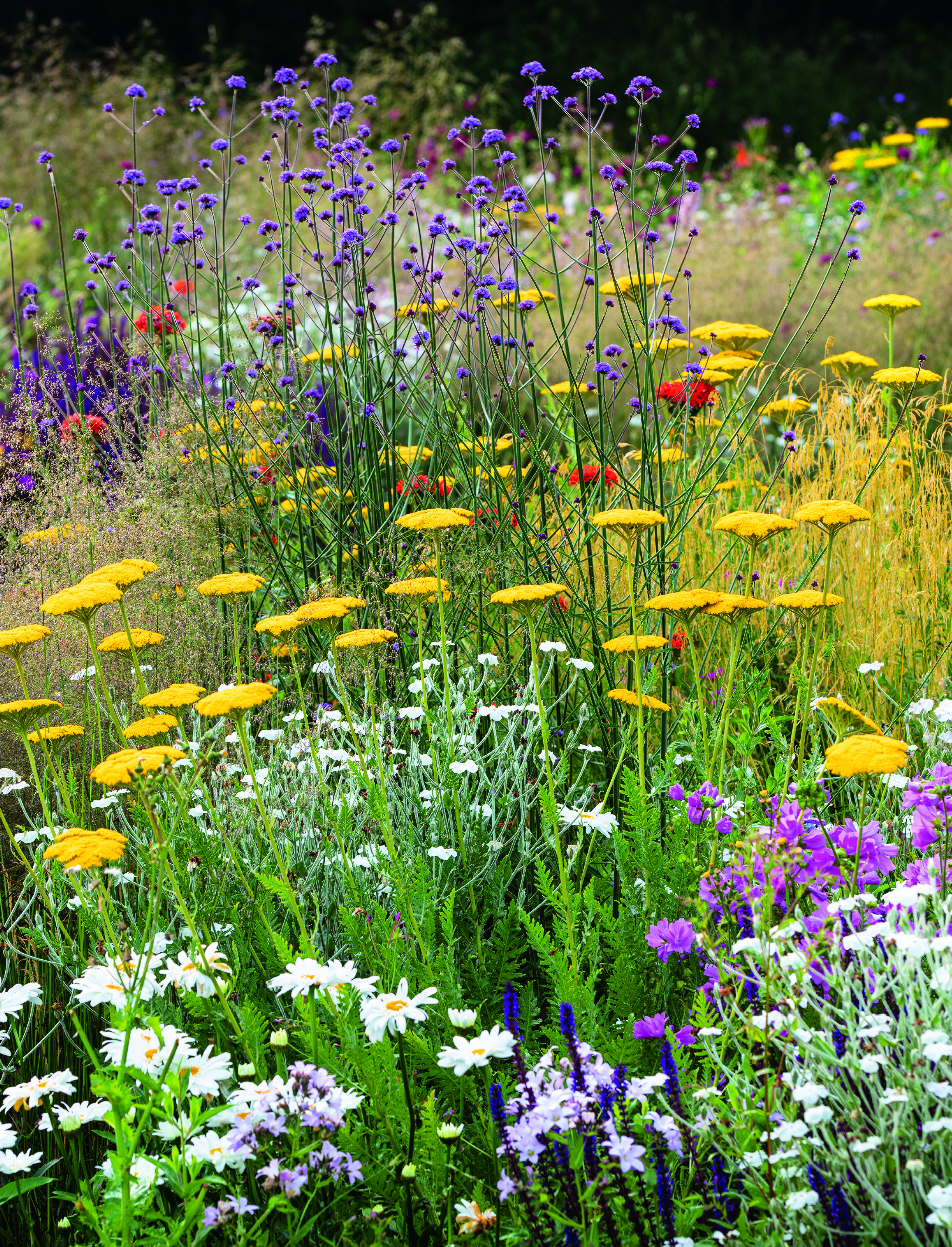 High summer. The bright yellow heads of yarrow (Achillea filipendulina) hover like miniature spaceships over a meadow of perennials which includes tall thin stems of Verbena bonariensis and white-flowered Lychnis coronaria.
Instead, she suggests gardeners try a range of tones, and also try to look beyond simple colour choices. "Thinking only of colour can blind you to the rest of a plant's attributes, and its faults," she explains. "Flowers are only one of the tricks that a plant can perform, and it is a shorter act than foliage or form. You are much more likely to swoop on a plant because it is blue or white or yellow and overlook the fact that its leaves are as inviting as last week's salad and that it holds itself with all the grace of a sailor on a spree."
Need to keep those sallying sailors inline? Try some grass. "Planting in the summer garden may encompass a great swathe of grasses – miscanthus, deschampsia, calamagrostis, molinia – which are essential elements of the so-called 'prairie planting' or New Perennial movement, which brought a German and Dutch-inspired style of gardening into Britain and North America to push aside the delphiniums and lupins of the traditional herbaceous border," she writes. "Grasses are generally seen to best advantage when contrasted with plants that have completely different attributes, whether in terms of foliage, as with acanthus or hostas, or colour, as with annuals such as bold orange tithonia or marigolds."
Among Pavord's chosen varieties is stipa tenuissima, "an upright, densely tufted grass, has become a favourite not so much for its bright green, fading to buff foliage as for its tactile beauty," she goes on. "Of all grasses, it is the one that almost unconsciously we reach out to touch. Our fingers run through it easily, and it feels as delightful as trailing one's hand through water. Jolly companions such as nasturtiums are what is needed to enliven its stonewashed tones."
The Seasonal Gardener
To enliven your garden, and to better understand this and other seasonal advice from so well-seasoned a gardener, order a copy of The Seasonal Gardener here.