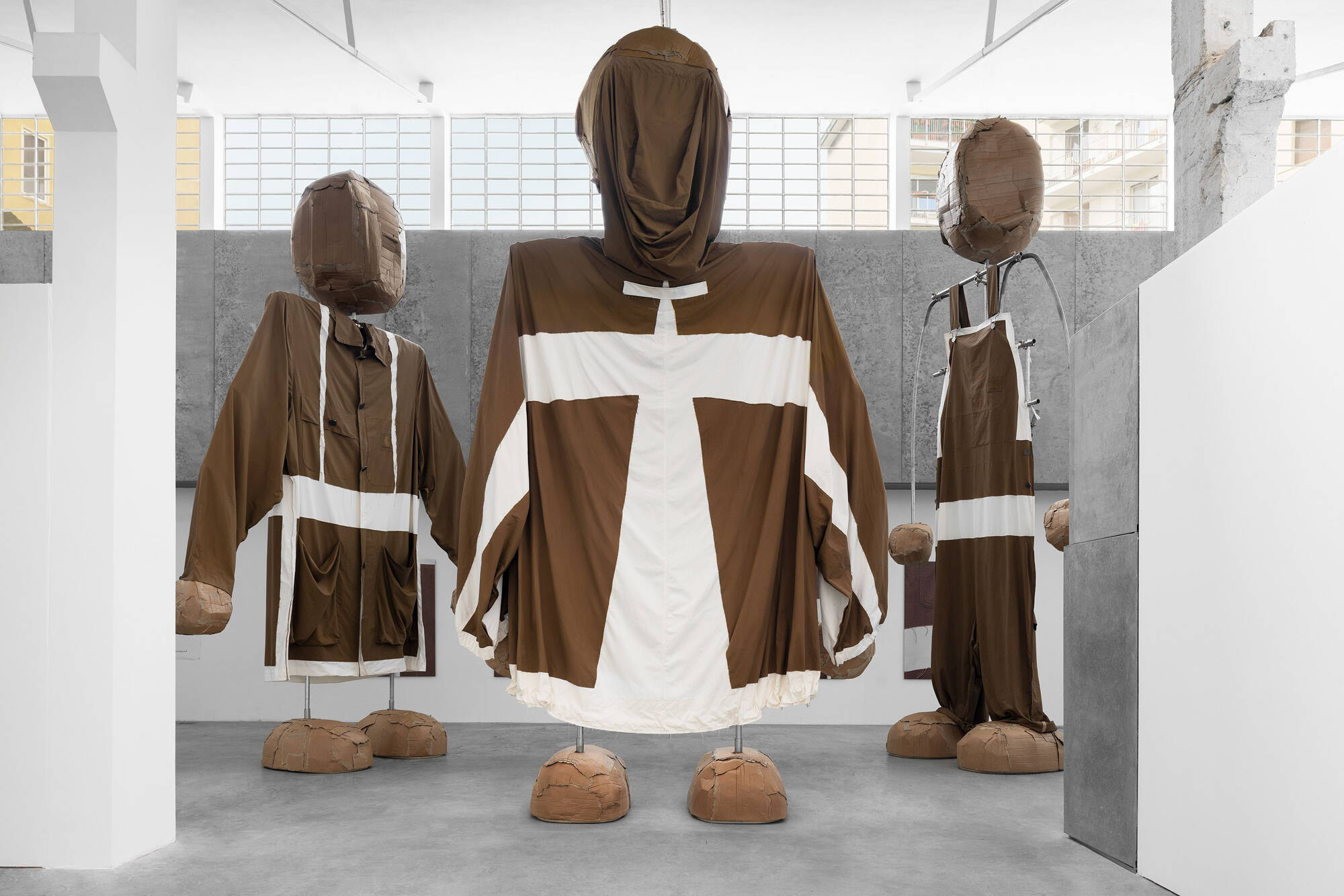 Faye Toogood, Paul Smith, IKEA and ECAL are all big hits in Milan
The British designers and the Swiss design school have placed environmentalism, music, cycling and puppets at the centre of their must-see Salone del Mobile shows
Anyone unsure of the power of global, collaborative creativity should head to Milan's Salone del Mobile – the world's biggest and most important furniture fair – which takes place 7-12 June.
Not only will the world's best product designers, brands and other concerns, display their greatest, new work in the city; they'll also find some fairly remarkable ways to ensure those displays truly come to life.
At the Spazio Maiocchi exhibition space in the city, Carhartt and Faye Toogood of the Toogood design studio will display their new collaboration, Toogood x Carhartt WIP – with oversized versions of the garments fitted onto the bodies of three giant, sculptural puppets (above), brought to the city from London, expressly for this exhibition.
The puppets' impressionistic, inventive qualities serve to highlight Toogood's recutting of Carhartt classic styles. As our new book, Faye Toogood: Drawing, Material, Sculpture, Landscape, explains, the clothing collaboration,"gave Toogood the opportunity to refashion the workwear brand's archetypal designs in the volumetric silhouettes for which Toogood has become known.
"The neutral tones of black, white, raw, wax and Hamilton brown uphold the Carhartt WIP palette, while Toogood's unique interpretation of utilitarian principles lends a new dynamic," the text goes on to explain. "The project allowed Toogood to express its respect for classic workwear styles. In the words of Faye and Erica, 'We adapt the blueprints, but the pattern remains eternal.'"
Visitors to Milan this month will be able to see this six-garment collection, as well as a series of one-off pieces, described as 'hacks', which have been recut and patched back together with contrast-coloured fabric, to add unique volume and details to the clothes.
"This collaboration has come from a very natural place for both brands," says Erica Toogood, Faye's sister, studio co-founder and head of design at Toogood. "Carhartt's history of modifying historic workwear sits effortlessly with Toogood's nod to tradesand workwear, reimagined and sculpted with artistic freedom. Carhartt WIP gave us permission to cut, hack and remodel these archetypal utility products and link them closer to a sculptural Toogood fit. Combining our aesthetic and cutting style with Carhartt WIP's construction skill and capacity has been a proud moment for us, resulting in an accessible, durable and iconic product."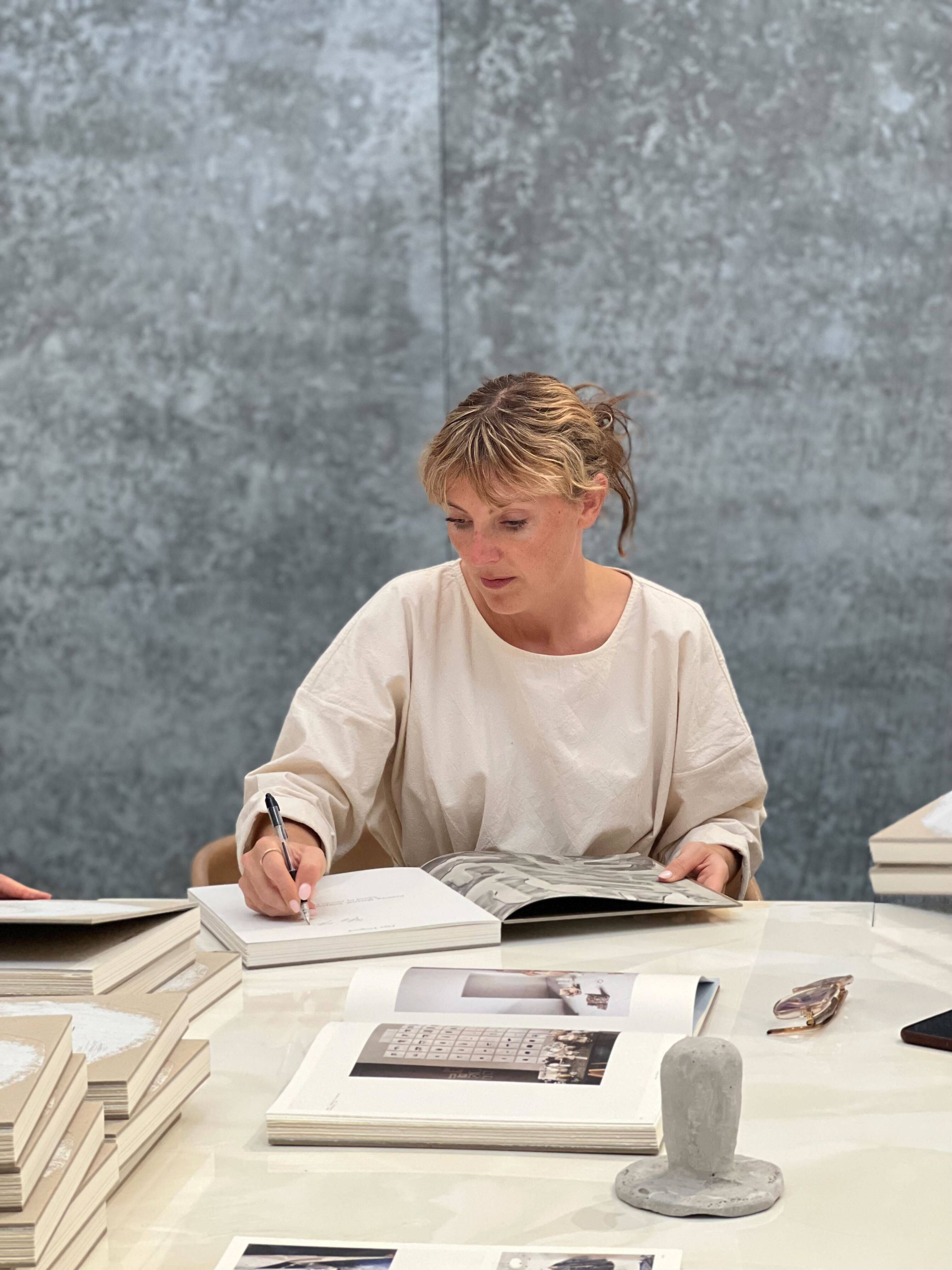 Faye signing her book in Milan
To better understand Toogood's creative practice, visitors to Spazio Maiocchi will also gain early access to Faye Toogood's new book, Faye Toogood: Drawing, Material, Sculpture, Landscape. This is the first in-depth examination of all aspects of Faye Toogood's work, from clothes and furniture, to installations and interior design, and features both this 2022 Carhartt collection as well as Toogood's earlier 2017 work with the brand.
Fellow Brit, the fashion designer Paul Smith, will bring a little of his bright, innovative aesthetic to Milan this month, via his collaboration with Italian furniture company, De Padova. The collection is called Everyday Life; it's on show at the DePadova Santa Cecilia, and, despite its bright colours – look out for deep blues, reds and lime greens in this set of sofas, pouffes and armchairs – the works are surprisingly ecological; the cushions are stuffed with organic cotton and recycled feathers, while the upholstery is made from hemp and cotton, among other materials.
IKEA is also hosting its own festival in the city this June. The events will take place at BASE in Milan from 6 to 12 June, with displays of new collections, as well as more progressive installations and a schedule of talks and other live events. Thiall forms forms part of the city's Fuorisalone series of events, and feature appearances from a wide range of guests, including the designer Ilse Crawford, the musician Jamie xx and the mayor of Freetown, Yvonne Aki-Sawyerr. At heart, the festival aims to explore how the relationship between people and their homes has evolved, and show how improving your everyday life can create a more mindful home.
A similar level of progressive thoughtfulness is also on display at Spazio Orso in Milan, where École cantonale d'art de Lausanne, one of the world's foremost design schools, will present its new book, The ECAL Manual of Style. Edited by ECAL director Alexis Georgacopoulos and designer Jonathan Olivares, and published by Phaidon, the new book and accompanying exhibition details ECAL hugely effective, highly engaging teaching method, via the views and work of its teachers, students and alumni, while also attempting to answer the question: 'How should design be taught today?'."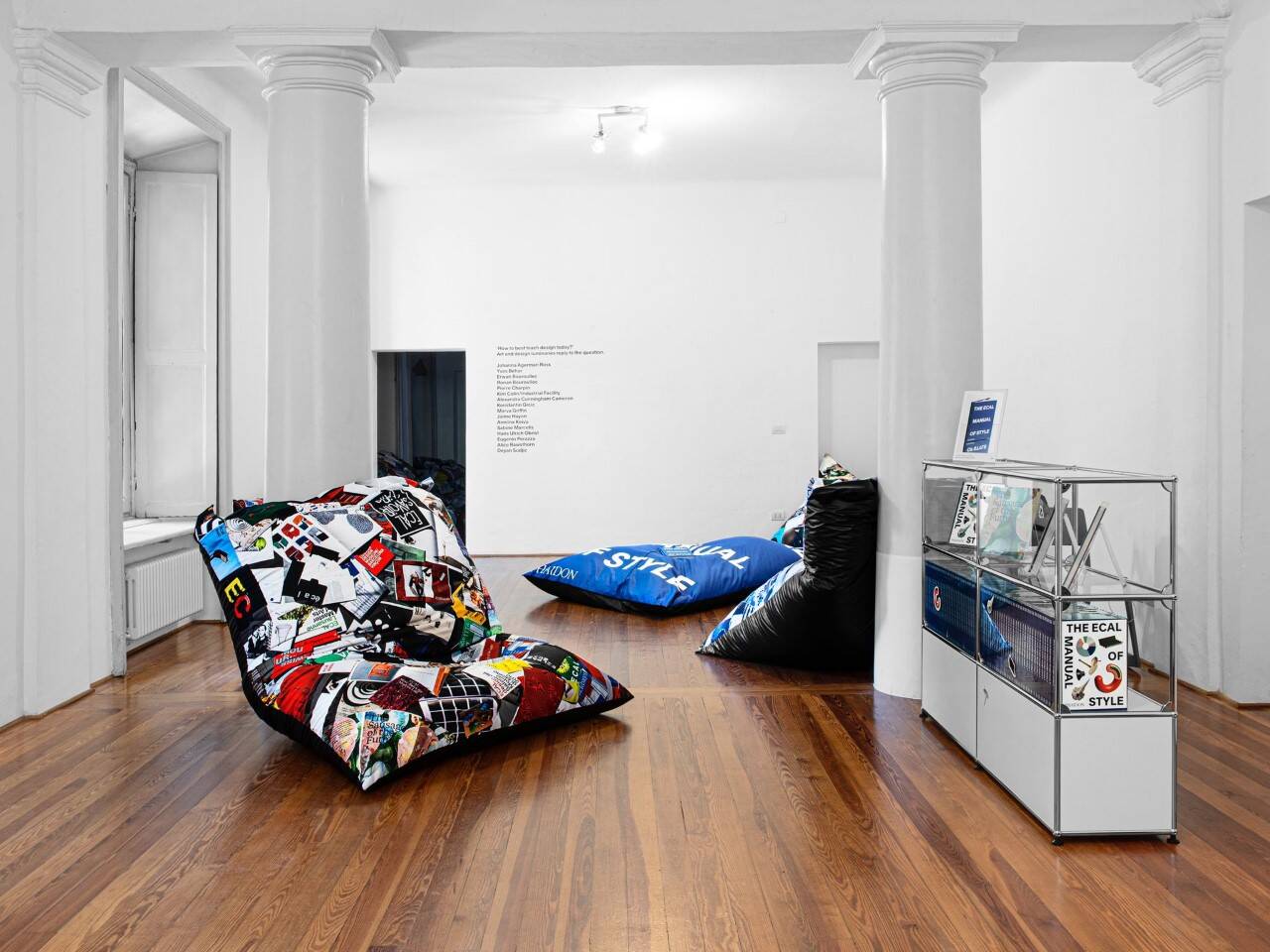 The ECAL Manual of Style exhibition in Milan. Photography by Santiago Martinez
ECAL prides itself on working effectively with industry leaders in a wide variety of fields, and its accompanying exhibitions, displaying new music its masters students have created in collaboration with Yamaha (also on show at Sapzio Orso), as well as a series of cycling-related works developed by bachelors students in collaboration with the Swiss bicycle company BMC Switzerland (on show at House of Switzerland) which "offer a glimpse into the future of mobility on two wheels and highlight the potential on how to enhance the rider experience," says ECAL.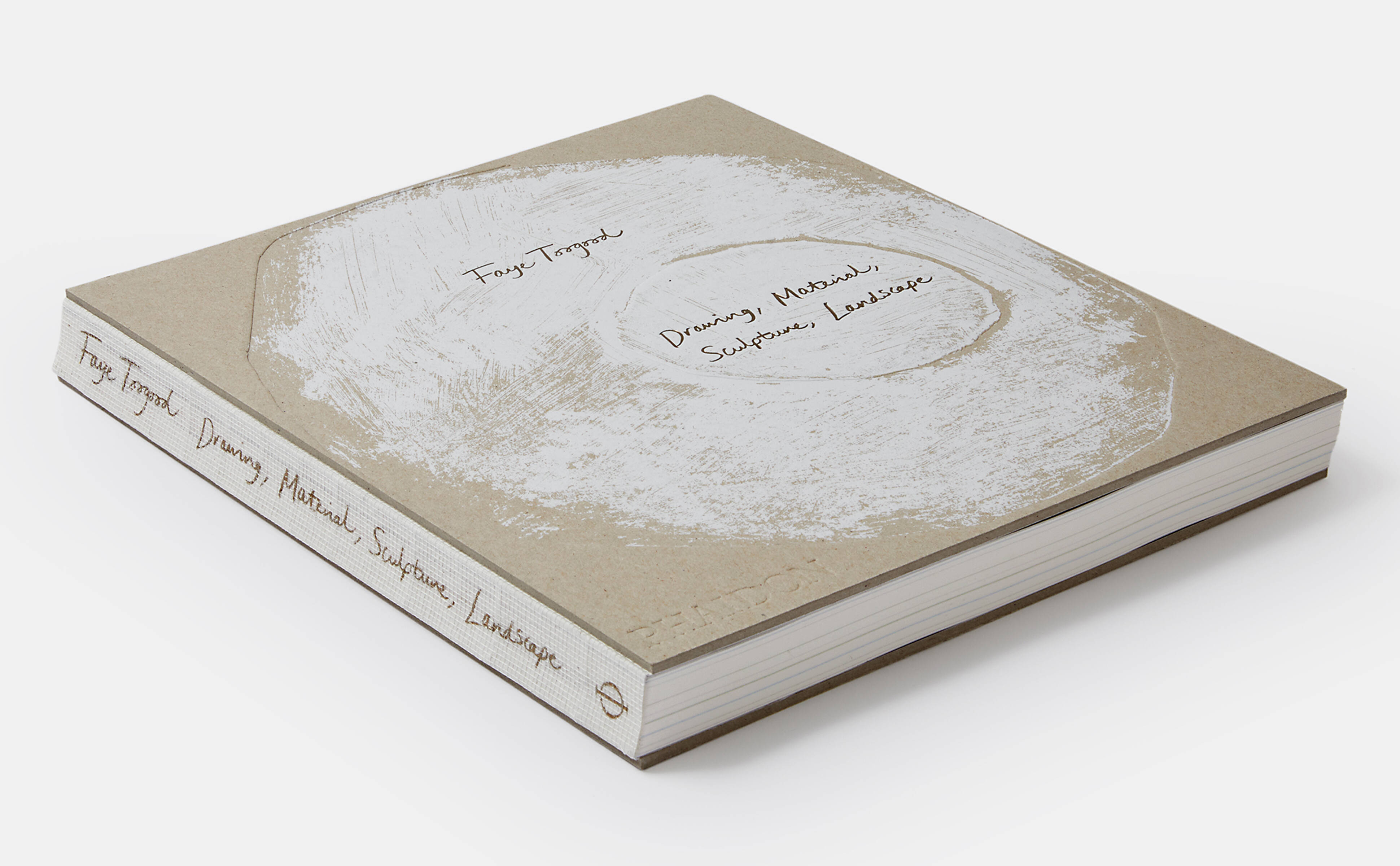 For more insight into Faye Toogood's work, get a copy of her forthcoming monograph here; for more from Paul get our Paul Smith Book, for more from IKEA get Us & Our Planet, and to better understand ECAL get The ECAL Manual of Style.