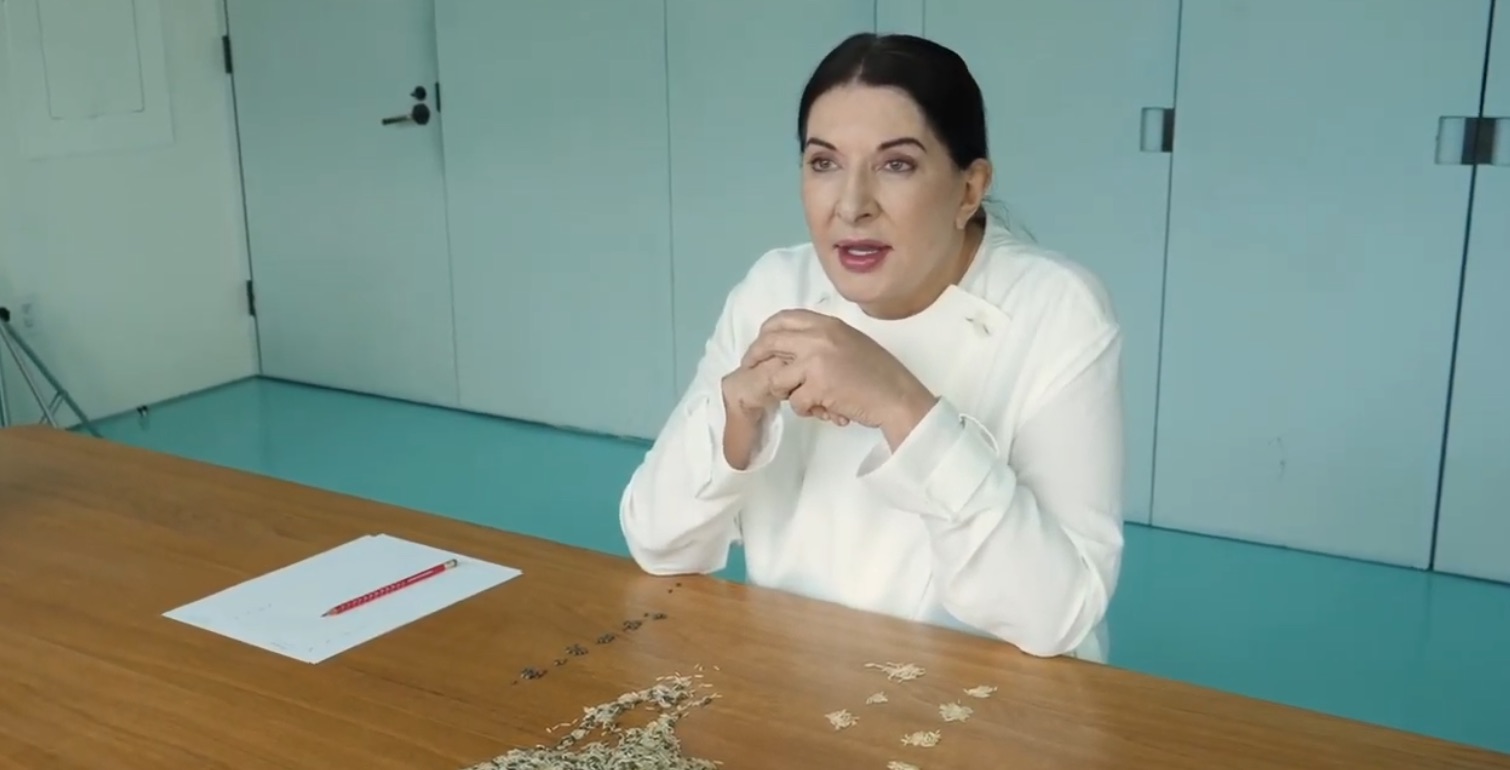 Why is Marina Abramović counting out rice and lentils?
The contemporary artist explains her work in a video with Phillips to accompany our new book Open Studio
Have you ever looked at a work hanging in a gallery and thought, "I wish I could do that"? Well, here's your chance. In our new book, Open Studio - Do-It-Yourself Art Projects by Contemporary Artists, a series of renowned and respected artists outline some simple step-by-step guides that will help you create your very own artwork.
They include an impressive roll call of the biggest and best names in the art world, among them: Lawrence Weiner, Mickalene Thomas, George Condo, KAWS, Rachel Feinstein, Julie Mehretu, Maya Lin, William Wegman, The Haas Brothers, Sarah Sze, Alex Israel, Thomas Demand, Wangechi Mutu, Rashid Johnson and Will Cotton.
The book's authors, the curator and art adviser, Sharon Coplan Hurowitz and the journalist and filmmaker Amanda Benchley, spent three years interviewing 17 of the most highly regarded contemporary artists working today and getting them to contribute easy-to-follow projects, from the simple to the complex to the conceptual.
As the authors explain: "Each chapter takes you into the private realm of the studio and walks you through a project step-by-step with the artist as your guide. Contributors were given carte blanche to create their own projects and some artists have even designed removable and usable inserts—from stencils to cut-outs— as supplements to make your work more personalized, interactive, and fun." In terms of design Open Studio is one of the most innovative books Phaidon has ever created.
Now, in a series of 3 videos Phillips take viewers inside the workshops of three of the artists in the book: Marina Abramović, Will Cotton and Rachel Feinstein.
Below you'll find a 60 second teaser video of Marina Abramović's video, in which she mentally prepares herself for her work by counting out rice and lentils. You can see the video in its entirety, alongside videos by Will Cotton and Rachel Feinstein at Phillips' site here.
Don't get the impression Open Studio is just a DIY crafts book. It's not. Instead, it lifts the veil on how artists work and what their studios look like. You'll get the feeling you're a privileged guest in the studio as you sit with them while they create. Buy Open Studio here and look out for the Rachel Feinstein video later this week on Phaidon.com