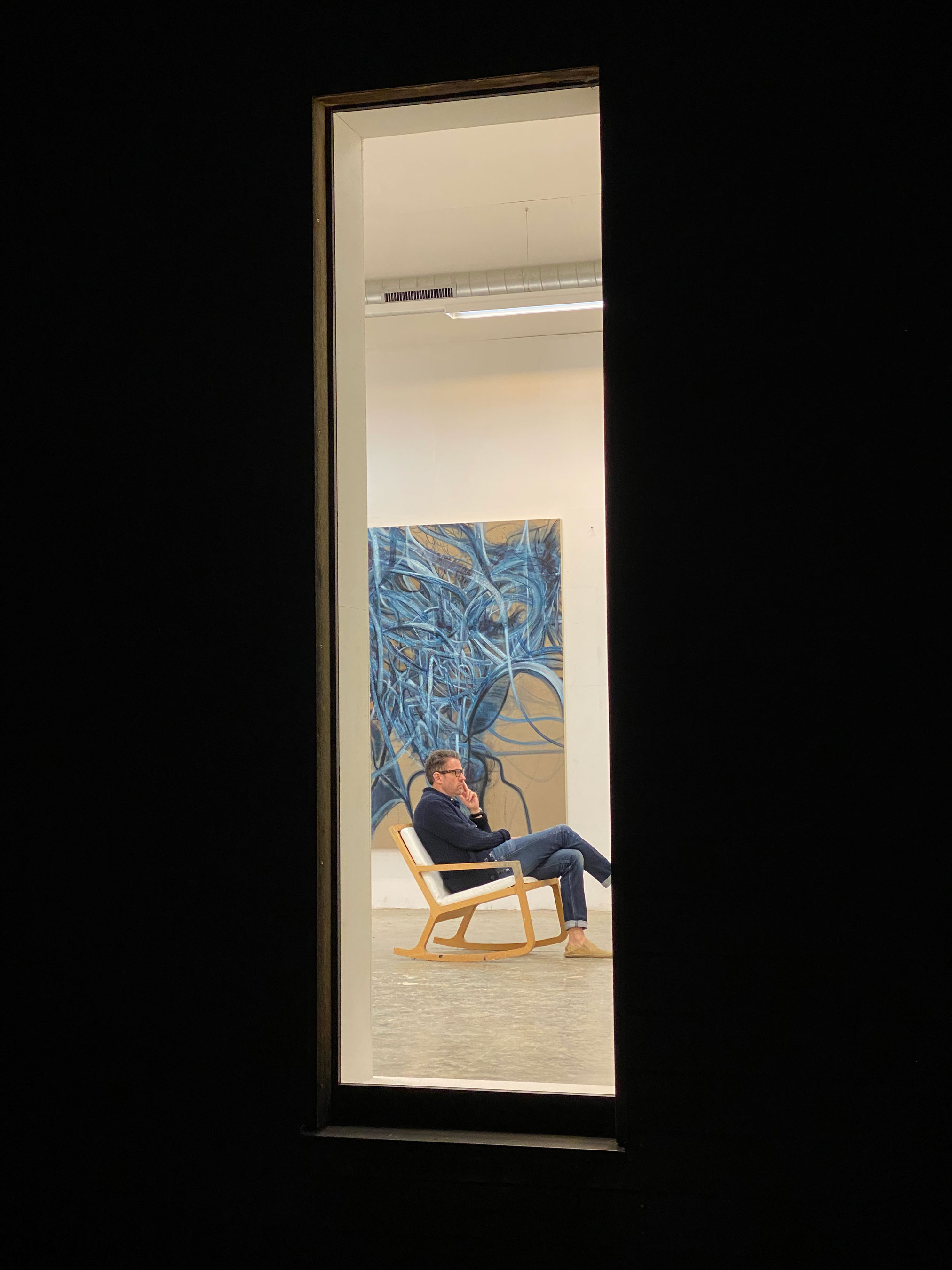 Nigel Cooke's Lockdown Life
'Since we've been in lockdown, I've found it easier to work at night. The darkness of night somehow unifies what's outside the window,' the painter says in our interview
Nigel Cooke is known for his evocative paintings which blend personal memories with art historical influences, classical themes with abstract interpretations of the natural world.
Executed with a masterful array of techniques and applications of paint, these atmospheric compositions weave figures and environments together, reflecting a complex interplay of memory, chance, and intuition. The figures that appear in them are not portraits of individuals but hybrids of many - combinations of found photographs, observation, and invention. Cooke's work collapses the distinction between genres such as abstraction, figuration, landscape, and still life. His Contemporary Artist Series monograph will tell you more about that and in much greater detail.
But how has this Canterbury, UK-based artist been doing in isolation? Rather well it seems. He has even created a new body of paintings.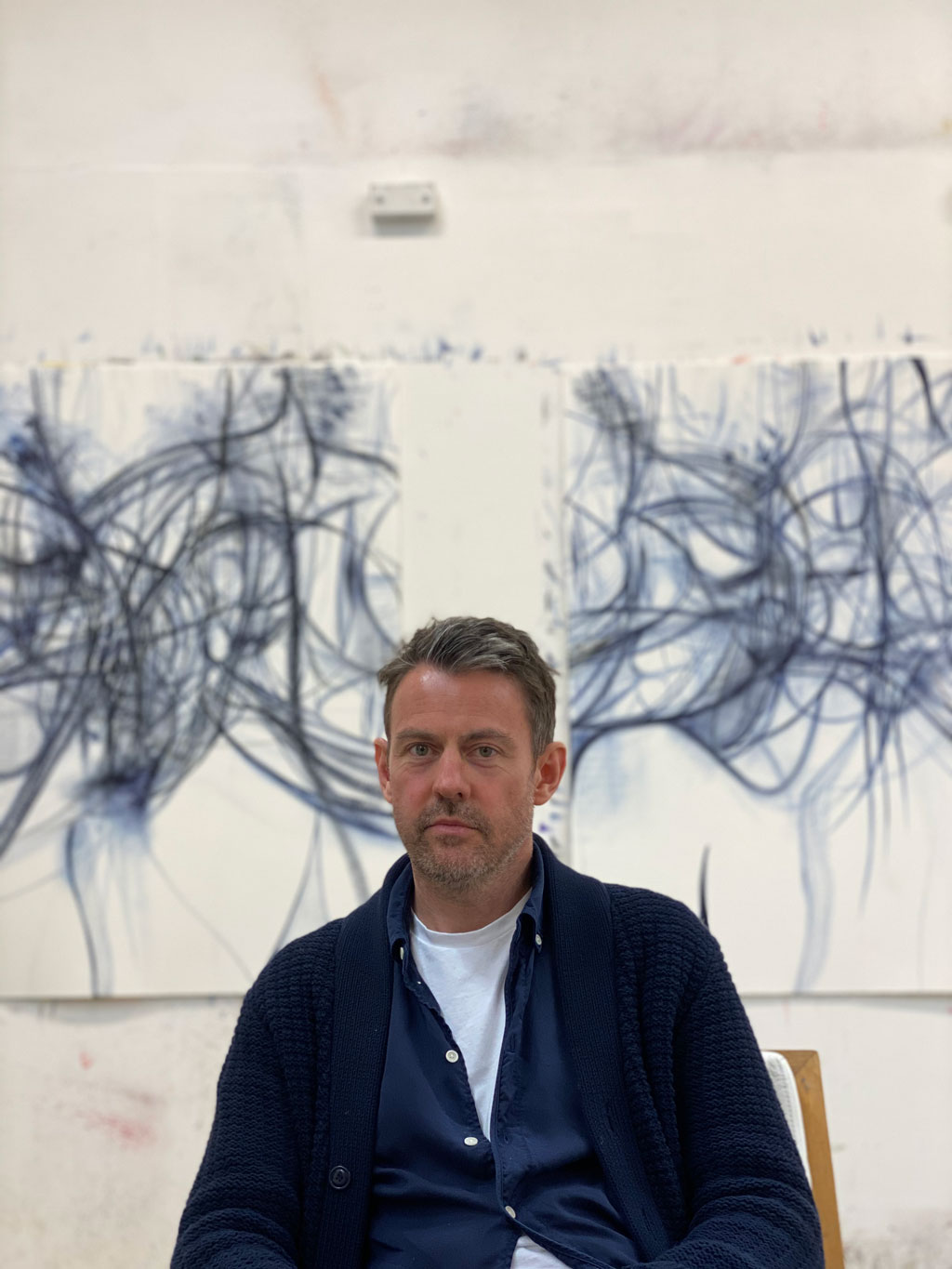 "As an artist I am naturally self-isolating, but it feels very different when everyone else is doing it too," he says. "What you are isolating from is important. It influences what you are able to do with that separation. Since we've been in lockdown, I've found it easier to work at night. The darkness of night somehow unifies what's outside the window, making the stillness more normal.
"By going this small amount further, falling out of step with the schedule of the local world one extra degree, this isolation feels more recognizable as the usual conditions for art making. There is isolation, and there is isolation.
"Staring out of windows, going for a run in the countryside at night, gazing at a phone, reading a book, trying to write something, trying to grow something. Some of these things have made their way into these (new) works, but they are not about isolation in any primary or singular way. What's more important for me is to continue exploring my visual language, find new twists and turns within it maybe, but essentially connect with its energy and life force to keep myself going, staying in touch with the sustaining magic of the process of painting."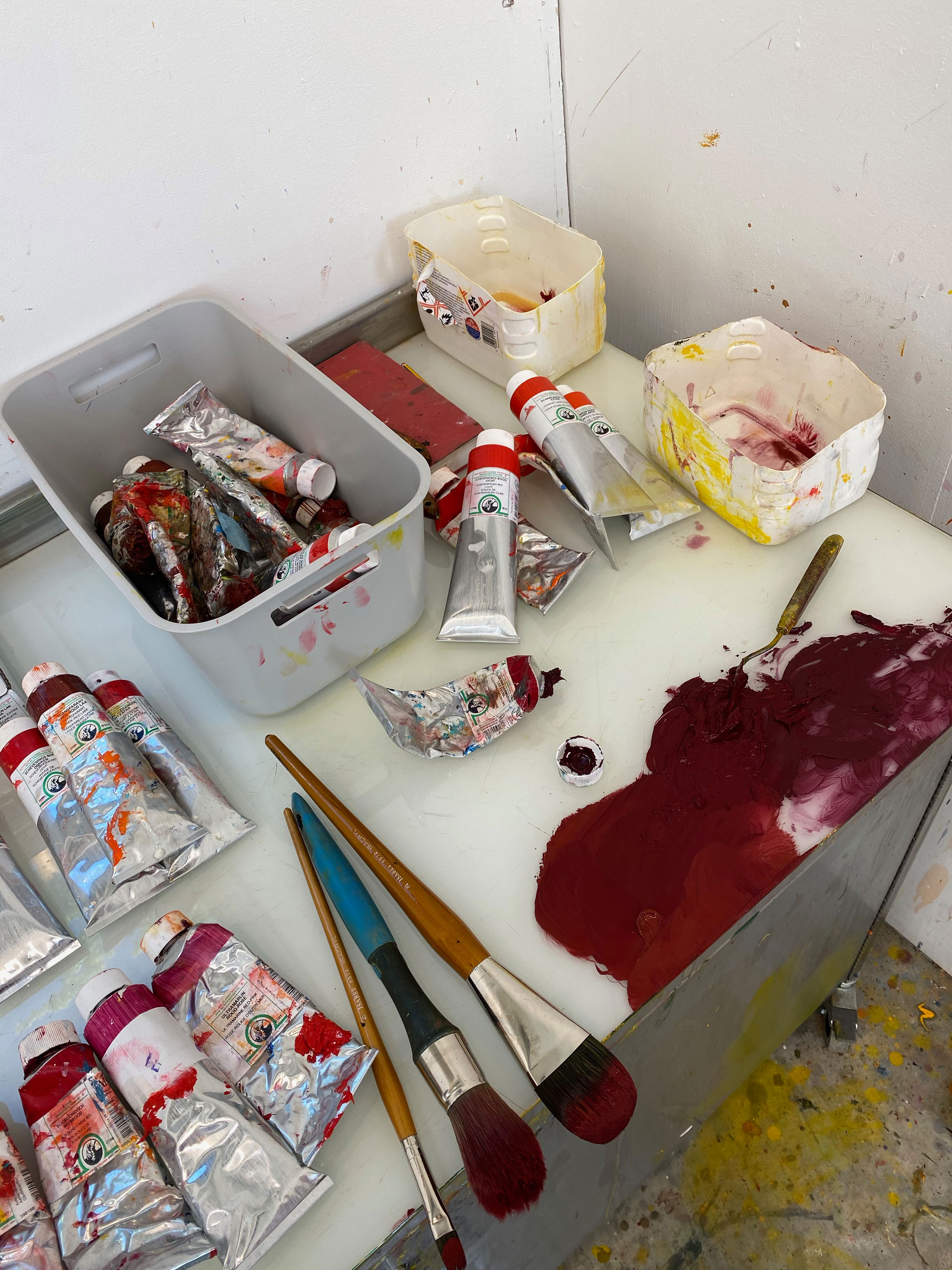 Cooke says the symbolic crossover point for him has become midnight. "For me this idea has become a colour, a scale of blue values moving from ultramarine toward black. Midnight blue has become the core dark light of these new paintings on paper, weaving together an acceptance of what is and a hope for what might come in a single unbroken gesture. It speaks to me of the darkest point before the return of the light."
The new works he's been creating follow on from the paintings shown at Pace in New York in January. "Whereas the previous works emerged into full colour from thickets of murky gloom, these works differ in that they move from higher colour toward darkness," he says.
"They sketch out and chase forms in colour, but as decisions are made, this gradually resolves into a dominant composition and a thicker darkness, a blue black the colour of midnight, composed of swirling and looping lines and shapes. Woven into this dark tone is a sense of optimism and hope for me, of recalibration and openness to change, captured as the colour flares out between the web of darker marks. I like to think that they celebrate the peaceful unity of the night, the precious value isolation holds for creative expression," he says.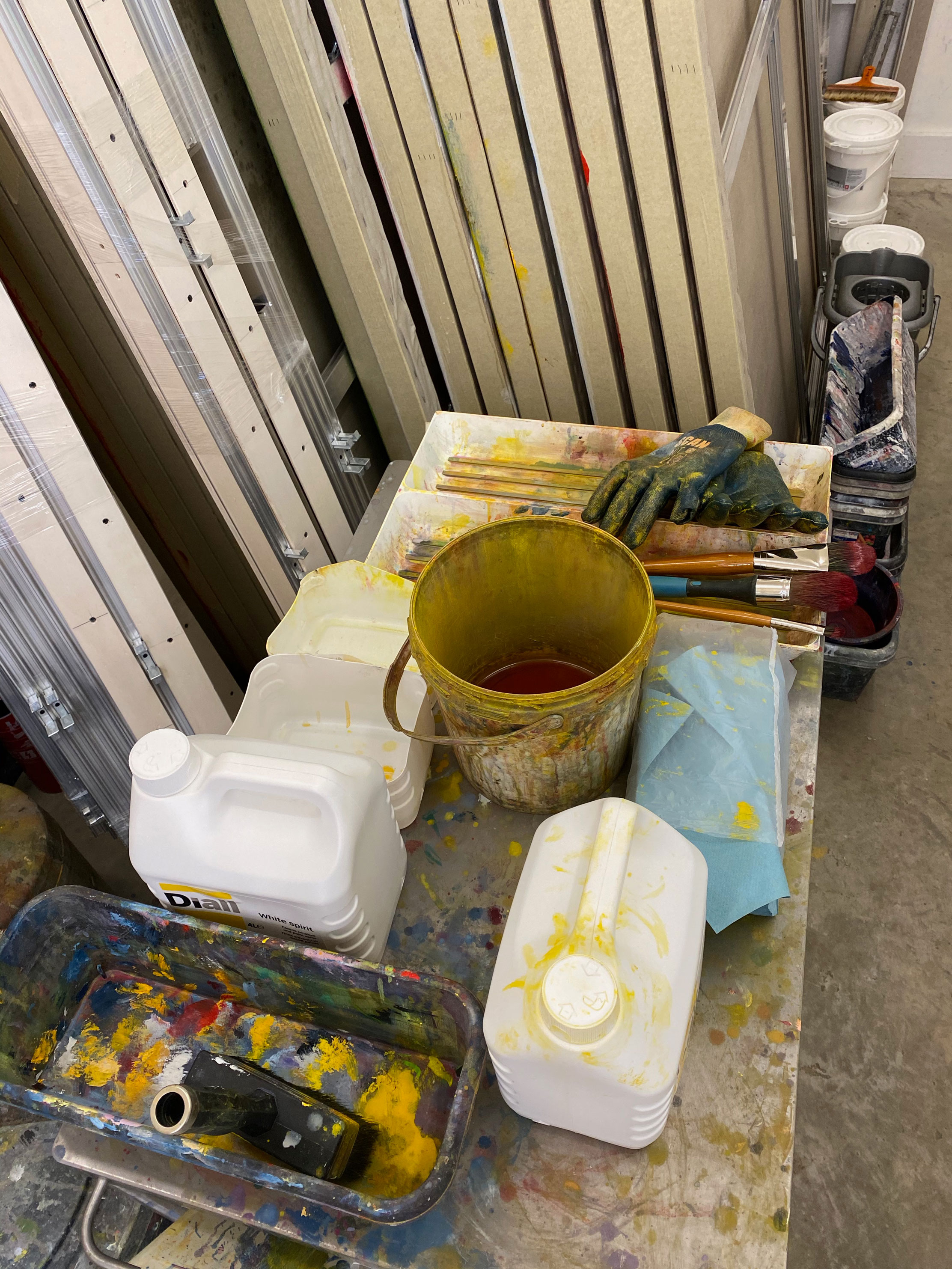 For your last show in New York in January you restricted the titles to a single word - Madrid, Winters, Pines, Athlete etc where do your titles come from? "I enjoy the musicality of words almost as much as that of paint, so I come up with the titles myself as I go along, rather than looking for them out in the world. Titles tend to emerge during my relationship with each painting, and I try and get the rhythm of them right for the image somehow without giving too much away. Occasionally they connect to something in a book, but mainly I'm trying to make the title a more suggestive, less descriptive thing these days.
"I think my tendency is to explain a bit too much. As tendencies in painting go, this is not good - I have worked hard to shake it off. During 2019 I managed to break away from it significantly in the work, so I wanted to mark it in the titles too. It's like a reminder to set some limits. I think certain parameters have helped me build a more focused body of work."
Should the paintings be viewed as a series? If so, what is for you the link between them or the central theme? "No, I see each as a discrete entity, although I have actively narrowed the scope to a more consistent set of ingredients. That usually means a chosen colour, and a vocabulary of figurative and organic forms that return each time, more or less. What I love about painting is that this does not let you off the hook - there are no shortcuts achieved by simplifying. Even the most narrow principles contain the infinite, as almost all the great painters of the 20th century proved. You never would think that Morandi should have moved away from bottles.
"What I have tried to work through is the skeleton of everything I have ever made, to identify a handful of consistent elements in everything I have ever painted and try to work with just that. Looking back at all the artists I love, again I'm talking mainly 20th Century, most of them had started on their mature style by my age. This is a dangerous game to play of course, but nevertheless I wanted to expose myself to that pressure, to really ask myself what it was I wanted to look at for the next period of my career. If anything, that is the central theme - the desire to distill 30 years of painting into a clear unbroken gesture."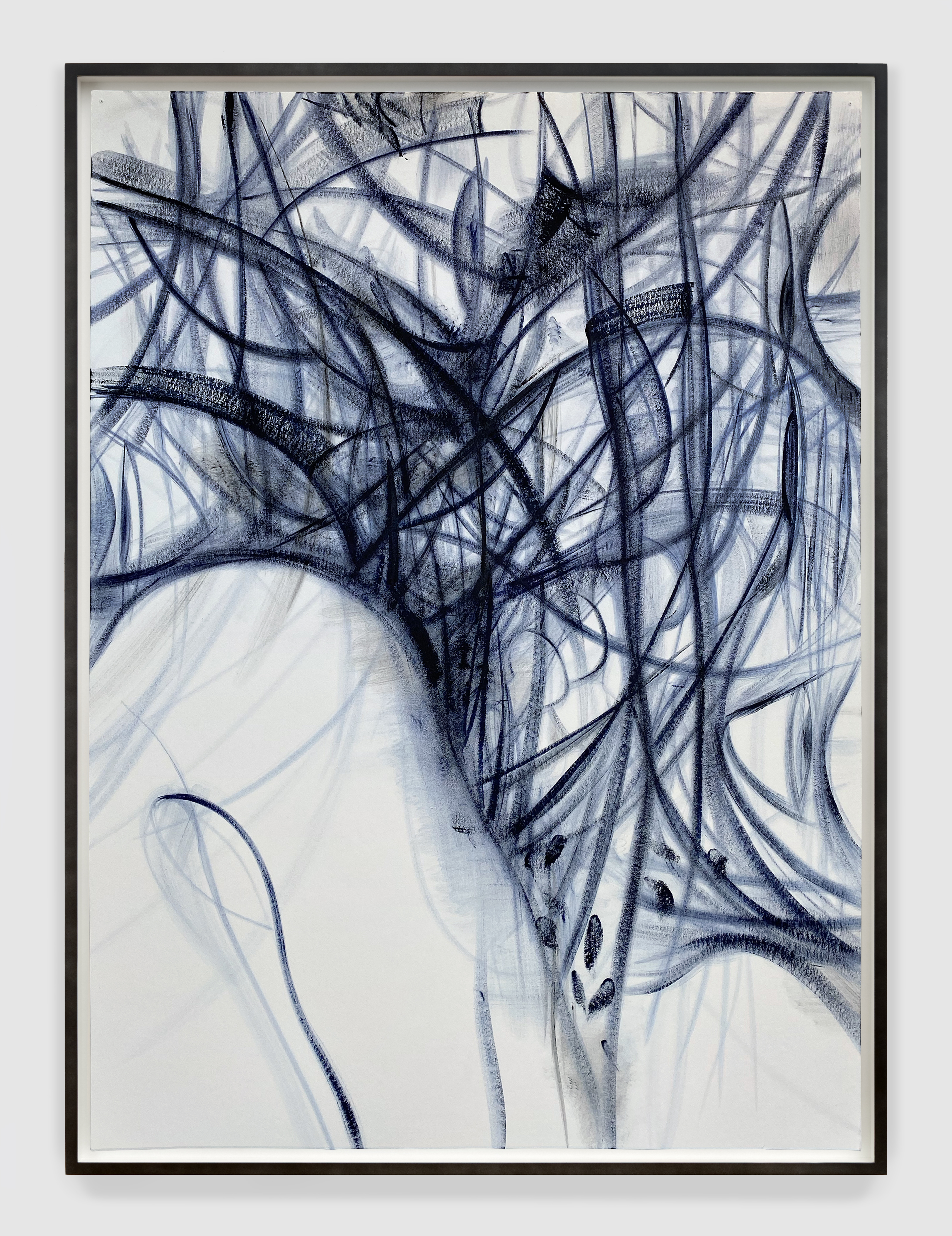 The paintings seem to have become less figurative in the last two years, was there a key event that caused this shift? "I had been trying to break open the pictorial look of my work for several years without much success. There are times when what you are interested in and what you are able to make don't match up, and there is a confusion that can be hard to escape, because at first you don't understand how to get where you need to be, to the work you want to make. Somehow you can't just do it; the move has to be systemic not tactical.
"In the end I went to New York on a print residency, and something finally gave way there. I found the process of printmaking to be a massive accelerator - you can explore multiple outcomes for each image simultaneously, and this allowed me to cover a lot of ground very quickly. Perhaps more than that though, my images started to feel very static in that setting, I'm not sure why. It reminded me of when I first moved to London in 1994, that feeling of having to revise my idea of what painting was in order to gain traction, a sense of relevance.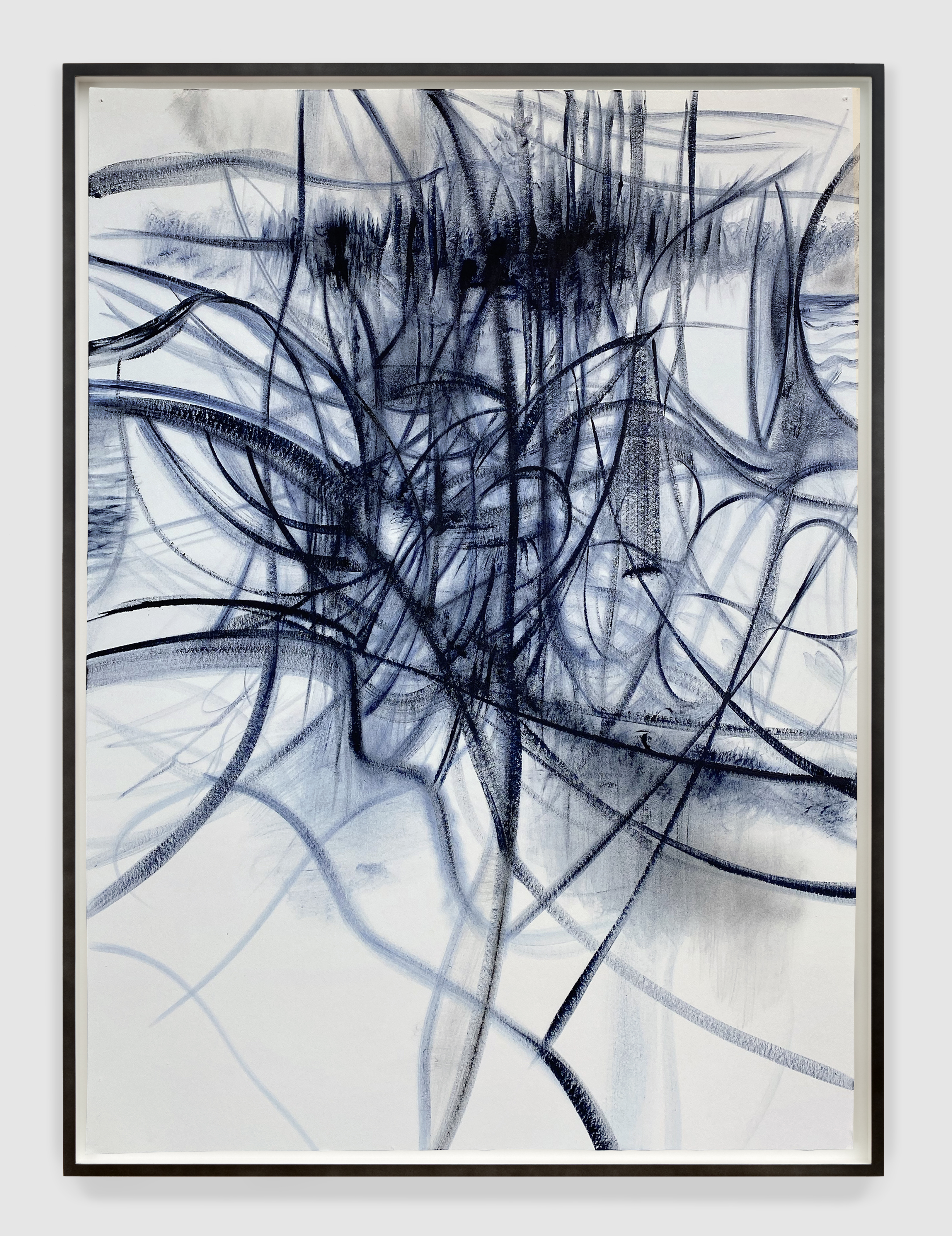 "Maybe the city threw a bit of a spotlight on what I didn't believe in anymore, who knows. Either way, what I had accepted as my work's identity just started to feel more distant. When you are a newcomer in town, it suddenly becomes intolerable that your interests and your work don't match - feeling fragmented is the last thing you need when you are away from home.
"Working in the print shop was an eye opener and I had to learn the processes very fast. But I was also lucky enough to be offered a place to work in the evenings, so at night I would try to carry over the successes of the day into paintings on paper. This was a boot camp-style experience that really cleared out the cupboards. The whole residency was a forensic analysis of what I really meant by my dissatisfactions - I was able to actually identify it on the walls and edit it out on a daily basis.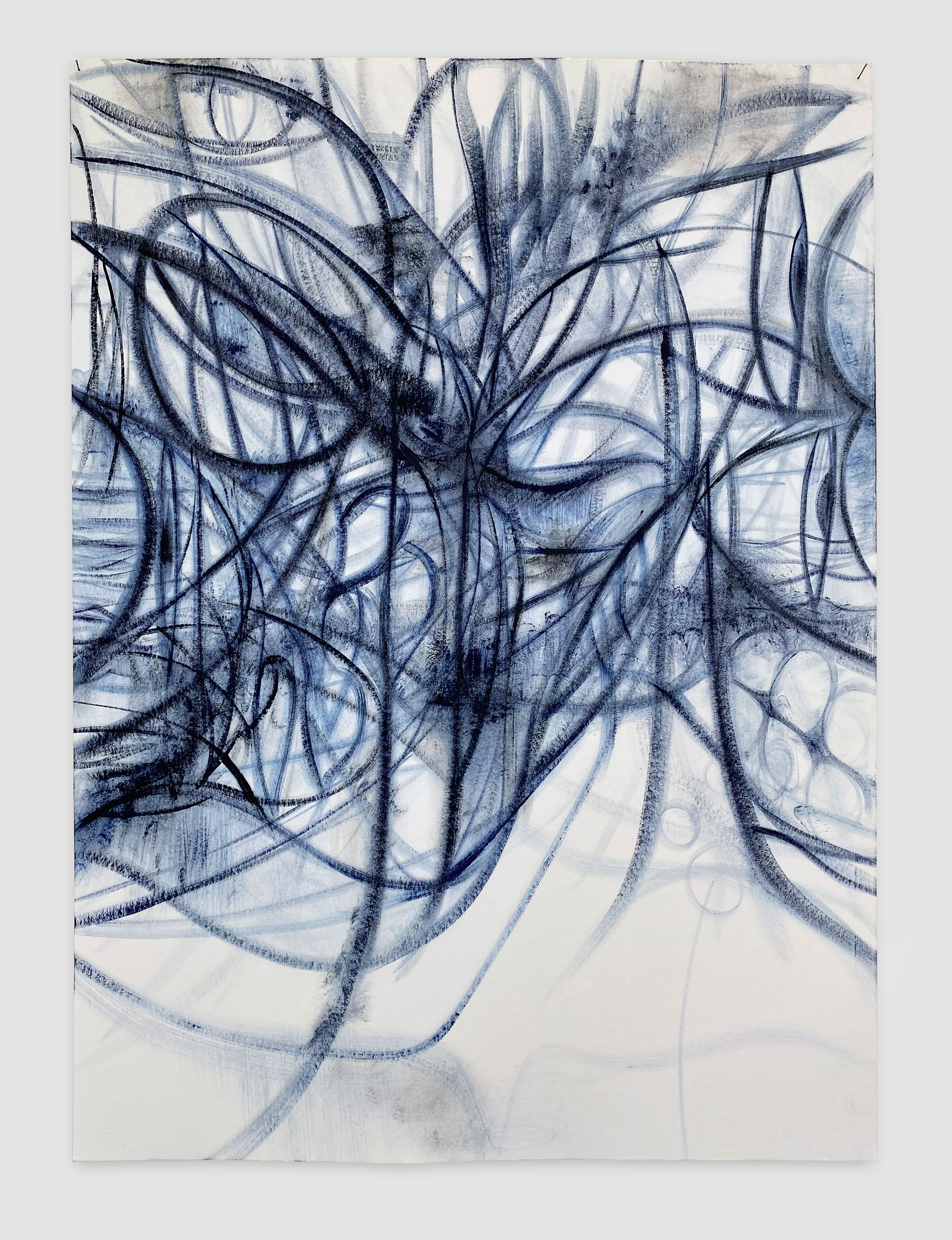 "In the end I worked out that the increasing power of what I was doing was directly linked to using references less and less. It came down to trusting my own knowledge and skill, learning to approach the canvas with nothing - no reference, no plan, no drawing. Towards the end of the residency, Marc Glimcher (president of Pace Gallery) came by to see what I was doing and by then the early stages of this new work were visible. He was very enthusiastic about it which helped me to claim the territory, and I felt encouraged to develop it into large scale work when I returned to the UK. When I got back, I felt I had discovered something new about myself, and I wanted to preserve this at all costs."
What are the classical (or other) themes you have been investigating recently? "Classical themes became important to me primarily through the paintings of them - Poussin, Titian etc - but more recently I have returned to the texts themselves. I have found inspiration by connecting to something ancient, to stories that have no contemporary surface at all. Most recently I have been reading the Odyssey for the first time in about 20 years. It feels different now, because I'm older of course but also the quarantine aspect, which makes the journeying and the idea of home more vivid dimensions to the narrative. But really, I think I have always identified classical ideas as being based on paradoxes and transformation - things that are for me essentially diagrams of the creative act, or the creative persona. Mutability, failure and triumph, reinvention, transformation into nature, moral conflict - it at all ends up being about painting in my head.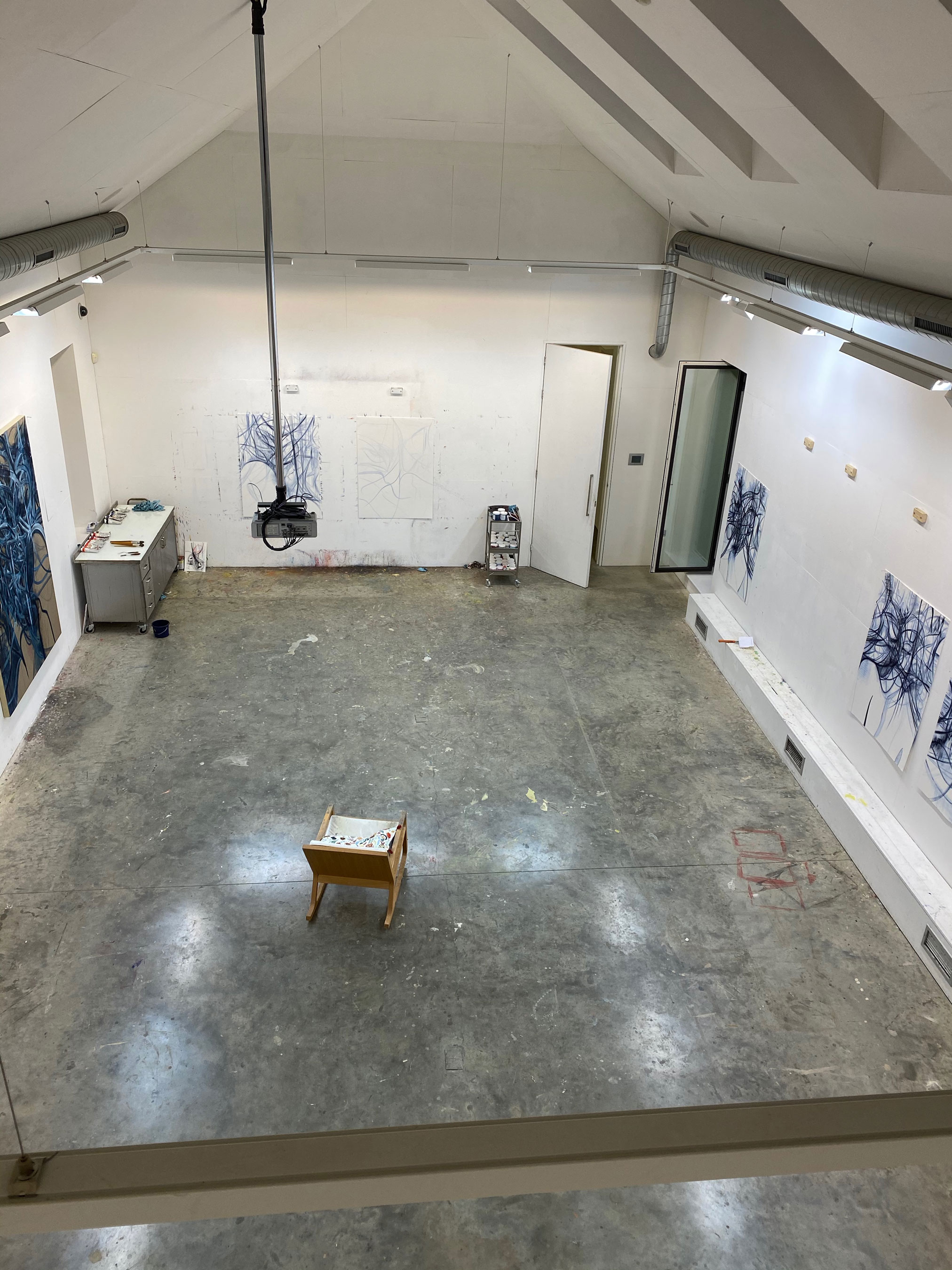 "In my last show there was a painting titled Actaeon. It was a painting that started life as black then became blue. This movement of problem solving suggested transformation - water, then bathing, then the Goddess Diana, who in the myth transforms the hunter Actaeon into a stag for spying on her ablutions, following which he is killed by his own hounds. Desire followed by punishment. The eye as a moral vector. The closing of the gap between hunter and hunted. These things were speaking to me as the painting developed, the eye became central, some vaguely antler-like forms emerged and I felt like the black pre-layer took on an ominous foreshadowing nature. So it helped the painting, but mainly in an abstract capacity, and the painting doesn't so much describe the story as embody it obliquely."
Even online, the three dimensional aspect of the work is appreciable, how important is this sculptural aspect to each work and has it taken on a different quality when viewed this way? "The spatial aspect is built up in quite a linear way, meaning that the early layers are fainter, the paint thinner, and as the forms get resolved the paint gets thicker, faster and more vibrant. There are few reversals. I felt like this linear movement exposed more vulnerability somehow - there is little margin for changes of mind as the painting nears completion, although changes happen all the time in the early layers.
"Figuring it out as I go gives the images their life I think, and their movement. It shows the ups and downs of the process as a real lived experience. But it also creates space. The lighter touch recedes quite dramatically and as the paint builds up it really sits up on the image, creating more depth. Although many of the lines and curves are informed by the figure they are also linked to plant and landscape structures, and I like this spatial aspect to puncture the form and provide more of a landscape aura to the web of marks. It suggests something growing and moving to me, and this changeability is very important for the tone I'm trying to capture. They are neither a figure, a landscape or an abstract energetic mesh, but a conversation between the three.
"I'm not sure if this has taken on a different quality online, but I'm glad it's noticeable there. The spatial element is really an abstraction of all my previous paintings - one way or another, all those works took a complex position regarding recessional space."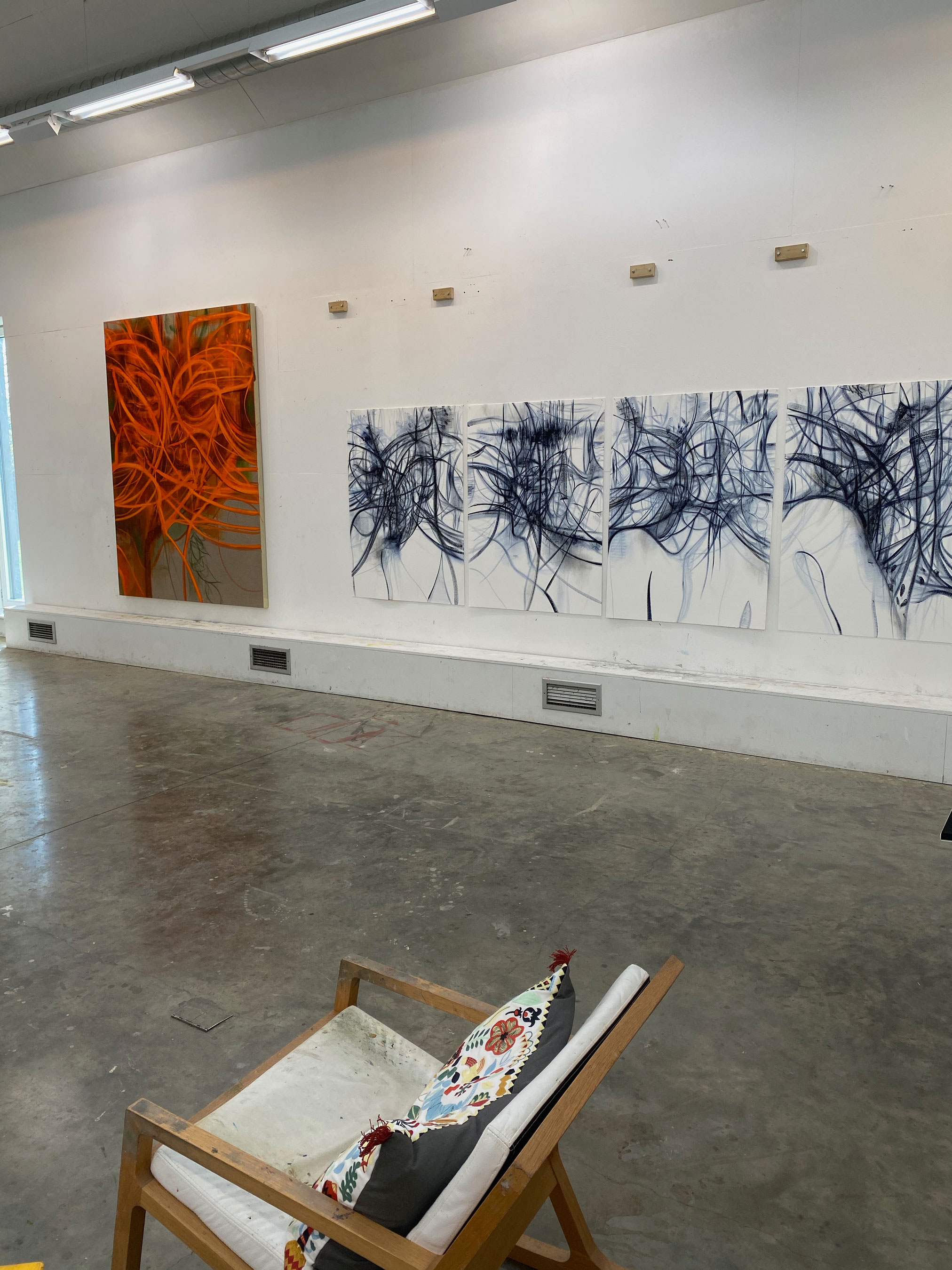 How does it feel showing work online at the moment? What are the challenges, annoyances, opportunities? "It's great to still be in touch with an audience with new work, and I'm glad of the opportunity to put together a response to what has been happening. The only issues have been technical - trying to get good images of the works, recording speech, footage, other documentation. I've had to figure some of that out. But I like this new way of telling the story of the work, and the gallery has joined it all together beautifully. I think it could be interesting to bring in more of this background information in future, creating these contextual stories around exhibitions in galleries somehow. It's been good to see how others have approached it too."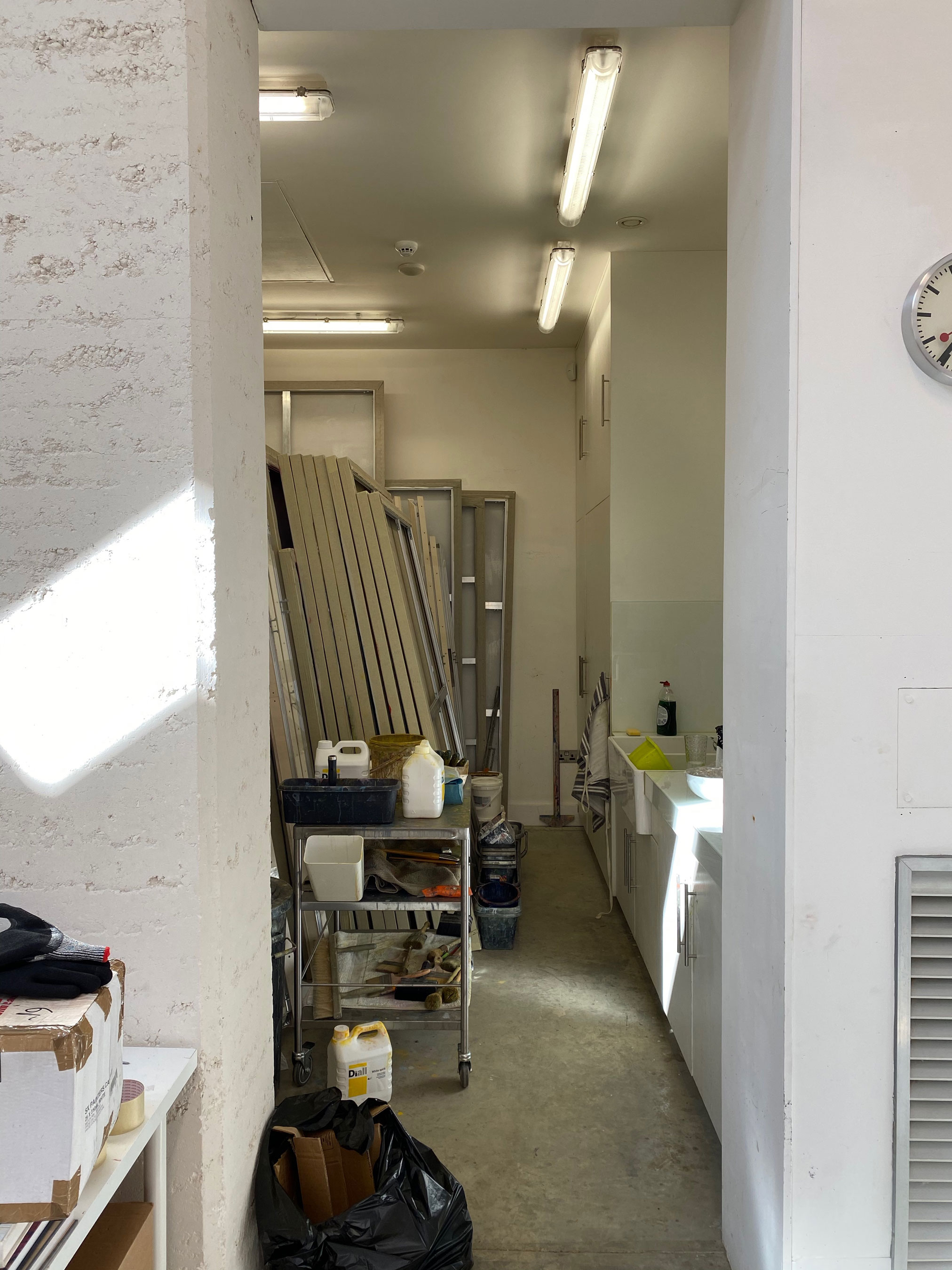 Does the lack of a gallery deadline change things? Are you able to fire up a new bout of creativity at will or is there usually a certain amount of time that must elapse before you can go back to the canvas? "I do tend to work in bursts, allowing myself to build up urgency to approach new work. They are quite physical paintings so you need to be ready and in a way desperate to get on with it. Presently I am mixing studio time with time spent at home reading, gardening, hanging out with the family and making small works on cardboard. I have set up a miniature studio in my basement for odd moments when something occurs to me, working on the back of old school exercise books I found down there. I find I am doing one a day, often following a walk or a run in the countryside, so now have quite a few. I have found it great way of keeping a record of forms and colour combinations that had struck me whilst out, ideas that emerged from the colours of plants, trees, light effects. I'm hoping it'll be a bit of a visual diary that I can refer to now and then in future."
Check out the exhibition here and take a look at our Contemporary Artist Series monograph here.