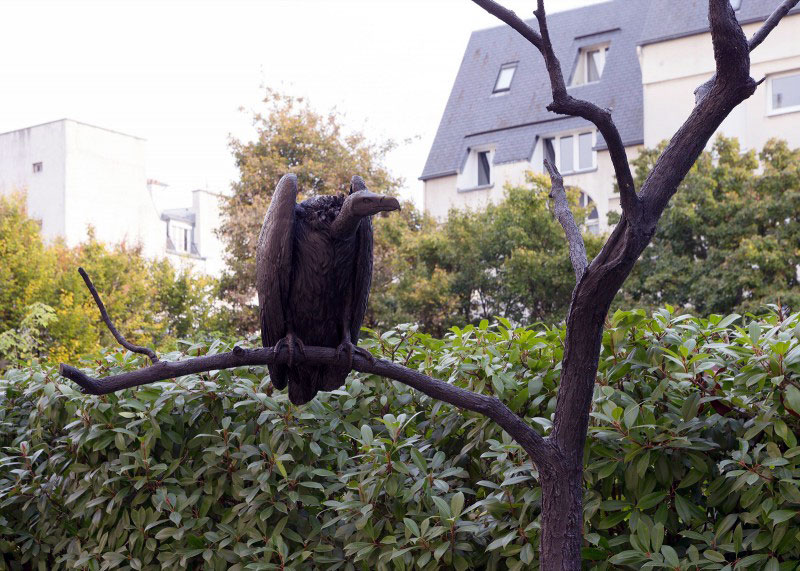 Elmgreen & Dragset set a vulture loose in Regent's Park
The bronze bird will join pieces by John Baldessari and Tracey Emin in this year's Frieze Sculpture installation
Italo Calvino's book, If on a Winter's Night a Traveller, is a wonderfully satisfying read, even if it's hard to tell where the story, the experience of the reader, and the author's own biography begin and end.
The Scandinavian-born, Berlin-based duo, Elmgreen & Dragset took Calivno's title – or its French translation, Si par une nuit d'hiver un voyageur – for their 2017 sculpture of a bronze vulture perching on a withered tree, first shown at the Perrotin Gallery in Paris last year.
Like the book, it's unclear how the viewer should interpret this sculptural scavenger, though Elmgreen & Dragset implicated a few art-world elements into the work's narrative, when they hash-tagged it '#culture' and '#thecritic' when posting an image on Instagram last October.
Any critics willing to tangle with this gruesome beast should visit Regent's Park in London next, when the work will be installed alongside pieces by 24 other artists, as part of the Frieze Sculpture installation, which will, once again, be on show free, in the months preceding October's Frieze Art Fair.
Elmgreen & Dragset's vulture will be joined by a flock of smaller, more benign looking bronze birds, fitted to long poles, which form part of Tracey Emin's contribution, A Moment Without You; John Baldessari's Penguin; and other, non-avian contributions.
US artist Dan Graham will show one of his transparent pavilions, London Rococo; Poland's Monika Sosnowska will present her messy twist of metal, Rebar 12; and Britain's Larry Achiampong will have his Afrofuturistic ensigns, Pan African Flags for the Relic Travellers' Alliance, fluttering away.
Clare Lilley, Director of Programme, at Yorkshire Sculpture Park and author of our book Vitamin C: Clay and Ceramic In Contemporary Art, said: "Last year, our first-ever summer Frieze Sculpture was a resounding success, with more than five million visitors enjoying exceptional sculpture by artists from around the world. The 2018 edition is just as expansive and diverse. My hope is that the exhibition will give pause for thought as well as great pleasure, and that visitors will have a snapshot of the fantastic imagination of artists and variety of sculpture being made today.'
For a better understanding of the works on show get The Elements of Sculpture; and for more from Frieze get this.