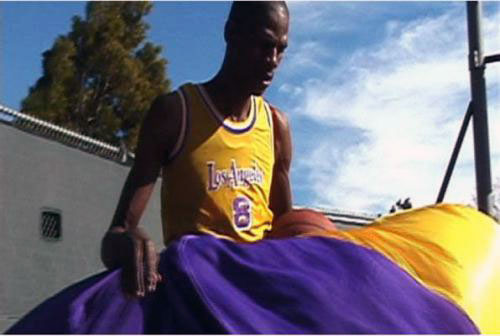 Did you spot Mark Bradford on the basketball court?
Here's how this US artist combined basketball with a hoop skirt to create a gender-bending sporting performance
By the time the American artist Mark Bradford was aged fifteen he was already six feet eight. Unsurprisingly, quite a few people suggested that as a startlingly tall African American he should take up playing basketball. Bradford was unswayed. As he explains to Professor Anita Hill in our new book, he had known he wanted to be an artist from the age of seven.
However, that artistry doesn't preclude his occasional forays into sports. Some of his earliest sculptures were papier-mâché covered soccer balls, while his Bell Tower sculpture purposefully mimics the 'jumbotron' sports arena scoreboards.
Indeed, the closest he came to taking up that earlier career advice was in 2003, when he shot his first video work.
"In the video, Practice (2003), he dressed as a basketball player, but with a cumbersome nineteenth-century hoop skirt, and filmed himself on a very windy day attempting to shoot hoops," writes critic Sebastian Smee in our new book, "mostly failing, and falling over, but finally making it."
Though Bradford is no pro-basketball player, he has some experience of the drag scene, which may have helped when it came to shooting in the dress, the colourways of which match his home team, the Los Angeles Lakers. Practice was filmed on a windy, southern Californian day, and though the premise seems humorous, Bradford plays his role straight, trying as hard as he can to shoot hoops in his huge skirt.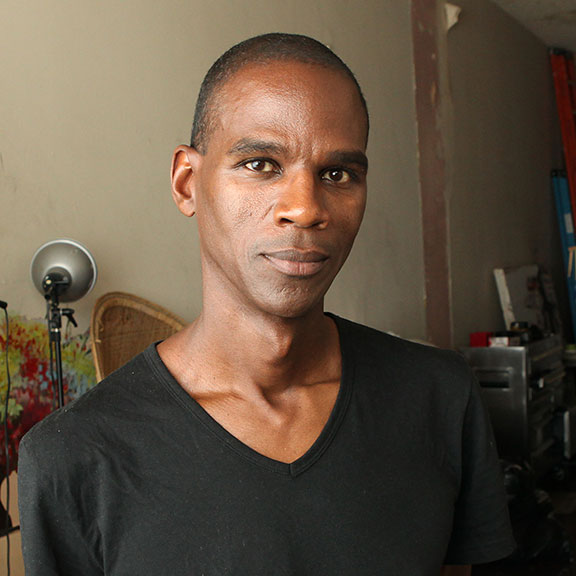 Practice is a term common to sportspeople and artists, yet Bradford seems to interpret the word in the sporting sense: a focused, repetitive activity that allows one to better oneself, and reach chosen goals, regardless of external pressures.
"It was about road blocks, on every level, cultural, gender, racial," he has since said. "Regardless that they are there, you keep going. It is important to continue; and I made the shot, I always make the shot, sometimes it takes me a little longer to get there. but I always make the shot."
To discover more about this focused, award-winning artist, order a copy of our Mark Bradford book here.