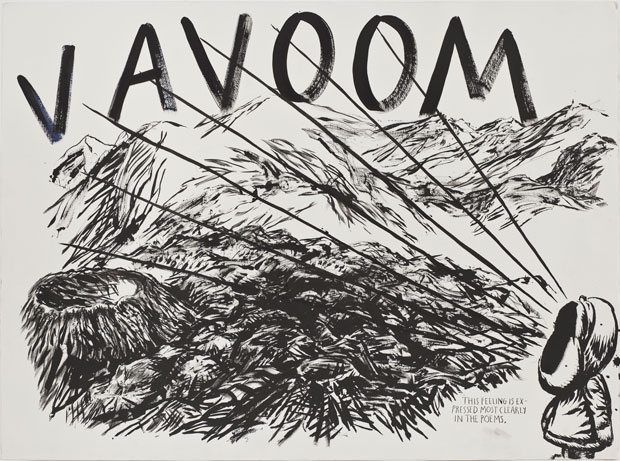 Understand Raymond Pettibon in three works
He's produced thousands of drawings. Here's how to 'get' them all, by looking at just three
By his own estimate, the Californian artist Raymond Pettibon has produced as many as twenty thousand individual drawings since he began to create punk fanzines in 1978. Eight hundred of these are currently on show at a New Museum New York retrospective called Raymond Pettibon: A Pen of All Work - the largest exhibition of the artist's work to date.
While it's impossible to cover everything there is to say about this varied and at times difficult artist, these three images, included in our catalogue for the show, cover quite a bit of ground.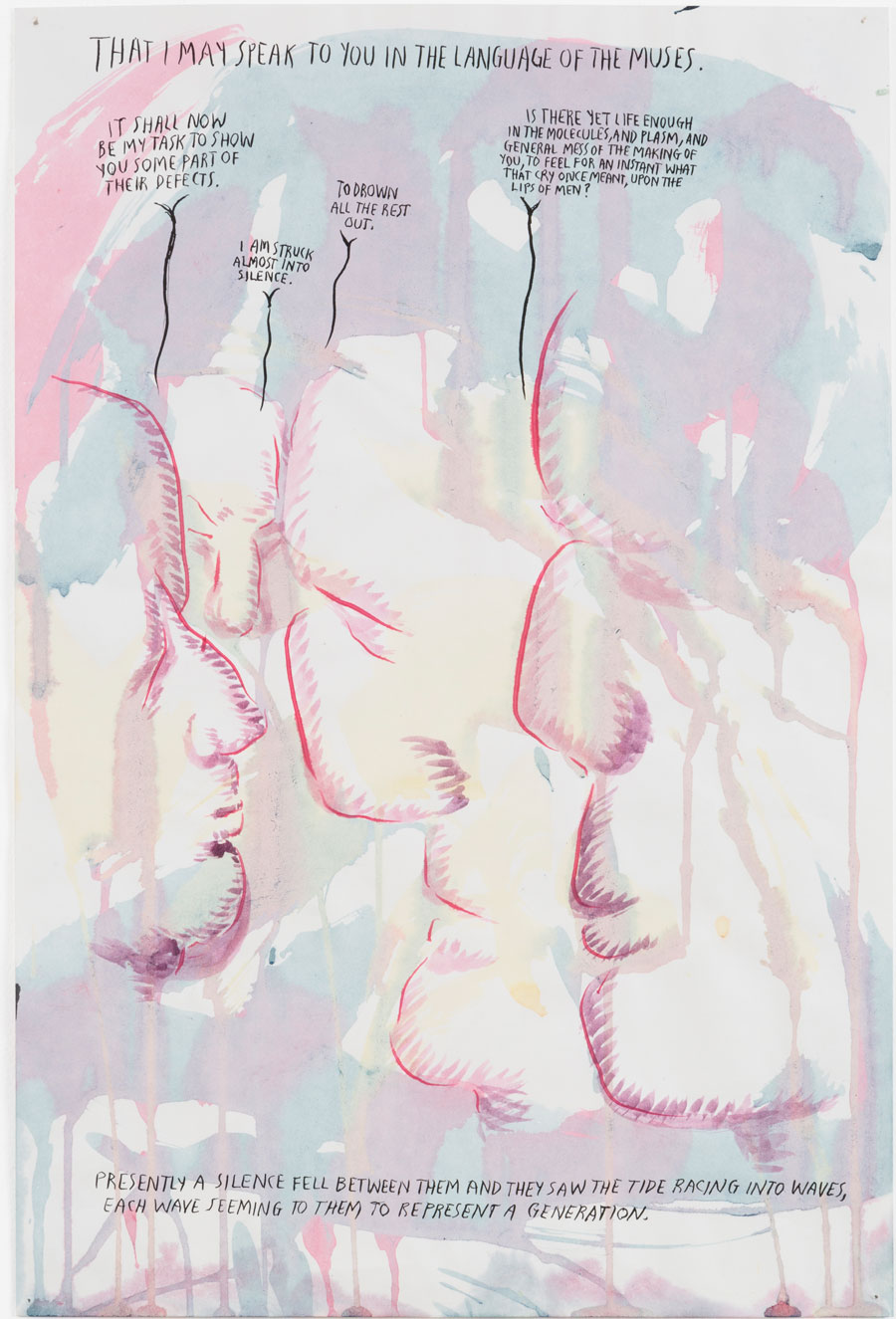 You have to read as well as look Pettibon was born Raymond Ginn, to a homemaker mother and an English teacher and espionage author, who had reached the rank of Lieutenant Colonel in the U.S. 8th Army Air Corps during World War II. Pettibon took a degree in economics at UCLA, taught mathematics in US public schools for a brief period, and continues to read widely. The text he hand-letters into many of his drawings illustrates this intellectual grounding. Previous works have included snatches of James Joyce and John Ruskin. This piece, No Title (That I may), (above) includes passages from the English poet and playwright John Dryden's 1668 work Essay Of Dramatick Poesie, which takes the form of a dialogue between four speakers, discussing the relative merits of dramatic accuracy versus entertainment.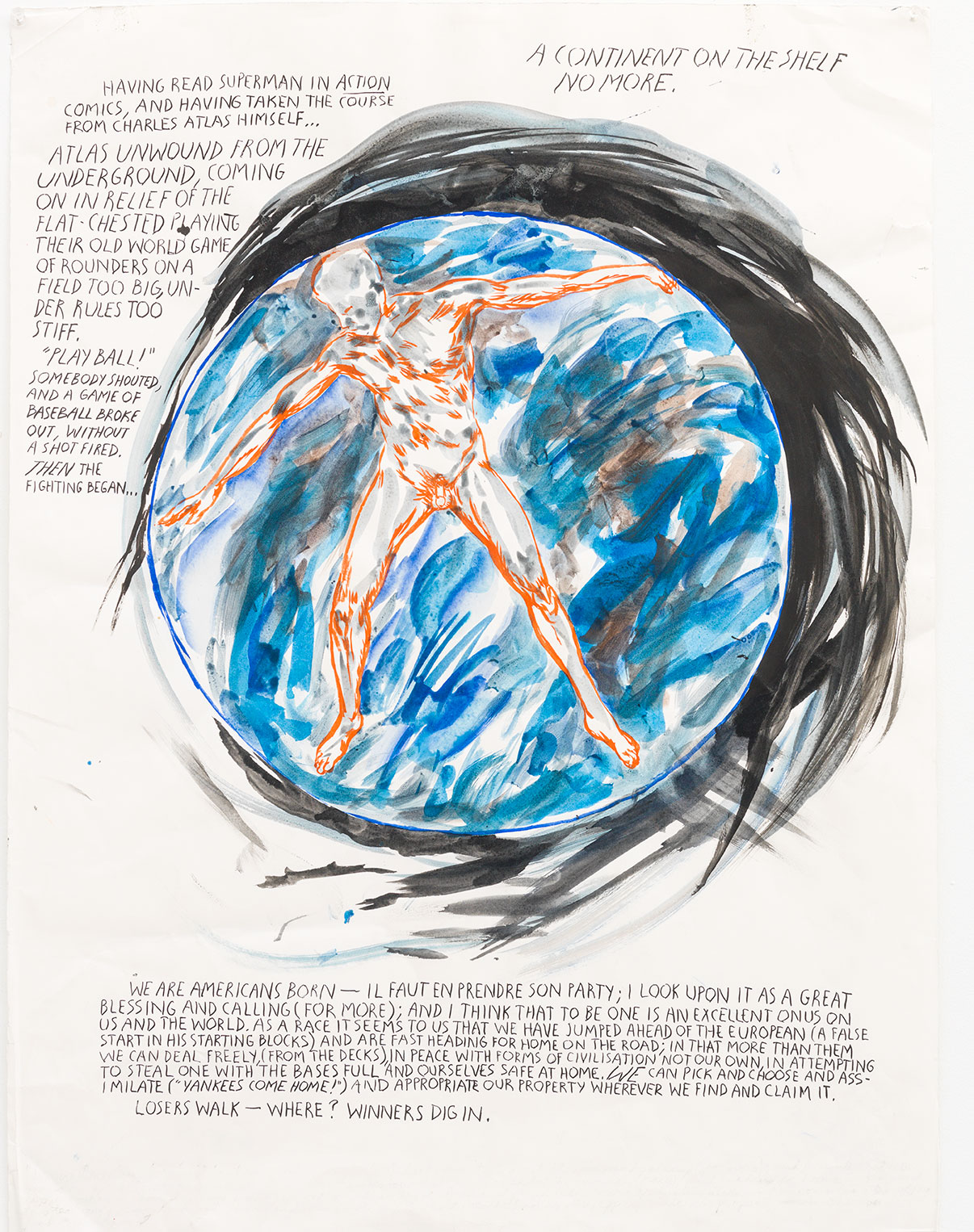 Don't expect to instantly 'get' everything The texts in Pettibon's pictures don't serve as simple captions, but more often offset the simplest pictures, to suggest different, less easily grasped meanings. "Word and picture play off each other like game pieces, implying a reconfigurable modular substructure of meaning," writes the Californian critic and curator Sarah Lehrer-Graiwer in our new book. Take No Title (Having read superman) (above). In part it's about American exceptionalism, yet it's also a history of baseball, a personal memoir, and it also has a spiritual, transcendental aspect, which might allude to Pettibon's Christian Scientist upbringing. Meaning isn't obvious in Pettibon's pictures, "you have to find it," writes Lehrer-Graiwer, "and finding it is the same thing as making it." To get Pettibon, you have to do a little work.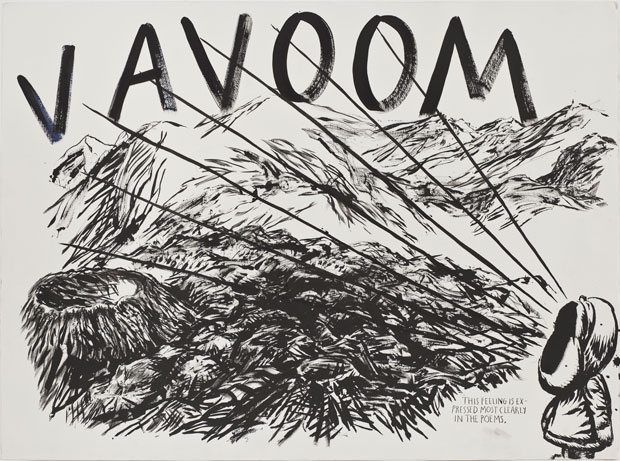 His pictures feature pop culture, but not as low culture Pettibon isn't the first fine artist to work comic and cartoon characters into his pictures. Yet he packs much more gravitas into these figures than earlier pop pioneers did. Consider No Title (This feeling is), (top) which features Vavoom, a minor character from the Felix the Cat cartoon, who recurs in the artist's more recent pictures.
"Throughout the 1990s and early 2000s, Pettibon's cast of characters expanded to include figures from popular culture, such as Superman, Batman, Gumby, and Vavoom," writes New Museum Director Lisa Phillips in our new book. "These mid-century icons appear repeatedly, serving as more than just nostalgic castaways from American culture, but as symbols of America's traumas and neuroses and as avatars allowing Pettibon to traverse wide swathes of time and space." To gain a better grasp on those hidden meanings order a copy of Raymond: Pettibon: A Pen of All Work here.