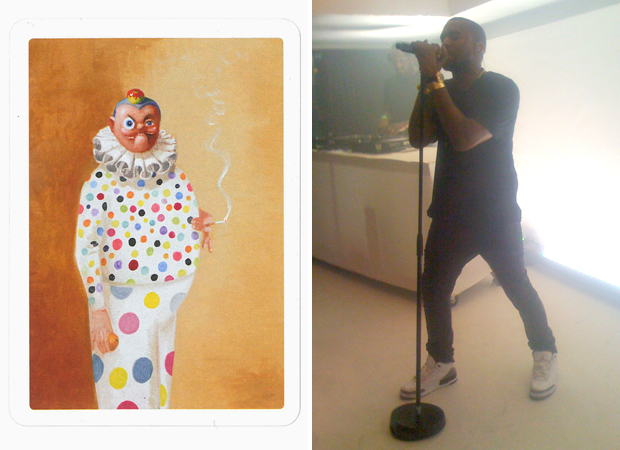 Kanye West plays impromptu gig at George Condo London opening
After hours show ends with celebrated artist hugging rapper
Kanye West played a surprise half-hour set after the private view for George Condo's new show at the Hayward Gallery on Monday. Selected guests at the private view were slipped an invite to the show, which took place in front of a 100 people in a small room on level six of the nearby Royal Festival Hall.
West played most of his My Beautiful Dark Twisted Fantasy album and Gold Digger to a crowd including, painter Milena Dragicevic (who's featured in Phaidon's Vitamin P2) Bob and Roberta Smith, Jeremy Deller, Mat Collishaw, Louise Wilson, Mark Wallinger, Martin Creed and Jay Jopling. Condo jumped onstage at the end of the gig to hug West and the pair walked offstage together.
The rapper is a big collector of Condo's work and the artist collaborated with him on five different versions of the artwork for his My Beautiful Dark Twisted Fantasy album.
Before their meeting last year, Condo confessed he "was very old school rap," and that West "was new to me". "I started having all ideas about these mythological creatures and volcanic landscapes, parts and pieces from _Macbeth, _parts and pieces from some sort of sci-fi landscape." But Condo said then the idea of a portrait began to formulate and West subsequently posed for him. "It's sort of cubist, you know, this portrait with all these different dimensions to it. Like an African mask with almost a modern face. I wanted to get that feeling that he's almost a Miles Davis-like guy. I was challenging him with the imagery. He said, 'I'm shocked, but I like it, and I've got to go with my gut feeling.'"
The George Condo show, Mental States runs at the Hayward Gallery until January 8, 2012. It's the first UK major retrospective for the artist who emerged in New York in the early eighties. Focusing on his 'imaginary portraits' which conjure varied mental states, the exhibition showcases Condo's inventive approach to painting and incorporates a number of his sculptural heads, as well as his series of paintings of the queen. In the next day or two we'll be posting a conversation with its curator, Hayward director Ralph Rugoff.