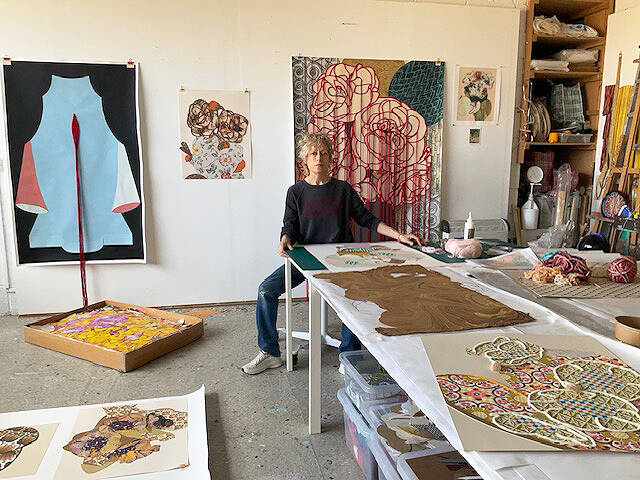 Georgie Hopton - Why I Make Collage
The Vitamin C+ featured artist tells us how with collage, accidents rarely seem like failures
Georgie Hopton's multimedia practice spans collage, textiles, printmaking and photography to create images inspired by nature. Her bold and colourful artworks are informed by experiences tending her own farmstead in upstate New York, from which she harvests flowers and vegetables that inspire her work and are often incorporated into it. Hopton's country and city lifestyles (she also lives in London) are reflected in the way she combines patterns and materials in her works.
"Hopton's collages are abstract interpretations of familiar themes, such as still life and portraiture, writes Ferren Gipson, in Vitamin C+ Collage in Contemporary Art, "but her use of contrasting patterns and textures adds greater density to the images and reflects a lifetime of amassing a wide range of materials."
Hopton is one of 108 artists featured in Vitamin C+ Collage in Contemporary Art. The book showcases living artists who employ collage as a central part of their visual-art practice, as selected by 69 leading experts, including museum directors, curators, critics, and collectors. It features an engaging and informative introduction by Yuval Etgar, an internationally renowned expert in the area.
Phaidon.com is talking to some of the 108 artists featured in the book. We caught up with Georgie Hopton and found out how her mother's patchwork quilts provided her first memorable encounter with collage, why, with collage unlike painting, the weight of art history never bears down on you, and why the need to feel intrigued is always paramount.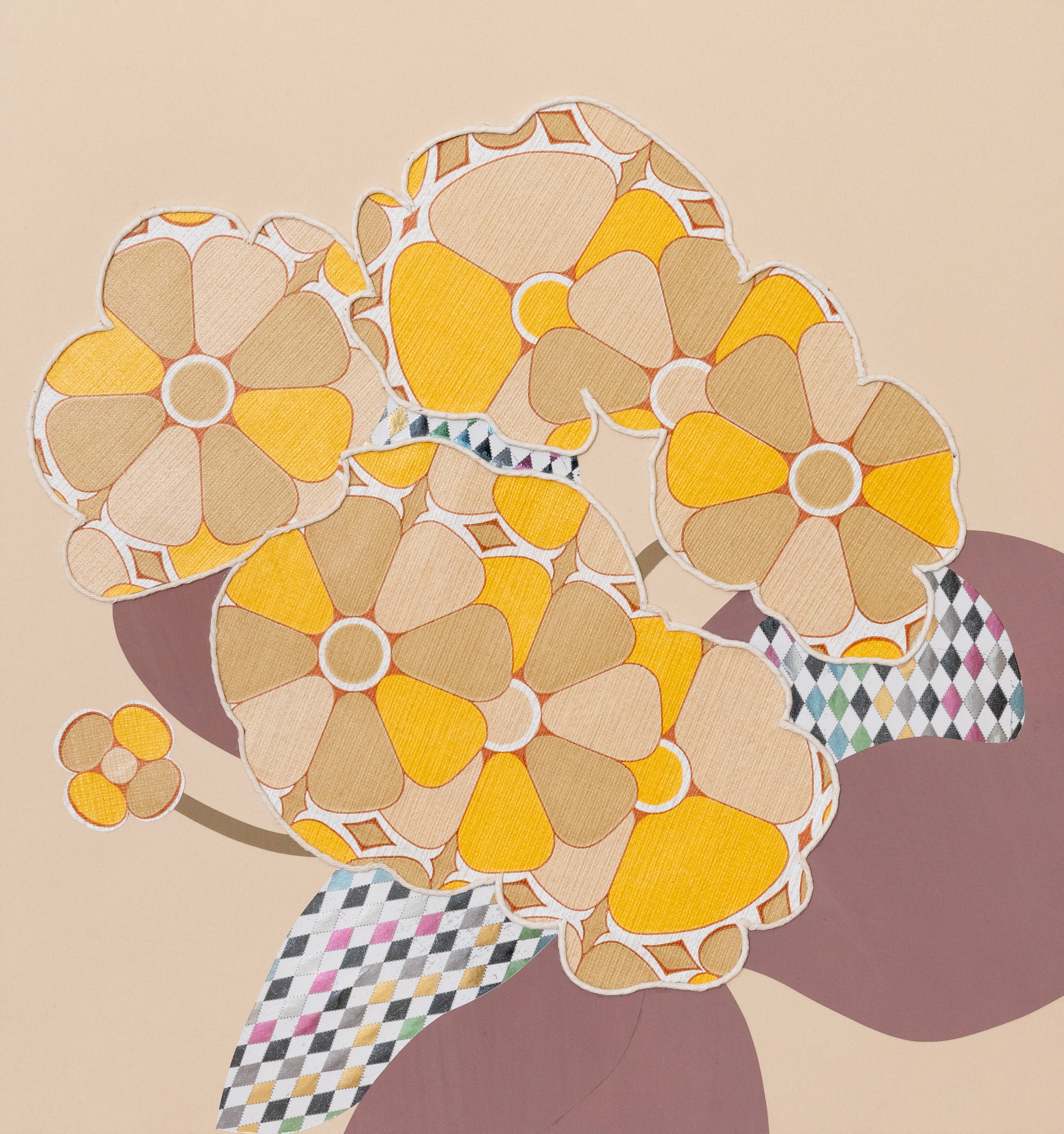 Georgie Hopton. Mud Larks, collage string & painted paper, 2022. Picture credit: Courtesy the artist
What draws you to collage, what are the properties that excite or intrigue you? There's nothing about collage that doesn't excite or intrigue me; it's a process filled with possibility. Because I'm predominantly dealing with ready-made materials, I have an endless amount of colour, pattern and texture to play with. I love that each of these immediately changes when placed against another and often, that you see and feel something entirely unexpected as a result. Accidents rarely ever seem like failures but alternative propositions, off-cuts and remnants are often the inspiration or basis for new works.
To the outsider, collage seems like the most freeing of mediums to work in, but is it? Essentially, it appears like this to the artist too and from what I said previously, it would appear so. But, you are of course always working with your own limitations. Collage is the best place for me to feel as though I at least have the potential to liberate myself from them. When I made paintings, as soon as I began, I felt the weight of art history bearing down on me on and improvisation was out of the question. Eventually this became completely debilitating. Returning to collage after years of not doing it was a revelation; here I needed to respond and react, to be present and the past just fell away.
How improvisatory a medium is collage? Do you have a strict sense of what will happen before you start? I almost always start with a drawing which essentially is a structure within which the play occurs. The pitch if you like. I then choose a few papers, often within a limited palette, that in conjunction, resonate a feeling or mood I think I want to evoke. This combination of choices rarely remain though once I start to cut, place and glue the papers within the drawing.
Very often, by the time I decide the picture is finished, nothing remains of the original paper or wool choices and the result is an image very far in mood and tone from my original intention. In this sense, despite my beginning very deliberately most of the time, before too long, there is only reaction and response which I suppose you could consider improvisation.
When I work from and with off-cuts, a shape or a relationship between materials or papers will have caught my eye and insisted I focus on them. I am distracted away from the piece I was working on, to serve an irresistible urge. This is very often how an abstract work comes about and essentially is the most spontaneous form of picture making for me.
Collage is often something that most people encounter in childhood, can you remember your first attempt? Unfortunately I can't remember my first attempt at collage making, but, I do know that my mother's patchwork quilts provided my first memorable encounter with collage. There were piles of unwanted offcuts of fabric which, despite huge patchwork quilts being made from them, rarely seemed to diminish in size. I lived among towers and seas of different fabrics and each year it was set against a different wallpapered backdrop on the chimney breast.
Pattern, colour and texture rubbed up against each other and in some sense, indoctrinated me into the world of collage. And of course it was the 1970's, when interior design didn't have much time for politeness and the world was full of demanding, visual relationships.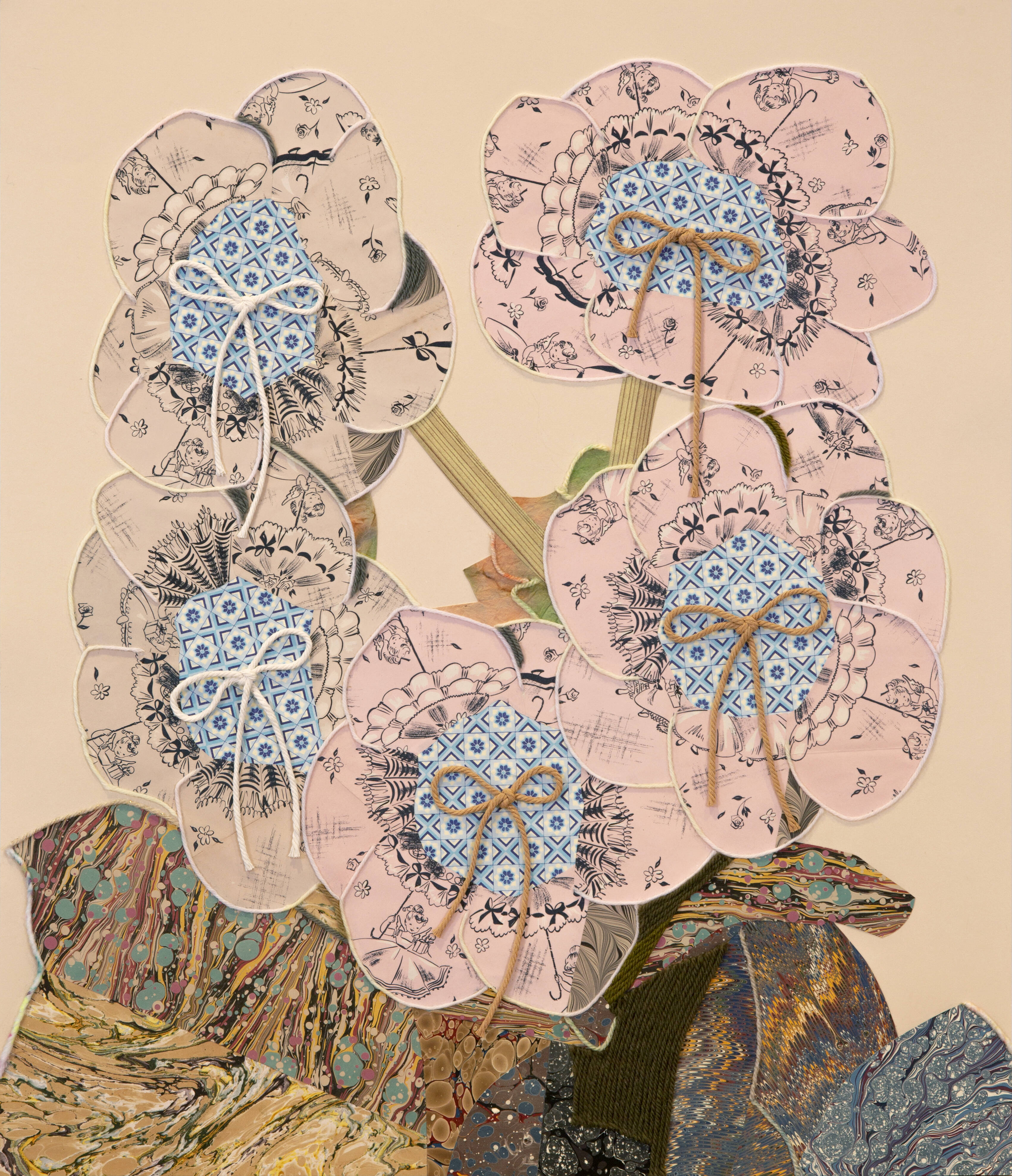 Georgie Hopton. Favourite Teacher, 2022. Picture credit: Courtesy the artist
How do you start? Is the first cut the deepest? If I am using an intact paper from my hoard of marbled, wrapping, craft and painted papers then yes, it is. There is always a sense that I might need that paper whole at a later date and with the particularly special ones, that I have ruined something beautiful. But, as soon as it is done, I am relieved and glad. Glad that a previously unused paper might be having its day in the sun. I feel attached to all of them and stupidly protective. They are all worth considering, all worth the attention of the world and though this might sound ridiculous, I hope, through the work, to honour their progenitors.
Is there a collagist from history that turned you on and made you realise collage is a thing? I saw an image of Picasso's Still Life With Chair Caning 1911 - 12 as an A Level student, and was fascinated by it. It seemed so inventive, so irreverent and so unexpected. After that, I became obsessed with his guitars, adoring their combining of 2 and 3 dimensional space which seemed a new way of making both a picture and an object. Seeing Meret Oppenheim's furry teacup and saucer on a trip to NY before I left art school was enormously influential on me.
I was hugely encouraged and inspired by my critical studies teacher - the brilliant John Stezaker. I was introduced by him to Baudrillard, Marshall McLuhan and postmodern theory. I then became deeply interested in materials and in replacing paint with alternatives.
I had never considered fine art to be the only form of art making, nor precious or particular materials necessarily more interesting or appropriate than others and so began my preoccupation with mass made and manufactured material I could appropriate for art. Wrapping paper, fabric, printed vinyl, plastic toys, laminates, haberdashery, I gathered and combined them and became intimate with the act of collage.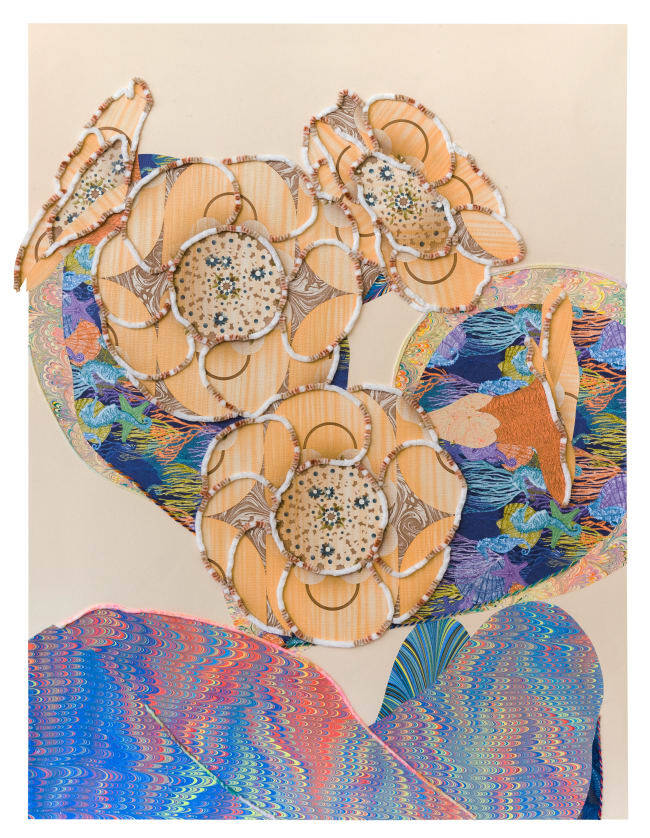 Georgie Hopton. Moths To A Flame, collage on paper, 2022. Picture credit: Courtesy the artist
What are the hardest things for you to get 'right'? I find it hard to start a new work when a whole body has gone to a show. It's an ending of a sort and beginning again - without the visual noise of everything I was just working on and empty white walls, which simultaneously intimidate and bore me - is tough. There's always pressure to do better, to make leaps with the work and at this point, it is even greater, which doesn't help.
I've already mentioned that my pictures are often very different when they're finished, to how they began. Sometimes this process can be long and arduous, that the right tone will never be struck. There can be many versions of one picture. I imagine this has much to do with the fact that I arrive at the studio with different preoccupations, I might get distracted by different things and then, there is my response to what has been put down previously.
So much comes into play to affect how you feel about your work and the need to feel intrigued is paramount. This is difficult to achieve and even harder to sustain, especially when a work takes time and doesn't come together quickly. It is necessary often to trick yourself into seeing it afresh, even momentarily, to try to resist feeling ambivalent or disinterested.
The best place to be in whilst working is one of unconsciousness, when decisions are made without agenda and come purely from instinct and response. It isn't an easy state to reach and might often not be reached at all. Plenty of time helps, the knowledge that it won't be broken and for me, can often only be achieved after most people's working day has finished. The winding down of the rest of the world instils a feeling of calm and concentration that is hard to find, if not impossible for me, during office hours.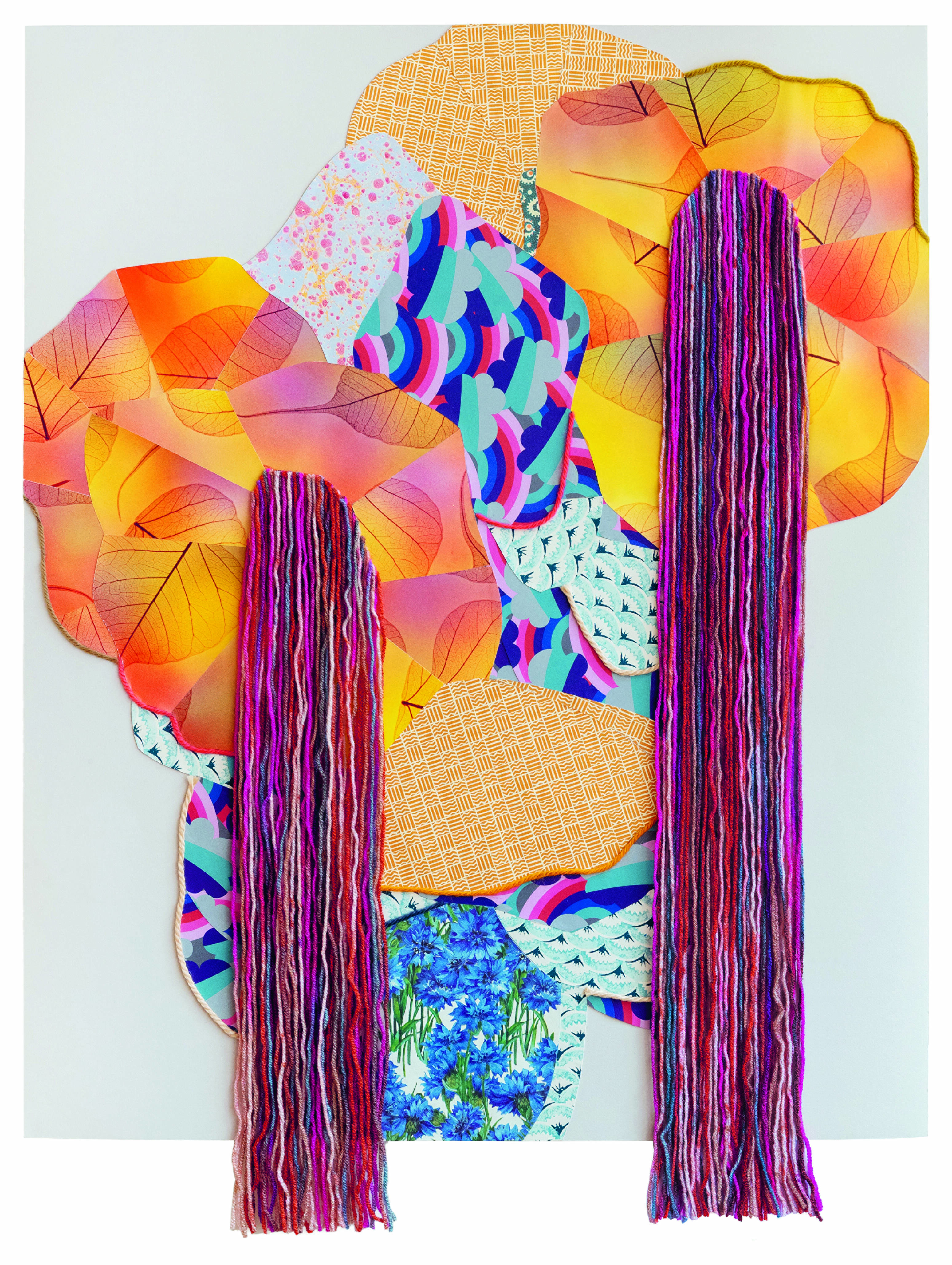 Georgie Hopton. Geisha, 2021. Picture credit: Courtesy the artist and Lyndsey Ingram, London Collage and wool on paper
Is it wrong to think of collage as something ephemeral, or less durable? If that's true and does it concern or maybe attract you? It only occurs to me to think about this if the material I'm using is particularly delicate or has the potential to break whilst I'm working with it. Because I have seen so much art that is extremely delicate, I wouldn't consider collage to be especially vulnerable, less durable or necessarily ephemeral for that matter. I don't think it ought be a concern generally, but where a work's delicacy is evident I would presume it to be deliberate and then it is worth consideration, but not always concern. I suppose some people are put off by the thought of having to take extra care of a work of art, but I think art demands care and attention full stop and if you love it, a little more than usual seems fair enough.
You can see more of Georgie Hopton's works at her gallery Lyndsey Ingram.
Meanwhile, Vitamin C+ Collage in Contemporary Art, featuring over 100 artists including: Njideka Akunyili Crosby; Ellen Gallagher; Peter Kennard; Linder, Christian Marclay; Wangechi Mutu; Deborah Roberts; Martha Rosler; and Mickalene Thomas is available now in the store. We'll be running more interviews with artists featured in the book in the coming weeks.