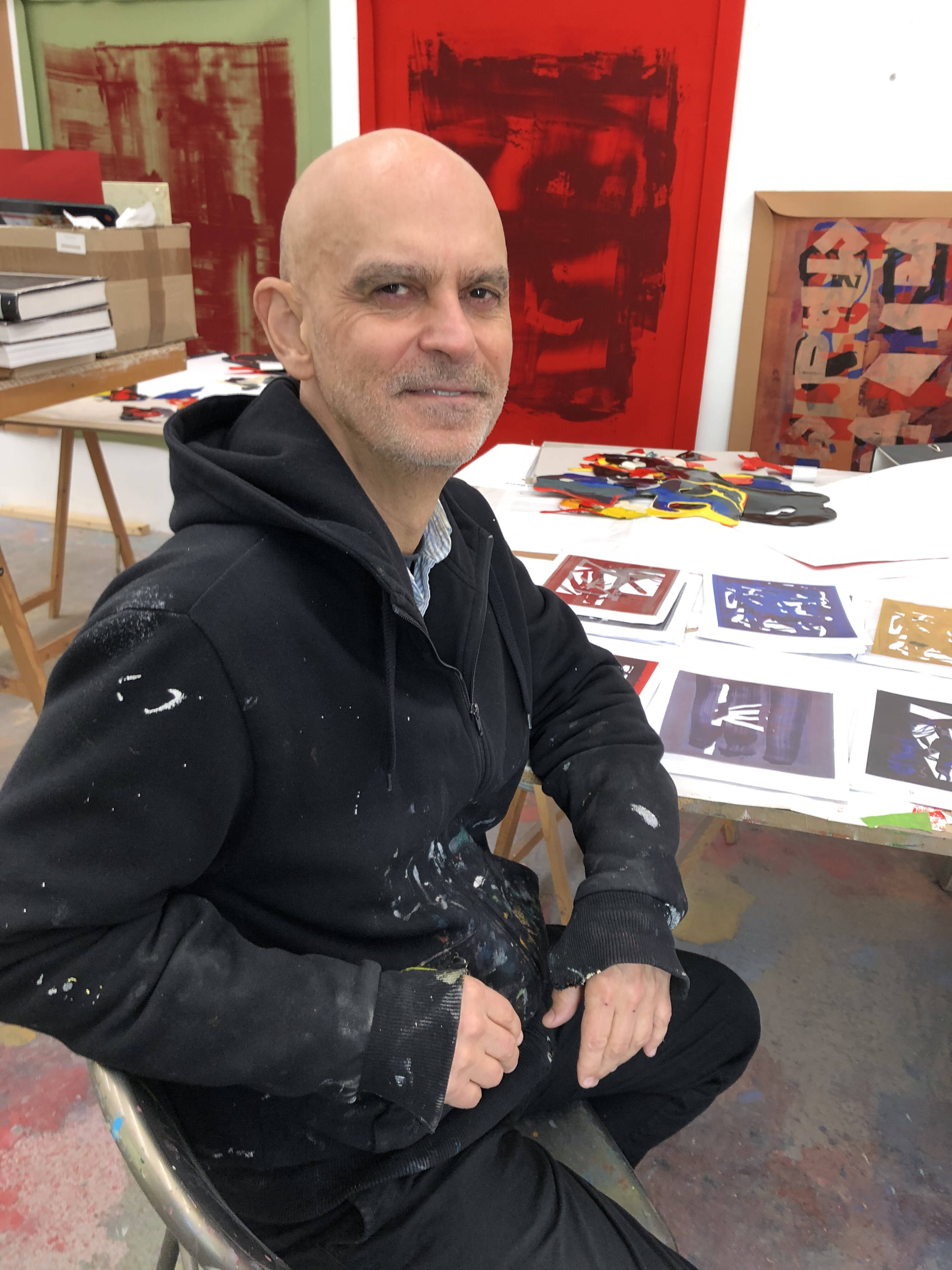 Arturo Herrera - Why I Make Collage
The Caracas-born, Berlin-based artist tells us about his 'ready-made, contaminated modernist' artworks
Arturo Herrera's decision to begin working with paper collage was one made out of necessity - after receiving his MFA from the University of Illinois, Chicago, he could not afford oil and canvas and had to work small scale in a shared living space.
Even though he grew up amid the imposing modernist art and architecture of Caracas, Venezuela, such a drop in scale did not unduly bother him. Herrera had other influences and inspirations to draw upon and work through. In fact, his earliest source material was a kid's colouring book he bought and from which he cut and combined figurative elements to form a fantastical creature.
"To this day a recurring starting point for his compositions are fragments of line-drawn Disney characters, with favourites being Bambi, Snow White and the Seven Dwarves," writes Pia Gottschaller in Vitamin C+ Collage in Contemporary Art.
"The materials and techniques that he harnesses range from found bits of paper to repurposed photographs, photocopies and ink drawings, from relief, etching, digital pigment printing,collagraphy, pochoir, aquatint and cyanotype to brushed oil, airbrushed acrylic and silkscreened gouache," Gottschaller continues. Herrera himself has called them, "ready-made, contaminated modernist shapes."
Herrera is one of 108 artists featured in Vitamin C+ Collage in Contemporary Art. The book showcases living artists who employ collage as a central part of their visual-art practice, as selected by 69 leading experts, including museum directors, curators, critics, and collectors. It features an engaging and informative introduction by Yuval Etgar, an internationally renowned expert in the area.
Phaidon.com is talking to some of the artists featured in the book. We caught up with Arturo Herrera to ask him about his first attempts at collage, his balance between improvisation and accurate interplay, and how, for him, collage reflects our accelerated and disjointed social and private environment.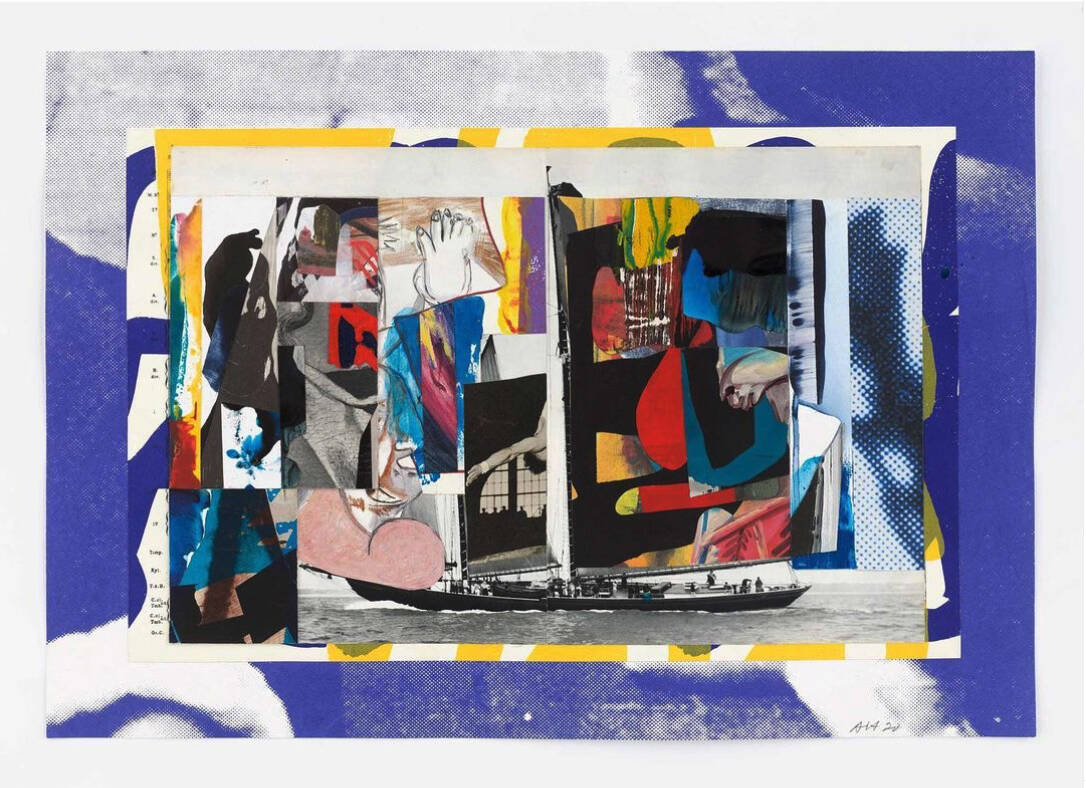 Untitled, 2021, mixed media and collage on paper, 100 x 70 cm
What draws you to collage, what are the properties that excite you or intrigue you? Working in collage I draw from the rich legacy of abstraction. The core of my art practice incorporates modernist strategies of fragmentation, repetition, serial grouping, and the juxtaposition of disparate sources.
By modifying and reconstructing found materials - including imagery derived from popular culture as well as my own drawings and paintings - I develop abstract works in which the everyday is embedded, prompting multiple  readings. I am interested in probing the cross-contamination of references in collage and in the objective or subjective perception which allows us to project ourselves into images through our history, needs, and memories.
To the outsider, collage seems like the most freeing of mediums to work in, but is it? I am interested in how disparate fragments are uprooted, cut, and forced to be together to create a new image. Collages are fairly simple, direct, and deeply satisfying to make. Everyone has access to paper, glue and a pair of scissors.
The essential key is to juxtapose the precise unrelated elements  to suggest multiple areas of visual and psychological interaction. Through definition and  association, collage undoes linearity while broadening a collective and an individual connection. Collage's ultimate  aim is to construct a personal lexicon with engaging pictures that generate complex fields of meaning.
Making something polluted and non-hierarchical allows me to disintegrate my own sources while generating  a charged image eager to be dissected.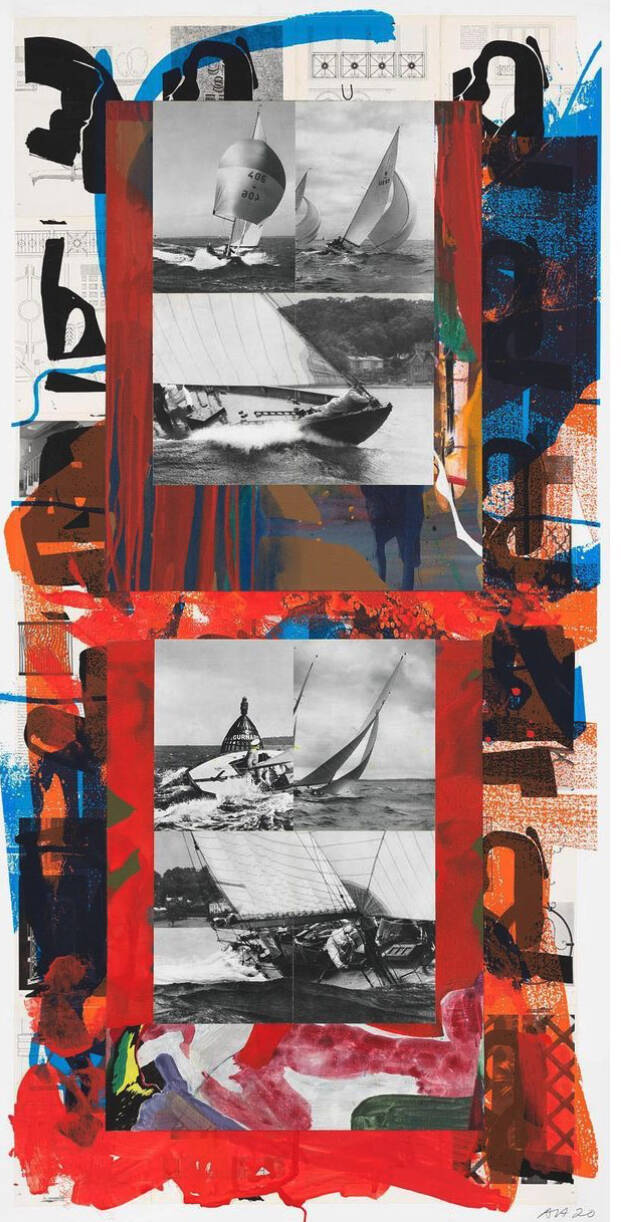 Untitled, 2023, mixed media and collage on wood, 50 x 30 cm
How improvisatory a medium is collage? Do you have a strict sense of what will happen before you start? Each element in a collage has a dual function. Cut fragments retain their original references while adopting a new contradictory reality by being a hybrid full of resonance. Starting with a solid foundation one builds a rich visual construction. Improvisation plays only a small role in my practice as each element is carefully selected so it can assert itself in a new configuration.  
Even though collage generates expectations it doesn't disclose definite answers. Its pliable content can't be achieved solely by improvising but by an accurate interplay and placement among a myriad of disjointed fragments.  
Using everyday printed materials, which are instantly recognisable, leads the viewer directly into the picture and at once a bond is established. Projecting our invented or private stories onto a newly completed image is what attracts me most to collage.  
Collage is often something that people encounter in childhood, can you remember your first attempt? I did mostly watercolours and colour pencil drawings when I was growing up. I started working with paper when I first moved to New York in the late 80's. Collage was the ideal medium for me because of its availability and low cost. It was incredible fast and exhilarating to make paper constructions while keeping the small area I had at the time clean and free of toxic fumes.
With only a few materials I was able to make a wide variety of images dealing with pop art, modernist painting, abstraction, comics, surrealism, fairy tales, abstract expressionism, and all kinds of popular culture. Through the layering of elements I was able to generate a tension between what was revealed and concealed.
Shapes and lines multiplied and metamorphosed, creating a visual field suffused with movement, colour, always unfolding. Resisting resolution and specific message, these early collages invited exploration by opening doors to unexpected readings of established and unfamiliar bits of cultural debris.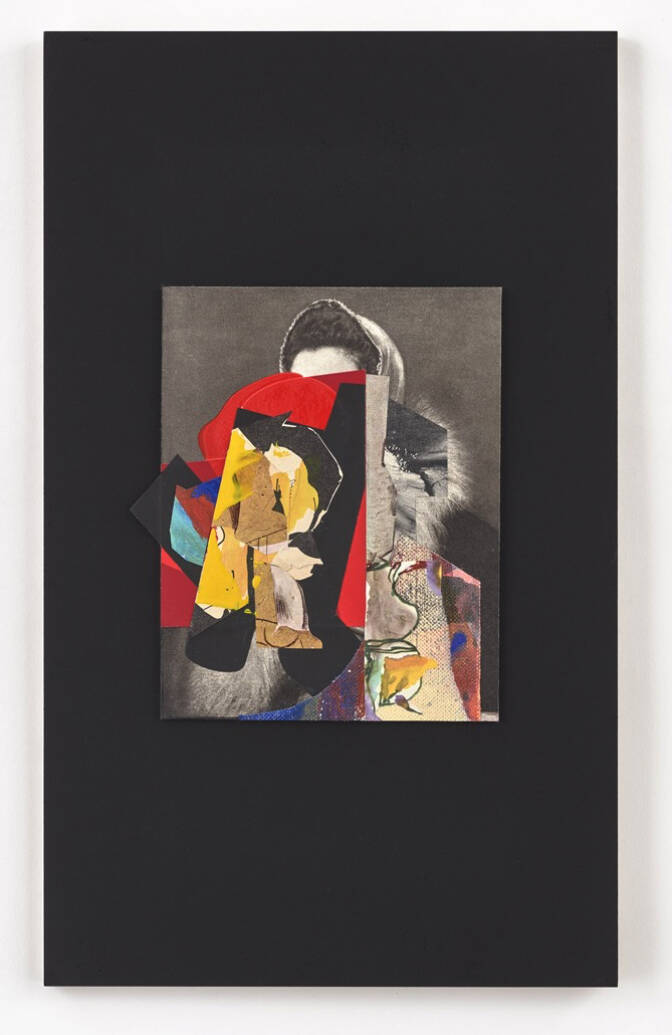 Untitled, 2020, collage, mixed media on board, 98 x 182 cm
What do most people miss or misunderstand when they attempt to ''assess'' collage? Even though paper is traditionally collage's basic material anything could be used to make a collage. Techniques such as cutting, painting ,stretching, juxtaposing, layering, dissecting, gluing,  among other are used to fix the elements into a brand new  pictorial structure.  
Due to its fragility, collages are often framed to protect them from  handling and UV rays. Under the frame they look seamless and strangely uniform which some viewers might mistake for a colour lithograph, an offset print or a digital impression. Another typical perception of collage is that it looks casual and spontaneous and therefore less important or relevant than a painting or a drawing.  
Collage is one of the essential techniques of modern and contemporary art. Ancient in origin and driven to prominence by Braque and Picasso in 1912, collage's ubiquity and prevalence in today's culture reflect our increasingly accelerated and disjointed social and private environment. Collage is today, with its power of associative linkage, one of the indispensable tools for coming to terms with our contemporary world.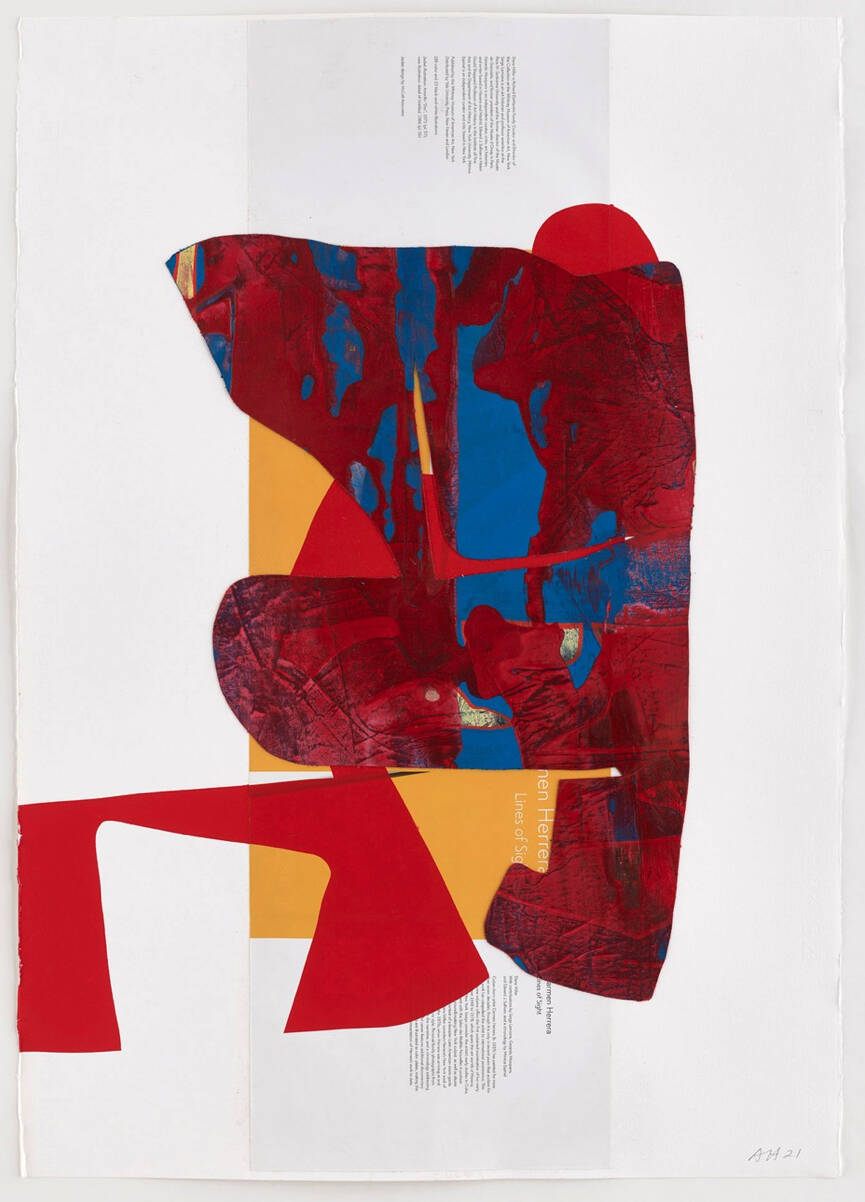 Untitled, 2020, mixed media and collage on paper, 39,4 x 56 cm
Is there a collagist from history that turned you on and made you realise collage is a thing? Of course Matisse, Picasso and Braque, but also Hannah Höch, John Heartfield, Max Ernst, Hans Arp, Kurt Schwitters, Juan Gris, Meret Oppenheim, Giacomo Balla, George Grosz, Sophie Taeuber-Arp, Paul Klee, Joan Miró, Lee Krasner, Conrad Marca-Relli, Robert Motherwell, Jess, Romare Bearden, Richard Hamilton, John Stezaker among others. They all established an individual new reality by  simply attaching things to other things, creating visual paradoxes that engage us to this day.  
Is it wrong to think of collage as something ephemeral or less durable? If that's true does it concern you or maybe attract you? Paper is of course less durable than canvas, wood or stone but with the right care it can survive  a very long time. Collage, with its impurity of materials and grounds juxtaposes the unrelated, reinforcing a very tactile  experience which is essential to each piece. This physical cross-pollination welcomes changes in time declaring collage a dynamic and vibrant  reality.
You can see more of Arturo Herrera's works here.
Meanwhile, Vitamin C+ Collage in Contemporary Art, featuring over 100 artists including: Njideka Akunyili Crosby; Ellen Gallagher; Peter Kennard; Linder, Christian Marclay; Wangechi Mutu; Deborah Roberts; Martha Rosler; and Mickalene Thomas is available now in the store. We'll be running more interviews with artists featured in the book in the coming weeks.