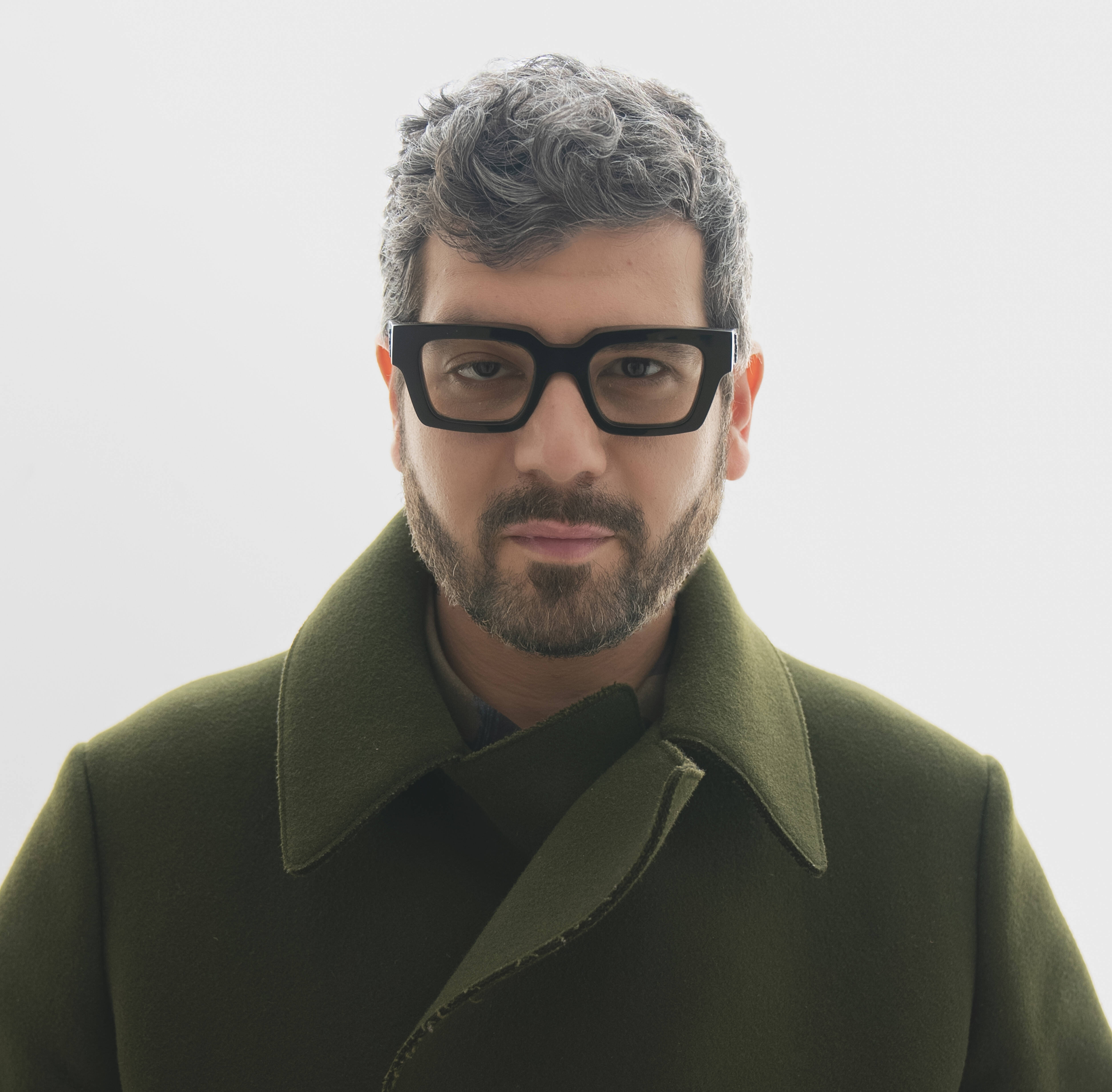 Meet Dr. Omar Kholeif – the person spearheading the conversation on art and digital culture
In the first part of our interview with the author of INTERNET_ART we learn how the curator has defined networked culture over the last 30 years in their own, highly personal, way
Part social history, part personal diary, INTERNET_ART celebrates the known and sometimes unknown artists and communities who have helped define the scope of networked culture over the last thirty-plus years.
The book's author, Dr. Omar Kholeif, is a superstar curator, who for well over a decade now, has been the go-to-person for all things related to art and digital culture. They've published some of the most recognised books on the subject, as well as landmark exhibitions including Electronic Superhighway, Art in the Age of Anxiety, and My Life in the Metaverse. But now, Kholeif wants to take the conversation to the next level – "bigger and broader" they say – to reach the widest possible audience.
They are the perfect guide to let readers gently and expertly in on how 'the electricity of our age' has enabled previously undreamt-of new possibilities and thought processes for artists and audiences across a range of media, both analogue and digital.
Kholeif is the Director of Collections and Senior Curator at Sharjah Art Foundation, UAE but likes to call London home – as well as pretty much everywhere else on planet earth too – the IRL embodiment of a digital nomad. INTERNET_ART reflects and refracts their truly global range of expertise.
Interwoven with personal recollections from Kholeif, whose prolific career parallels the growth of the internet, INTERNET_ART is organized in thematic chapters, featuring hundreds of anecdotes relating to curators, innovators, and, of course, artists: among them Nam June Paik, Lynn Hershman Leeson, Pipilotti Rist, Trevor Paglen, Andy Warhol, Cory Arcangel, and Haroon Mirza.
For the first part of our interview with Dr. Omar Kholeif we began by asking them about the surprisingly personal nature of the book. Simon Denny, Amazon worker cage patent drawing as virtual King Island Brown Thornbill cage, (US 9,280,157 B2: "System and method for transporting personnel within an active workspace," 2016), 2019. Photo: Jesse Hunniford/MONA. Courtesy the artist; Altman Siegel, San Francisco; and Petzel, New York
"A lot of the book was written during lockdown when people had a different ocular perspective and were journaling online with text, image and video. I've tried to disarm the reader by being honest. This is not an academic thesis. Rather, I use the form of the memoir to enter a world that readers may feel a sense of resonance with, and most certainly will have perspectives on. So many people don't understand that if we don't document and archive our present, we won't have a record of it. This book is an attempt towards that. I definitely see that as part of my job."
So, who is Omar Kholeif? "I'm a Scottish smoker. I live everywhere and nowhere, which sounds glamourous, but it is actually the life of a curious pauper. I was born in Cairo, Egypt, in nineteen-eighty-something. I'm an early breed millennial (the first three years of the 80s, perhaps). I moved pretty early on to the UK; to Scotland, and then to the US, and then Saudi Arabia, where there was no visual culture whatsoever at the time, but there was, as the book reveals, the beginning of dial up connectivity. And the computer became a vessel out of a quite lonely world.
"I've been a museum director, a curator, many things but primarily I'm an artist who makes exhibitions, virtual and physical, and my medium of choice is primarily words and often ones related to pictures. I'm a co-director of an inspiring government organisation that allows me the privilege to work with living artists. I try and tell stories, often ones of people who might be dispossessed, or whose voice hasn't been given the right kind of space in the mainstream field of debate. And I still try and smoke wherever I can, including during this interview, but I hope to quit soon soonish so that one day I can go back to singing again."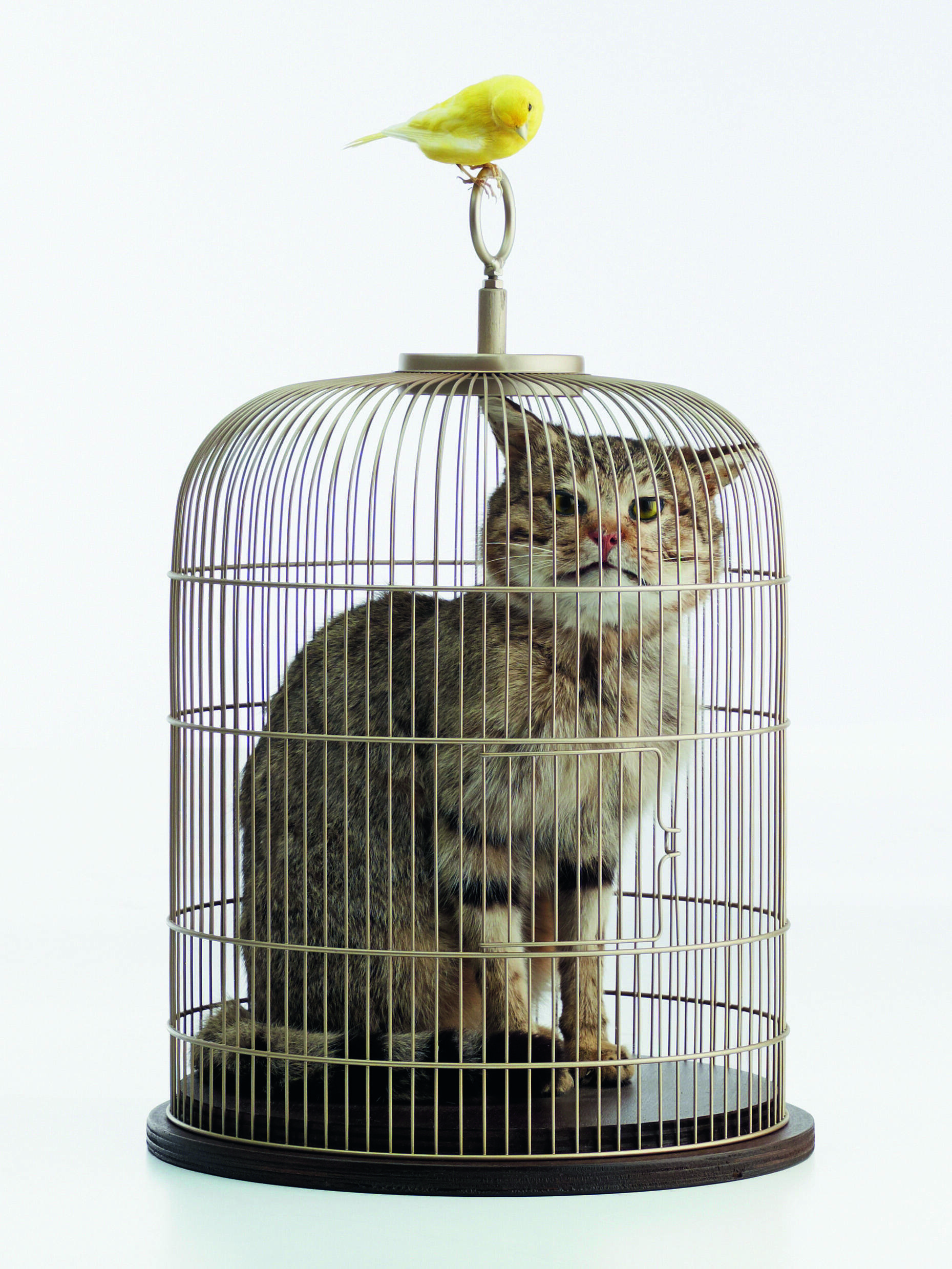 Eva & Franco Mattes, Catt, 2010. Picture courtesy the artist. Taxidermy cat and bird, cage.
When did art hit you and what was the route in? "There was no real interest in art in my family. My mum was a poet, and she came from an unusual family of actors and minor Egyptian celebrities. My grandmother had fallen in love with a painter who painted my mother's portrait for the cover of her first book of poetry. I was 8 or 9 and I became obsessed with the brushstrokes; he was a very gestural painter. But really it wasn't until I was in high school, aged 15 or 16, in an Americanised school in Saudi that art hit. We were given these textbooks but there were no names that resembled my own. I asked if there was any art that resembled the place I was in, and I was told there was none, and that my/ our culture had died a long time ago.
"I just couldn't believe that, so I started to search on what was, at the time, called the world wide web. That's how I began to discover painting. I started to print out paintings, I would make constellations on my bedroom wall of these pictures (amidst them was a picture of Angelina Jolie from the1998 film, Gia). Later, I became exposed to many artists at Glasgow School of Art – usually while dancing on a Thursday night! (I don't dance anymore). Most of the artists there at that point were making film. And that was a gateway. I became a film maker, of a sort, first."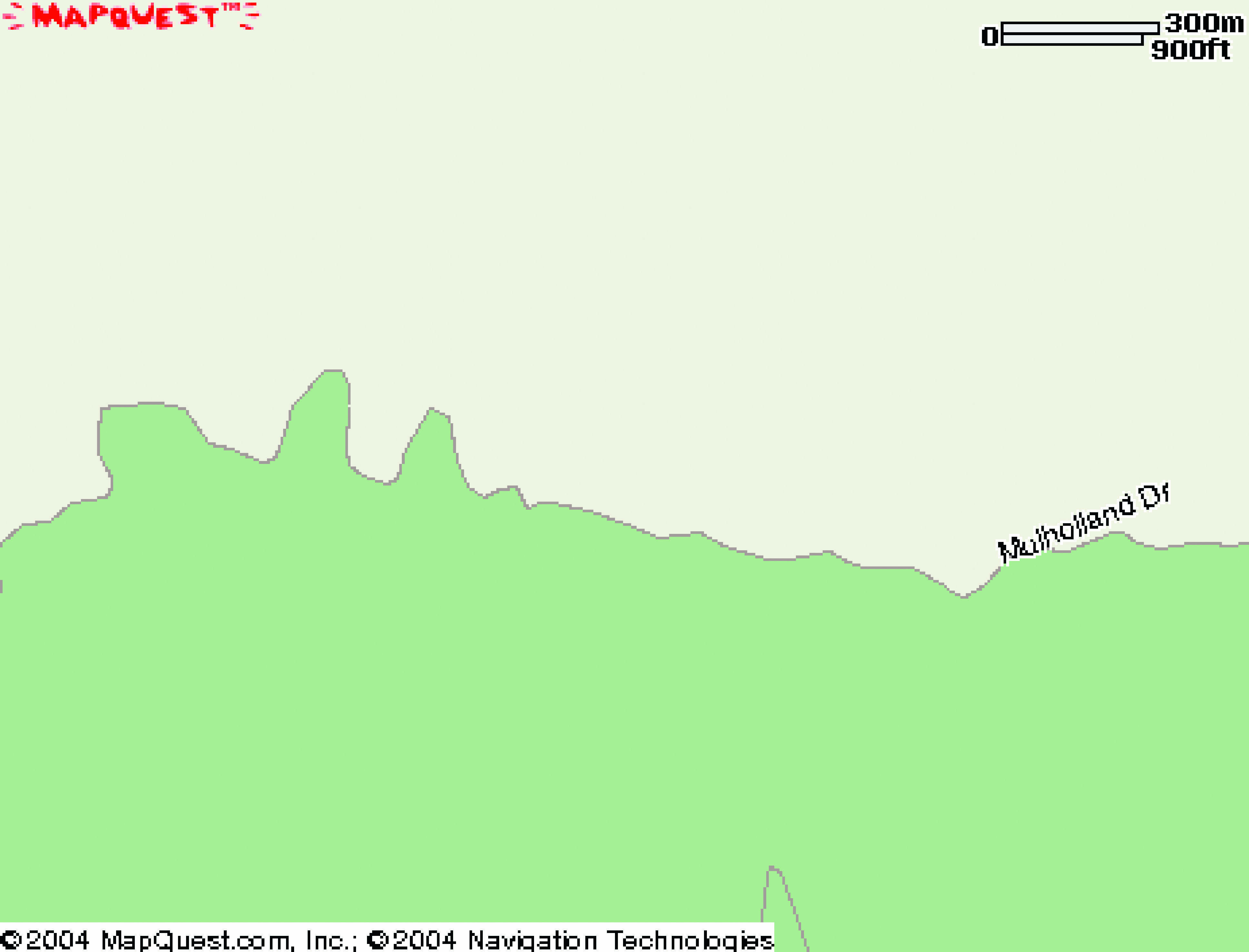 Guthrie Lonergan, Lonely Los Angeles, 2005. Picture courtesy the artist
Who were the artists who made you realise there was something there for you? "Smoking Dog Films/ Black Audio Film Collective, Steve McQueen, Sam Taylor-Wood now Johnson, Gillian Wearing - individuals who were pushing against what we understand now as narrative cinema. There were no hierarchies of discipline, we could do anything we wanted to do.
"I would say my awareness came from oil painting when I was young, and printing pictures out, but in terms of lived experience it was being around moving pictures, being in dark rooms, and having this guttural feeling that something had happened, and I didn't know what it was."
And did you know whether you'd be a fine artist or a chronicler at the time? "I thought I'd be a chronicler because at that moment I began a fine art programme at Edinburgh College of Art in experimental film, and, at the same time, I started working in documentary production as a day job, working on productions for BBC and Channel 4. I thought, maybe I'll be a documentary film maker who is experimental - chronicling through making.
"In the end, I stuck to the path of being a social historian. I've always wanted to know what it is that makes a person tick. What is it that they drink, what cigarettes do they smoke. The obsession with the little details in a way led me to become a curator. Hustling for work since the age of 17, I had developed a brash confidence, as well as granular insights into the lives and worlds of artists and film makers who I had grown consumed with. I wanted to enter people into alternate worlds."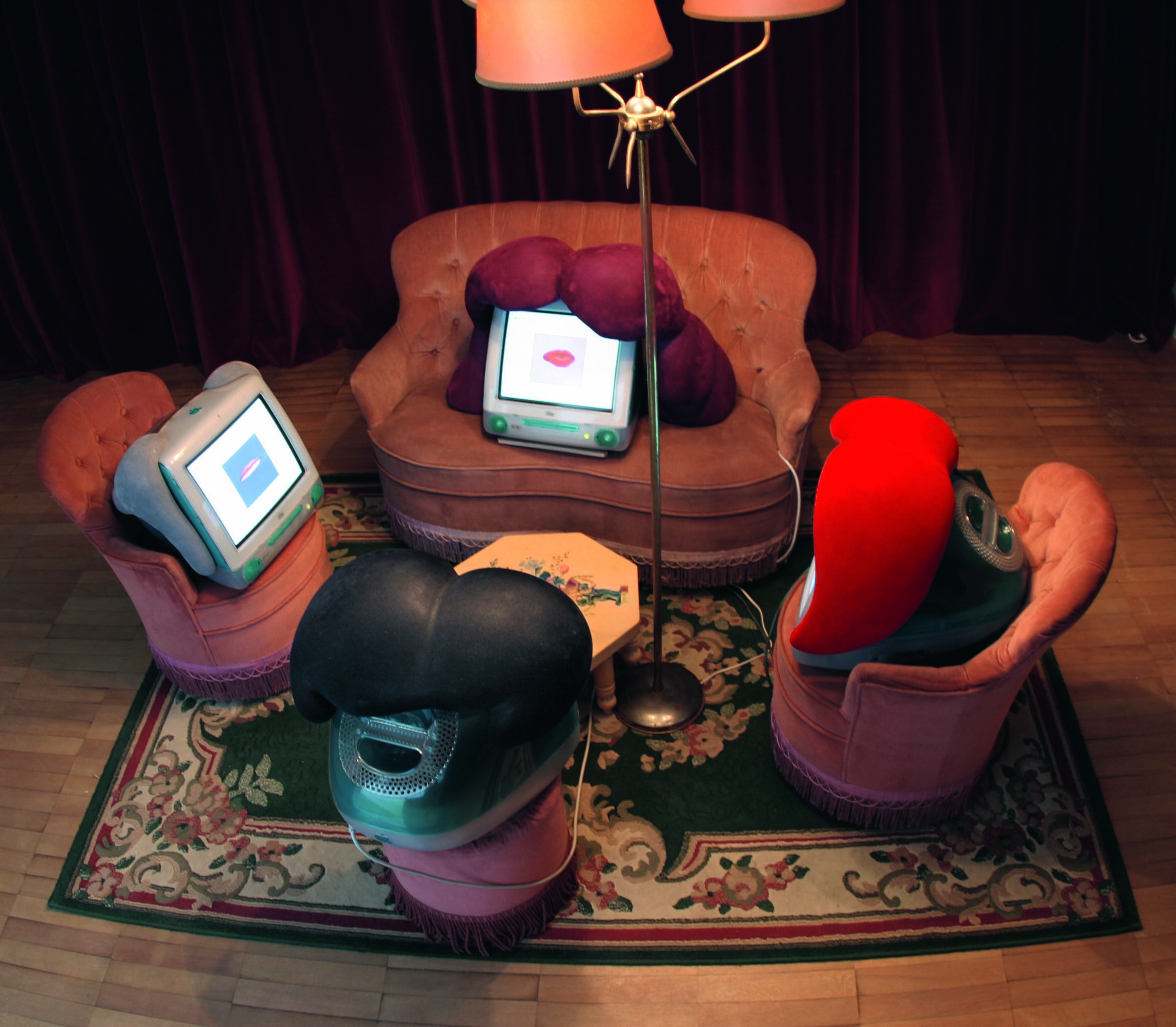 Peter Sinclair and G. H. Hovagimyan, A SoapOpera for iMacs, 2005. Photo: G. H. Hovagimyan (page 216) Installation view: Burlesques Contemporains, Jeu de Paume, Paris, 2005
**Which brings us to the book and your astonishing ability to pull so many incredibly varied strands together to form a seemingly effortless narrative. It feels like such a completely lived experience we wonder if you actually had to do any research or was it all in your head? **
"It's a good question. I've always used my ADHD to my advantage. I say ADHD must equate to visual memory because I am able to keep hold of lots of visual information. My memory is the thing that I am perhaps most proud of because I'm a very sensitive human and when I feel something I never forget it.
"The process of making the book was not at all about researching anything beyond my own archive. I wanted to tell a story that was from a situated perspective from having been there and around these figures - sometimes figures who were a generation or two older than me – sometimes of my generation, but it was really about how do I order this story in such a fashion that someone who was there can dig deeper into it, and someone who wasn't, can be immersed in it."
Structure is obviously one of the major challenges for a book such as this. Did being a successful curator help with that? "Yes, definitely. People glamourise curatorship, which, as we know, is about a process of caring, but mostly a process of caring in the mundane sense of organising, filing, indexing, and conserving. In 2018 I was offered the job I hold now at Sharjah Art Foundation, to basically oversee a public collection of modern and contemporary art, to help give it shape and form but also to speak to it and mould its contours. Then lots of things happened, including the pandemic, and I found the safest place to be alone with objects in storage units, revising and arranging, and that returned me to that lightbulb moment of, this is what I do. A disciplinary practice of ordering things, in a sense.
"Like others, I went to the Royal College of Art for the MA curating programme which, at the time, seemed necessary to get up the ladder. I wanted to write about histories that had previously been sanctioned or vanquished. This made it very difficult to find someone to supervise my PhD, so I ended up graduating from the Reading School of Art, University of Reading. So in a sense I always feel that I come back to being an artist, or perhaps, more appropriately, a kind of student of art.
"And of course, also being an artist is very much about arranging your ideas, your materials - whether it be your paint, your hard drive, your backups, your budget, your script. So I see the book as an artwork in itself. The gold cover was very important to me. It was in my first proposal. I wanted it to look and feel like a block of gold – a comment on the speculative nature of the field, but also for it to akin to black mirror looking back at black mirror. When you put an iPhone in front of it, it will be refracted back at you. The idea was to really make you ask questions from the minute you engaged with the book – it's in turn, a sculpture that exists as a memoir, a social history and more: we need to invent a new portmanteau for this one!"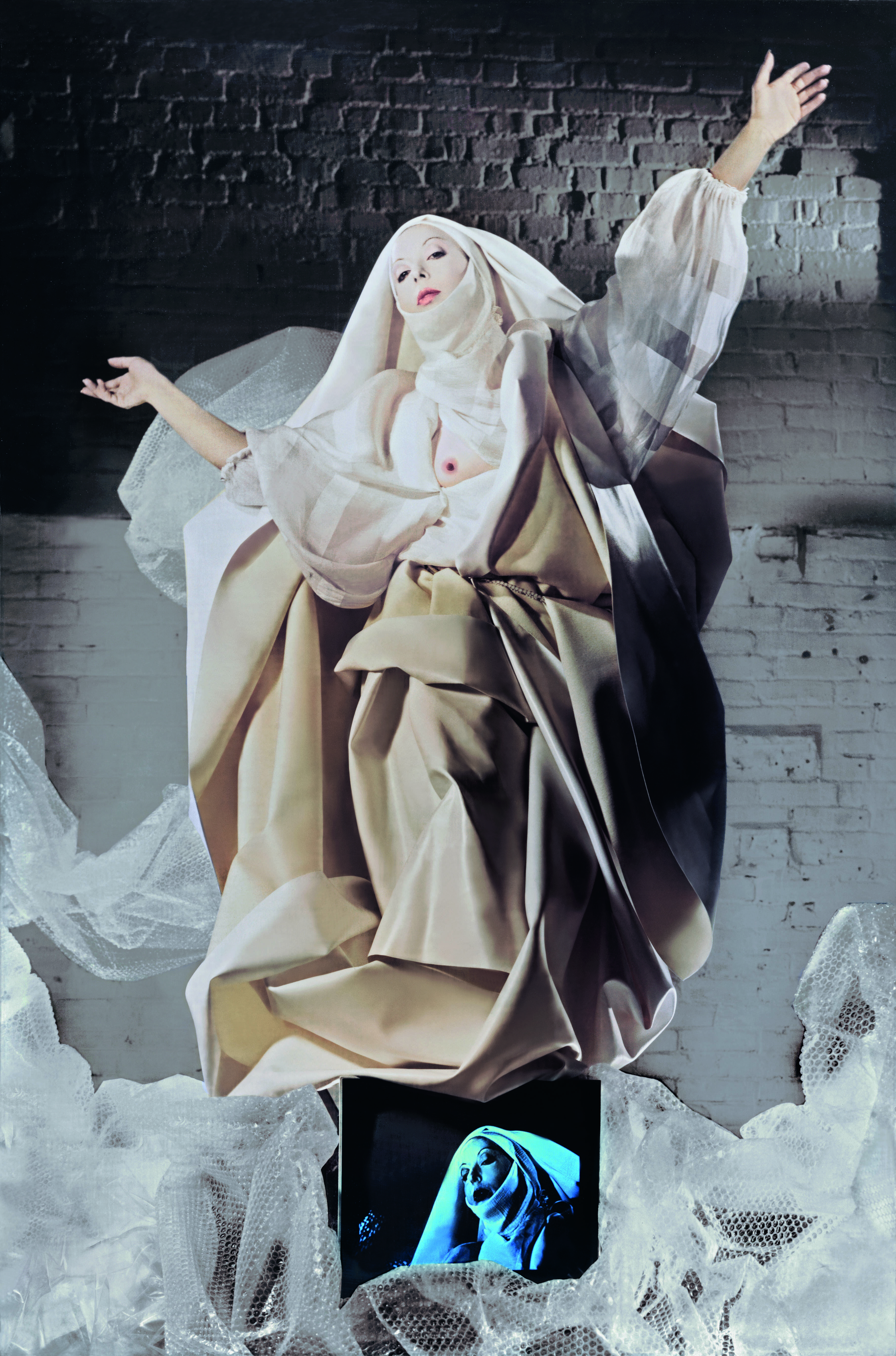 ORLAN, Whites virgins with plastic bubbles clouds, 1983. Picture courtesy: ORLAN Studio
Your book pulls a hugely varied, and often surprising, range of artists under the umbrella of internet art - Orlan to take just one of literally hundreds of examples. How did you grapple with such a panoramic vision, what were the organising principles? "It's a pivotal question. From the outset I have said that this can never be totally definitive, even if it may well be the longest book on the subject. There were three organising principles:
"The first was that the context of what I was talking about had to somehow relate to networked culture in some way; the artist had to be embodying a major trend; or be facilitated by networked culture or be exploring technology's emerging potential as a fundamental aspect in their artistic practice. I had literally hundreds and hundreds of names on the wall that I would cross out and then put back in. And there are individuals who I wrote beautiful prose about who had to be removed from the book because it didn't quite make sense together.
"The second was that I wanted to build upon the micro-histories that I had authored and published before. Previously, for example, I sought to make clear the politics of so-called 'post-internet art'. Here, I felt that I had to clarify that the underscore in the title INTERNET_ART is pivotal in my argument. Even if the artist's work is not influenced by the internet, I felt it necessary to give a sense of the context of how the internet is shaping the ocular experience of visual art as a whole field. Indeed, how we experience all art forms has shifted significantly. I wanted to present artists who work with this awareness, especially ones who push the formal boundaries conceptually, formally or aesthetically for example and, to a degree, politically, as well.
"The third principle was to also think about holding a mirror up to society today. I often refer to the first series Charlie Brooker did of Black Mirror. Thinking about the kind of key tenets that define what would be considered an 'age'. We often speak of 'the internet age'. I continually asked myself, does this individual sit in this scope? Are they emblematic of that in some way and can they take us on a journey through that?
"So to return to Orlan for example, well they absolutely fit into this organising principle because their presence parallels the growing obsession with what I refer to as 'performing the self', which is absolutely tied to YouTube culture, and then Instagram culture, and right back to early internet and voguing culture. I also see Orlan as someone interspersed among multiple dialogues. The cyborg and biotechnology are absolutely integral to this historical moment. So that's why figures like that make complete sense because I'm trying to explain how the contours can stretch, but also there is a very refined and specific point which is: All of this art asks critical questions of the internet and why it exists. It's not just there because it looks pretty."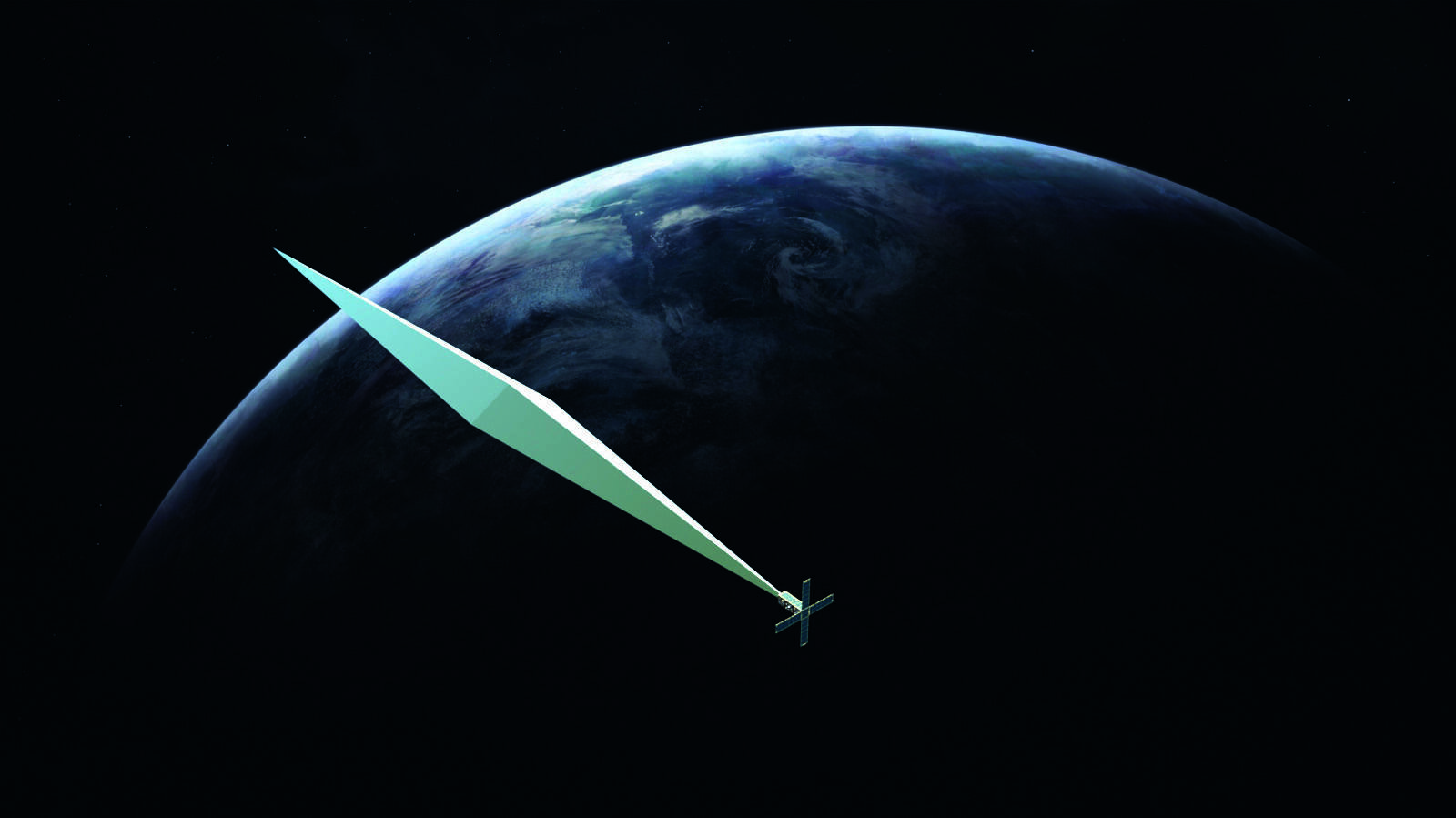 Trevor Paglen, Orbital Reflector, 2018. Picture courtesy the artist and Nevada Museum of Art.
Does the internet influence art or does art influence the internet? "The internet is like electricity. For a painter electricity meant that they could paint well into the night, not just the day, which allowed them different perspectives on what they were producing in terms of colour and tonality, but also gesture and movement.
"And the internet ultimately is a thing. It's databases and data centres. It's underwater cables and an infrastructure that is very similar in that it enables all of us to continue to create all around the clock. But the difference is, it's not as simple as switching a light on and off, it's much more mutable a thing. But it's not only a thing. It's a space and it conceives of multiple spaces within it. It's also often gendered, it's also often tied to a specific class of an individual which is why me offering this book as someone who was born to a Sudanese father and an Egyptian mother in Cairo, Egypt and who spent their early life on a council estate in Glasgow is not exactly par for the course.
"I'm not a techie. I didn't go to Stanford, and I didn't go to Harvard (not for want of, or lack of trying at first) I also don't possess the voguish edge of being a college dropout who created a start-up that got floated early, and I am certainly no heir to a family fortune. I self-funded my way through all my education while working full-time so that I could confidently wear my stripes, despite any difference intimated by my name, ethnicity or social class. And although, I've never made money from minting an idea or a platform, I don't really care at the moment, to be honest. I'm someone who tries to communicate and develop lots of ideas at any given time, and that makes me feel good.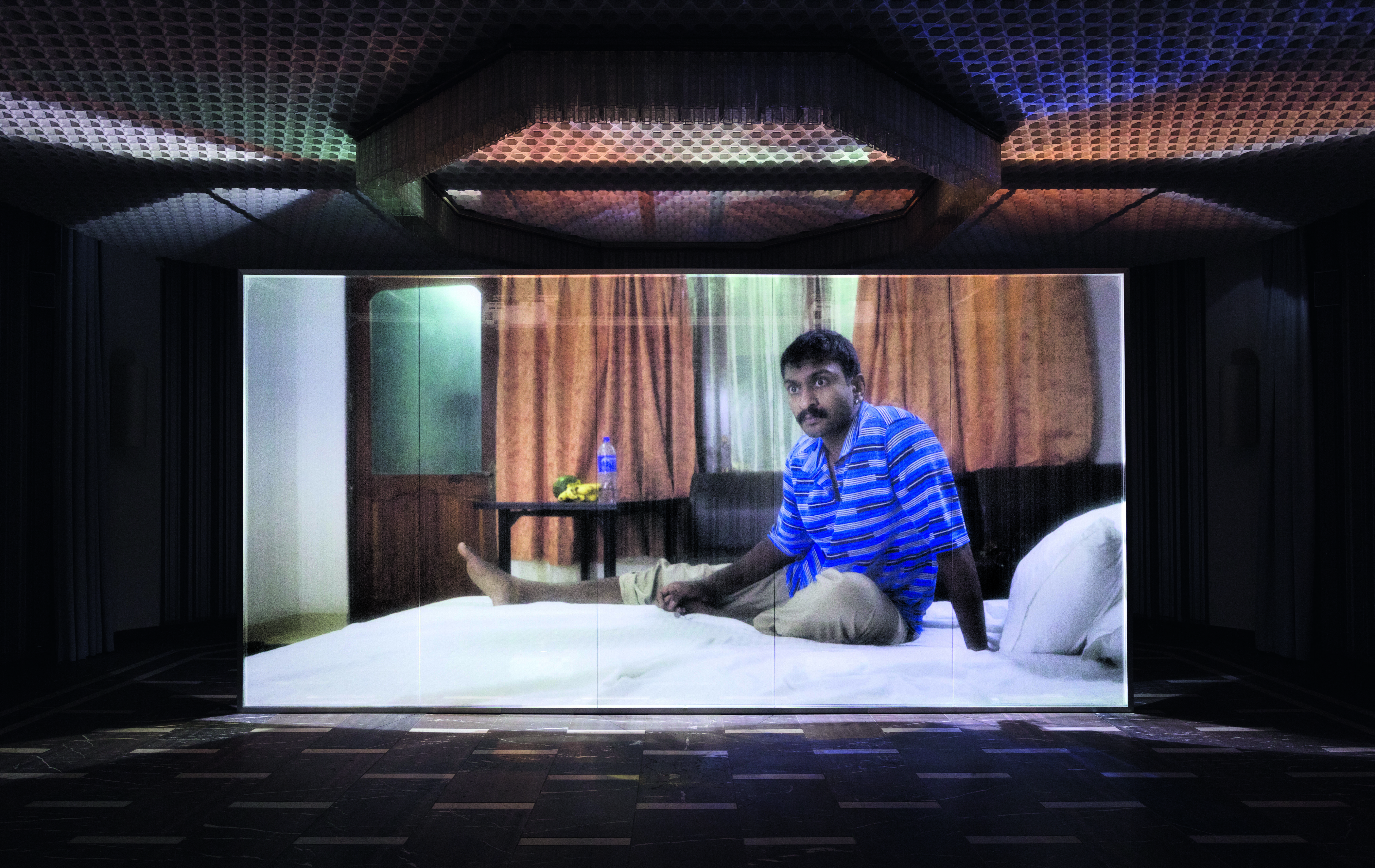 Christopher Kulendran Thomas, Being Human, 2019. In collaboration with Annika Kuhlmann. Picture credit: Andrea Rossetti HD projection on glass, aluminum, steel, featuring original works by Apali Unanda and Kingsley Gunatillake purchased from Saskia Fernando Gallery, Colombo. Installation view: Schinkel Pavilion, Berlin, 2019
"At the same time, I should say that art does certainly influence the internet because its technologies become subject to tampering and sullying when the art is exposed. Whether it's for example, the artist Jeremy Bailey using the Xbox Connect to create augmented reality performances, when we all know that wasn't the original intention of the Xbox Connect. Or consider, for example, how drones that were originally used for surveillance went on to become part of installations, as well as being used to create content that is aesthetically pleasurable by artists.
"Or, perhaps one can invoke Trevor Paglen's engagement with Image Net. He and Professor Kate Crawford's engagement with this crowd-sourced archive explored the way Ais were being trained by a largely ungovernable archive. Through their work, audiences were invited to consider how this could be something that is innately open to tampering, and could, potentially, lead to prejudice. That art project led to ImageNet dumping the 6,000 plus images the artist studied. And when those images got dumped, who was held accountable? That is the question really. The artist can change the internet but who is left accountable and who is given credit for changing the space of the internet?   "I give most credit, regarding our global present, to Nam June Paik, especially for his 1974 paper in which he coined the term 'electronic superhighway'. Then, he was imagining things that Elon Musk is still working to conceive today. I'm very happy to believe that we live in a world where artists set the agenda; that this is the world we live in."
Buy* INTERNET_ART here and look out for part two of our interview with Omar aka Dr. O, in which they talk about NFTs, why Keith Haring's Pop Shop was an early version of the metaverse, Chat GPT and more. Coming soon.