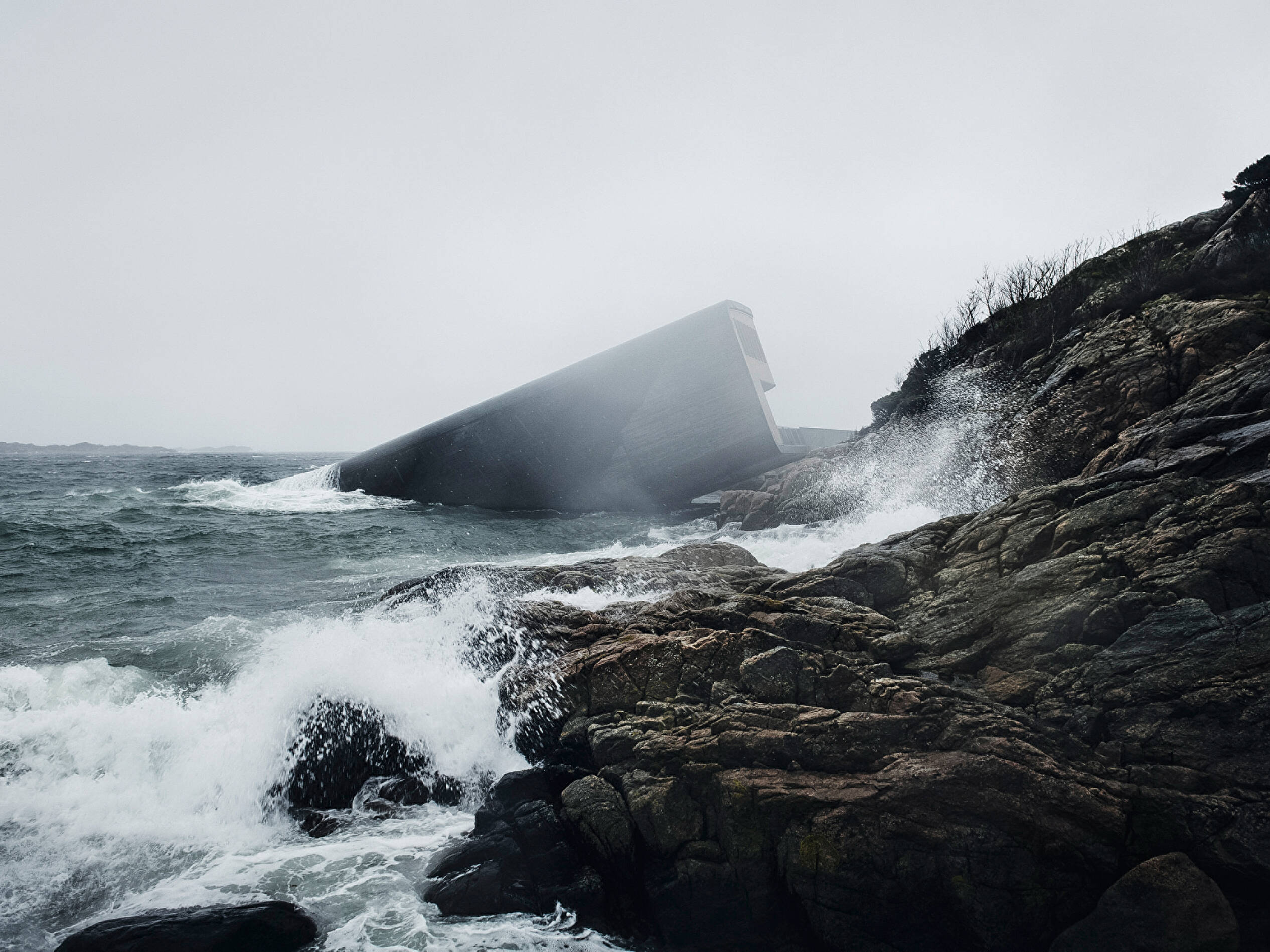 What Snøhetta saw in the Ocean
Our new book takes a look at the beautiful, box-like restaurant the world-famous architecture practice pitched into the Norwegian sea
Open Ocean, and you see the seas in many new ways. This new book, subtitled Exploring the Marine World, draws together over 300 of the world's most striking, beautiful and revealing images of the world's oceans.
There are famous works from world-renowned artists, including Damien Hirst's shark, Gustave Corbet's wave, as well as inclusions from David Hockney, Georgia O'Keeffe, Catherine Opie, Ansel Adams, Claude Monet and JMW Turner.
However, this isn't simply an art book; there are also NASA images and record covers; newspaper illustrations, stone-age works ,film stills and screen grabs from iconic aquatic video games, all drawn up by a panel of seasoned specialists, who understand both the art world and the world under the waves.
Architecture even gets a look in, courtesy of Snøhetta, the Norway-based international architecture firm, whose Under project enables visitors to take a look at life beneath the sea.
"Under was designed as a partly submerged coastal restaurant and marine research centre by Snøhetta, which has for decades created notable public and cultural projects around the world, always incorporating landscape into their design," explains our new book.
"Under can be found in Lindesnes on the southernmost point of the Norwegian coast, a location where natural elements collide, including storms from both the north and south that mix the briny and brackish waters, leading to a unique abundance of biodiversity," the text in Ocean goes on to say. "Visitors can gain an unparalleled look at this environment by descending 34 metres (110 ft) down the building until they are 5 metres (16 ft) below the surface, where a massive window allows views of the seabed on which the building rests."
And all this playful submarine insight isn't at the expense of the marine world; Under actually aids its environment. "The building's monolithic structure is designed to gradually become integrated into its marine environment, with walls 50 centimetres (20 in) thick to withstand the water pressure outside, and a rough concrete exterior that will function as an artificial reef, becoming covered with limpets, kelp and other organisms.
Cameras and other measurement tools on the outside of the building are used by marine biologists to observe and document the number and behaviour of the species that live around the restaurant as part of an effort to manage key marine species and improve marine resource management."
You can read about Snøhetta in this book; and to see more marvellous marine imagery, order Ocean here.