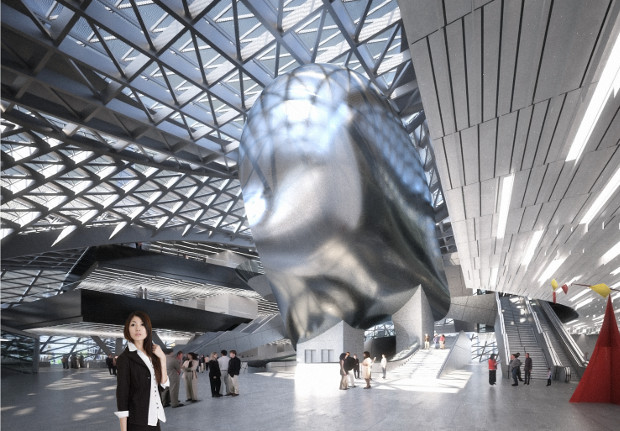 Coop Himmelb(l)au creates two museums in one
The Austrian practice has designed two co-joined museums for Shenzhen - one for art, the other for architecture
The Chinese mega-city of Shenzhen is putting the finishing touches to a new urban centre, with the completion of two adjacent venues by Austria's Coop Himmelb(l)au.
The Viennese firm, headed by charismatic leader Wolf D. Prix, is responsible for The Museum of Contemporary Art and its close neighbour the Planning Exhibition, which will host architecture shows. They are part of the 2012 master plan for the ambitious redevelopment of the Futian Cultural District.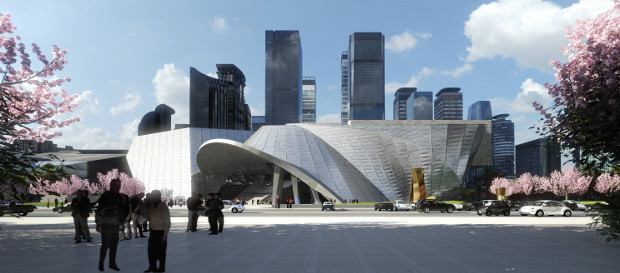 Coop Himmelb(l)au's two destinations share a lobby, column-free exhibition halls, auditorium, conference rooms and service areas.
"Both museums are designed as separate entities emphasising their individual functional and artistic requirements and yet are merged in a monolithic body surrounded by a multifunctional façade," say the architects, who also have an office in Los Angeles.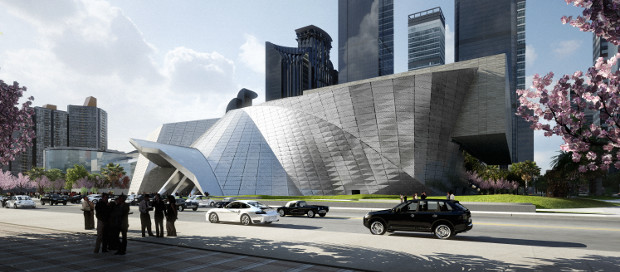 As is typical of the practice, which Prix co-founded 48 years ago, this southeastern Chinese project comprises bold and uncompromising 3D shapes. Inside is an organic-looking rounded form, called a cloud, which will help orientate visitors in the vast plaza. The cloud is big and stable enough to house a café, bookshop and museum shop, meanwhile the bridges and ramps that extend from it make it an architectural link between both venues.
The Futian District – which is bigger than Manhattan – has so far spent $126m on its recent redevelopment. Its master planner, landscape architects SWA Group, has promised to transform it into a Garden City of Tomorrow, in part by improving congestion. Coop Himmelb(l)au's two-for-one building will plug the gap between a Youth Activity Hall an opera venue-cum-library.

And this is not the only Coop Himmelb(l)au creation rising up on the skyline. Back in Austria, the firm is working on another audacious creation: the House of Bread II, which will serve as a customer information centre for the bakery firm Backaldrin. Art, architecture or artisanal baking, it will all be on show soon, courtesy of this innovative firm.
For greater insight into contemporary architecture, take a look at Architizer: A+ Awards 2016, published in conjunction with Architizer.