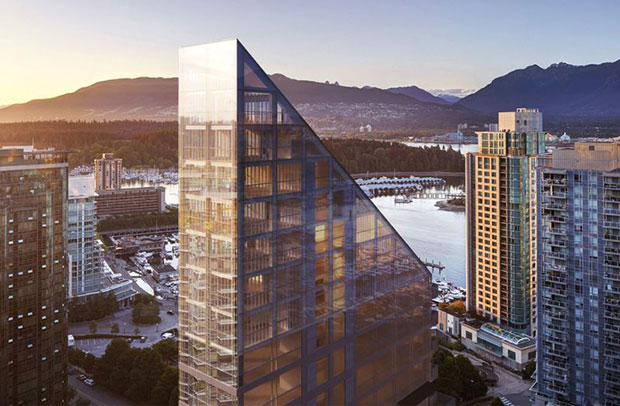 Shigeru Ban's timber trapezoid tower for Vancouver
The Japanaese architect's first building in the city will be the tallest hybrid timber structure in the world
Shigeru Ban designs and builds graceful, serene structures using modest and experimental materials such as cardboard, paper tubes, bamboo and prefabricated wood. His buildings are sometimes soaring and birdlike, sometimes simple, grounded, and evocative of the Japanese aesthetic, but always harmoniously integrated with, and respectful of, their surrounding environments.
Now the 2014 Pritzker Prize winner has revealed designs for the world's tallest hybrid wooden structure. It's an upmarket residential tower is slated for Vancouver and has been commissioned by local developer Port Living.
The firm's residential track record veers towards the humdrum, a scheme by Christopher Bozyk Architects being the best-looking so far. So the Japanese architect's design should put Port Living on the architectural map. Although the height of Terrace House on Columbia River has not yet been revealed, the plan is for a trapezoid structure, with the roof sloping sharply from a point down to just a few floors above ground. The building's core will be concrete and steel, in order to support a timber frame of such height.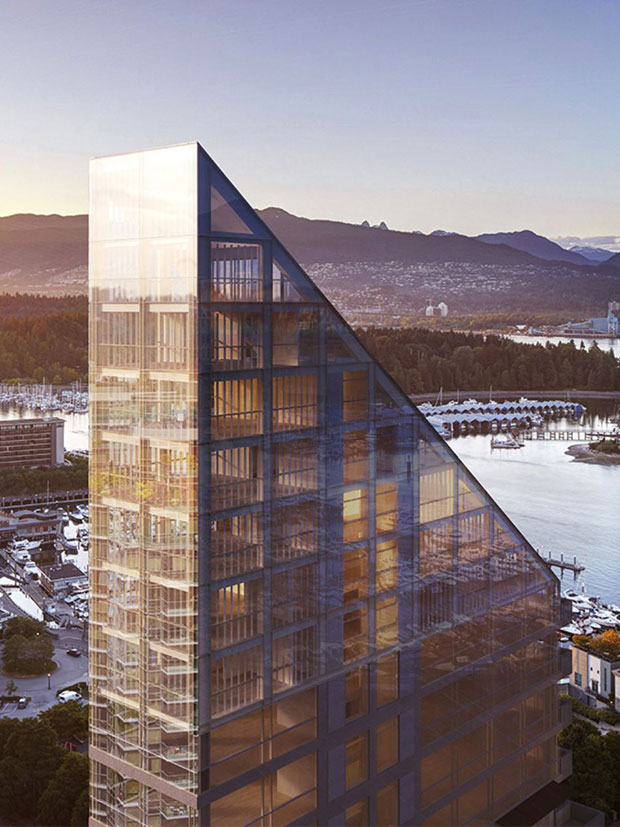 "The project will set the benchmark for the tallest hybrid timber structure in the world, in addition to being Shigeru Ban's tallest project to date and first-ever project in Canada," says Port Living's CEO Macario (Tobi) Reyes.
The design shows the tower completely clad in glass, so the assumption is that swathes of drapes with hang at the floor-to-ceiling windows. Given the nature of such schemes, there is likely to be shops at ground level.
Ban mixes luxury properties and cultural venues with more worthy projects. His designs for modular housing for earthquake victims in Nepal, for example, were unveiled last summer; and his new art museum in Aspen, Colorado, opened the summer before that.
If all goes to plan, Terrace House will rub shoulders with an ambitious $1.5bn development of Vancouver's Columbia waterfront. The masterplan for the 32-acre site - which housed a paper mill until 1996 - includes 1.25m ft of office space, 250,000 ft of restaurant and retail space, and 3,300 housing units.
Designed in Japan and in collaboration with Ban himself, our book Shigeru Ban is divided into sections that reflect with sensitivity the architect's approach to materials, and presents 32 entire projects - all of which are illustrated with colour photographs, plans and sketches. Buy Shigeru Ban here.