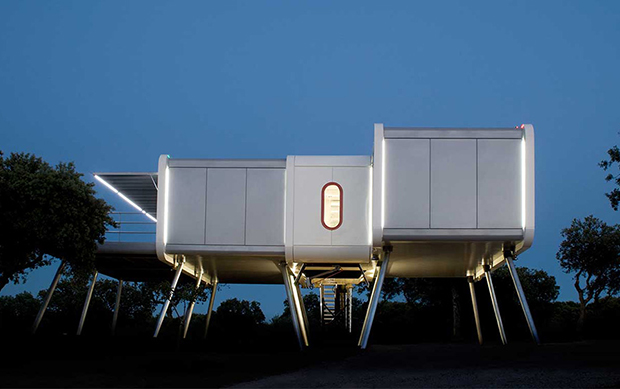 A space-age home with aircraft stairs
This sleek suburban Spanish home by Barcelona firm NOEM packs includes some innovative, recycled features
A modular house designed to look as if it has arrived from outer space has touched on the outskirts of the Spanish capital. The 96 square-metre home is made of three prefabricated wooden modules, clad in polished metal, and perches on slender stilts.
It's the creation of Barcelona-based firm NOEM, which specialises in designing and building ecologically sound, high-tech homes that are quick to assemble. From design to completion, this one took just 14 weeks.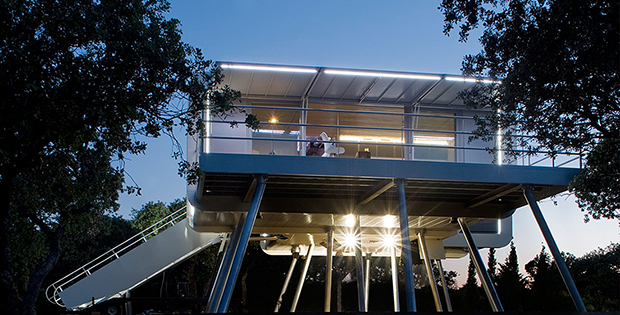 The Spaceship Home is located in La Moraleja, an upscale residential district north of Madrid. While NOEM, which stands for No Emissions, favours wooden constructions, this client was after something more futuristic – hence the cladding.
A mobile stairway, which one belonged to the airline Spanair, enables visitors to enter this elevated home. Inside, the client's home-entertainment needs are fully catered for with a vast TV screen. NOEM were asked to make a reference to the Star Wars film franchise, hence the flashy wall-mounted control panel which "centralizes the house's facilities and presides over a restrained and functional interior", says NOEM.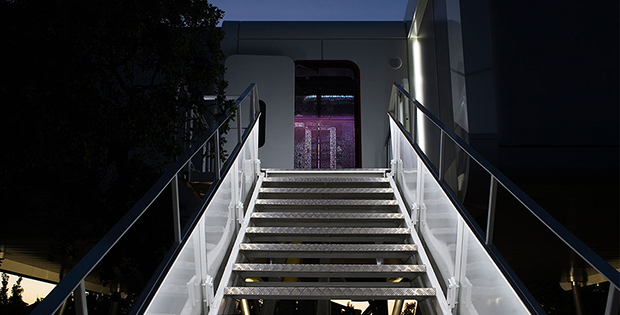 Of the three modules, one contains the apartment's facilities and equipment – "the technological hub of the ship," as NOEM puts it. The other two serve as living quarters and have walls made of vertical wood paneling, and vast windows with remote-controlled shutters. Access to the terrace is via a window as big as a garage entrance, though, in this instance NOEM have opted for top-hinged fenestrations, rather than a repurposed up-and-over garage door.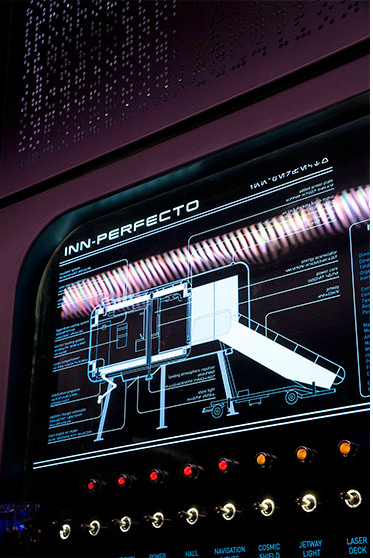 For more on this project go here; for more small, yet perfected formed contemporary homes, take a look at Jutaku; for more on sustainable architecture and design consider Vitamin Green; and for more on how we might be living in the future, take a look at The World We Made.