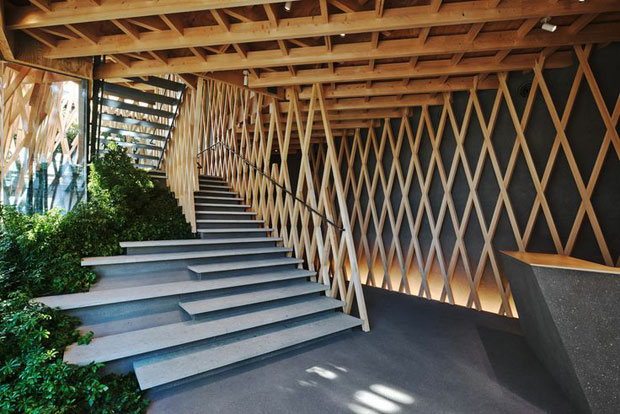 Kengo Kuma's cake shop opens in Tokyo
Known for using unexpected materials on his facades, the architect looks to tradition for Sunny Hills cake shop
Kengo Kuma has been pushing the boundary for some time, making unexpected materials work hard on his facades. The FRAC building in Marseille, and the Green Cast building and Towada City Plaza – both in Japan – all demonstrate his inventive skills when it comes to exteriors.
For his latest project he has taken the conventional form of a bamboo basket and has 're-woven' it as the cladding for a cake shop. The shop called Sunny Hills sits on a corner of the residential district Aoyama in Tokyo, and specialises in a particular sort of Taiwanese pineapple cake.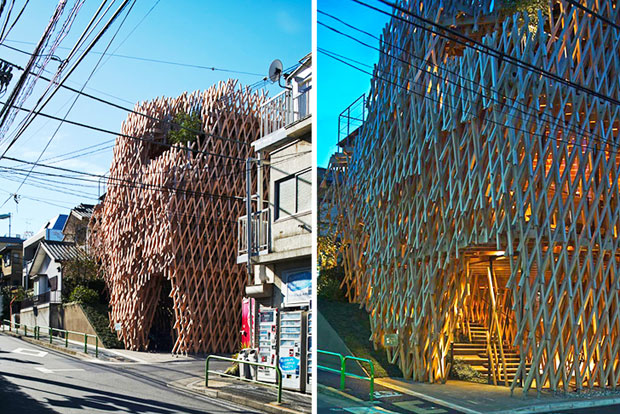 The diamond latticing envelops nearly the entire three-storey building, just leaving space for a doorway and a roof terrace. Kuma explains that "It is built on a joint system called 'Jiigoku-Gumi', a traditional method used in Japanese wooden architecture. Normally the two pieces intersect in two dimensions, but here they are combined in 30 degrees in three dimensions, which came into a structure like a cloud." The construction used more than 500m of wooden strips and was put together by local craftsmen, without the use of glue or nails.
"Our aim was to create a forest in the busy city centre," says Kuma. "We studied how lighting states would change in a day in the woods, and came up with a shape like a basket." So sunlight is filtered through the slats, rather in the way it would be by tree branches. The Sunny Hills sites is finished off with a floor tiled with cork – how in-keeping.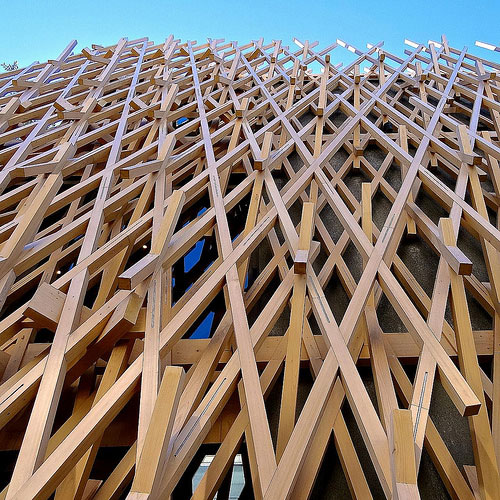 If you're in interested in how Japanese traditional methods like Jiigoku-Gumi has filtered down into international contemporary culture you're going to be interested in our forthcoming book Wa Essence of Japanese Design. In this exquisitely produced book, readers can explore the beauty, essence, and enduring impact of Japanese design through 300 key objects, ranging from calligraphy brushes and traditional lacquered bento boxes to Isamu Noguchi's paper lamps and other modern classics.
Projects are organized by material, with chapters on wood, metal, glass, ceramics & stone, paper, fabric and synthetic materials, each introduced by a short essay. The book features contributions from the most important Japanese designers, such as Shiro Kuramata, Naoto Fukasawa and Sori Yanagi, alongside contemporary pieces from up-and-coming designers.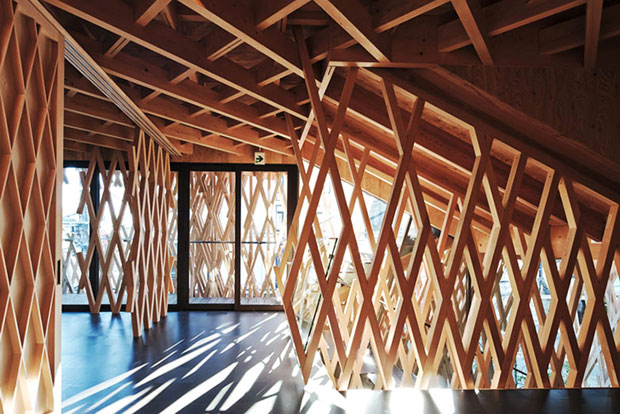 If architecture like that practiced by Kengo Kuma is one of your passions, be sure to check out Phaidon's many architectural publications, apps and new, online Atlas. Take a look at the architecture section in our online store here, check out the Phaidon Architecture Travel Guide App here and take a free trial with our newly launched online Architecture Atlas here.