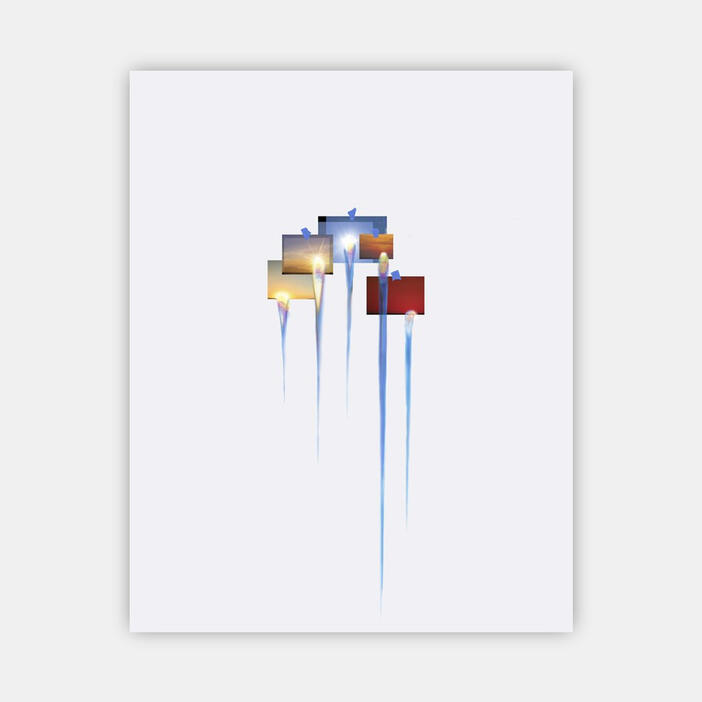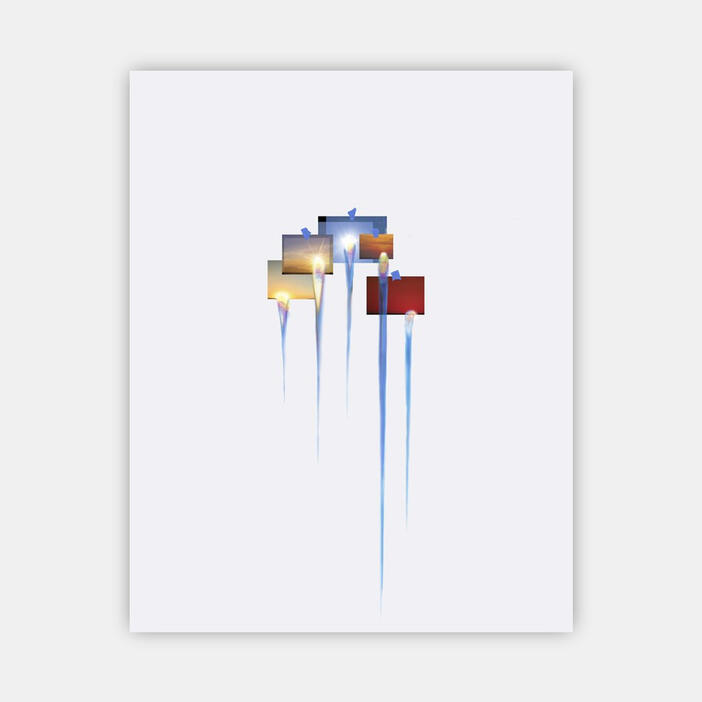 Sarah Sze: Images in Debris (2016)
Price AUD$1700.00 | Limited Edition Price CAD$1600.00 | Limited Edition Price £900.00 | Limited Edition Price T1200.00 | Limited Edition Price USD$1200.00 | Limited Edition
Print: Archival pigment print on Moab Entrada 290gsm
Size: 603 x 476 mm (23.75 x 18.75 in)
Edition of 100
This work is signed and numbered by the artist
Images in Debris depicts time lapse photographs of the sky, taken by the artist, at sunrise and sunset. The images, captured digitally, are then printed via a 4-color screen printing process. Each color separation is screen printed and then smeared while the ink is still wet, foregrounding a handmade process that involves tactility, registration, wetness, and specificity of touch.
The images of the sun at dusk and dawn are at once universal and highly specific, recording a period of time on a particular day and in a particular place. By objectively recording the images and then breaking them apart and putting them back together, Sze explores the fragility of time passing and our desire for intimacy and touch in the face of both overwhelming natural forces and the ubiquitous images that surround us daily.
Sarah Sze's mesmerizing site-specific installations transform everyday objects into interconnected galaxies of logic-defying instruments of disorientation. Metal rods, colored string, and other linear materials propel the work's swirling dynamism while simultaneously linking each disparate element to the grander composition. Sze explains, "My hope is that the work is constantly shifting, so you read it as one thing, and then it gets lost and you read it as something else, and then that gets lost, so it's never a set system. The work is expansive rather than conclusive..."
Using a range of diverse materials, including cotton buds, tea bags, water bottles, ladders, light bulbs, electric fans, and ticket stubs, Sze's work reflects a Futurism-tinged fascination with conveying movement in static objects and a crafty ability to manipulate scale. In her work, the miniature and the colossal harmoniously cohabitate, responding to and radically altering a given space.
Representing the United States at the 2013 Venice Biennale, Sze created an installation, Triple Point, that alludes to various scientific and natural processes, transforming the American Pavilion into a form of playful laboratory. Sze's work has been featured in numerous prestigious cultural institutions, including the Foundation Cartier pour l'art contemporain in Paris, the Museum of Contemporary Art in Chicago, the Sao Paulo Biennial, the Walker Art Center in Minneapolis, the Asia Society Museum in New York, and the Fabric Workshop and Museum in Philadelphia.