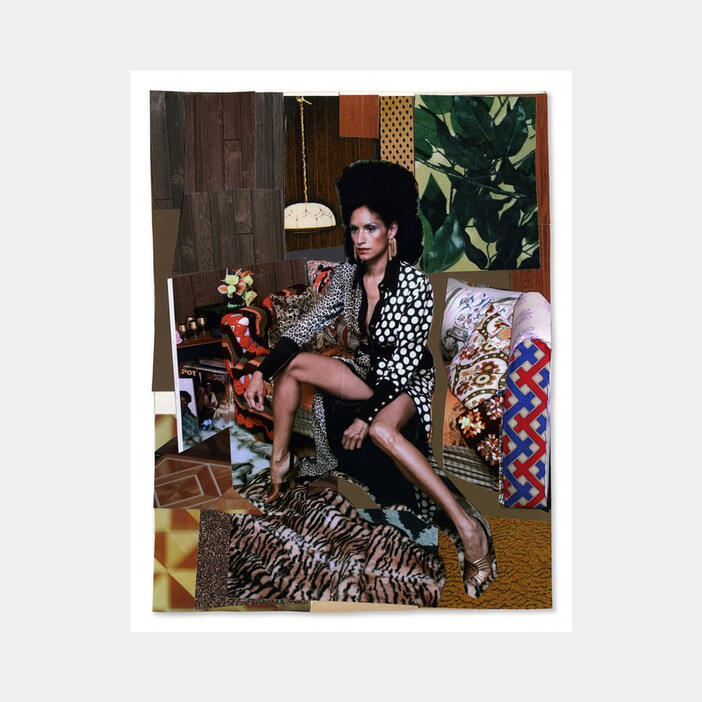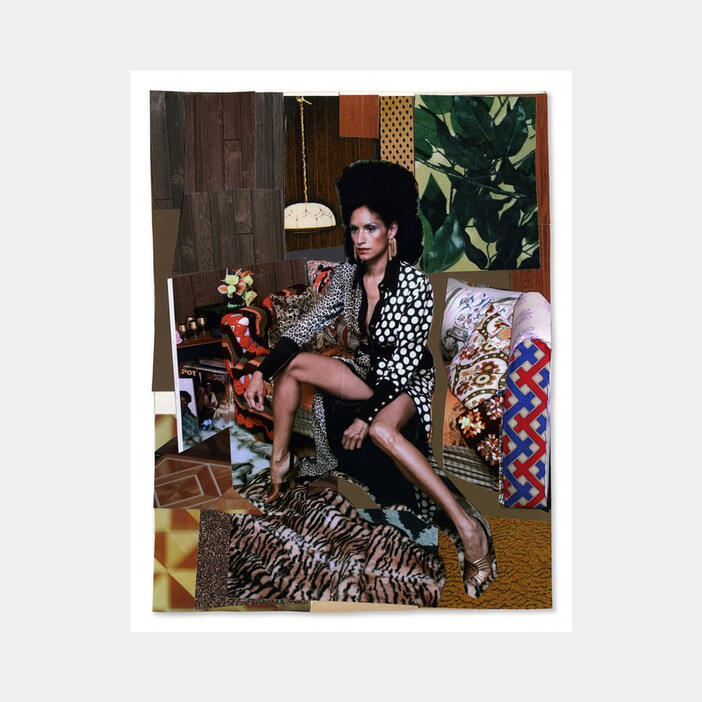 Mickalene Thomas: Racquel Come to Me Two (2018)
Price AUD$1400.00 | Limited Edition Price CAD$1300.00 | Limited Edition Price £750.00 | Limited Edition Price T1000.00 | Limited Edition Price USD$1000.00 | Limited Edition
Print: Digital print on Epson Hot Press Natural 330g/m2
Size: 419 x 330 mm (16.5 x 13 in)
Edition of 50
This work comes signed
In April 2018, the celebrity-studded Tribeca Ball in New York City honored artist Mickalene Thomas. The artist, most known for her portraits of African American women, recently created the Mickalene Thomas Artist Scholarship, which provides financial aid for students at the New York Academy of Art. This work Racquel Come to Me Two, directly supports the Mickalene Thomas Artist Scholarship at the New York Academy of Art.
Brooklyn artist Mickalene Thomas is best known for her elaborate, collage-inspired paintings, embellished with rhinestones, enamel, and colorful acrylics. Her depictions of African American women explore a spectrum of black female beauty and sexual identity while constructing images of femininity and power. Thomas's production is informed by the classical genres of portraiture, landscape, still life, and the female nude. She combines careful borrowings from historical painting with contemporary popular culture, taking cues from such artists as Romare Bearden, Gustave Courbet, David Hockney, Édouard Manet, and Henri Matisse. In combining traditional genres with African American female subjects, Thomas makes a case for opening up the conventional parameters of art history and culture.
The success of Thomas' balance of the iconic and contemporary was evident to anyone strolling by New York's Museum of Modern Art, where a large painting by Thomas titled Le Déjeuner Sur L'herbe: Les Trois Femmes Noires, referencing Manet's famous work, bedecked the facade next to the museum's acclaimed restaurant, The Modern.
Thomas has been included in numerous important solo and group exhibitions worldwide, including Brooklyn Museum, New York, Santa Monica Museum of Art, The Institute of Contemporary Art, Boston, MA, The Hara Museum of Contemporary Art, Tokyo, the Corcoran Gallery in Washington D.C., National Portrait Gallery, Washington D.C. and La Conservera Contemporary Art Centre, Ceuti, Spain. She has been awarded multiple prizes and grants, including the Brooklyn Museum Asher B. Durand Award (2012), Timerhi Award for Leadership in the Arts (2010), Joan Mitchell Grant and Pratt Institute Alumni Achievement Award (both 2009), and Rema Hort Mann Grant (2007).